I do not have any positives to lay out for the bulls, neither regarding the weekend action nor regarding the future price expectation.
I had advised in Crashes 20% Intraday that any rally up to the resistance level of $4.100 should be used to go short in the counter. During the weekend, the price did enter the bears' mansion and has been sliding since then. Currently, Litecoin is trading at $3.678, down 1.34% from Friday's observation.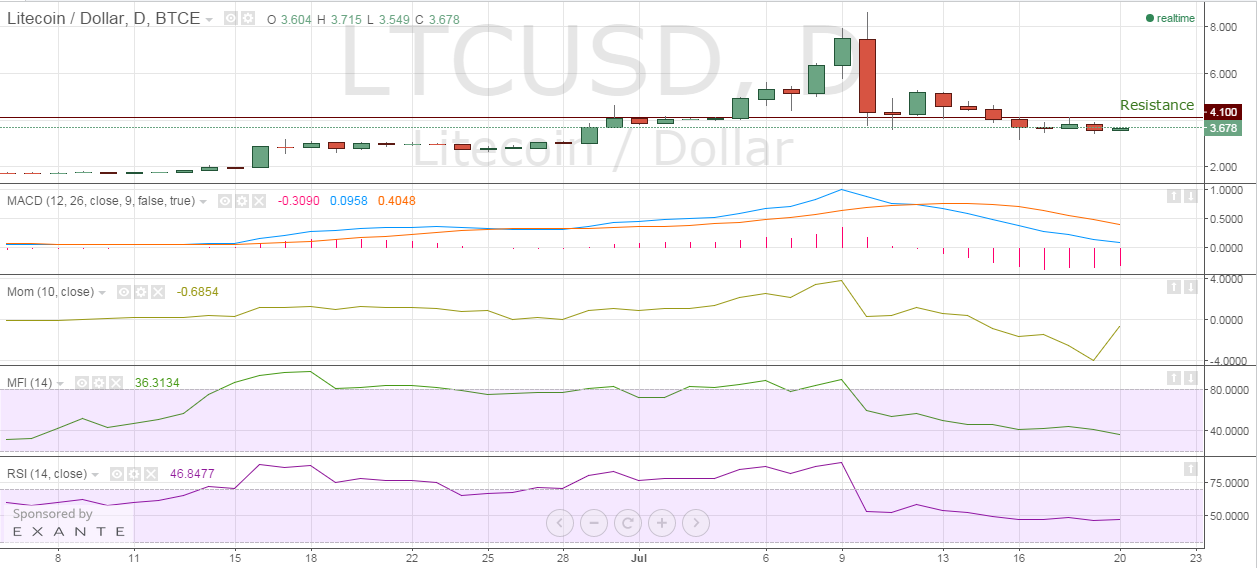 Image: https://www.tradingview.com/x/4yD9tSzU/
Litecoin looks weak from the purview of technical indicators as well. Find below the technical considerations of the daily LTC-USD price chart.
Litecoin Chart Structure – Litecoin's upside has been capped by the resistance posed by the $4.100 level. On the downside, the trend of lower closings continues as the cryptocurrency recorded the lowest close of July this weekend.
Moving Average Convergence Divergence – Following its incessant decline, MACD is now barely positive at 0.0958 while the Histogram at -0.3090 is at the lowest level in a month. The Signal Line is also undergoing devaluation and is now at 0.4048.
Momentum – After succumbing to -3.9432 yesterday, the momentum has rebounded to -0.6854. However, the bigger question is: Will the momentum become positive enough for a trend reversal?
Money Flow Index – The Money Flow Index has sunk lower to 36.3134.
Relative Strength Index – That the underlying strength is still weak can be gauged from the 14-day RSI value of 46.8477.
Conclusion
Market participants should not confuse the current slowdown in the downward movement to a base formation.  Given the highly volatile nature of the cryptocurrency, they should only focus on going short when the price approaches the resistance level by placing a strict stop-loss beyond it. The downtrend is expected to continue in the coming sessions. I have a near-term target of $3.100 for Litecoin.