On the lines of Bitcoin, the muted price action in Litecoin has also completed its one week. The cryptocurrency, which until the first of this month was keeping the traders overly busy, has gone flat since.
Litecoin is now trading at $3.736, marginally up from yesterday's $3.732.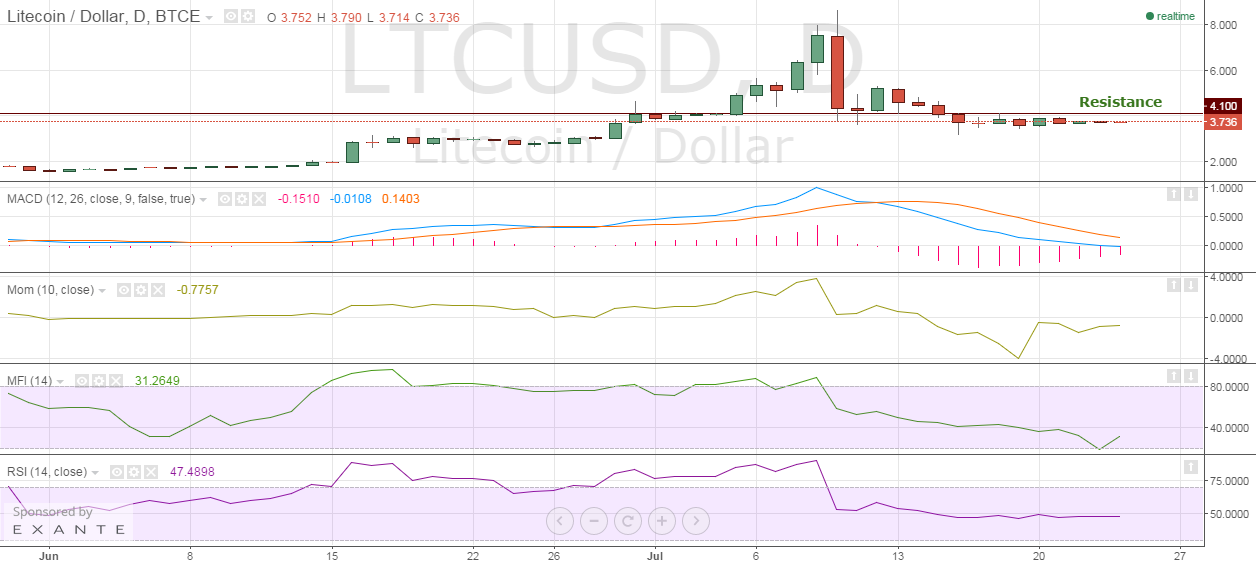 Image: https://www.tradingview.com/x/dyUb4CYA/
Technical observations of the daily LTC-USD price chart have been given below.
Litecoin Chart Structure – It seems like Litecoin is trying to follow through with its downmove in a way similar to its upmove, when it spent a number of days at a certain level and finally broke past it.
I know this may be hard to believe but take a closer look. At $4.100, Litecoin earlier faced resistance for 5 days before it finally broke above it. During the fall, Litecoin spent 5 days before piercing it on the downside.
During the period from June 17 to June 28, Litecoin was just moving sideways but the next day saw the price leap by more than 20 percent. Using the same number of days, I think we may get a strong move in Litecoin around July 28. Another Dump Coming?
Moving Average Convergence Divergence – The MACD has finally dipped into the negative zone, joining the Histogram. The latest values of MACD, Signal Line and the Histogram are -0.0108, 0.1403 and -0.1510 respectively.
Momentum – The Momentum reading is at -0.7757.
Money Flow Index – The MFI value is off the lows and has risen to 31.2649.
Relative Strength Index – The RSI value remains below the 50-mark at 47.4898.
Conclusion
The price action suggested in the Chart Structure above is in no way an attempt to time the market, however, it can definitely be used to prepare and position accordingly. Litecoin is currently in a no-trade zone. Technical indicators remain bearish, so short if a bounce is witnessed.