Many people believe that search engines, especially Google, can index most of the pages available on the web for a given search query. Nonetheless, the truth is that there is a massive part of the internet that cannot be accessed by Google's crawling spiders. This part of the web is known as the "Dark Web" and it is a place where cryptocurrency, namely bitcoin, is the official currency.
What is The Dark Web?
The dark web, or deep web (false name as the deep web is a part of the dark web), represents the parts of the world wide web that are hosted on overlay networks, darknets, TOR networks, freenet and I2P. Moreover, small P2P networks represent a small portion of the dark web. Similar to an iceberg, most of the internet's pages are inaccessible via conventional web browsers; these pages represent the dark web.
It is almost impossible to precisely estimate the exact volume and scope of the dark web, yet some experts have speculated that the dark web comprises parts of the world wide web that are 400-500 times larger than the "surface" internet.
The term "deep web" was first introduced by , a computer engineer named Mike Bergman in 2000, but the term became popular in 2009, when mainstream media started covering the illicit activities taking place beneath the surface of the internet.
The dark web is where gloomy parts of the internet flourish. Although the dark web is usually linked to cybercriminals and low abiding citizens, it is also visited by well intentioned people such as bloggers, whistleblowers, bitcoin enthusiasts and political dissidents who prefer to practice their online activities beneath the surface of the internet.
How To Access The Dark Web?
Depending on your goal, there are various tools and strategies that can help you explore various depths of the Deep Web. For most users, apart from hard core hackers, there are generally two approaches to browse the Deep Web and Darknet:
Using special search engines and search query syntaxes that are related to the PHP and HTML arrangement of websites and databases. Such strategy can be implemented using conventional web browsers such as Firefox, Chrome and Safari.
Using special search engines that are coded to search deep through the Deep Web and Darknet. The most widely used of those is the TOR browser
Computer savvy individuals and hackers can dive into deeper depths of the Deep Web by scripting special crawling programs that implement special link crawling techniques that can browse private databases. Such approach requires PHP, API coding, MySQL and other programming skills.
What Can You Buy & Sell For Bitcoin On The Dark Web:
Technically, you can buy and sell anything for bitcoin on the deep web, from legal stuff to illiegal drugs, firearms and services.
Want to hire a hacker? a hitman? Want to buy a counterfeited passport? Although I would not recommend doing such things, the Deep Web is the place where you can find people who would accept bitcoin in return for offering such services. Moreover, there is a high probability that people who advertise offering such services are fraudsters that are only trying to put a hole in your pocket.
Most marketplaces on the deep web operate in a way that is almost identical to other ecommerce sites on the surface web such as eBay, Amazon, DHgate, Alibaba and others. Some marketplaces even offer an "escrow" service that protects buyers from possible fraudsters.
The Deep Web has been widely used for trading, file sharing and political debating because users can surf the deeper parts of the internet with total anonymity while keeping all their online activities privately safe.
Brief History of Dark Web Blackmarkets and Bitcoin:
Since the deep web has emerged, it was endorsed by all forms of electronic commerce that range from small sites that sell a few products or services to massive marketplaces that create platforms for P2P trading that witness thousands of bitcoin transactions per month.
The Silk road is the most organized ecommerce site ever created on the darknet even after it has been taken down by the FBI, it is still the biggest and most notorious market ever on the Deep Web. In 2013, the FBI developed a special search engine that helped them take down the site and link it to Ross Ulbricht who was convicted in early 2015 for running an online drug market.
Ecommerce On The Dark Web Today:
Since the arrest of Ross Ulbricht in 2013, tens of Silk Road replacements have emerged in the form of hidden marketplaces on the TOR network. A Silk Road clone, called Silk Road 2 operated for a few months before being shut down by FBI agents in November 2013.
I decided to look through the Deep Web to see the kind of ecommerce available there today. Huge marketplaces are still available such as AlphaBay and Dream Market where you can buy drugs, guns, replicas, counterfeited passports and malicious software. You can also hire a hacker or buy someone to launch a DDoS attack for you on Alphabay. The below image shows the drug listing today on Dream Market.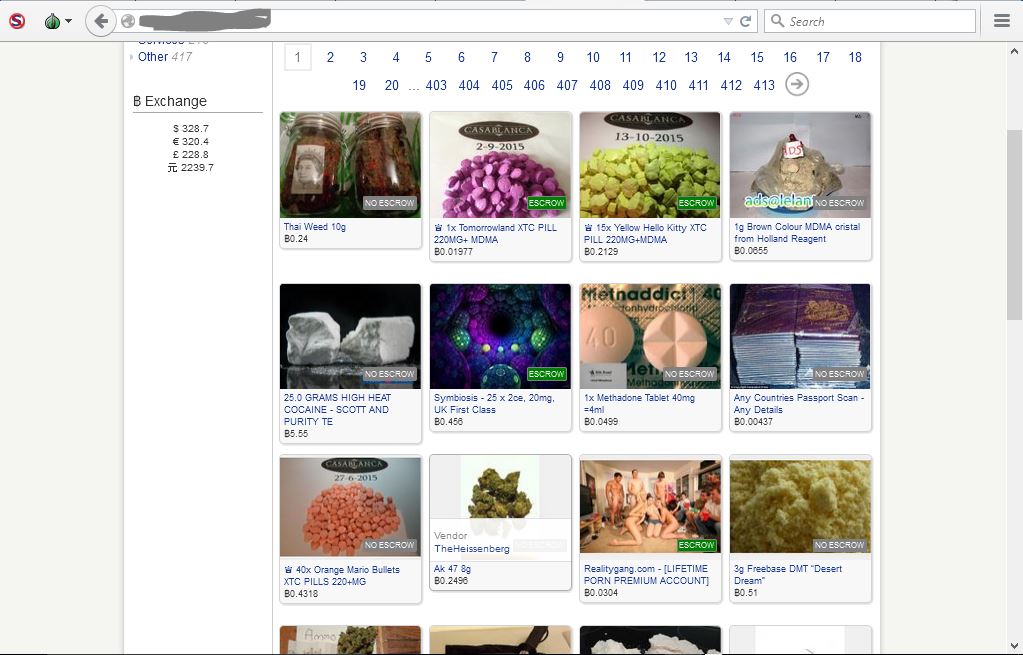 On the other hand, there are simple stores that sell legal stuff for bitcoin. For example, RechardSport is an online shop that sells sportswear and sunglasses and accepts bitcoin payments on the deep web.
Conclusion:
Ecommerce on the Deep Web is totally dependent on bitcoin. Although most of the ecommerce websites available on the Deep Web, darknet and TOR networks are selling illicit drugs and offering illegal services, other lawful businesses are also seeking the Deep Web to help them market their products and services.
References:
1- Wikipedia: The Dark Web. https://en.wikipedia.org/wiki/Dark_Web
2- Ablon, L., Libicki, M. C., & Golay, A. A. (2014). Markets for Cybercrime Tools and Stolen Data: Hackers' Bazaar . Santa Monica, CA.: Rand Corporation. Barratt, M. J. , Ferris, J. A., & Winstock, A. R. (2014). Use of Silk Road, the online drug market – place, in the United Kingdom, Australia and the United States. Addiction, 109(5), 774-783.
3- Bartlett, J. (2015). The Dark Net: Inside the Digital Underworld. William Heinemann Ltd. Coleman, G. (2014). Hacker, Hoaxer, Whistleblower, Spy: The Many Faces of Anonymous. London: Verso Books.
4- Goodman, M. 2015. Future Crimes: Everything Is Connected, Everyone Is Vulnerable and What We Can Do About It. New York: Random House