MobileGo moved in reaction to its counterparts bitcoin, ethereum, and US dollar instead of establishing its own direction.
MobileGo vs. Bitcoin
MobileGo was down nearly 9% in the previous update but is now starting to recover against bitcoin as the short-term range support is holding. If bulls are able to stay in control, a bounce back to the range resistance near 0.00035 could take place.
MobileGo volumes have ticked higher over the weekend but this was primarily due to the bitcoin selloff that took place. Many blamed this on fears of a bitcoin hard fork and larger companies starting to join in on the selloff. If this carries on, MobileGo could be in for a larger climb past the resistance and onto the 0.00040 handle.
MobileGo vs. Ethereum
Against ethereum, MobileGo previously completed a double top breakdown visible on its longer-term time frames but it seems to be making a pullback to nearby support levels.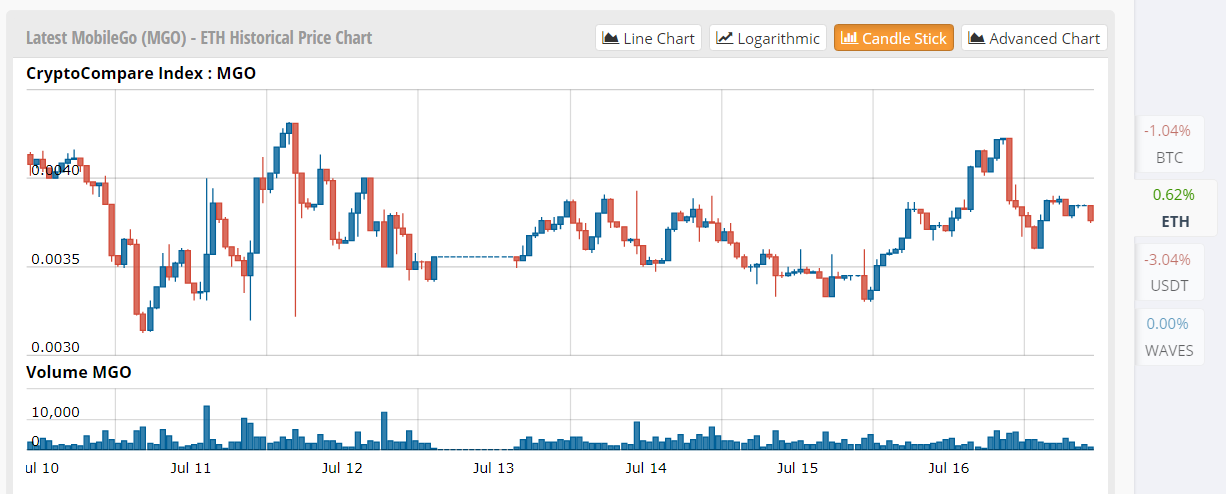 Volume is somewhat steady against ethereum, although this particular digital asset also suffered a sharp selloff over the weekend. In fact, many are keeping close tabs on the massive declines in cryptocurrencies recently, trying to gauge if further losses are underway and if the bubble is starting to burst.
MobileGo vs. USD
Lastly, MobileGo chalked up most of its losses to the dollar one more even after the US economy printed weak data last Friday.
Headline CPI posted a flat reading instead of the projected 0.1% gain while the core version of the report indicated a 0.1% uptick, short of the estimated 0.2% increase. Both headline and core retail sales report revealed a 0.2% decline in consumer spending while the weaker than expected preliminary UoM consumer sentiment index reflected weaker financial confidence.
Only the Empire State manufacturing index is due today and a dip in industry growth is eyed. Weaker than expected readings could mean more losses for the dollar but it's hard to say whether cryptocurrencies like MobileGo are poised to take advantage.
At the moment, the pickup in risk appetite is being able to benefit stocks and commodities, leaving traditional and alternative safe-havens like gold and cryptocurrencies eating dust.