The final day of the week is here in our bitcoin price efforts and the week has gone pretty quickly. We have managed to jump in and out of the markets on a number of occasions and – on many of these occasions – we have been able to draw a quick turnaround profit from the market. We haven't been without hiccups, of course, but that's just the nature of these sorts of strategies. With any luck, we can continue our winning the trend into
With any luck, we can continue our winning the trend into the weekend and end the week on a high. So, without further ado, let's get some levels put together with which we can carry forward into the session this evening. As ever, it is best to take a quick look at the chart below before we outline the key levels so as to get an understanding of how price moved overnight and where things stand in the bitcoin price right now. It is a one-minute candlestick chart (the smaller frame charts are quite responsive in this asset at the moment) and it has our key range overlaid in red.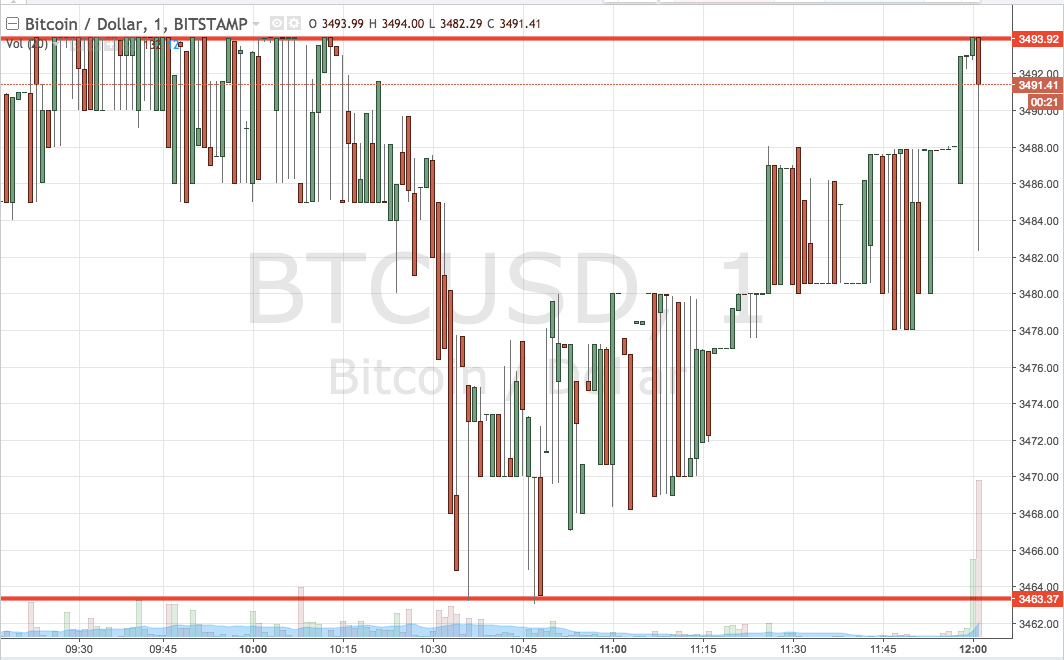 As the chart shows, the range we are going for this morning comes in as defined by support to the downside at 3463 and resistance to the upside at 3493. Standard breakout rules apply for the session, so we will look for a close above resistance to validate an immediate upside target of 3520. A stoploss on the position somewhere in the region of 3485 works well to define risk and will ensure we are taken out the trade in the event of a bias reversal.
Looking the other way, a close below support will have us into a short trade towards a downside target of 3420. We need a stop loss in place again and somewhere in the range of 3470 looks good for the time being.
Chad's courtesy of Trading View