So that's another day of trading finished out of Europe and it's time to take a look at how things played out in the bitcoin price and how we can use today's action to put together a strategy for this evening. We're not going to waste any time this evening as things are moving pretty fast and it looks as we could be in line for a breakout. As regular readers know, breakouts are the bread and butter of our intraday strategy, so here's what we're looking for tonight.
As ever, take a quick look at the chart below before we get started so as to get an idea of what's on and where things stand. It's a one-minute candlestick chart and it's got our range overlaid in red.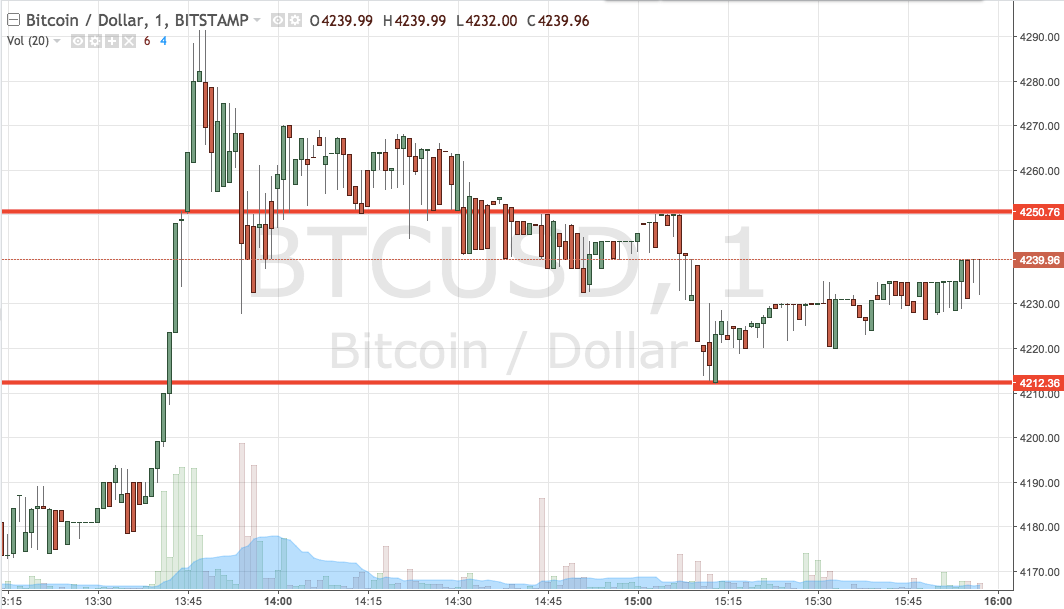 As the chart shows, then, the range we are going for this evening comes in as defined by support to the downside at 4212 and resistance to the upside at 4250. There's just about enough room to go at things with an intrarange approach tonight, so we'll be jumping into a long trade on a bounce from support and, conversely, jumping in short on a correction from resistance. Stop losses just the other side of the entries on both entries will keep things tight from a risk management perspective.
Looking at our breakout strategy, if we get a close above resistance, we'll jump in long towards an upside target of 4290. A stop loss on this one at 4240 looks good.
If price dips and closes below the level we've outlined as support, we'll look at jumping in short towards a downside target of 4180. A stop loss on the trade somewhere in the region of 4220 will ensure that we are taken out of the trade if things turn around and price moves against us.
Let's see how things play out.
Charts courtesy of Trading View