Alt coin NEM, IOTA, DASH and Monero are aiming for the moon while NEO is finding reprieve after a temporary dip caused by NEO poor PR.
Generally speaking, most alt coins are rallying. This is awesome especially if you got some of your investment tied up in any of these digital assets.
Let's look at the charts:
NEM RALLY AND CLOSE ABOVE $0.26
After that strong rebound from support and close above $0.24 on December 2, we were expecting NEM bulls to surge and close above $0.26.
That is exactly what transpired. In doing so, it herald the beginning of a new bull wave after the break above main resistance trend line of the wedge in the weekly chart.
At current prices, August 30 all time highs is only $0.07 away. As it is we only take long positions going forward with immediate support at $0.24.
$820 REMAINS A SHORT TERM RESISTANCE ZONE FOR DASH BULLS
Fact is, as long as price action is above $670, bulls should be in charge. From our previous DASH price action alignment,our ultimate take profit level is $820.
Bull momentum is high as weekly and daily chart stochastics show and as such, traders should be taking long positions in the 4HR chart.
The 20 period MA is our immediate support and the minor resistance line is at November 30 highs of $820.
Any DASH close above that means bull continuation as per the trend set in the weekly chart.
IOTA BULLS TRADING AT RECORD HIGHS
That MS corporate endorsement is doing wonders for IOTA. Last week, $1.09 was added to IOTA. As a result there was that multi-level resistance break above in both the daily and weekly chart.
From Fibonacci, our take profits were at $1.30 but as it is, any dip is another buy opportunity and support of Internet of things proponents. Technically, after IOTA pulls obliterated our minor resistance trend line at $1.54, a new leg of a bull rally begun.
The 20 period MA which is finding it hard to keep up with bulls. November 29 highs at $1.54 should be our immediate support. However, the former takes precedence since it is flexible and updates every 4HRs.
For now we wait and see if that close above the upper BB will trigger a temporary correction from recent highs.
MONERO BULLS WATCHING $215 MINOR RESISTANCE LINE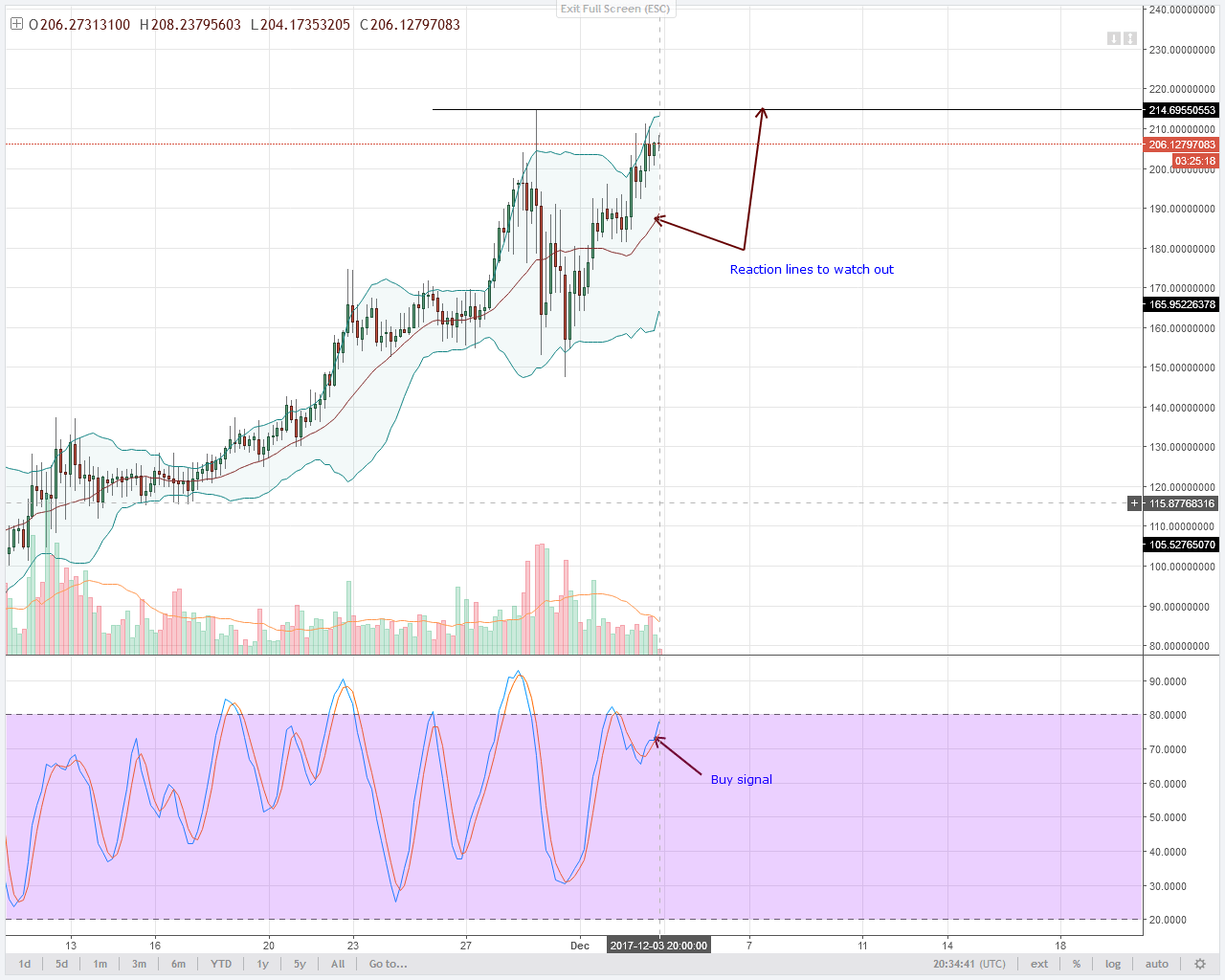 In the 4HR chart, we shall watch two levels only:  The 20 period MA and November 29 highs of $215.
Overly, if Monero bulls manage to consistently close above the 20 period MA support  and stochastic bull momentum in the 4HR chart continues to high higher as in the weekly and daily chart then chances of $215 break above is high.
Any correction towards the middle BB presents a buying opportunity.
ALT COIN NEO BULLS AIM AT $50
Technically, every higher high is a NEO pump. After a FUD dip, NEO is gaining traction and is now trading above the main support line at $34.
So far, it has broken above a minor resistance trend line after that surge testing $40 on December 3.
Traders should take long position only with every dip and retest of the 20 period MA. Ideal swing target is at November 18 highs of $50.
All charts courtesy of Trading View