Reprieve for NEO bulls as price action are now strongly above the $34 level mark after series of higher highs.
Just like NEO, NEM proponents and smart economists are helping pump this token above $0.26 as required.
The focus of the day got to be IOTA where as it is trending at all time highs of $2.68 and is couple of cents away from the second take profit level of $0.32.
Let's look at the charts:
NEM MOVING WITHIN A TIGHT $0.04 RANGE
24HRs later, NEM bulls are still oscillating within the minor support and resistance lines defined on December 3 at $0.28 and $0.24 respectively.
Momentum is unchanged and as long as the stochastics are positive sloping them we remain bullish. The 20 period MA remains our minor support line in the 4HR chart while any breach above $0.28 will signal continuation of NEM bull pressure.
NEO traders should be loading up their long positions.
DASH BEARS STEERING PRICES LOWER
Even though the weekly and daily charts are bullish, DASH bears are already trending below the 20 period MA which is the main support line in the 4HR chart.
There is also a series of lower lows relative to the upper BB after that bearish divergence which in turn is slowing down bull momentum as stochastic shows.
There is also a clear sell signal. If DASH prices manage to band along the lower BB, $670 support is the next bear target. For now, until a stochastic buy signal shows, USD bulls are in charge.
$3.2 IS THE NEXT FEASIBLE TARGET FOR IOTA BULLS
IOTA bulls are definitely heading to the moon with this rally. At current prices, IOTA is worth more than $2.5. This is what happens when there is a mark of corporate approval.
Technical indicators especially in short time frame don't apply. Unless there is something negative about IOTA, bulls should be loading their longs at every dip.
In the weekly chart, pasting Fibonacci extension tools projects a second take profit level at $3.2. This level is at the 2.618 level.
So, with bulls waiting for a dip before pouncing, it is likely that $3.2 will be hit.
MONERO BULLS OUNCE OFF SUPPORT AND TRENDS HIGHER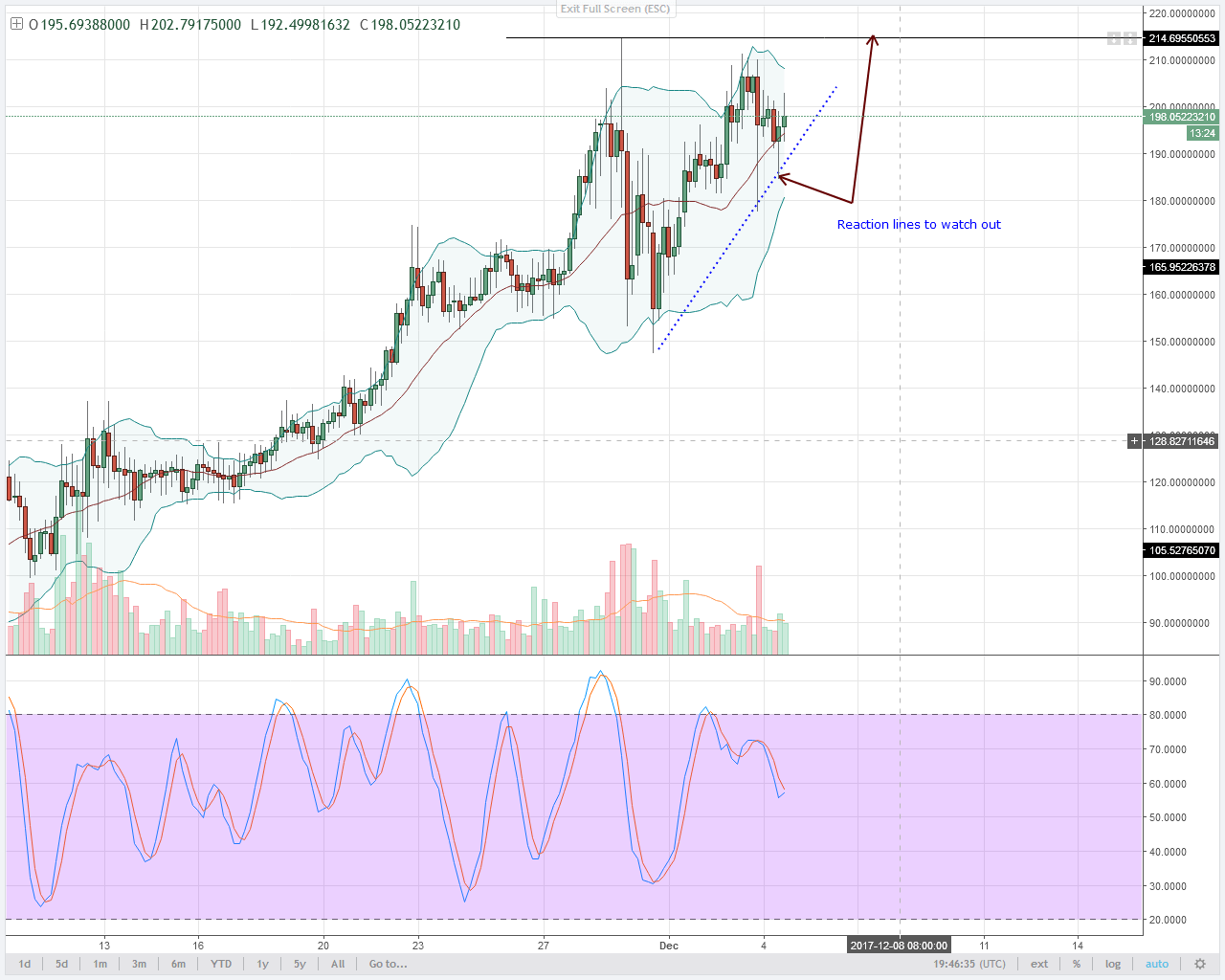 As mentioned before, any price drop towards the middle BB is a buying opportunity. Well, after yesterday's bear pressure, Monero tested the 20 period MA. However, it is now reversing thanks to the daily and weekly chart momentum which is pushing prices higher.
The thing is, as long as there is no strong bearish candlestick closing below our minor support trend line and the 20 period MA, we remain bullish.
Bulls are officially in charge if they break and close above $215 November 29 highs.
NEO BULLS BREAK AND CLOSE ABOVE $40, NOW AIMS AT $50
As long as NEO bulls are above $34 and the minor resistance trend line-now support, bulls are in charge.
Currently we have a spark to the upside with a stochastics buy signal in place.
If today's NEO bulls close is above $40-which is highly likely-then our short term take profit remains at $50.
All charts courtesy of Trading View