NEM bears were the talk of the day yesterday coming after a NEM dump on Poloniex exchange.
While this caused volatility, we expect the markets to cool down today.
IOTA, Monero and DASH bulls look to be recovering and should NEO bulls bounce from $34 as it is now, then they could end up testing $40 and $50.
Let's look at the charts:
NEM BEARS AFTER POLONIEX DUMP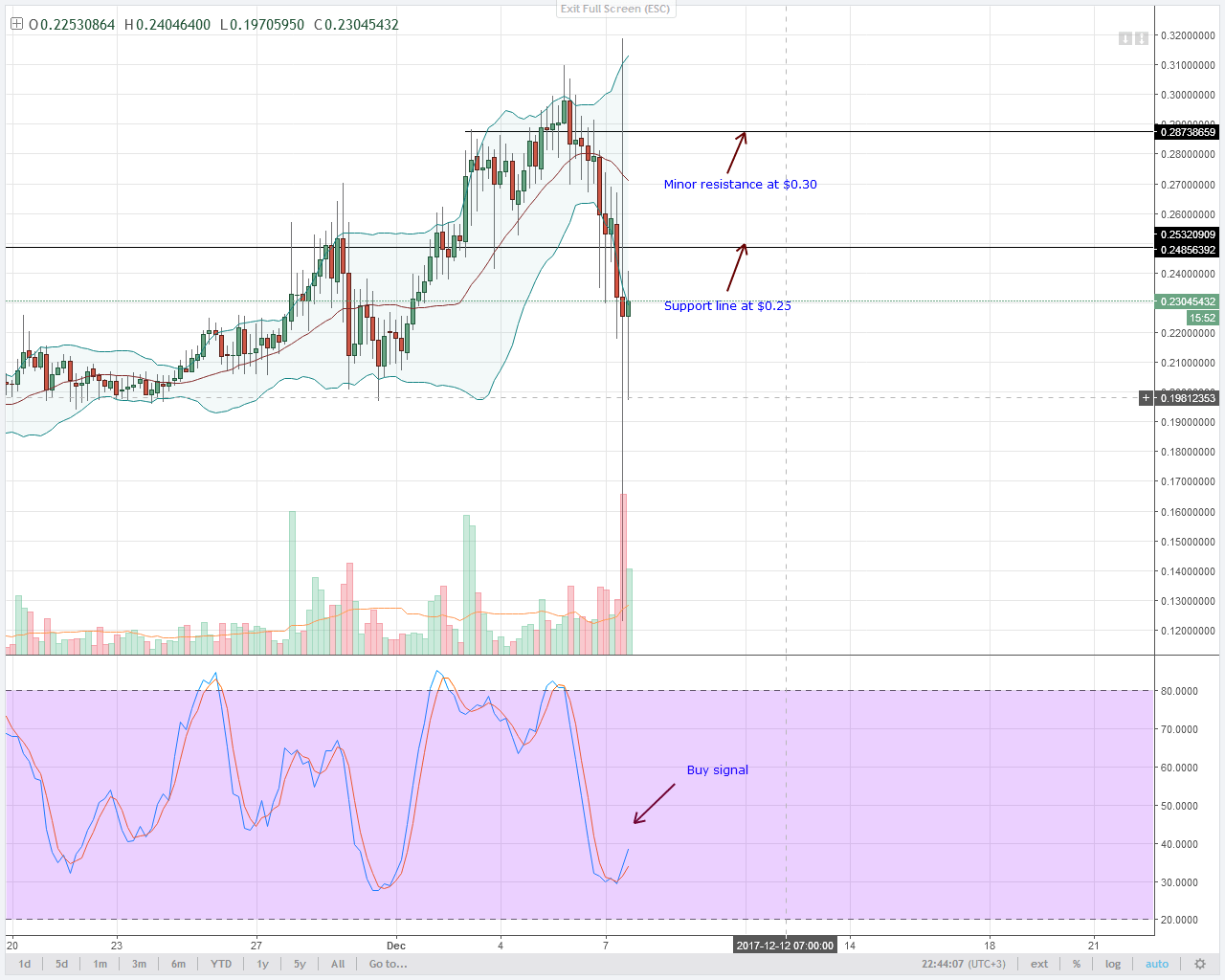 Yesterday it didn't matter if you were long or in the NEM bears camp. First there was a swing high and if you had a take profit in place then it definitely got hit.
Conversely take profits on the sell side got hit because of that bear squeeze that followed. Technically, we were set for longs but that has been invalidated as there was no confirmation of higher highs at $0.25 support.
The cause of this NEM bears squeeze was a wholesale dump at Poloniex.
Price is not stable yet and we have to wait until a clear trend forms.
Any NEM higher highs and we are back in the trade because there is a buy stochastic signal in place.
CLOSE ABOVE $670 WILL SIGNAL DASH RECOVERY
DASH price action is still below the 20 period MA and actually trading below the main support-now resistance line at $670.
We are net bullish meaning that we are waiting for opportune signals to enter longs. As we can see there is a stochastic buy signal in place turning from oversold territory. Additionally, the current candlestick is actually bullish.
DASH bulls shall wait for this candlestick buy confirmation. Any close above $670 should actually begin price recovery towards $820 highs.
IOTA BOUNCES FROM MAIN SUPPORT
$3.2 is turning out to be a strong and reliable support as IOTA price action shows.
Now that we have a double bar reversal candlestick at confluence buy zone made up of the 20 period MA-our long term support and the second level of the Fibonacci extension level at $3.2, we continue loading longs with stop losses below December 7 lows at $3.
By initiating long trades, we will be in sync with the higher time frame trends.
MONERO TESTS THE MIDDLE BB AND REVERSE TOWARDS $300
There were two main support levels Monero bulls were watching: The 20 period MA and the minor support trend line. After a rally and close above $250 take profit level projected by Fibonacci extension, it was only natural for prices to correct.
This correction which is actually in progress is our buying opportunity as the bullish trend resumes.
Notice that this is happening at our first layer of support with previous candlestick closing as a bullish pin bar at support accompanied by a stochastic buy signal turning from oversold territory.
NEO BEARS FIND RESISTANCE AT $34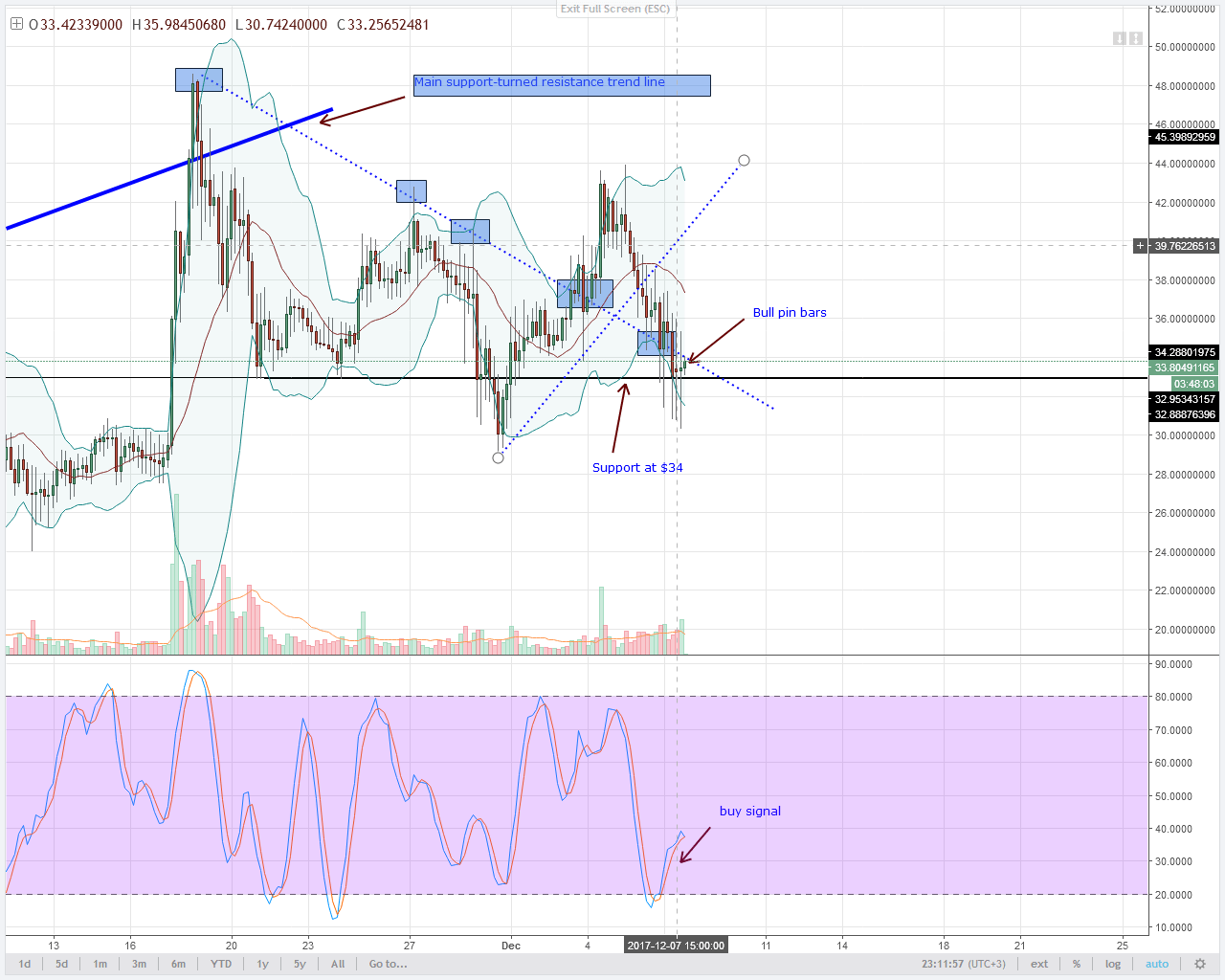 From the chart, it is evident that NEO bulls are preventing further price depreciation after those two pin bars at support.
This consolidation also means minor higher highs relative to the lower BB. As always we remain patient for price action to confirm this reversal from support.
If this current candlestick closes at or around $35, NEO bulls should look to enter long. Otherwise any close below $34 means USD bulls are in charge.
All charts courtesy of Trading View