Unexpectedly, altcoins inched higher yesterday even after bears seem to be driving prices lower.
From the charts, we can see that LTC pair is moving along the middle BB and finding it hard to breach and close above $170 which from our analysis remain a strong resistance level and a buy trigger.
Let's have a look at these charts:
XLM/USD
From yesterday's price action, it's clear that buyers were in the driving seat but rather than closing above the main resistance line, we are seeing a micro-consolidation over the past 48 hours or so. This is on top of the visible upper wick which hints of sell pressure.
Regardless of what happens, all we need for our trading purposes is a break out in either direction.
Of course we can take advantage of the increasing bull momentum to skew our view and root for buyers but then again we are in a deep bearish momentum and fundamentals are not that helpful either.
Anyhow, our set up is pretty much the same as our previous analysis and $0.40 remains our bull trigger.
IOT/USD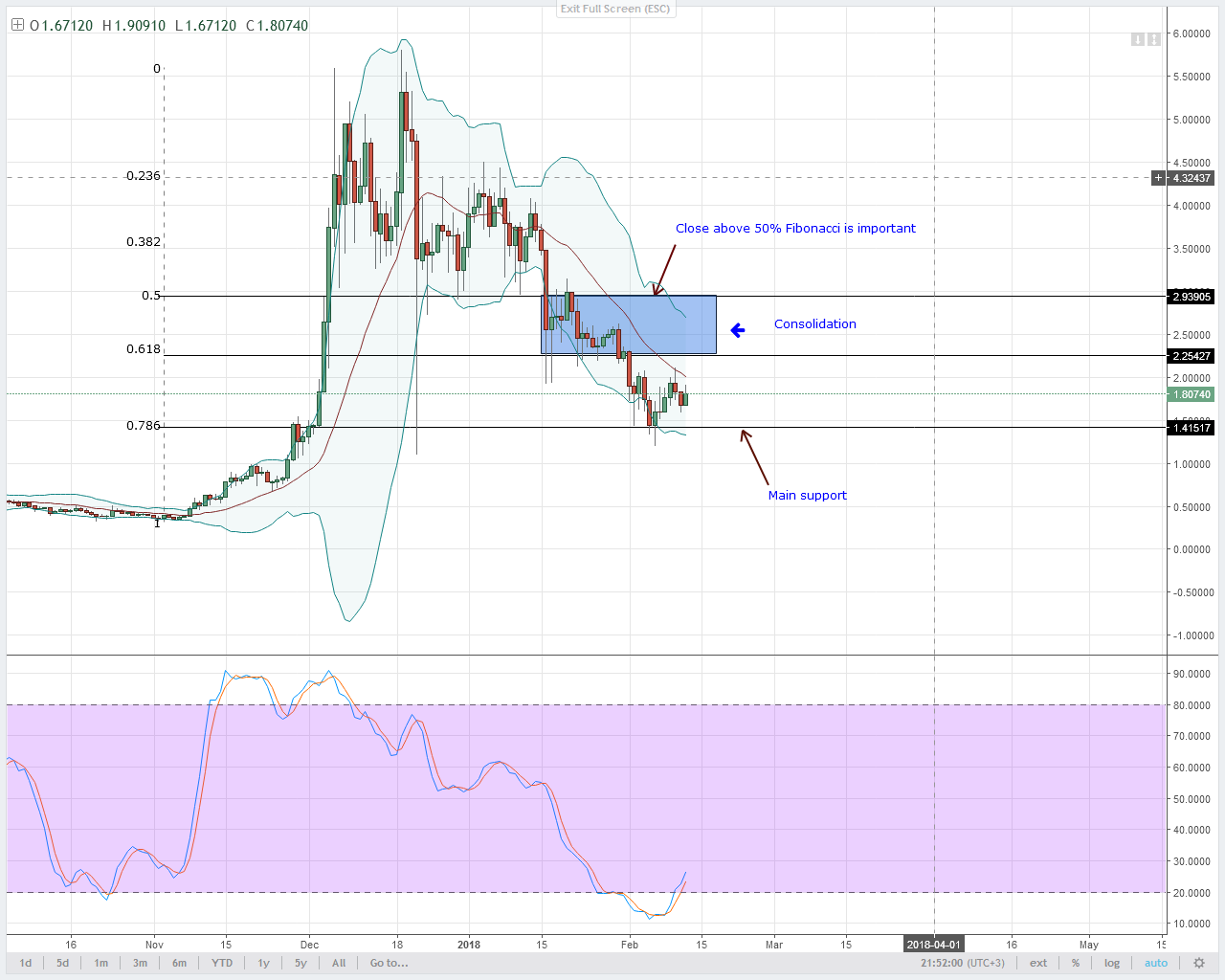 If we check IOTA price action using the top-down approach then we realize that last week's bears weren't as rapid as they were on week ending February 3.
As such, bear confirmation is clear but those long lower wicks are buyers pushing prices in lower time frames and that translates to yesterday's bulls. Now, here's a thing with IOTA.
Yes, the general mood is slowly improving and leaning towards buyers but there's a lot of resistance before say prices trend above $3 in the daily chart.
First we must see buyers surging past the middle BB-our immediate resistance, then $2 and then lastly $3.
From there we can begin looking for buying opportunities with any pullback to any of these levels acting as perfect buying levels.
EOS/USD
EOS prices are slowly inching back towards $9.5 and that is what we want to see from a buyer's perspective.
Well, taking hints from yesterday's analysis, all we need is break out and that could do us a lot of justice.
Yes, we are seeing some marginal gains following that double bar reversal pattern on February 5 and 6 but then again, buyers can't surge past surge our inter-range resistance level at $9.5.
Because of this, we cannot really go on and buy/sell not until there is a break out or a retracement back to $6.5.
LTC/USD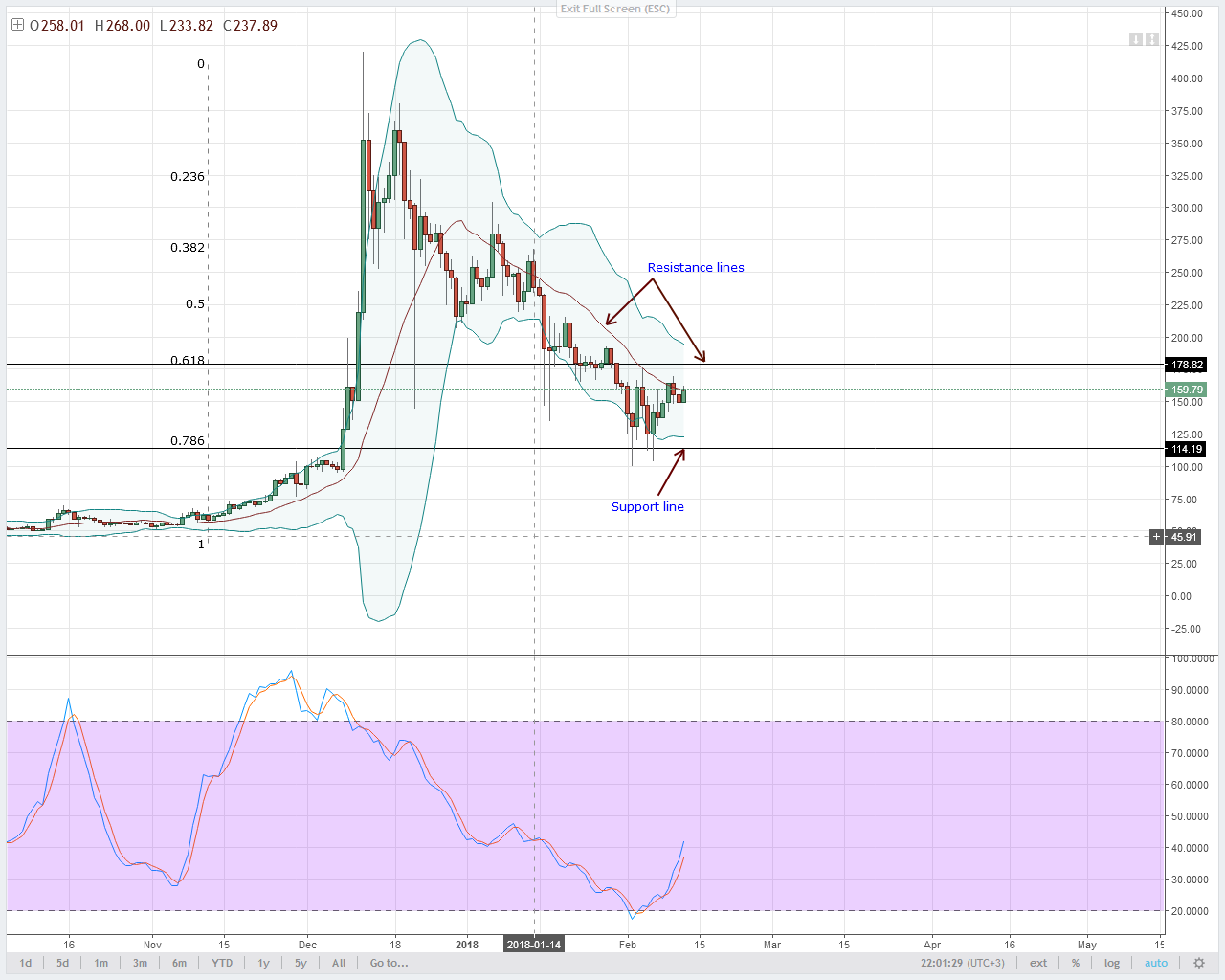 From the charts, it's clear that LTC prices are still moving below our first layer of resistance-the middle BB and that is despite the positive momentum as the stochastics shows.
Picking out tips from our previous analysis of this pair, all that we need is a bullish spike above $170 or repulsion of higher prices as bears push prices back below $100.
This $70 range is what is important for us in the short to medium term.
NEO/USD
Despite the higher lows and long upper wicks, there is clear rejection of higher highs at $130.
Anyhow, that shouldn't be a surprise because after all, that is where the middle BB and the 38.2% retracement level form a confluence.
This makes this $10 gap between the flexible resistance line and $130 a special zone which if buyers manage to get past then could form a perfect anchor for buyers in consequent sessions.
In my view, there is nothing much that we can do other than wait as per yesterday's analysis.
All charts courtesy of Trading View