Crypto messenger and payment platform Paymon has reached its $500,000 soft cap in the first phase of its initial coin offering. Paymon's development began in 2016 and has steadily gained interest within crypto circles for its unique blockchain that promises zero-fee transactions, unlimited speed, atomic swaps, and massive scalability.
The team behind Paymon recently released the beta versions of their encrypted messenger service as well as smart wallet apps for securing crypto assets. As Paymon's decentralized payments ecosystem continues to be packaged and released, investors and blockchain enthusiasts may want to pay attention to this promising project.
The Paymon blockchain
Anyone familiar with the current major blockchains (Bitcoin, Ethereum) will know firsthand that these platforms have run into a myriad of problems as their popularity has exploded over the last year: longer transaction times, increased transaction costs, and ultimately, a scalability problem.
It is no longer practical to pay for microtransactions (let's say a pizza, for example) with Bitcoin — the transaction fee would cost more than the pizza and take hours to complete.
This is where Paymon comes in — a decentralized payments system where microtransactions work because of a unique blockchain that enables unlimited transactions at no cost.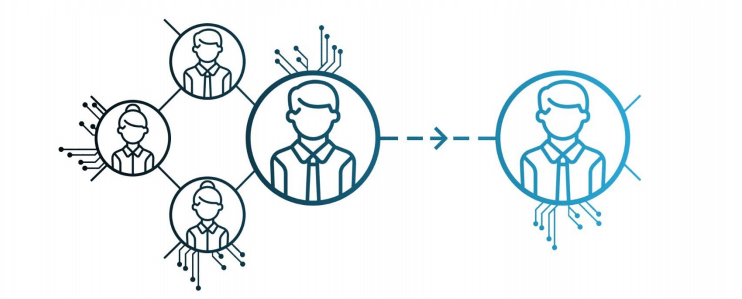 The creative minds over at Paymon began developing a blockchain that would introduce scalable solutions to today's major blockchain problems. The team developed the new Paymon blockchain technology (called Hive) that is packaged with some cutting-edge features:
Unlimited speed and transactions
0% commission and fees on transactions
Smart contracts
Atomic swaps (instant swapping of cryptocurrencies without an exchange)
Proof of Me (PoM) proof-of-work rating system
Users are "miners"
Based on Direct Acyclic Graph algorithms
The Paymon team set out to build a blockchain and payments system that was practical for both consumers and businesses, from macro payments to micro. Paymon's Hive technology enables the transfer of value across a seamless blockchain platform with instant speed and zero costs.
How is Hive able to handle an unlimited amount of transactions, at no cost to the user?
The developers behind Hive wanted a network that would grow faster, not slower, as new users are added to the network. To accomplish this, blocks have been reduced to a size of 1-2 transactions per block, and each user that uses the Paymon ecosystem also becomes a miner, contributing a small amount of computing resources to sustain the network and keep it free of commissions, fees, and wait times.
Paymon's developers are continuing to develop this blockchain using the Rust programming language, and their contributions can be seen via their GitHub.
A messenger with a purpose
The development of Paymon's free, instant and scalable blockchain platform is only one part of the greater Paymon ecosystem — the team has also rolled out a fully-encrypted messenger service that allows users to send and receive cryptocurrencies.
Paymon's messenger is a blockchain messenger application that features:
Encrypted security — all message traffic encrypted with Diffie-Hellman, AES (Advanced Encryption Standard) algorithms using SHA
Smart wallet storage system for securing crypto assets — only users have access to their own private keys
Send and receive cryptocurrency assets (BTC & ETH currently) instantly via messenger
Android platform application available via Google Play
Apple iOS and web applications coming soon (after ICO)
One of the greatest barriers to today's mainstream adoption of cryptocurrencies is ease-of-use. Ordinary people don't have the time nor the desire to concern themselves with creating, storing, and securing multiple wallets, across multiple cryptocurrencies.
With Paymon's blockchain messenger, a new wallet is created automatically for users, allowing them to instantly begin sending and receiving encrypted messages and also securely transferring crypto assets.
What's even better is that consumers will be able to create new wallets, create backup copies of old wallets, and even exchange fiat currency and other cryptocurrencies using atomic swaps.
An opportunity for investors, small and large
Paymon is currently in the second phase of a three-phase initial coin offering (ICO). It is important to note that Paymon has already attracted significant funding ($500,000 USD) from blockchain venture firm FinShi and has also partnered with Descrow, the world's first decentralized Escrow service.
Building off of these early partnerships, Paymon hasn't had to spend capital on advertising — which makes it a darkhorse ICO for keen-eyed investors.
Rather than devoting funds to marketing and outreach, the Paymon team has decidedly focused on building their project and delivering on the promises of their roadmap.
These are good signs for a long-term project still in its early phase of allowing investors to contribute.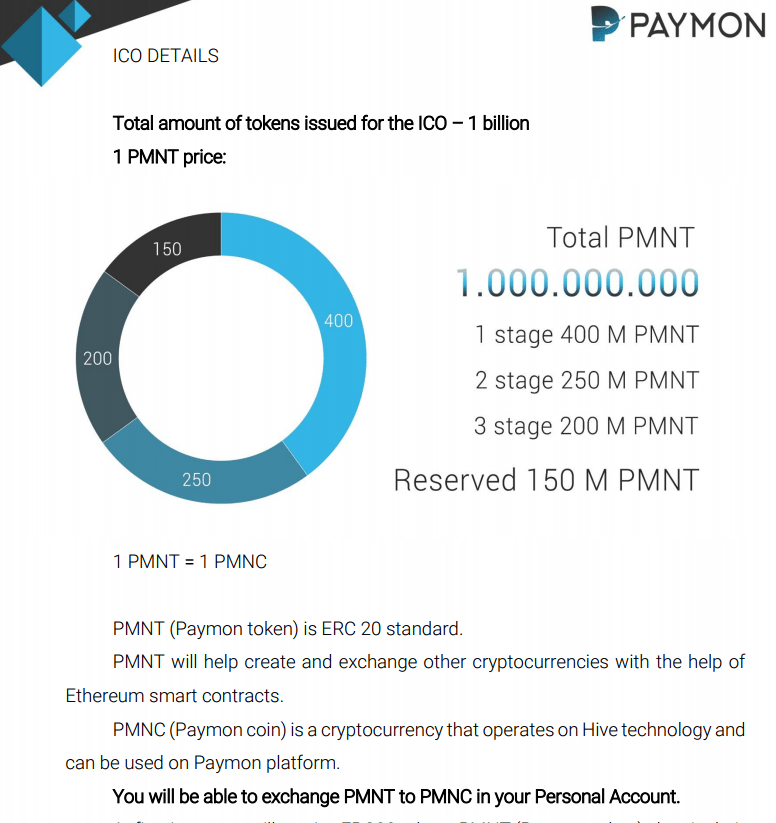 Paymon's ICO is currently in its second phase:
Currently, $497,000 of $500,000 soft cap has been raised
The first phase closed on February 5th, 2018
1 PMNT = $.015
Total PMNT token supply = 1bn
Phase 1 token cap = 400m PMNT
Phase 2 token cap = 250m PMNT
Phase 3 token cap = 200m PMNT
All the three phases of Paymon's ICO represent good opportunities for investors to get involved in the ambitious project. However, to access the largest coin supply at the lowest cost possible, investors have the opportunity to join in on the second phase of Paymon's token sale.
To wrap things up, here are some (not all) of Paymon's key features that make it an exciting project:
A decentralized, easy-to-use, and secure payments ecosystem and development blockchain
A zero-fee, unlimited speed, scalable blockchain platform powered by its users
Hive blockchain platform with API support for developers, security and smart contracts for users
Instant exchange of fiat and cryptocurrencies via atomic swaps
Escrow services and Proof of Me rating system
Paymon's blockchain messenger offers encrypted messages and secure transfer of value and storage of crypto assets
Paymon's list of features is impressive as it is long, but the bottom line is that this team is working towards a blockchain platform that is easy-to-use and will benefit everyone — consumers, developers, and even businesses.
It's rare to find a tokenized project this impressive without the overhype, so investors might benefit from considering an early opportunity to get involved with Paymon.
If you want to learn more about Paymon, check out the following links below.
Website & ICO: https://ico.paymon.org/
Whitepaper: https://ico.paymon.org/#documents
Paymon Blockchain Messenger (Android): https://play.google.com/store/apps/details?id=ru.paymon.android.release&hl=en