Hi Everyone,
Many of us wish that we could see into the future. Well, that's exactly what a recent report from Stanford University aims to do.
This groundbreaking method for evaluating the fair price of cryptocurrencies involves estimating what the token might be worth in 12 years from now if it is successful. They then discounted the future rate to what they think coins should be worth today.
As an example, they've run through the calculations for Bitcoin and XRP. For me, the full 24-page paper was a real page turner but for those of you who just want to know the bottom line, here are their bottom line estimations…

As you can see, their low estimate of what Bitcoin and XRP could be worth today are remarkably higher than their current values.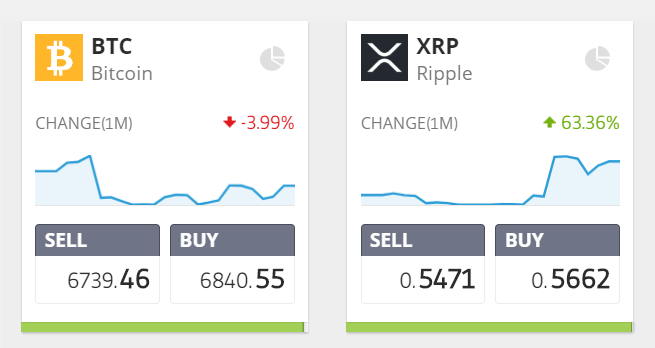 We do need to note that the main author of the paper is also on the board of directors at Ripple Labs and Coincenter, but personally, I don't see any indication that her views were biased. Overall, it was an excellent thought experiment.
It should also be noted that the estimations they've made are extremely conservative. In my opinion, the chances of success for both of these assets is notably higher.
As well, they did not give any reference to the bitcoin's lightning network, which is currently under construction. Once complete, lightning has the potential to drastically increase Bitcoin's throughput, which would increase the bottom line exponentially.
@MatiGreenspan – eToro, Senior Market Analyst
Today's Highlights
Hearing the Hearing
Tesla Charged
Firm Cryptos
Please note: All data, figures & graphs are valid as of September 28th. All trading carries risk. Only risk capital you can afford to lose.
Traditional Markets
The financial markets nearly skipped a beat during yesterday's supreme court justice hearings.
We saw extremely emotional displays from both Judge Brett Kavanaugh and Dr. Blasey Ford, as they gave their testimonies in regards to the sexual assault claims from 1982. Today, the Senate will vote on his nomination confirmation.
Cutting through the drama in the Senate building, all Democrats are expected to deny Kavanaugh's nomination and all but four Republicans, who are on the fence, will likely confirm. As the Republicans have a majority in the Senate they'll probably win, unless two of those Republican senators defect.
According to one anchor, yesterday's hearings had a visible effect on market volumes…
This morning things seem to be back to normal. The Asian markets are hopping with significant gains today and it looks like the Italians are dealing with another bond market blowout, which seems to be affecting the Euro and European stocks today.
Indictment Secured
If there's one man who has appeared at the top of these daily market updates more than Donald Trump this year, it's Elon Musk. Well, he didn't quite make it to the top today, but he just might end up making it to prison. Or worse… fired.
Tesla stocks seem to be running out of battery lately. With this latest update the shares are expected to open significantly lower.
Crypto Firm
Fortunately, the crypto markets have been rather calm over the last 24 hours. So, unfortunately, we don't have too much to report.
One thing I did want to highlight today is the diversity we're starting to see among digital assets.
Check out this graph from CoinCheckup.com…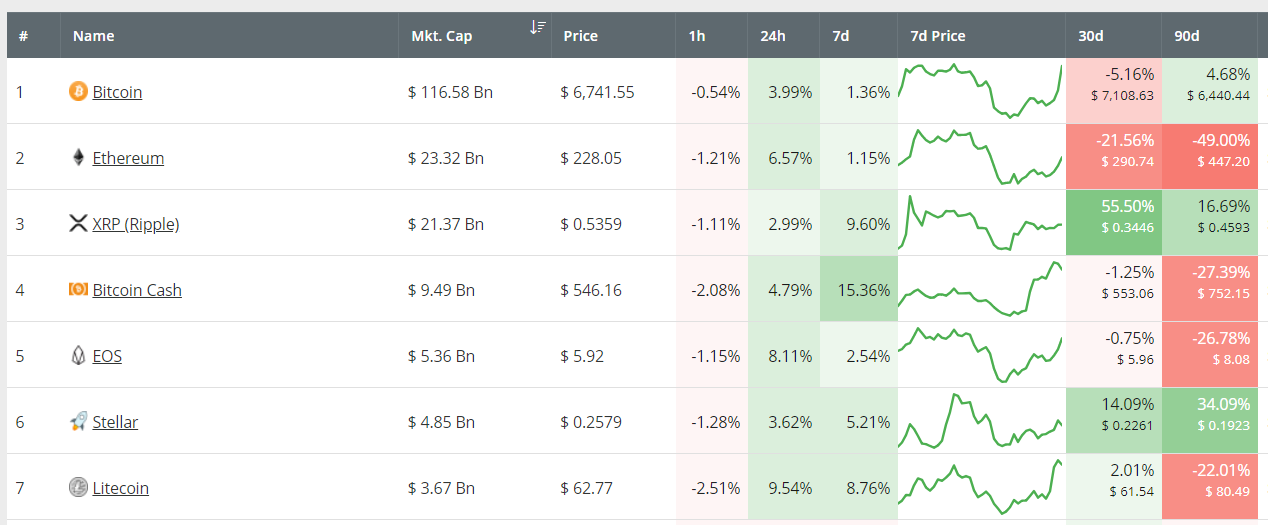 A lot of the times, we tend to hyper-focus on the short-term movements. The 1-hour, 24-hour, and 7-day movements are mostly in-line with each other and have very few outliers.
Now check back at the more long-term moves. From the differences between crypto-assets during the 30-day and 90-day periods, it almost seems like they're on different planets.
Ladies and gentleman, this is what we've been demanding for more than a year. Divergence in the crypto-market has finally arrived.
Have an amazing weekend!!
Many thanks to Mike Chapman for sending me the Stanford report before anybody was talking about it. And many thanks to all of you who are reading the daily and discussing with me on LinkedIn, Twitter, and eToro.
This content is provided for information and educational purposes only and should not be considered to be investment advice or recommendation. 
The outlook presented is a personal opinion of the analyst and does not represent an official position of eToro.
Past performance is not an indication of future results. All trading involves risk; only risk capital you are prepared to lose.
Cryptocurrencies can widely fluctuate in prices and are not appropriate for all investors. Trading cryptocurrencies is not supervised by any EU regulatory framework.
About the Author: Mati Greenspan is a Senior Market Analyst at eToro
Connect with Mati on….
eToro: http://etoro.tw/Mati  | Twitter: https://twitter.com/matigreenspan | LinkedIn: https://www.linkedin.com/in/matisyahu/  | Telegram: https://t.me/MatiGreenspan | Office Phone: +44-203-1500308 (ext:311)
Disclaimer: The opinions expressed in this article do not represent the views of NewsBTC 
or any of its team members. NewsBTC is neither responsible nor liable for the accuracy of 
any of the information supplied in Sponsored Stories/Press Releases such as this one.