The crypto exchange market is a highly volatile space and in the third quarter of 2018, possibly as most cryptocurrencies started to recover from many months of a downtrend, the market has started to show large daily price movements.
In the global crypto exchange market, there are a select few cryptocurrencies that tend to move by large margins within short periods of time. Often, these cryptocurrencies are heavily affected by news and events surrounding them, such as Ripple, Stellar, Bitcoin Cash, 0x, and Ethereum Classic.
All of the five abovementioned cryptocurrencies have recorded 10 to 50 percent daily increase in price in the past month, with continuous high volatility expected throughout the 4th quarter of 2018.
Take a look at the highlights we prepared with SimpleFX WebTrader, a fast and easy-to-use platform you can trade with the next time a cryptocurrency is in turmoil.
Ripple on September 20
For Contract for Difference (CFD) traders, Ripple (XRP) is the most ideal cryptocurrency to trade due to its extraordinarily high daily volatility. As a form of derivative trading, CFD trading allows investors to speculate on the increase or decline in the price of an asset in a fast-moving market.
As such, for CFD traders, it is of utmost importance to target markets that experience fast daily movements and volatility on a regular basis.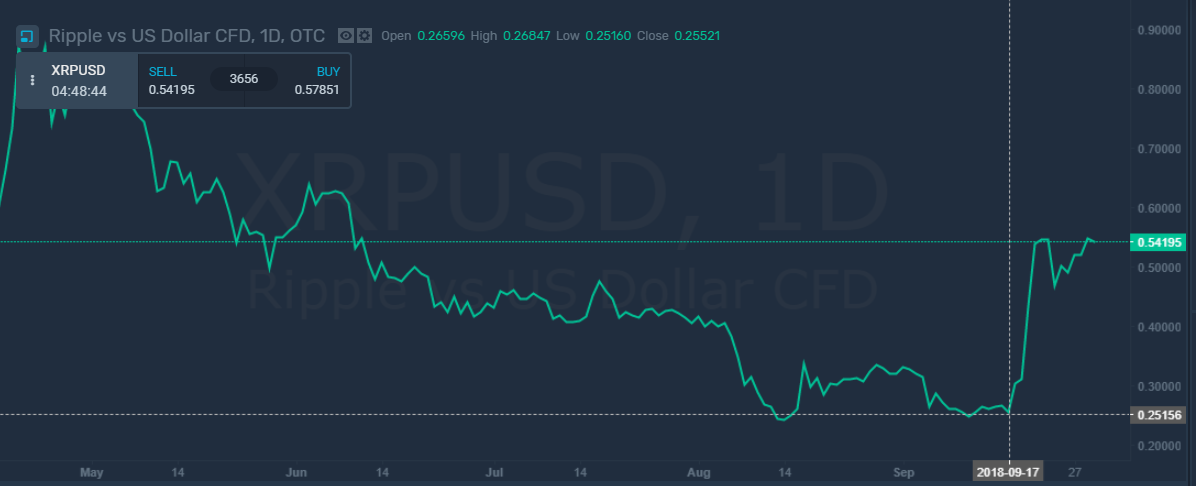 XRPUSD surged by nearly 100% in 4 days. Source: SimpleFX WebTrader
Over the past week, XRP has seen an increase in value of around three-fold. On September 17, the price of XRP hovered at around $0.255. Within 4 days, by September 21, the price of XRP surged to $0.51, by nearly 100 percent.
Bitcoin, the most dominant cryptocurrency in the global market, is less affected by news and events as seen in the launch of Bakkt, a cryptocurrency platform created by ICE, Microsoft, and Starbucks. The creation of Bakkt was considered as one of the most positive developments in all of 2018 and yet, it barely impacted the short-term price trend of Bitcoin.
XRP however, due to the existence of Ripple Labs, a company that oversees the development of XRP and blockchain-based products on the Ripple blockchain, is generally more susceptible to large daily movements on both the upside and downside.
Analysts have attributed the recent run of XRP to three major factors: the increase in activity of XRP in Japan and South Korea, the scheduled launch of a new cryptocurrency product by Ripple Labs, and an upcoming Ripple event.
Ethereum Classic in January, May, August
Throughout 2018, due to several variables including the integration of Ethereum Classic (ETC) by Coinbase and the launch of publicly tradable instruments around ETC by investment firms like Digital Currency Group, ETC has seen some of the largest daily spikes in 2018.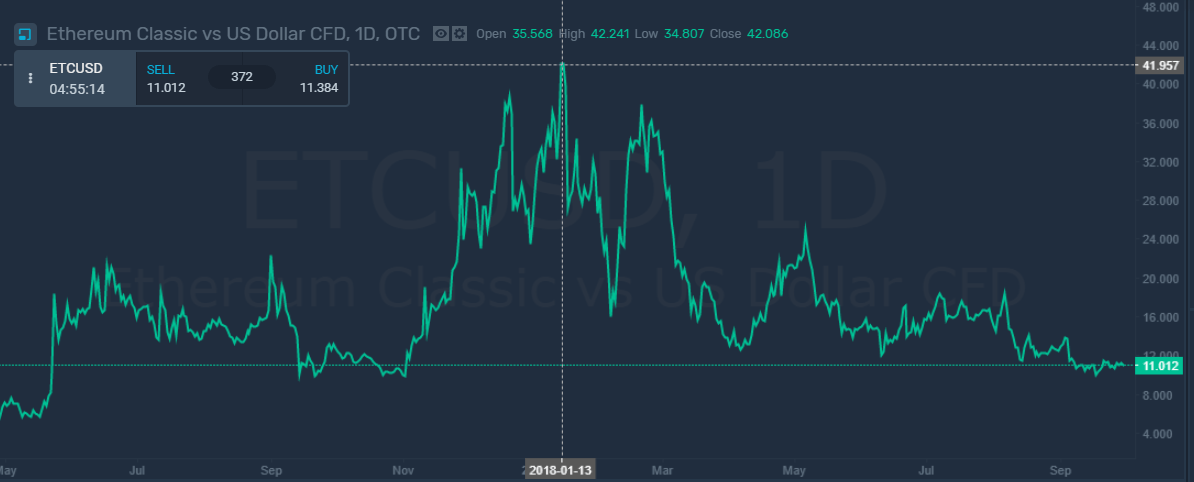 ETCUSD extreme volatility created lots of opportunities for day traders. Source: SimpleFX WebTrader
In early 2018, the US Securities and Exchange Commission (SEC) declared that Ethereum is not considered a security under existing laws. The clearance of Ethereum by the SEC instantly meant that ETC is also by existing regulations not a security.
Almost immediately after the SEC's announcement was revealed, Coinbase, the largest cryptocurrency brokerage in the global market, integrated ETC, pushing the price of the digital asset up substantially.
On August 4, Coinbase disclosed final testing for ETC support and a few days after, the exchange finalized the integration of ETC, which led to a 30 percent increase in the price of ETC.
Prior to that, in January and May, ETC recorded large rallies in the range of 30 to 50 percent.
Ethereum in May
On May 3, the price of Ethereum (ETH) increased by around 23 percent within a 24-hour period, as initial coin offering (ICO) and blockchain projects started to see an increase in interest from investors in the broader market.
WIthin a 30-day period, from April 3 to May 3, the price of Ethereum recorded an increase of 128 percent, nearly increasing by three-fold.

ETHUSD had an especially hot month in April, Source: SimpleFX WebTrader
At the time, the demand for Ethereum as a global supercomputer peaked, and as Aragon co-founder Luis Cuende put it, there were no talented Ethereum developers that were not a millionaire.
"I don't know any good Ethereum developer that isn't a millionaire, and it's only a matter of time before it will become a gold rush among developers to learn the technology," Cuende said.
Historically, ETH has seen abrupt changes in volume and price trend on many occasions. Last week, for example, ETH increased by nearly 20 percent within a 24-hour period after the market demonstrated massively oversold conditions after Ethereum dropped from $800 to around $150 within a three-month period.
To CFD traders, ETH could be highly appealing as a volatile digital asset with some level of stability which not many cryptocurrencies apart from Ripple and Bitcoin Cash offer.
Cryptocurrency traders can make money keeping track of the market news and placing quick orders in response. They just need a handy platform that provides a range of tools. They also need a trading account with some funding ready, preferably without minimum deposits. A simple trading app makes it much easier to make a profit when an opportunity comes.  
If you need a fast and reliable trading app visit SimpleFX.com
Disclaimer: The opinions expressed in this article do not represent the views of NewsBTC 
or any of its team members. NewsBTC is neither responsible nor liable for the accuracy of 
any of the information supplied in Sponsored Stories/Press Releases such as this one.