Hi Everybody,
"Man, it's goin' crazy this cryptocurrency man…"
So says the new hit single from the well-known rapper Soulja Boy. This is following closely on the heels of Eminem who mentioned the world's favourite cryptocurrency in his single Not Alike, which states that "now, everybody doin' Bitcoin."
When he says everybody, he's speaking directly to one of the most significant socio-economic trends of our generation.
Indeed, over the last two months, we've seen a push towards innovation and adoption of cryptoassets by some of the giants in the financial services sector.
The fact that bitcoin's price has remained stable over the last few months is only adding to the confidence that this new global currency is being seen as a valid alternative to fiat money, which is controlled by governments and central banks.
@MatiGreenspan – eToro, Senior Market Analyst
Today's Highlights
The New World
China's Reserves
Segwit Adoption Growing
Please note: All data, figures & graphs are valid as of October 8th. All trading carries risk. Only risk capital you can afford to lose.
Traditional Markets
We'd like to wish all of our colleagues and clients in the United States a very happy Columbus Day. Today is also a national holiday in Japan and Canada so we can expect volumes to be a bit light, especially in the afternoon.
China, on the other hand, is just coming back from a week off and have wasted no time catching up on the declines in the stocks and bond markets that we saw at the tail end of last week.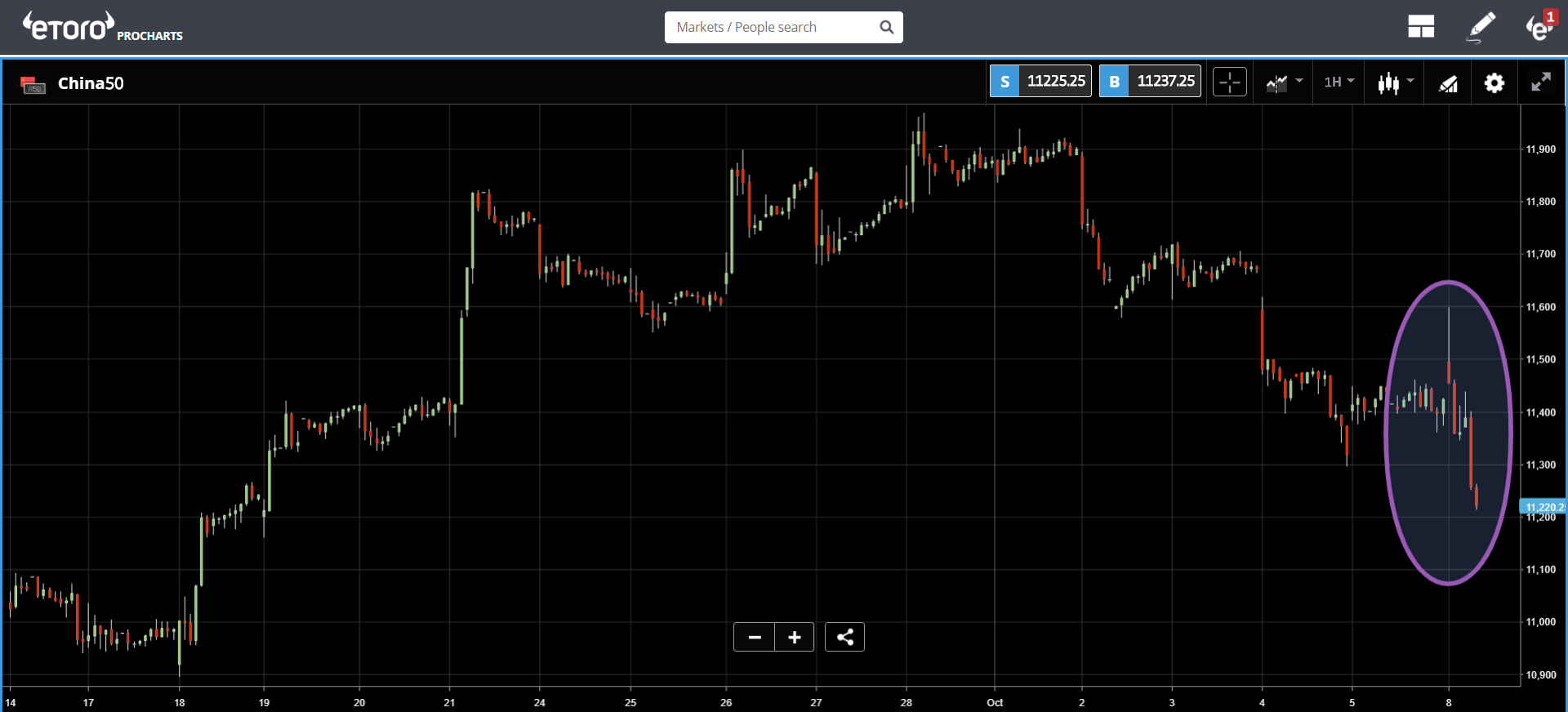 China's Fresh Cash
It is a bit strange that shares are dropping in China though, especially after this…

As we know, the fiat system relies on a system called fractional reserve banking. Which means that banks are allowed to create new money based on a smaller amount of money they're holding.
These reserves are monitored by the central bank and the central bank of China, the People's Bank of China, has just allowed some of their banks to increase the amount of money created by lowering the minimum amount of cash required to be held in reserve.
This move was intended to boost confidence in the system but it seems to have backfired as many analysts are seeing this move as too small, and that China's central bank will simply have to take more drastic measures down the road.
In this chart, we can see that the Yuan is also taking a hit from this announcement.
Segwit Adoption Growing
One of the harshest criticisms of bitcoin is the difficulty we've seen in scaling the network. One of the possible solutions is SegWit.
Even though SegWit was installed on the main bitcoin blockchain in August 2017, adoption of this service has been, well… slow.
The way it works is that it allows some of the information from each transaction to be stored in a separate place, which is off the main blockchain. That way, each transaction takes up less space and you can squeeze more transactions on each block.
However, this does require each wallet provider to actually begin using the solution.
I'm pleased to report that SegWit adoption (the orange line in the graph below) has recently reached an all-time high and is on an excellent trajectory…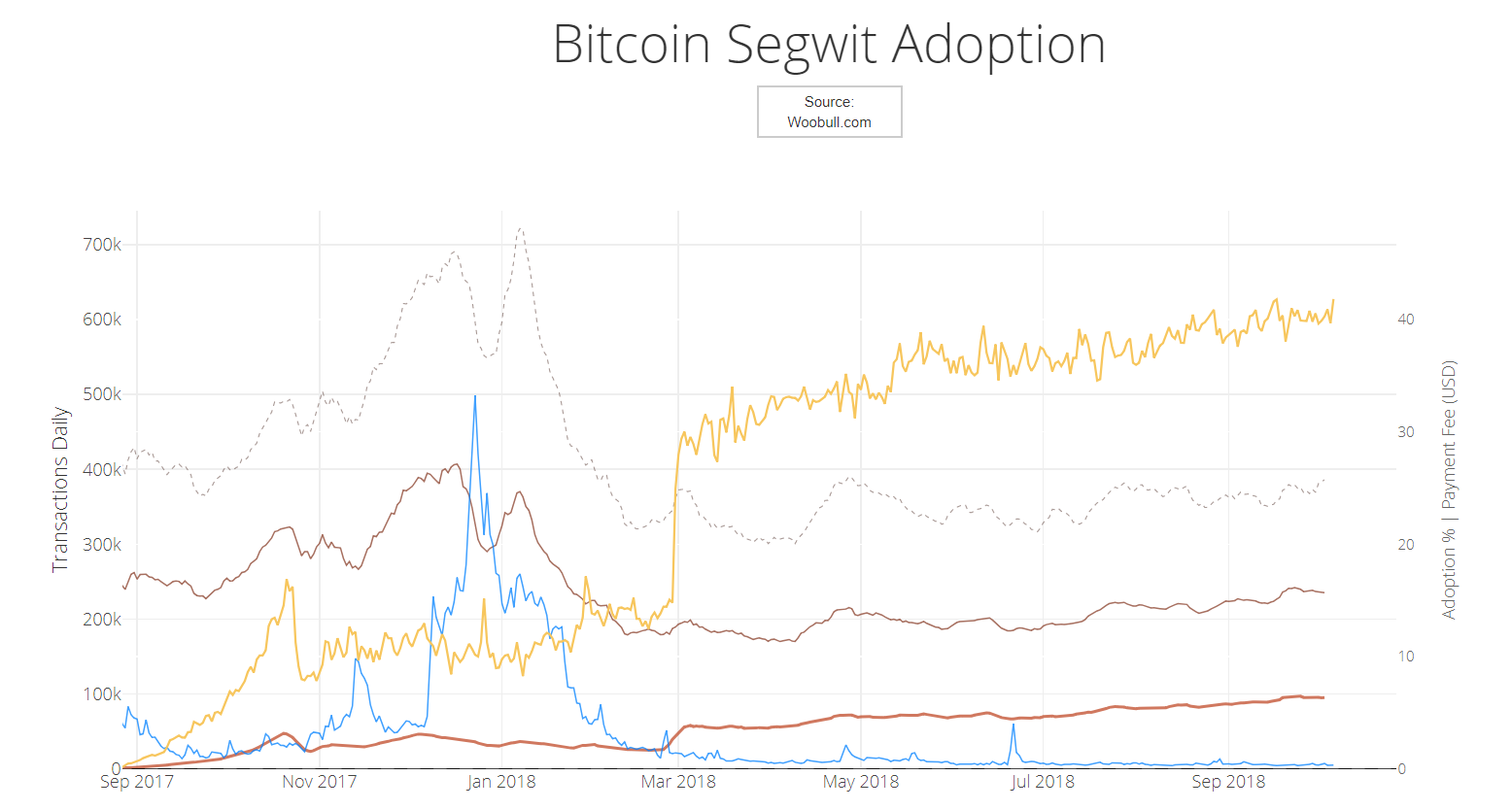 As we've stated many times, a stable price is great for adoption, and great for development of the network. So, we really are in a positive place for Bitcoin right now.
Can't wait for the lightening network to be ready!!
Let's have an amazing day ahead.
This content is provided for information and educational purposes only and should not be considered to be investment advice or recommendation. 
The outlook presented is a personal opinion of the analyst and does not represent an official position of eToro.
Past performance is not an indication of future results. All trading involves risk; only risk capital you are prepared to lose.
Cryptocurrencies can widely fluctuate in prices and are not appropriate for all investors. Trading cryptocurrencies is not supervised by any EU regulatory framework
About the Author: Mati Greenspan is a Senior Market Analyst at eToro
Connect with Mati on….
eToro: http://etoro.tw/Mati  | Twitter: https://twitter.com/matigreenspan | LinkedIn: https://www.linkedin.com/in/matisyahu/  | Telegram: https://t.me/MatiGreenspan | Office Phone: +44-203-1500308 (ext:311)
Disclaimer: The opinions expressed in this article do not represent the views of NewsBTC 
or any of its team members. NewsBTC is neither responsible nor liable for the accuracy of 
any of the information supplied in Sponsored Stories/Press Releases such as this one.