Hi Everyone,
Thirty years ago The Economist magazine ran a story that began with the words "thirty years from now."
It then proceeded to predict the rise of a new world currency. On the cover of that magazine was a picture of a Pheonix standing on top of a pile of burning fiat money.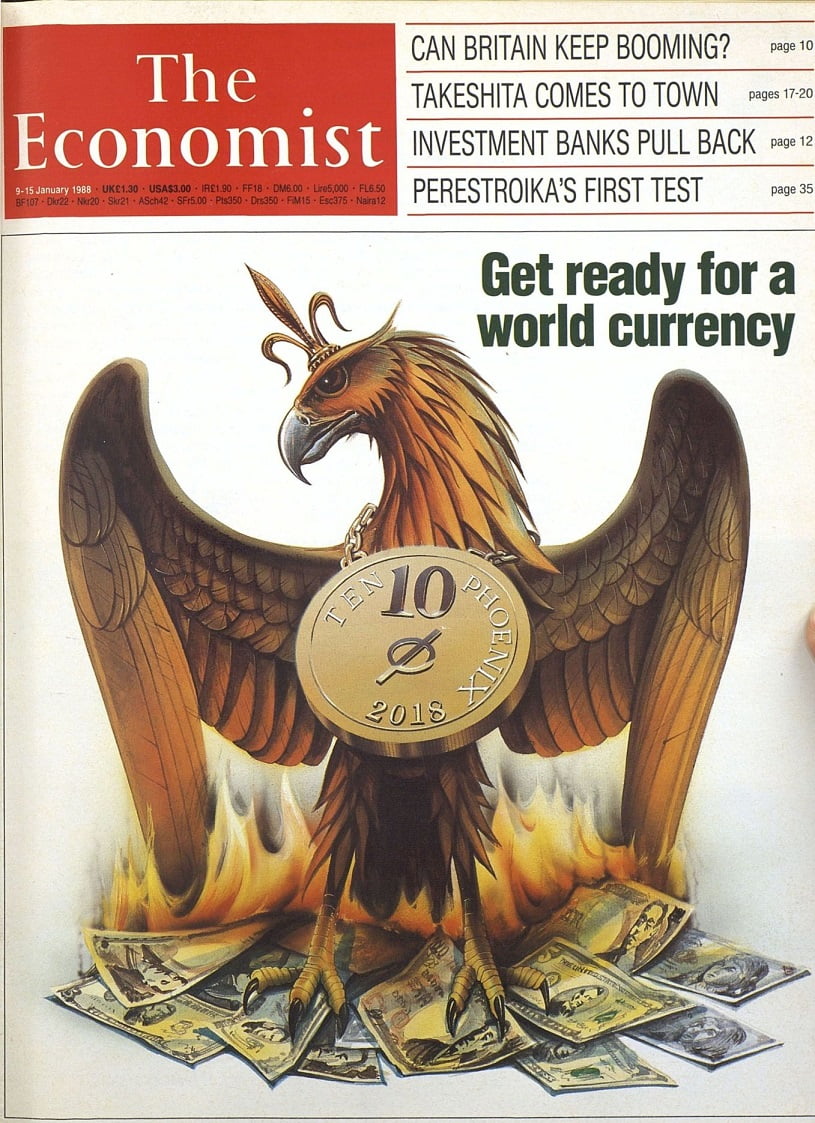 In this fascinating article, the magazine describes the world as it was then, when the extreme volatility of the international currency markets threatened to undermine global economic stability.
Though the currency they call "the Phoenix" bears many dissimilarities to bitcoin, it is funny to see tomorrow's date (Ten 10, 2018) hanging round the neck of this symbol of global money, which was born on the ashes of a financial crisis.
@MatiGreenspan – eToro, Senior Market Analyst
Today's Highlights
Eyes on Bonds
Minus Google plus
Bitcoin Breakout Imminent
Please note: All data, figures & graphs are valid as of October 8th. All trading carries risk. Only risk capital you can afford to lose.
Traditional Markets
Markets were a bit wonky during the New York session yesterday. While the bond markets were closed for the holiday stocks remained open but as stocks have been taking their cues from the bonds lately, there wasn't much to anchor to. Shares in tech stocks performed particularly poorly.
In general, there hasn't been much in the news lately to move the markets too much. The US Dollar remains range bound and we continue to watch the Italian bonds for any sign of weakness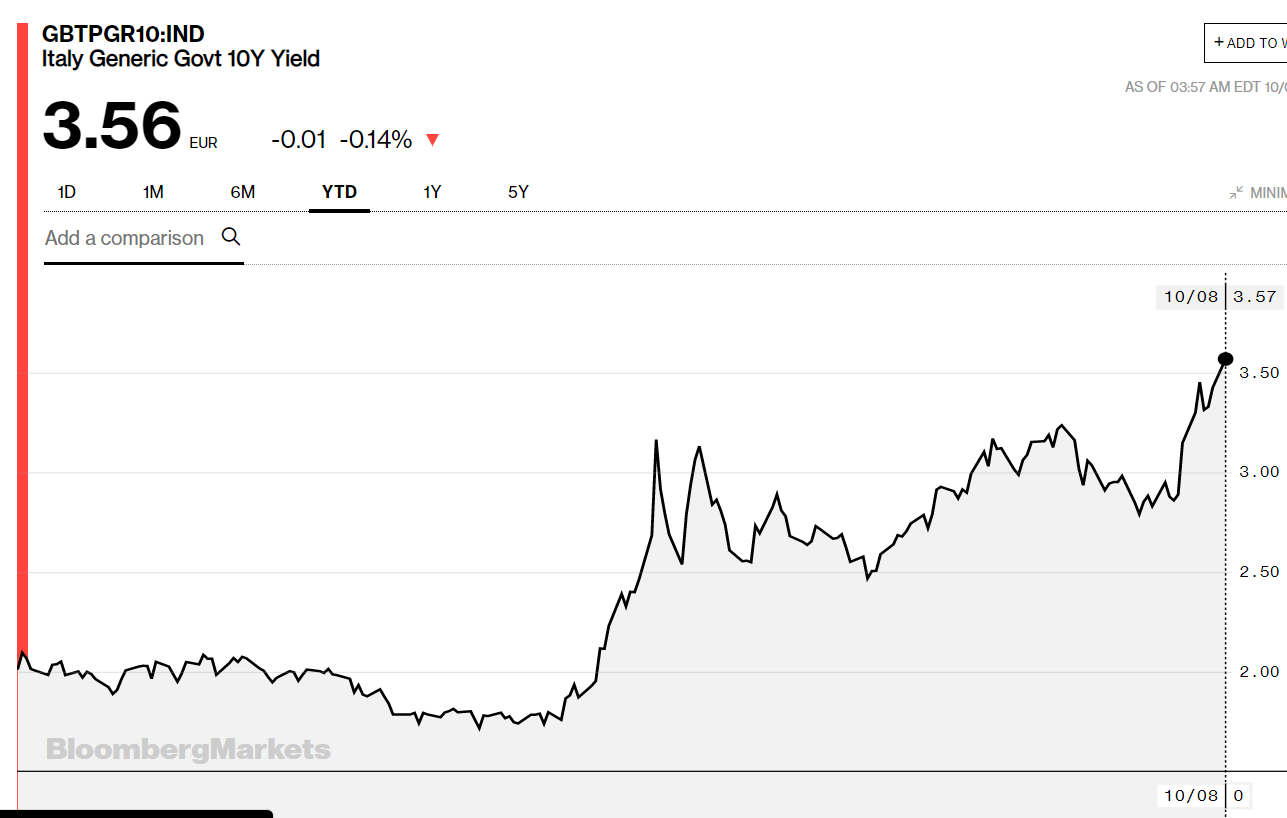 Minus Google Plus
Yesterday, Alphabet announced that it's scrapping its social network known as Google Plus, due to a hacking incident which exposed about half a million users' personal data.
Though shares did fall on the news, they managed to recover by the end of the day. After all, Google Plus is hardly even used these days and accounts for a negligible portion of the advertising mega-giant's revenues.
For those of you who are bullish long-term, this might be a good time to get in. For me, however, my skepticism in all of the big tech firms has only been reinforced from this story. Much of the value that these shares retain is due to the large amount of personal data they are holding. The more they show that they can't be trusted with this data, the more people will find alternate solutions.
Bitcoin Breakout Chart
As we've been saying, the price of bitcoin is insanely steady lately and that's a great thing. However, there is a good chance that this will change soon.
This bitcoin chart shows that over the last year, the range has been getting steadily narrower and has now reached the tip. This is a classic breakout pattern.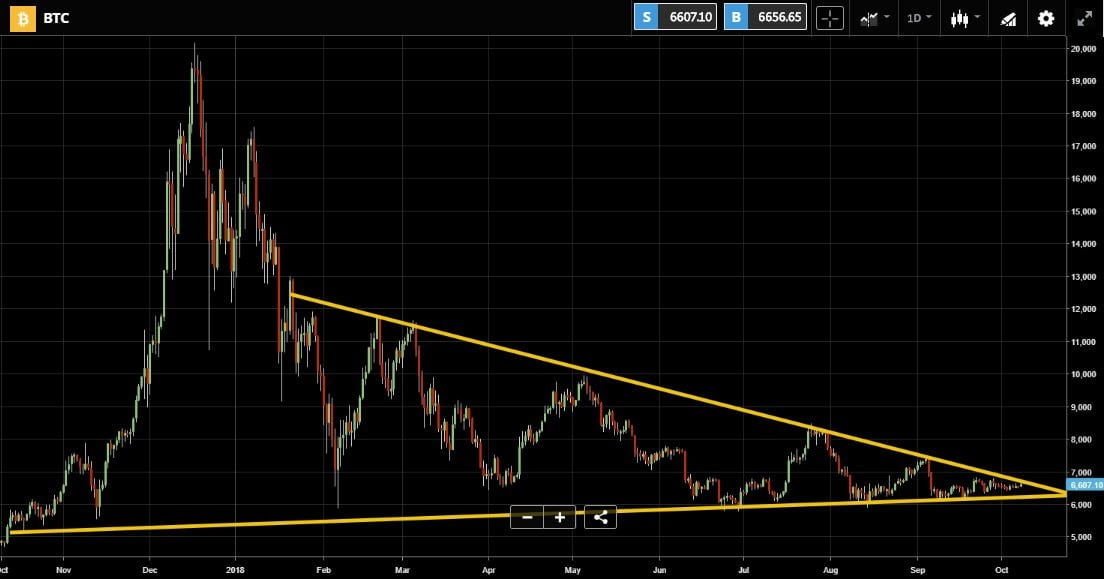 This pattern on the chart is not new to bitcoin. In fact, this is the third time it's come to a head this year.
Here we can see the previous two previous times. Each time we saw a triangle (dotted orange lines) it eventually broke out (purple boxes) to the upside.
Notice also that in the second chart, I've used the 200-day moving average (blue line) instead of a hand-drawn resistance line as above. The reason for this is that hand-drawn lines can be different depending on the person who draws them.
In this case, the 200 DMA is a much cleaner indicator of resistance. In fact, we can see that it has bounced off this line about half a dozen times this year.
A strong breakout above the 200 Day Moving Average could easily flip sentiment from bearish to bullish for many cryptotraders.
As always, please let me know if you have any questions, comments, or feedback on this analysis. I'm always happy to hear them.
This content is provided for information and educational purposes only and should not be considered to be investment advice or recommendation. 
The outlook presented is a personal opinion of the analyst and does not represent an official position of eToro.
Past performance is not an indication of future results. All trading involves risk; only risk capital you are prepared to lose.
Cryptocurrencies can widely fluctuate in prices and are not appropriate for all investors. Trading cryptocurrencies is not supervised by any EU regulatory framework.
About the Author: Mati Greenspan is a Senior Market Analyst at eToro
Connect with Mati on….
eToro: http://etoro.tw/Mati  | Twitter: https://twitter.com/matigreenspan | LinkedIn: https://www.linkedin.com/in/matisyahu/  | Telegram: https://t.me/MatiGreenspan | Office Phone: +44-203-1500308 (ext:311)
Disclaimer: The opinions expressed in this article do not represent the views of NewsBTC 
or any of its team members. NewsBTC is neither responsible nor liable for the accuracy of 
any of the information supplied in Sponsored Stories/Press Releases such as this one.