Hi Everyone,
Of all the significant dates in Blockchain, October 31st stands out as one of the most important by far. On this date in 2008, Satoshi Nakamoto published the Bitcoin White Paper, to a small mailing list of cryptographers.
Though the concepts discussed in the paper weren't particularly groundbreaking, this simple act of mailing a letter ended up being the spark that lit the fire and rallied the cypherpunks to create a new form of money.
Money that is now recognized by most of the world's population to be, for better or worse, completely independent of the global economic engine.
Happy Birthday, Bitcoin. Here's to the next 10 years of financial freedom!!
@MatiGreenspan – eToro, Senior Market Analyst
Today's Highlights
Trick or Treat Markets
No More Safety
Bitcoin Scaling
Please note: All data, figures & graphs are valid as of October 31st. All trading carries risk. Only risk capital you can afford to lose.
Trick or Treat Markets
Though the announcements coming out of Asia this morning seemed pretty scary on the surface, investors have taken them in good fun and are now enjoying a festive rally.
Top of the news comes from the Bank of Japan…

As well, some sour data from China…

Here we can see that the global stock indices have clearly chosen treat over trick today.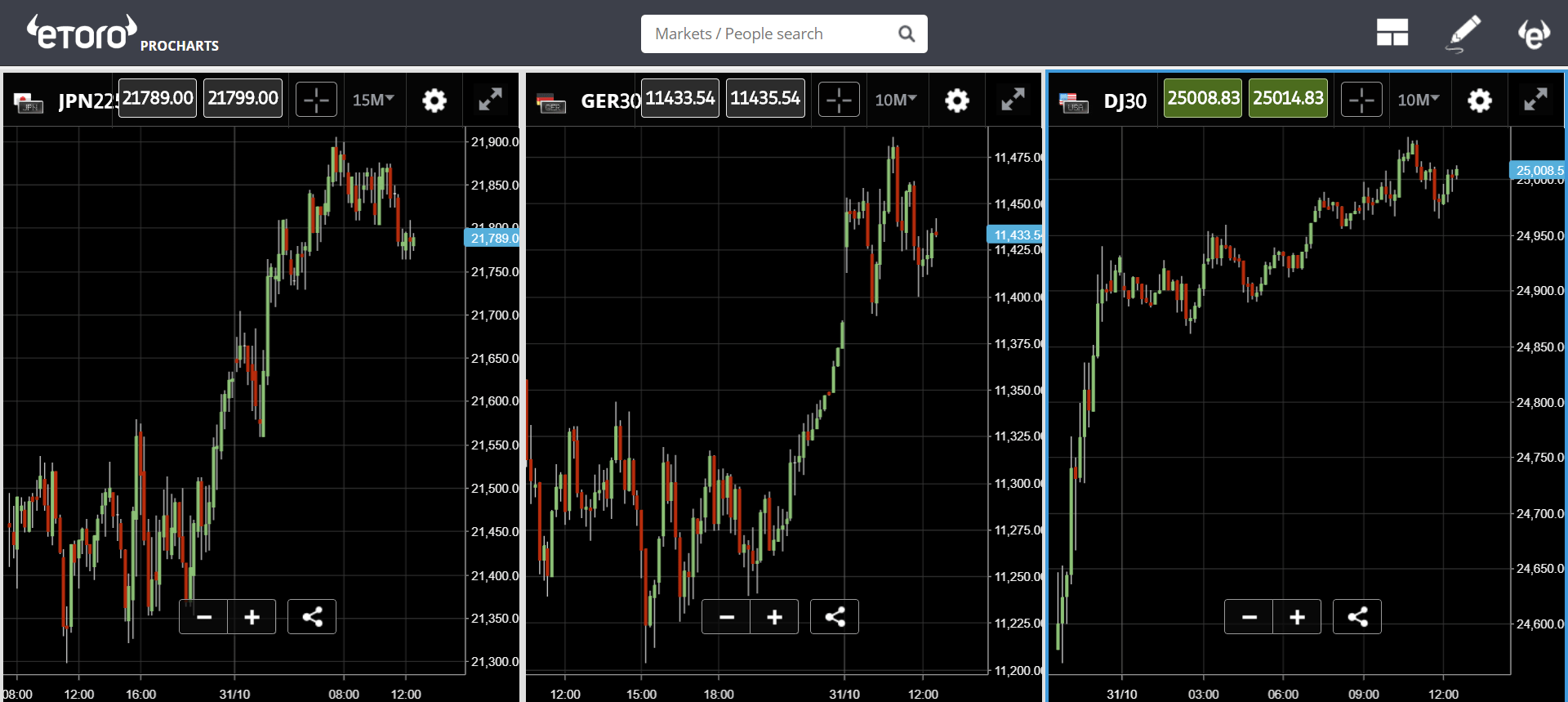 Risky Business
After an entire month of losses, dubbed "Red October," it seems that investors are finally looking to take a bit of risk today. This can be seen across the board in all asset classes, except crypto which remains pleasantly disconnected.
The hallmark, of course, is gold. Here we can see the shiny metal coming down from its highs over the last few days (purple circle).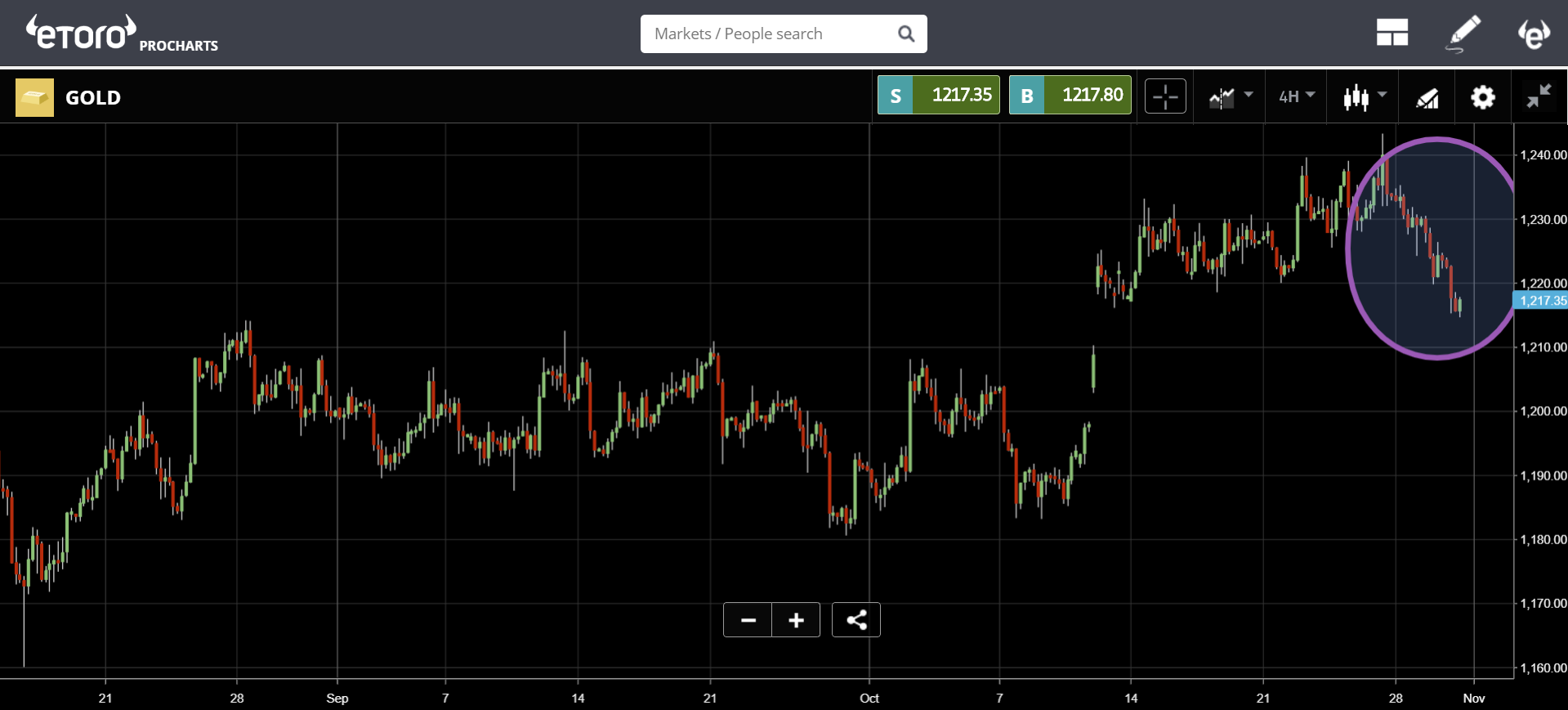 The bond markets have been declining, too. These graphs show the yield, which trades opposite the bond price, increasing this week in…
the United States…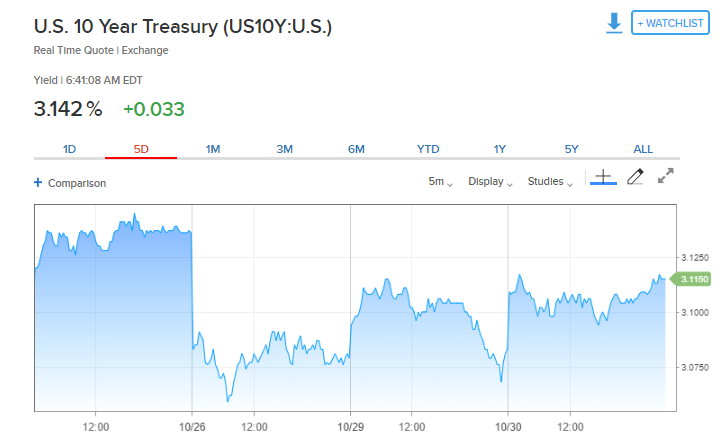 In Japan…
And even in Italy…
The currency markets, on the other hand, are kind of a mixed bag. It's clear that the safe havens (Yen and Swiss Franc) are the worst performers. The USD, on the other hand, seems to be riding with the commodity currencies (NZD, AUD, CAD) at the top.
Crypto
The good news continues to pour into the crypto market every day, but it does not seem to be having much of an effect on asset prices.
There was a small dip on Monday, roughly 2.8% from top to bottom, but certainly nothing to write home about.
Meanwhile, the number of transactions on bitcoin's blockchain continue to increase at a steady pace, now looking at an average TPS rate of about 2.9.
Nonetheless, by looking at the number of unconfirmed transactions (mempool) we can see that there is virtually no strain on the network. Some of you may recall that when the TPS rate was high last December it caused a large backup in the blockchain, which resulted in transactions being delayed.
Here we can see that the mempool has been free and clear since February.
Meanwhile, the price is doing its absolute very best to stay within its long-term triangle. It's only a matter of time until the laws of physics force a breakout. Let's hope for a strong upward surge to cement the end of the bear market.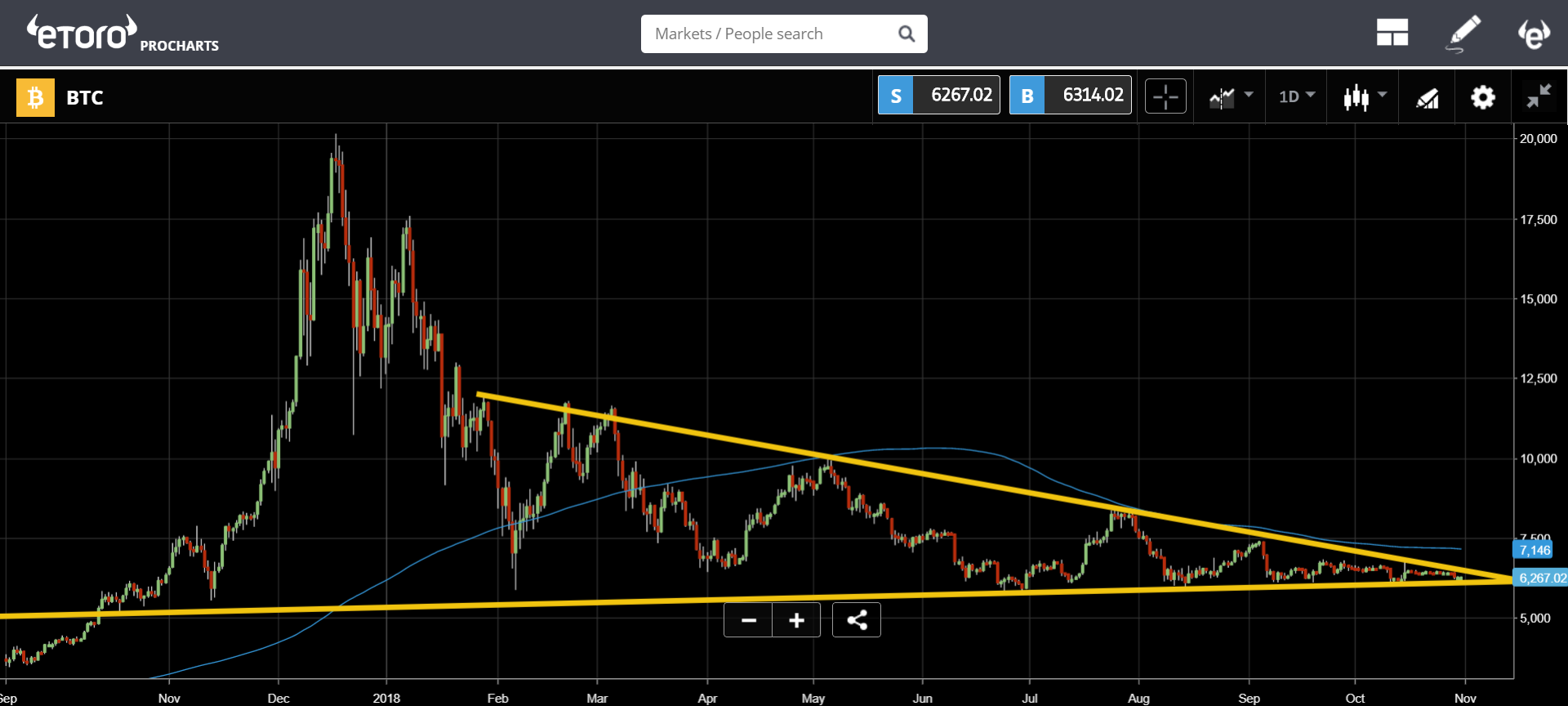 Wishing you a fantastic day ahead!
This content is provided for information and educational purposes only and should not be considered to be investment advice or recommendation. 
The outlook presented is a personal opinion of the analyst and does not represent an official position of eToro.
Past performance is not an indication of future results. All trading involves risk; only risk capital you are prepared to lose.
Cryptocurrencies can widely fluctuate in prices and are not appropriate for all investors. Trading cryptocurrencies is not supervised by any EU regulatory framework.
About the Author: Mati Greenspan is a Senior Market Analyst at eToro
Connect with Mati on….
eToro: http://etoro.tw/Mati  | Twitter: https://twitter.com/matigreenspan | LinkedIn: https://www.linkedin.com/in/matisyahu/  | Telegram: https://t.me/MatiGreenspan | Office Phone: +44-203-1500308 (ext:311)
Disclaimer: The opinions expressed in this article do not represent the views of NewsBTC 
or any of its team members. NewsBTC is neither responsible nor liable for the accuracy of 
any of the information supplied in Sponsored Stories/Press Releases such as this one.