Hi Everyone,
Cryptocurrencies have the potential to benefit a number of economies around the world but the largest potential market by far is India.
In November 2016, on the same day that Donald Trump was elected, Prime Minister Narendra Modhi surprised his citizens with a new sanction. The new ordinance known as "demonetization" got rid of 86% of the paper notes in the country in just a few weeks.
This week, the State Bank of India has reduced the daily withdrawal limit to just 20,000 Rupees ($270) a day. The stated goal of these moves, fraud prevention and reduction of black market activity, are indeed commendable. The current administration has also come a long way towards opening up their market to foreign investments.
However, one effect of the reduced availability of cash is the dependency on digital payments. We know that the Reserve Bank of India has imposed a sweeping ban on all crypto assets, while the court system and finance ministry continue to drag their heels. After months of delays, the next Supreme Court hearing on the matter is expected for mid-November.
Hopes are high that the ban will be overturned but we really don't know what they'll do. On Tuesday, the government issued this rather ambiguous statement as part of their Financial Stability and Development Council report.
Several commentators have pointed out that the term "private cryptos" probably refers to private coins like Monero and Zcash but it really isn't clear.
Crypto advocates in India continue to lobby the government and hope for a ruling in their favor, but the truth is that the parties in charge of digital payments in the country stand to lose a lot if cryptoassets are made legal.
All in all, those who really care about financial freedom will probably be better off shifting focus. The financial revolution will not be won in any courtroom or government office. It starts with the citizens. At the moment most people don't know much about bitcoin or crypto. They only know what they see in the media, which isn't too positive at the moment.
@MatiGreenspan – eToro, Senior Market Analyst
Today's Highlights
Lots of News Coming Up
Risk On Sentiment
Crypto Asset Class
Please note: All data, figures & graphs are valid as of November 1st. All trading carries risk. Only risk capital you can afford to lose.
Traditional Markets
Italy and France will be mostly offline today for a local holiday so we could have a rather relaxing morning without them. However, the action is expected to pick up swiftly as the economic calendar for today is exploding with high profile events.
First up is the Bank of England, which will deliver its interest rate decision and inflation report, followed by a press conference with Governor Mark Carney. So watch the Pound Sterling and the FTSE for any recourse.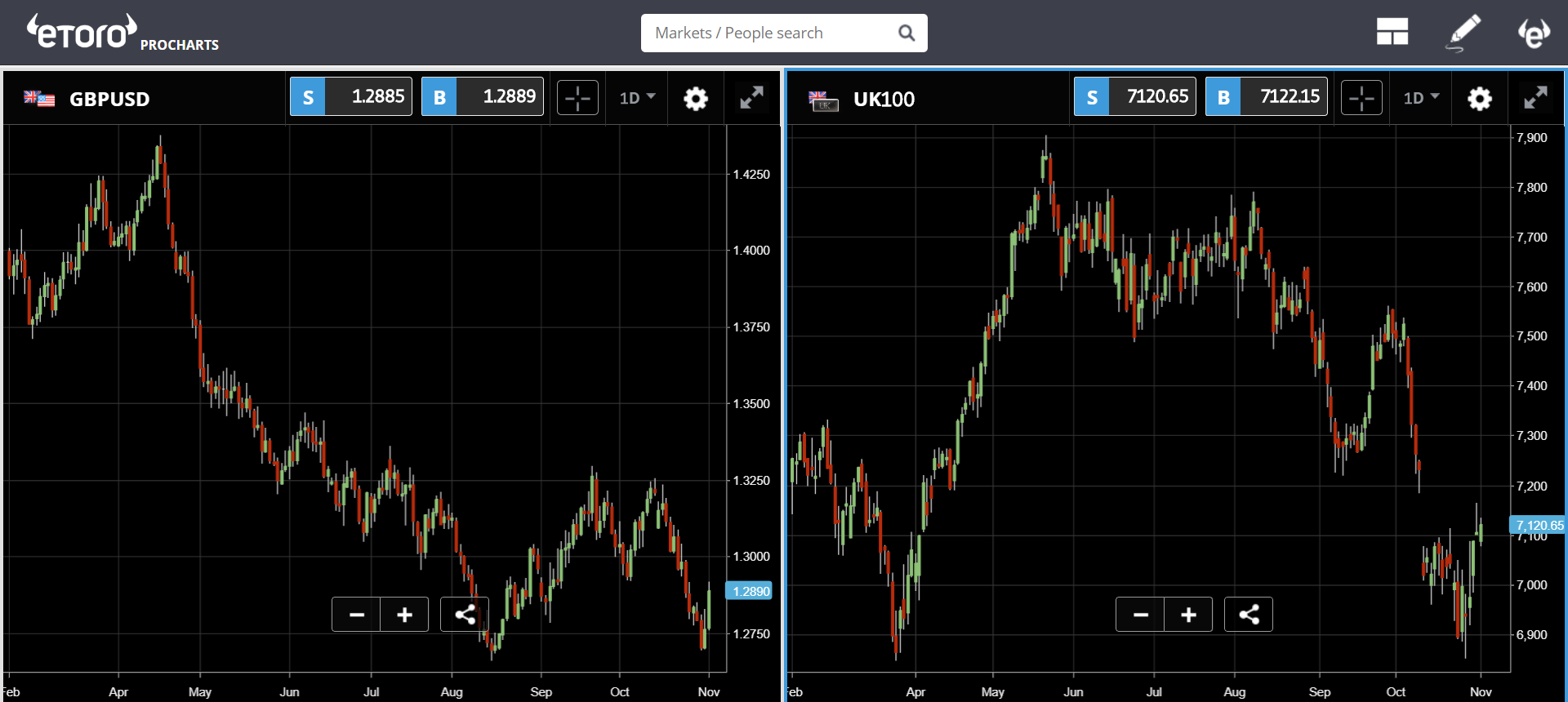 We'll also get the PMI reading from the United States, which is expected to a broad expansion in American Manufacturing.
After the closing bell on Wall Street, we'll get a slew of earnings announcements. The headline number, of course, will be the largest company in the world, Apple.
All seems set for a risk on rally today. The only thing off is a strong upward swing in gold, which is rather inexplicable given the current market sentiment.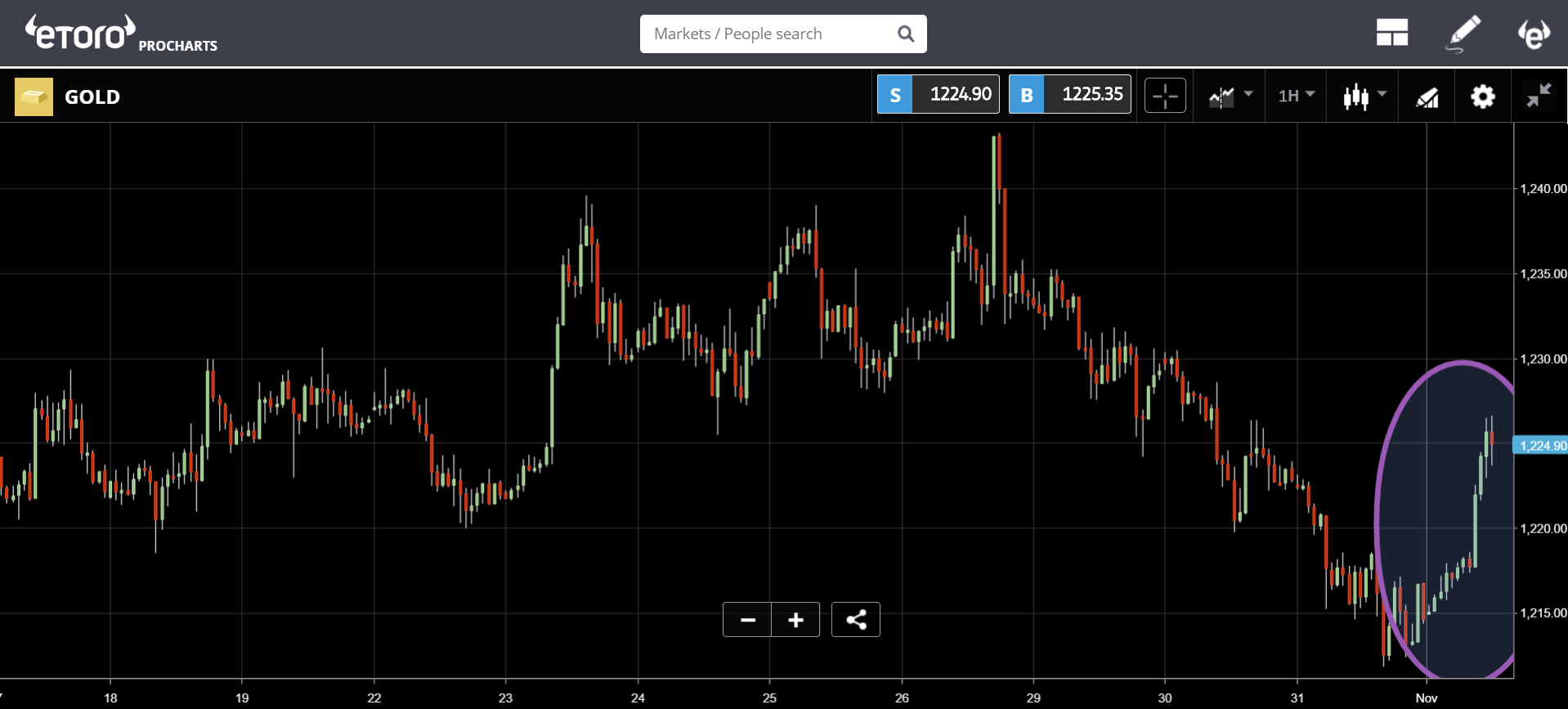 Eh… probably just a glitch in the matrix.
Crypto Assets Rising
Sure, some people refuse to believe…
..but others are catching on quickly…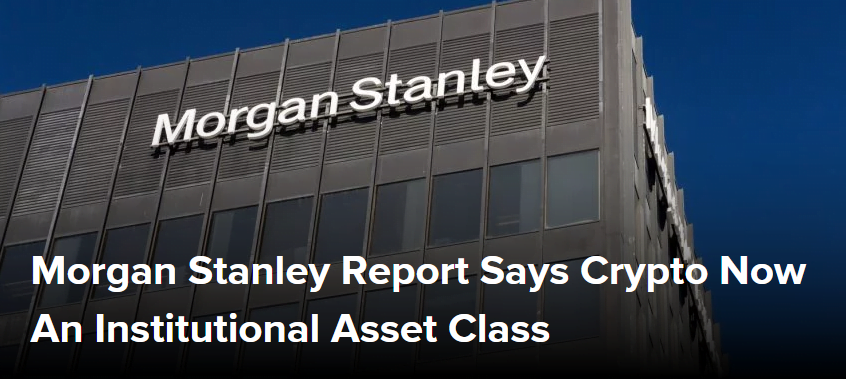 perhaps not too quickly though. We've been talking about the rise of the crypto asset class here in eToro for years and this will be taken one step further once we start talking about the tokenization of traditional assets as well.
All in all, it is good to see this report from a reputable financial incumbent like Morgan Stanley.
Onwards & upwards!!
Let's have a perfect day ahead. 🙂
This content is provided for information and educational purposes only and should not be considered to be investment advice or recommendation. 
The outlook presented is a personal opinion of the analyst and does not represent an official position of eToro.
Past performance is not an indication of future results. All trading involves risk; only risk capital you are prepared to lose.
Cryptocurrencies can widely fluctuate in prices and are not appropriate for all investors. Trading cryptocurrencies is not supervised by any EU regulatory framework.
About the Author: Mati Greenspan is a Senior Market Analyst at eToro
Connect with Mati on….
eToro: http://etoro.tw/Mati  | Twitter: https://twitter.com/matigreenspan | LinkedIn: https://www.linkedin.com/in/matisyahu/  | Telegram: https://t.me/MatiGreenspan | Office Phone: +44-203-1500308 (ext:311)
Disclaimer: The opinions expressed in this article do not represent the views of NewsBTC 
or any of its team members. NewsBTC is neither responsible nor liable for the accuracy of 
any of the information supplied in Sponsored Stories/Press Releases such as this one.