Hi Everyone,
Another day, another little tidbit pointing to the adoption of the crypto asset class by major institutional players.
We already know that Nasdaq and Fidelity are planning on offering crypto products to their clients in the near future. So now it seems they're pooling together to buy out ErisX.com, a regulated online exchange platform.
The reported amount paid for the exchange was just $27.5 million. No doubt they got an excellent deal due to the recent return of the bear market. Of course, details on this deal are still fuzzy as stated in the Reuters article that broke the news.
After recent remarks from the SEC, it's now seeming much less likely that a Bitcoin backed ETF will be approved any time soon but at the rate, new products are coming online I wouldn't worry about it too much. Within a very short time, every trader and investor on the planet should be able to integrate top crypto assets into any investment portfolio fairly easily.
@MatiGreenspan – eToro, Senior Market Analyst
Today's Highlights
Algo Slides
OPEC Day
Another Bounce
Please note: All data, figures & graphs are valid as of December 6th. All trading carries risk. Only risk capital you can afford to lose.
Traditional Markets
Shortly after the funeral procession for Bush was over the futures markets opened up with a bad temper. Just about all the major indices experienced a large gap down and are now back near the lows.
Here we can see the Dow Jones. The short-term chart on the top left shows the opening gap and the chart on the top right shows where we are in relation to the beginning of 2018 (white line), the bottom chart, of course, shows the multi-year bull run, which puts things into perspective for us.
The negative session has continued into Asia and Europe this morning. Some are blaming this headline…
However, further inspection shows us that the arrest was actually made on Saturday but that the media reaction was a bit delayed in penetrating the markets.
Of course, others believe that what human beings think about this story might be less important as "80% of daily volume in the US is done by machines."
In any case, even if that statistic is true it wouldn't exactly explain the delayed impact of the Huawei news. More likely what we're seeing is simply a continuation of the volatility as we approach the end of the cycle.
OPEC Day
Leaders of the world's largest oil producers are meeting today and tomorrow in Vienna to see if they can do something to stop the massive slide of crude oil that's been happening these last few weeks.
At this point, things aren't looking too hopeful for them. Saudi Arabia seems to be the most interested to cut production while Russia seems willing but not too eager. We'll watch for updates closely during this time.
Crypto Bounce from the Lows
It's no secret that crypto prices have been under pressure lately. Just yesterday, Bloomberg analysts reaffirmed their position that bitcoin could be headed straight for $1,500.
Of course, it's possible to get that low. Anything is possible but I would say that we have a lot of key levels before that will more than likely support the price.
As you can see, we're currently testing the light support level at $3,500 (blue). If it breaks through to the downside we will likely encounter heavy support at $3,000 yellow. The red line is set at $1,800. All of these levels have played a significant role during the rise of 2017.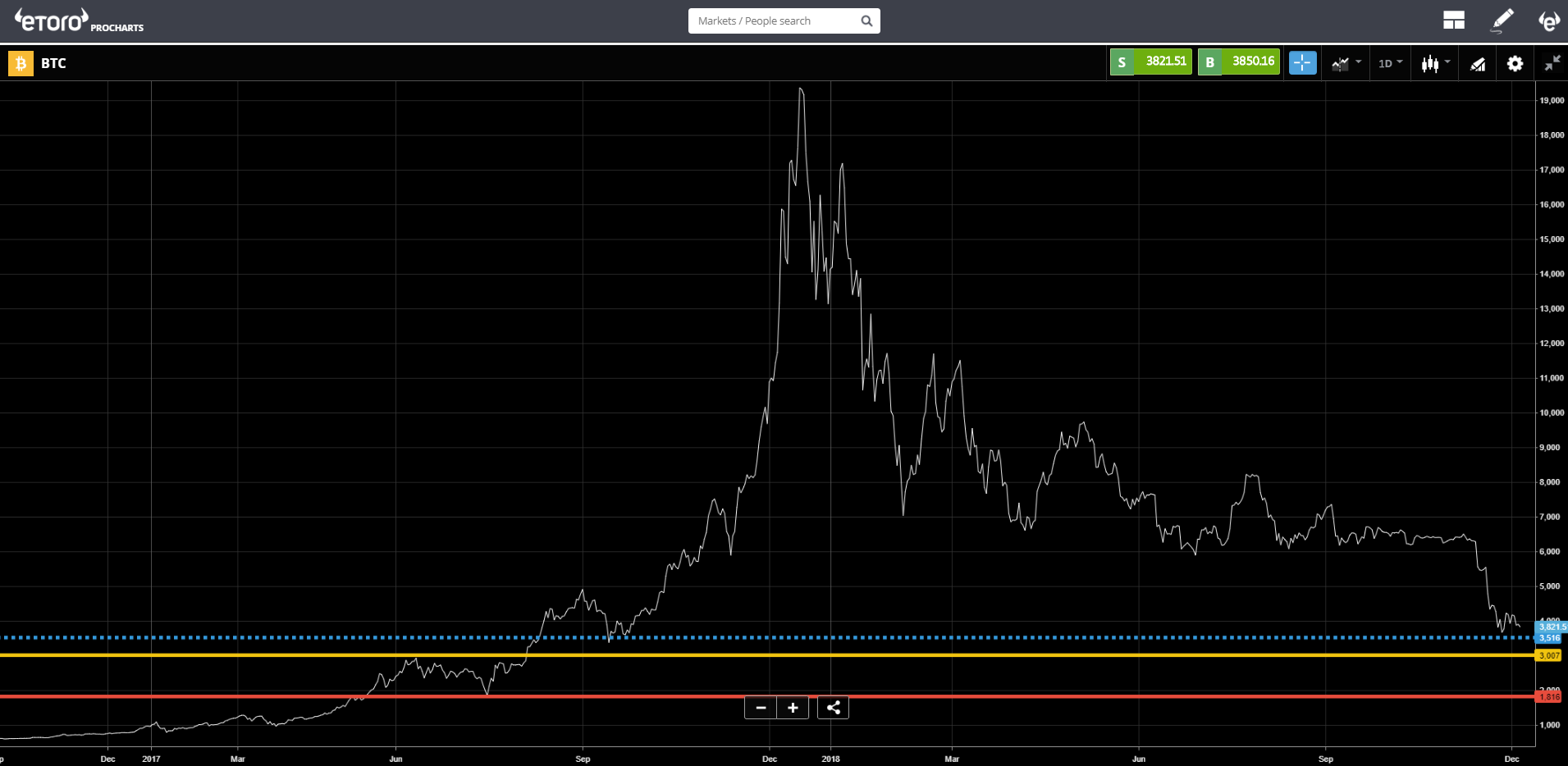 Of course, the first on that list and the level we're currently testing is $3,500, which I must say has been showing incredible resilience so far. Let's zoom in…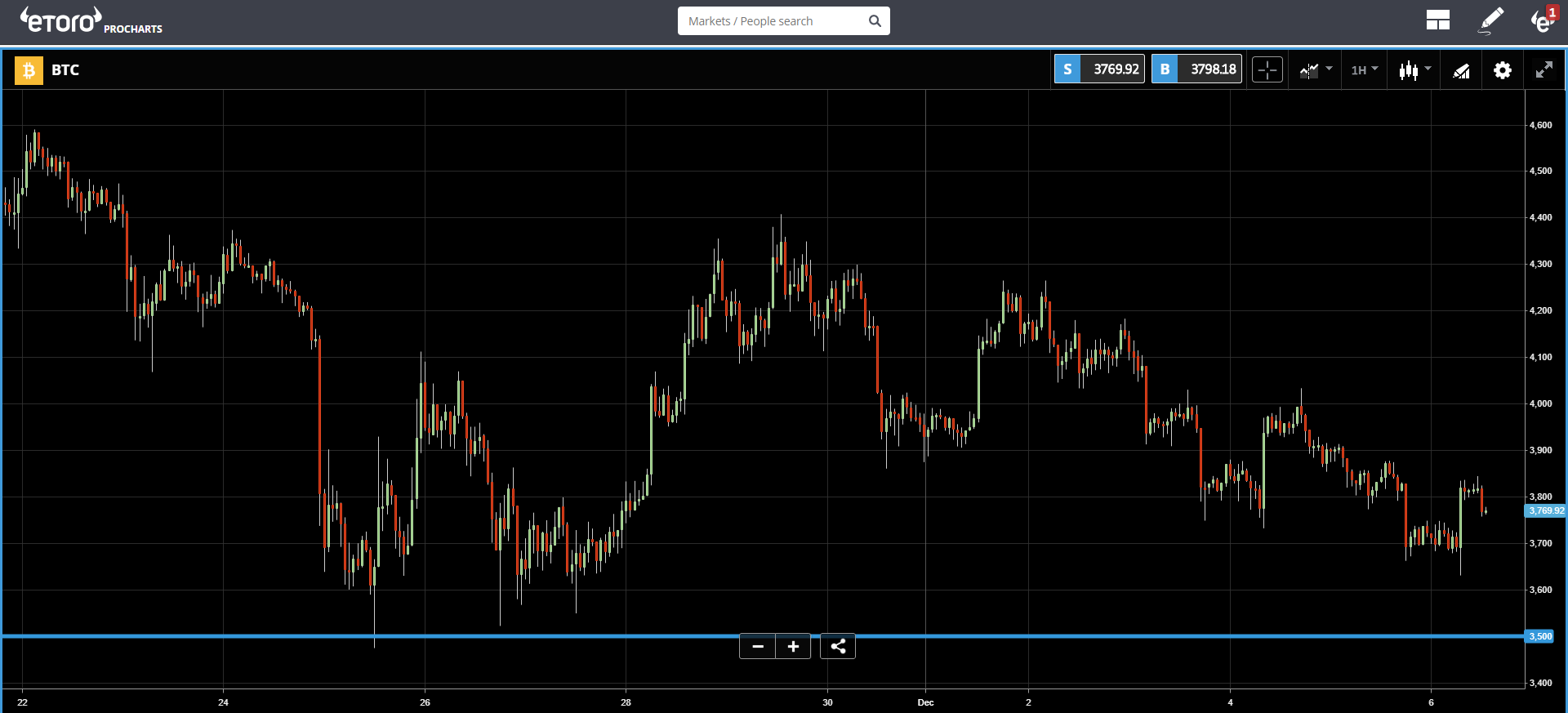 For institutional investors looking to invest in the assets rather than the infrastructure, there really isn't much reason to go in strong at the moment. There simply isn't FOMO.
However thinking long term, if we do think that bitcoin will pass through the all-time highs anytime within the next decade, it won't make much sense to wait until it $1,500 to start placing orders. Rather, large traders tend to set small orders in order to average out their entries, as we've discussed in this blog.
As always, many thanks to everyone sharing your questions and insights with me. I really appreciate it.
Let's have an amazing day ahead!
This content is provided for information and educational purposes only and should not be considered to be investment advice or recommendation.
Past performance is not an indication of future results. All trading involves risk; only risk capital you are prepared to lose.
The outlook presented is a personal opinion of the analyst and does not represent an official position of eToro.
eToro is a multi-asset platform which offers both investing in stocks and cryptocurrencies, as well as trading CFD assets. 
Please note that CFDs are complex instruments and come with a high risk of losing money rapidly due to leverage. 65% of retail investor accounts lose money when trading CFDs with this provider. You should consider whether you understand how CFDs work, and whether you can afford to take the high risk of losing your money.
Cryptocurrencies can widely fluctuate in prices and are not appropriate for all investors. Trading cryptocurrencies is not supervised by any EU regulatory framework. 
About the Author: Mati Greenspan is a Senior Market Analyst at eToro
Connect with Mati on….
eToro: http://etoro.tw/Mati  | Twitter: https://twitter.com/matigreenspan | LinkedIn: https://www.linkedin.com/in/matisyahu/  | Telegram: https://t.me/MatiGreenspan | Office Phone: +44-203-1500308 (ext:311)
Disclaimer: The opinions expressed in this article do not represent the views of NewsBTC 
or any of its team members. NewsBTC is neither responsible nor liable for the accuracy of 
any of the information supplied in Sponsored Stories/Press Releases such as this one.