Hi Everyone,
As bitcoin reaches a new low point for 2018, crypto traders everywhere are looking for somebody or something to blame. Well, a recent report that was sent to me by the folks at Cryptocompare may have stumbled upon something.
The CCCAGG Exchange Review takes a good hard look at global volumes on crypto exchanges and where they're coming from. One of the findings of the report is the incredible impact of a series of promotions from the Korean exchange Bithumb.
This chart plots out these promotions against bitcoin's price and as you can see, bitcoin's break below $6,000 came shortly after the promotion ended.
If these findings are indeed accurate, I would say that blaming South Korea for the drop wouldn't exactly be correct. More likely, it appears that the volume promotion by Bithumb caused several months of stabilization in prices, to begin with.
Of course, it's just a theory at this point. True or not, we maintain that all of the recent volatility in the crypto markets has been driven by technical factors. After the breakout of $5,000, we mentioned light support at $3,500, which has now been broken. The next key area of support that is being tested now is $3,000.
Let's hope it holds.
@MatiGreenspan – eToro, Senior Market Analyst
Today's Highlights
Here Come the Cavalry
Jobs Numbers Today
Entering Support Zone
Please note: All data, figures & graphs are valid as of December 7th. All trading carries risk. Only risk capital you can afford to lose.
Traditional Markets
As we've been discussing in these daily market updates pretty much since I started writing them in 2015, is the enormous effect that central banks have over financial markets.
This year's volatility can almost solely be attributed to the fact that the Fed and the ECB are on a path to tighten monetary policy. The obvious sideshow of the global trade war has had a slight impact as well.
Well, recent updates from the Fed seem to indicate that they're willing to reconsider this tightening. Last night Chairman Powell delivered a speech that has been largely interpreted as dovish.
It seems that weeks of market declines and possibly tweets from the president have finally caused the Fed to blink.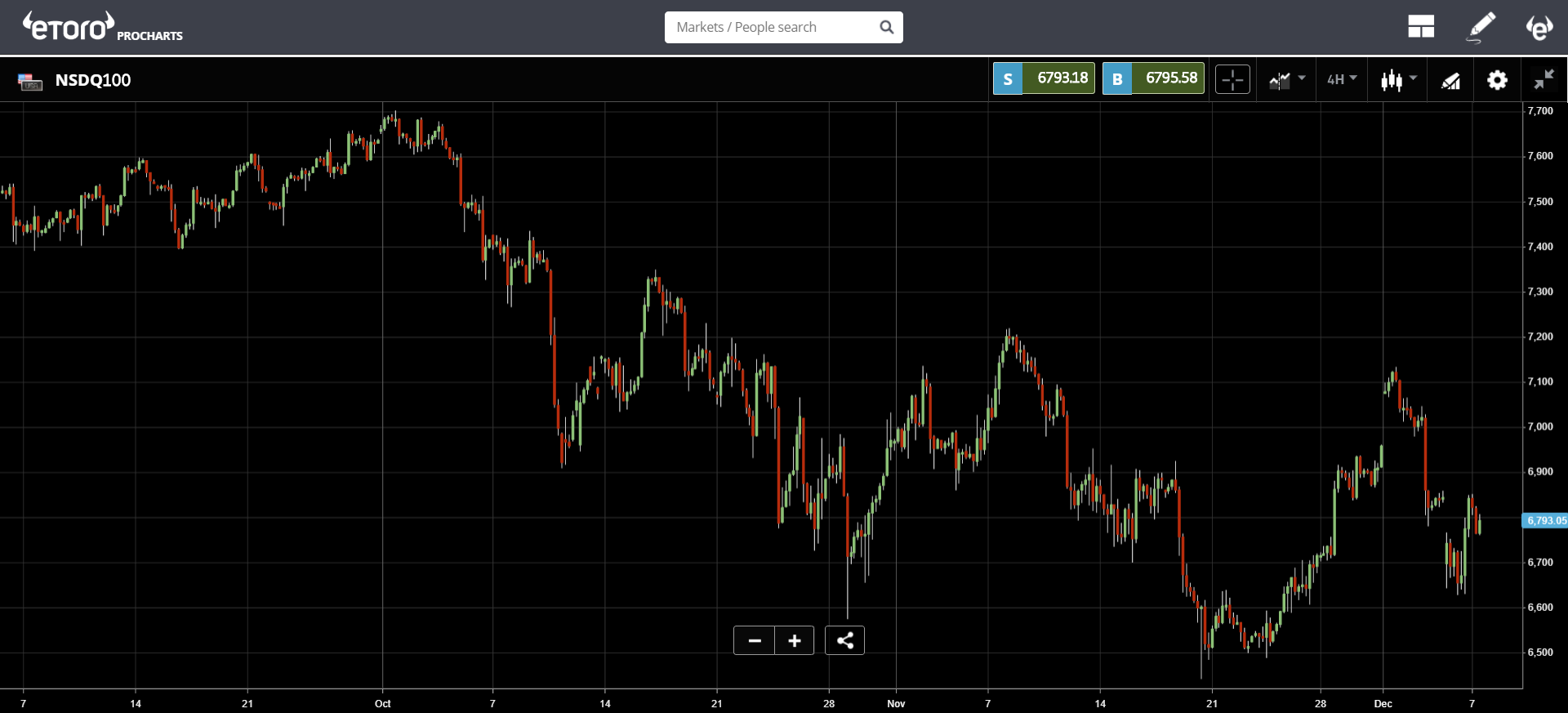 Today has been pretty green for the stock markets, presumably in response to Powell's updates. However, other markets are giving signals too.
Gold for example, reached a fresh high yesterday seeing $1,244 an ounce for the first time since July. The move was quickly retraced but as you can see it has been building a solid support line since.
Crude Oil also remains a hot topic as the OPEC meeting in Vienna continues. The feeling there is that a concrete deal is unlikely, but it won't be for lack of trying.
Oil has been testing its psychological support level of $50 a barrel for the better part of two weeks now.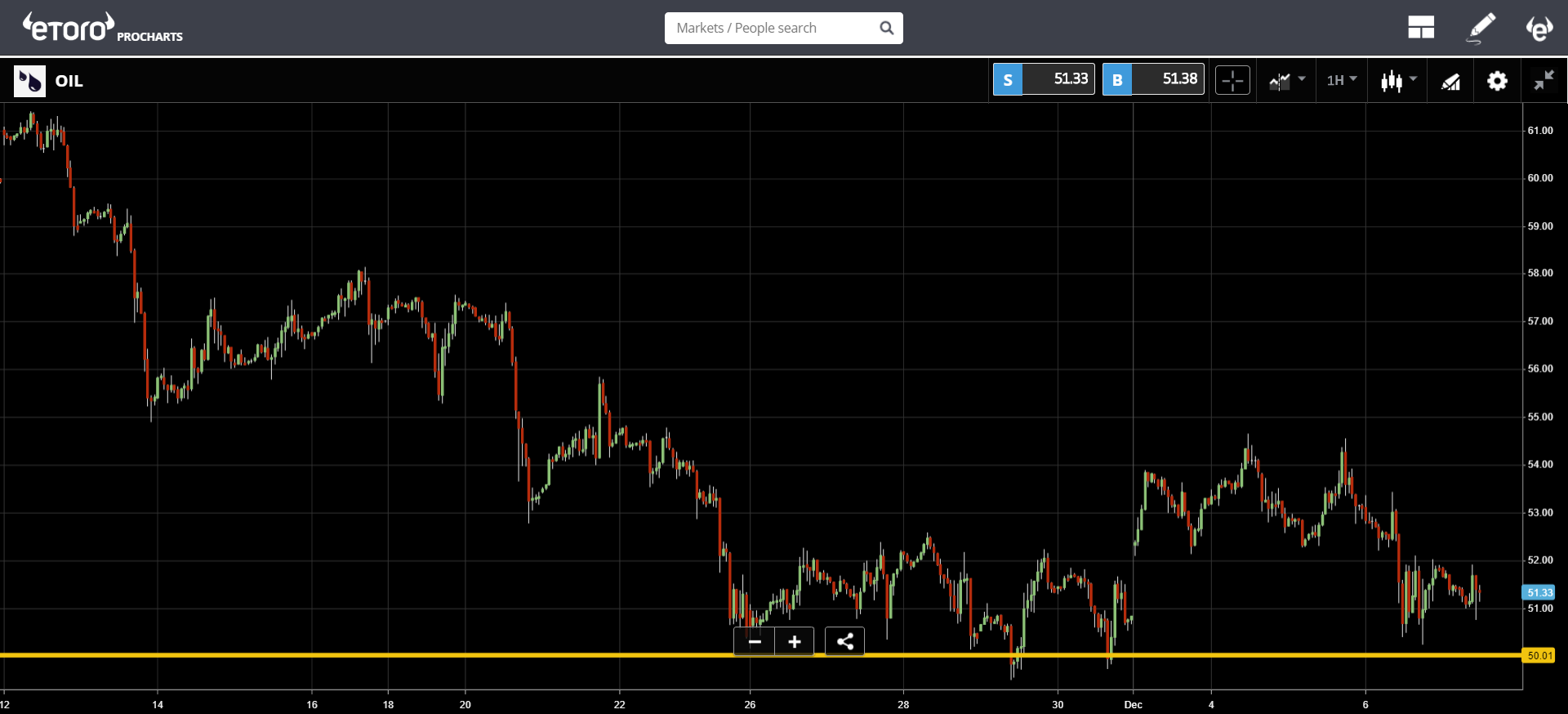 Jobs Day
Very soon we'll receive data from the US Bureau of Labor Statistics known as the Non-farm payrolls. Those who've been in the markets for a bit know that this is the most important figure that comes out on a daily basis.
Usually, if the numbers come out significantly higher or lower than analysts are estimating, there can be a large reaction from the market. What does seem odd is that said analysts seem to be getting lazy.
For an entire year now, the analyst forecast (gold dot) has always been just under 200,000 jobs added. With that, the actual results either surprise or they don't.

The market reaction to the numbers today will be tricky. A strong job market might actually cause investors to sell because it might mean that the Fed will become hawkish again.
High Shorts
The crypto markets have now passed several dismal milestones. Ethereum, for example, is now firmly trading below $100 per coin and even experienced a flash crash today on one exchange.
Another milestone is a new high for short positions on the Bitfinex platform. In this chart, we can see BTC short positions in blue against the bitcoin price in orange.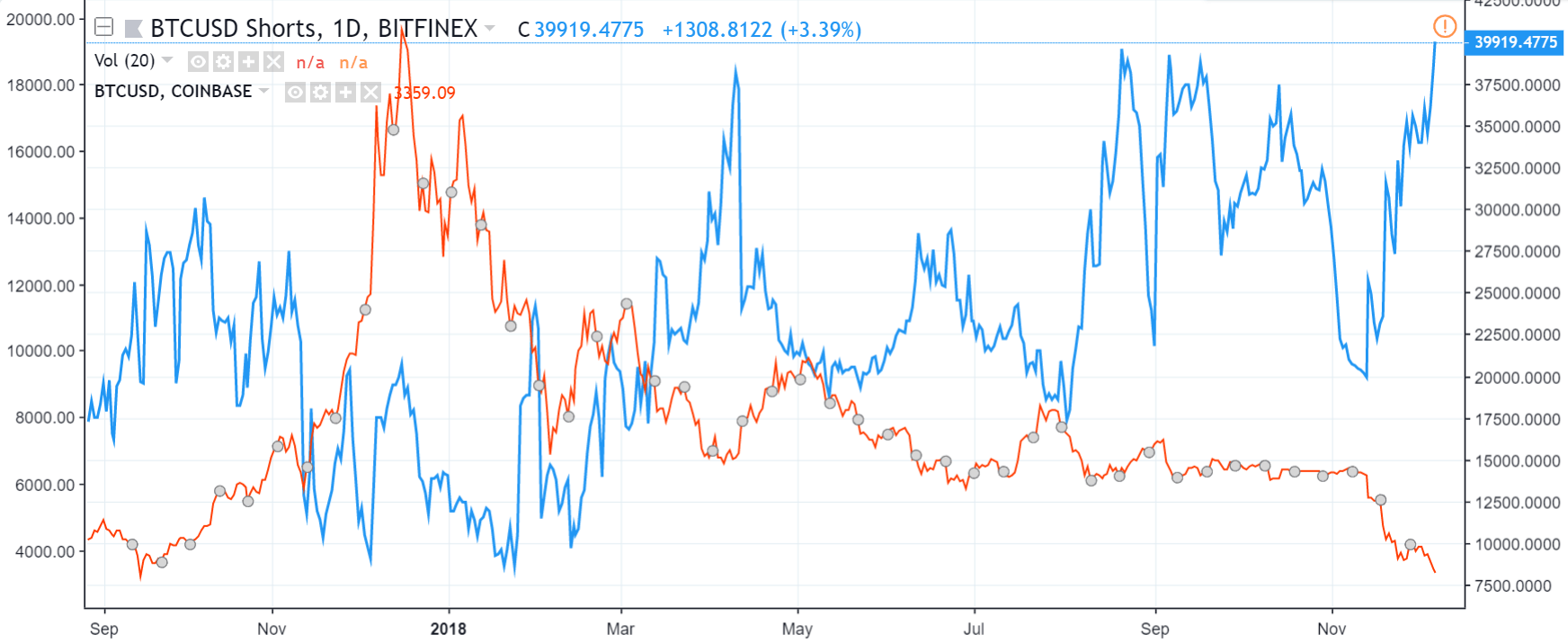 This might not be as concerning as you would think though. A high level of shorts in a specific market can often be an indication that the trend is about to reverse.
If all the equity available to short is currently doing so, then it's not possible to add more short positions, which could possibly be a good setup for a short squeeze as we approach the critical level of $3,000.
As always, let me know if you have any questions, comments, or further insight. I'm always happy to hear it. Wishing you a very pleasant weekend.
This content is provided for information and educational purposes only and should not be considered to be investment advice or recommendation.
Past performance is not an indication of future results. All trading involves risk; only risk capital you are prepared to lose.
The outlook presented is a personal opinion of the analyst and does not represent an official position of eToro.
eToro is a multi-asset platform which offers both investing in stocks and cryptocurrencies, as well as trading CFD assets. 
Please note that CFDs are complex instruments and come with a high risk of losing money rapidly due to leverage. 65% of retail investor accounts lose money when trading CFDs with this provider. You should consider whether you understand how CFDs work, and whether you can afford to take the high risk of losing your money.
Cryptocurrencies can widely fluctuate in prices and are not appropriate for all investors. Trading cryptocurrencies is not supervised by any EU regulatory framework. 
About the Author: Mati Greenspan is a Senior Market Analyst at eToro

Connect with Mati on….

eToro: http://etoro.tw/Mati  | Twitter: https://twitter.com/matigreenspan | LinkedIn: https://www.linkedin.com/in/matisyahu/  | Telegram: https://t.me/MatiGreenspan | Office Phone: +44-203-1500308 (ext:311)
Disclaimer: The opinions expressed in this article do not represent the views of NewsBTC 
or any of its team members. NewsBTC is neither responsible nor liable for the accuracy of 
any of the information supplied in Sponsored Stories/Press Releases such as this one.