World's largest decentralized city on Ethereum blockchain is about to expand its presence with the colonization of the moon.
MegaCryptoPolis is the city builder strategy game that generated more than $2 Million in turnover and became one of the most popular dApps (Top place in Games category by volume as reported by Cointelegraph's dAppList and dAppRadar).
Having managed to congest 1/3 of Ethereum network on launch (#1 gas burner as reported by EtherGasStation), the game had proven that players are ready for a more sophisticated gaming experience on the blockchain beyond just collecting and breeding. MoonCryptoPolis will take it to an absolutely new level.
Most likely than not it will accomplish the major dream of any cryptocurrency HODLER ― to visit the moon. Literally.
MoonCryptoPolis will allow players to claim ownership of a plot on the moon surface and then use it to build a moon base for excavating valuable resources and receiving rewards in Ether. No client download required, everything runs right in the browser.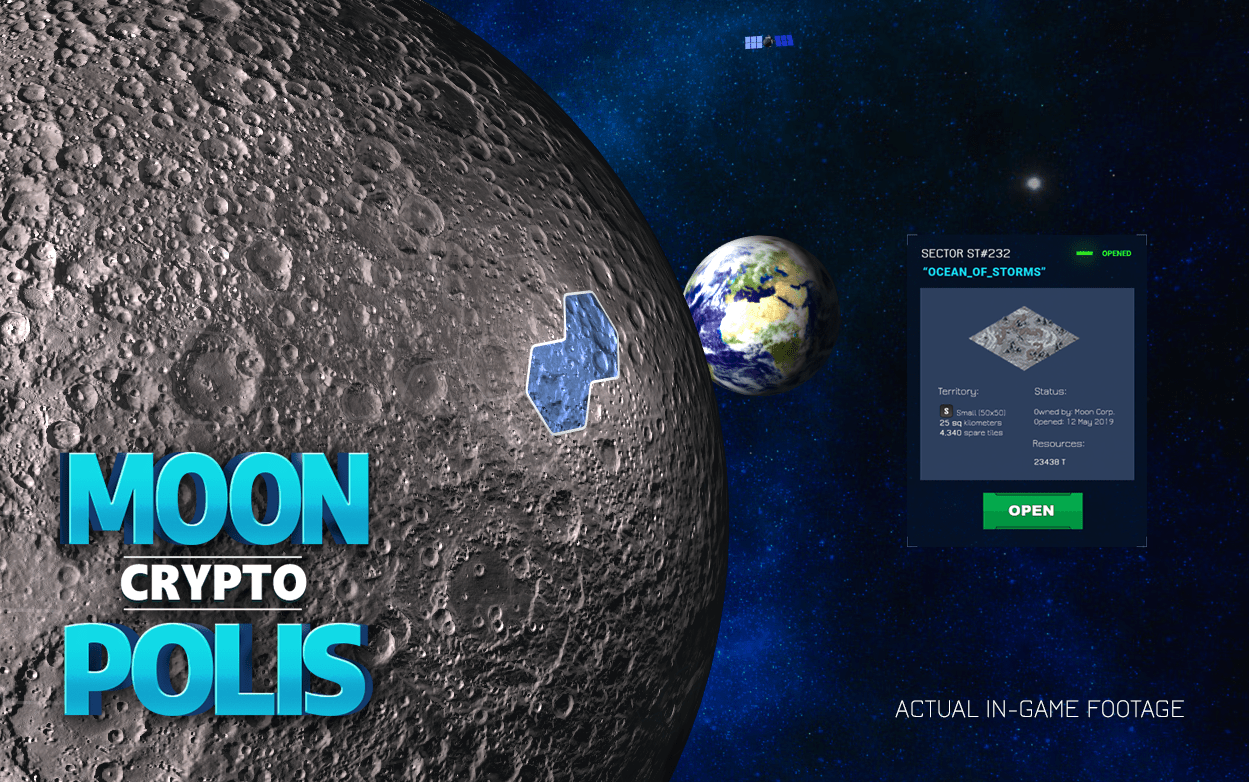 The game starts with acquiring sectors – large parts of the moon surface with a variety of land plots. Sectors are initially sold on an auction as non-fungible ERC-721 crypto tokens those can be transferred or traded like any other digital currency. Sector owner will receive Ether from every player's purchase or action in his sector.
After the sector is opened, everyone can claim a land plot on the moon. Every sector has its own set of rules and stock of resources. Building a moon base is required for efficient resources excavation. Resources can then be easily converted to Ether and withdrawn directly to player's Ethereum wallet.
Land plots prices rise is hardcoded in smart contract. When someone purchases a spare plot of land, it makes prices for surrounding 24 plots a bit higher.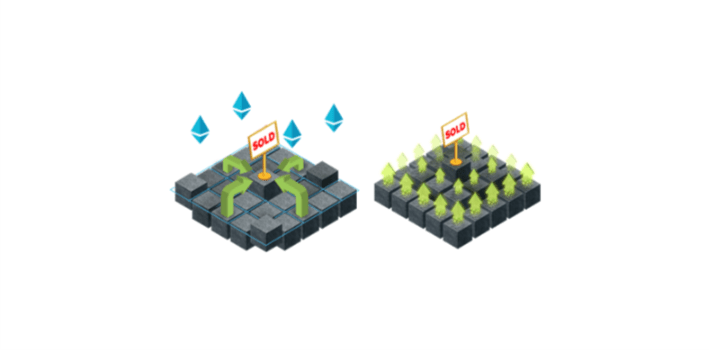 Part of the land price is distributed amongst land plot owners in the 5×5 area, which means buying the first land plot inside the 5×5 area may double or even triple its price after a number of land plots sold around.
The initial cost for a land plot will start from 0.03 ETH. Sector prices start at 2.5 ETH.

MoonCryptoPolis is built using a well-proven mix of user-friendly HTML5 client and Ethereum digital wallet. That allows for running a graphically-rich game with high fidelity 3D scenes and almost realistic views of the moon with secure ownership of all game assets on any browser.
How to play?
Ethereum digital wallet is required to play the game. MetaMask browser extension is highly recommended. You can also play MoonCryptoPolis on mobile phone (iOS or Android platforms) with dApp browsers like Trust Wallet or Coinbase Wallet. The game may require some Ether (Ethereum blockchain cryptocurrency).
Don't miss out!
Adventure to the decentralized moon begins 27th December 2018 ― that will give a start to the early reservation of moon sectors and land plots. Moon bases building will be started in the first part of 2019.
Decentralized Gaming Experience
MCP team is driving forward practical implementation of the blockchain technologies with its elaborated approach to host only the game GUI (graphic user interface) client on its servers, with all the logic running on Ethereum blockchain smart contracts. Game assets (like sectors and moon bases) are ERC-721 tokens owned 100% by players and stored in their Ethereum wallets.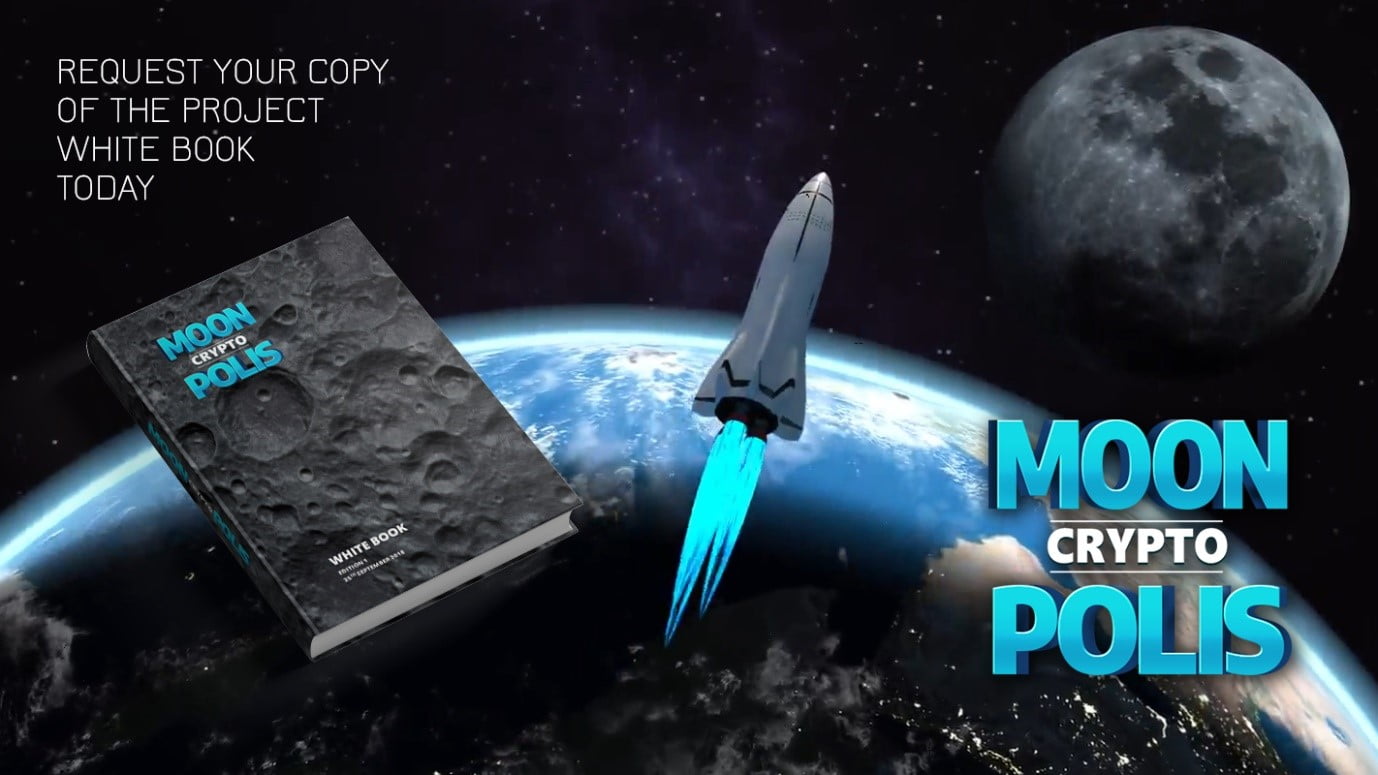 Decentralized city builder MegaCryptoPolis has its own development roadmap with a unique micro economy concept and built-in applications, if not to mention plans to launch a 3D version of the game client to allow virtual promenade on the streets of the decentralized city.
As no centralized database is controlled by a single party, there is no way developers can influence the game process or change game math or formulas. Everyone can launch his own game client or build an independent version of the virtual world on top of "CryptoPolis" games assets.
Join early not to miss important announcements:
WWW.MOON.GAME
Twitter: https://twitter.com/megacryptopolis
Telegram: https://t.me/mooncryptopolis
Discord: https://discordapp.com/invite/AyX5QRw
Disclaimer: The opinions expressed in this article do not represent the views of NewsBTC 
or any of its team members. NewsBTC is neither responsible nor liable for the accuracy of 
any of the information supplied in Sponsored Stories/Press Releases such as this one.