There have been quite a lot of changes taking place in cryptocurrency mining since Bitcoin was introduced back in 2009. Mining hardware has substantially improved, which was followed by exponential increases in the difficulty of mining. It goes without saying that mining cryptocurrencies is not what it used to be.
This is especially true if we account for the prolonged bear market conditions in 2018 which have diminished mining returns notably. MiningSky, however, seems to have been left unphased by the so-called crypto winter.
What is Mining Sky?
MiningSky is one of the few companies in the world to offer a whole infrastructure of products and services in mining. A legitimate company, with mining operations in both the U.S and Canada that are open to customers, MiningSky is setting a benchmark in the cloud mining industry.
The MiningSky.io cloud mining platform is now providing an irresistible deal, offering 2% of the world's bitcoin hash rate. Intuitive and easy to use, the platform allows you to mine both bitcoin and ether at competitive prices. It already counts with more than 400,000 active users and has an excellent customer service (support is available 18h daily).

Do not miss this chance to enter the mining business at attractive prices! Join the world's leading cloud mining platform with an exclusive 10% discount! Use the "NEWSBTC10" promo code when you purchase your first mining contract.
You can easily buy cloud mining contracts for both Ethereum (ETH) and Bitcoin (BTC). Here's how to do it.
Step 1: Get on MiningSky's homepage.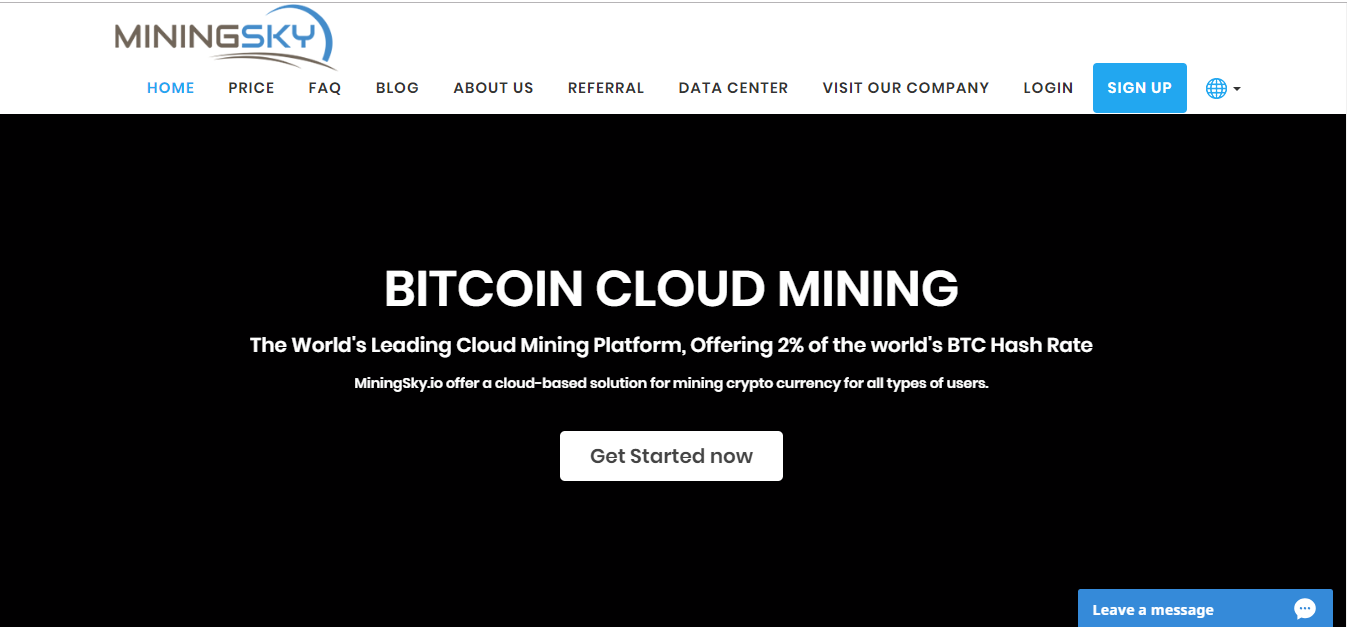 Step 2: Go ahead and click on the "Sign Up" button. You'll find it located in the top right corner of the page. You will see a new page opening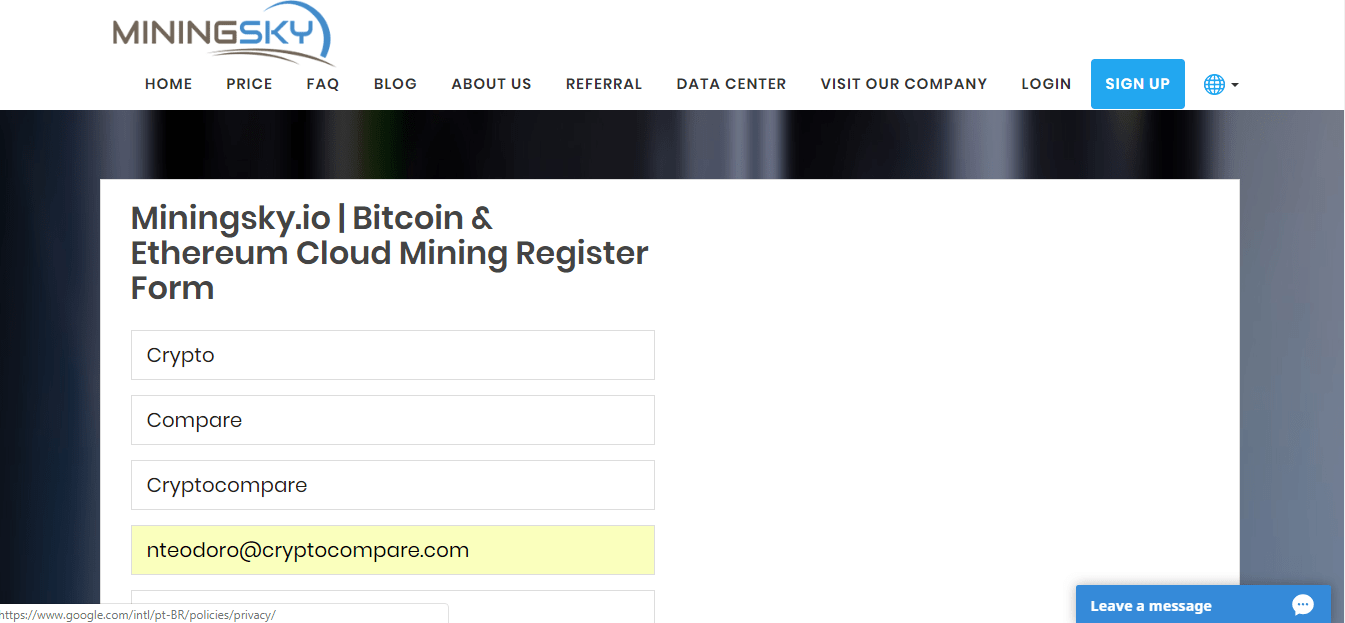 Step 3: Put in your personal information (including name, password, and email). Be sure to go through the Terms and Conditions and complete the "I'm not a robot" captcha. As soon as you're done, click on the "Register" button.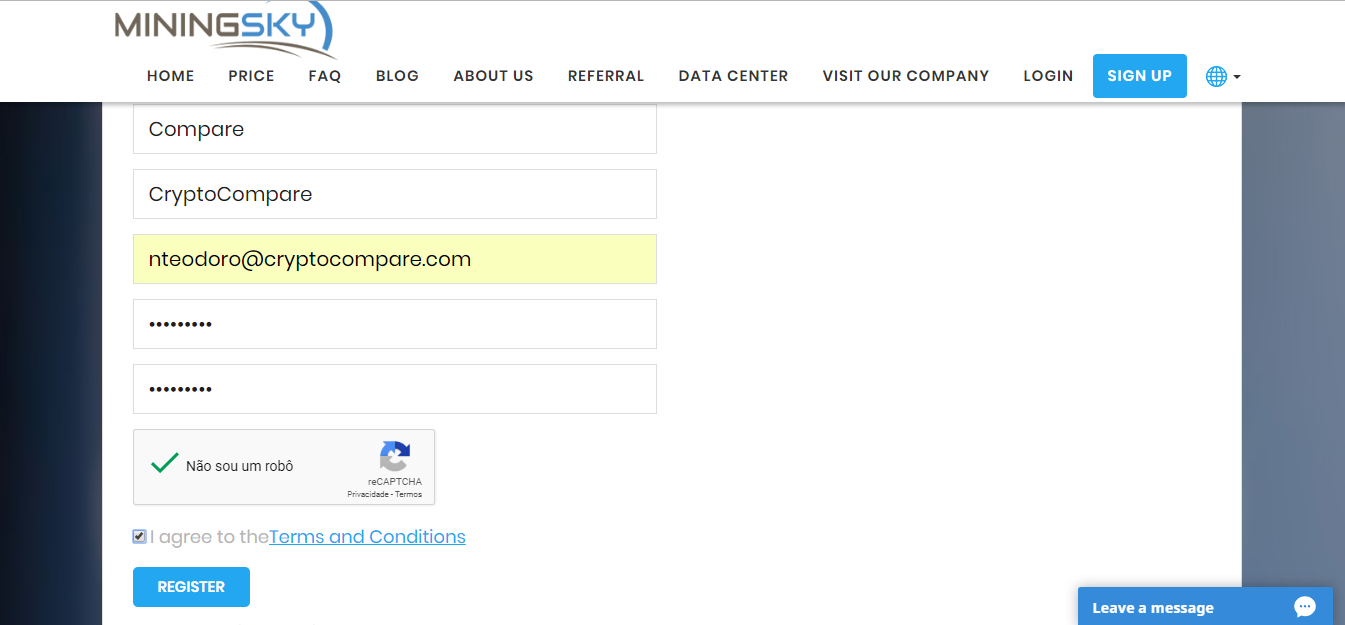 Step 4: Assuming you've done everything properly, you will be automatically redirected to the dashboard and see an account activation message.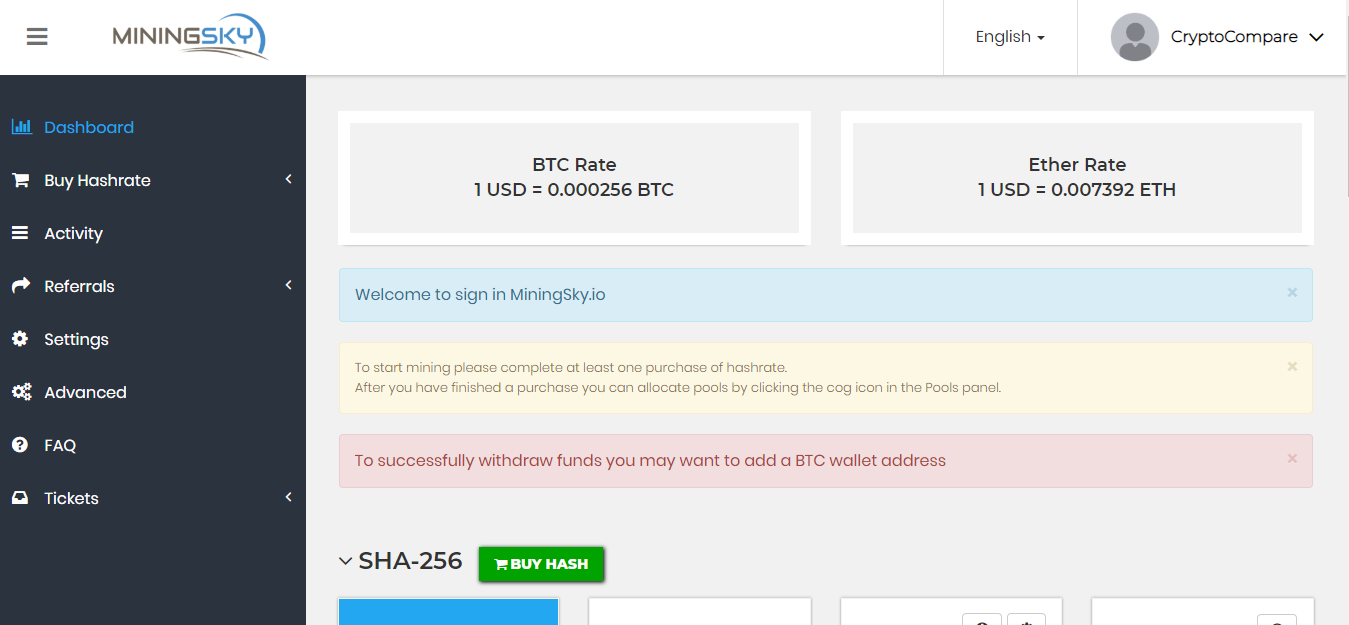 Step 5: After that, you would have to select the "Buy Hashrate" button. Choose whether you want to mine ETH or BTC. Select the precise amount of hashrate you wish to buy and click on the blue "Proceed" button.
Step 6: If you have an exclusive coupon code, make sure to input it as it will give you a certain discount (You can use NEWSBTC10 as the coupon code if you don't have one already).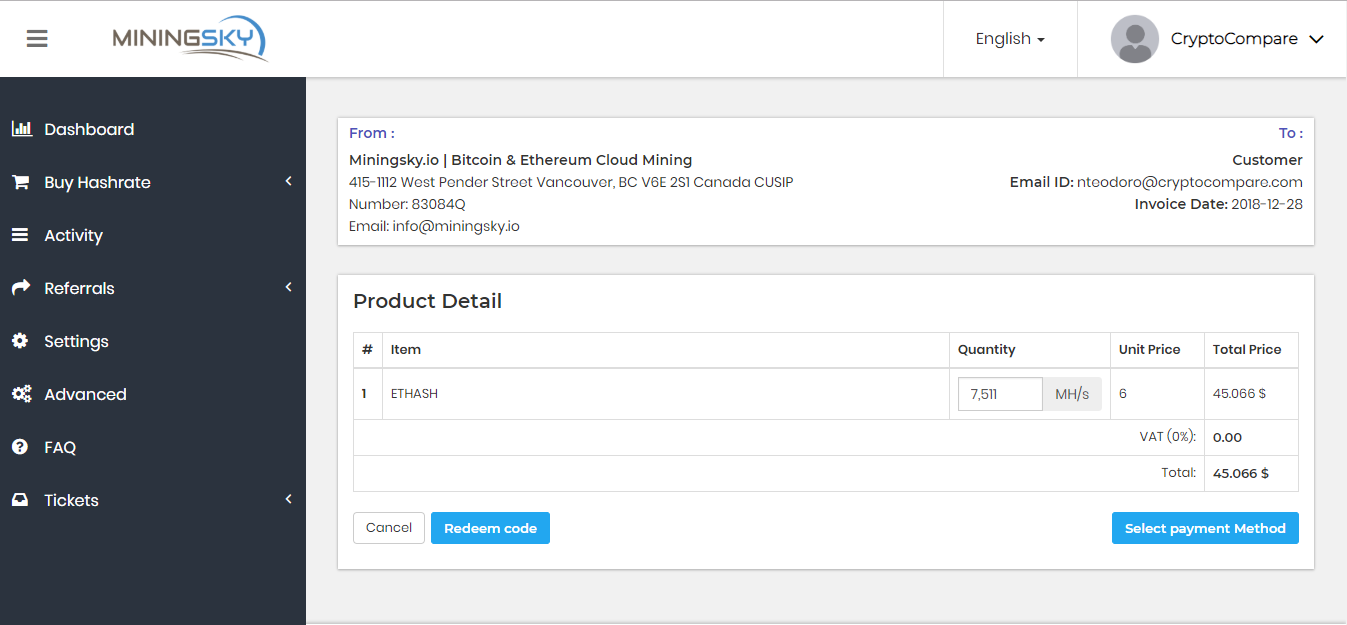 Step 7: You will see a pop-up window appear and it will give you two payment options. For the sake of this guide, we've chosen to "Pay with BTC transfer".

Step 8: Now, you need to scroll down a bit and check the terms and conditions. As you are done with this, you need to click on the green button which says "Confirm".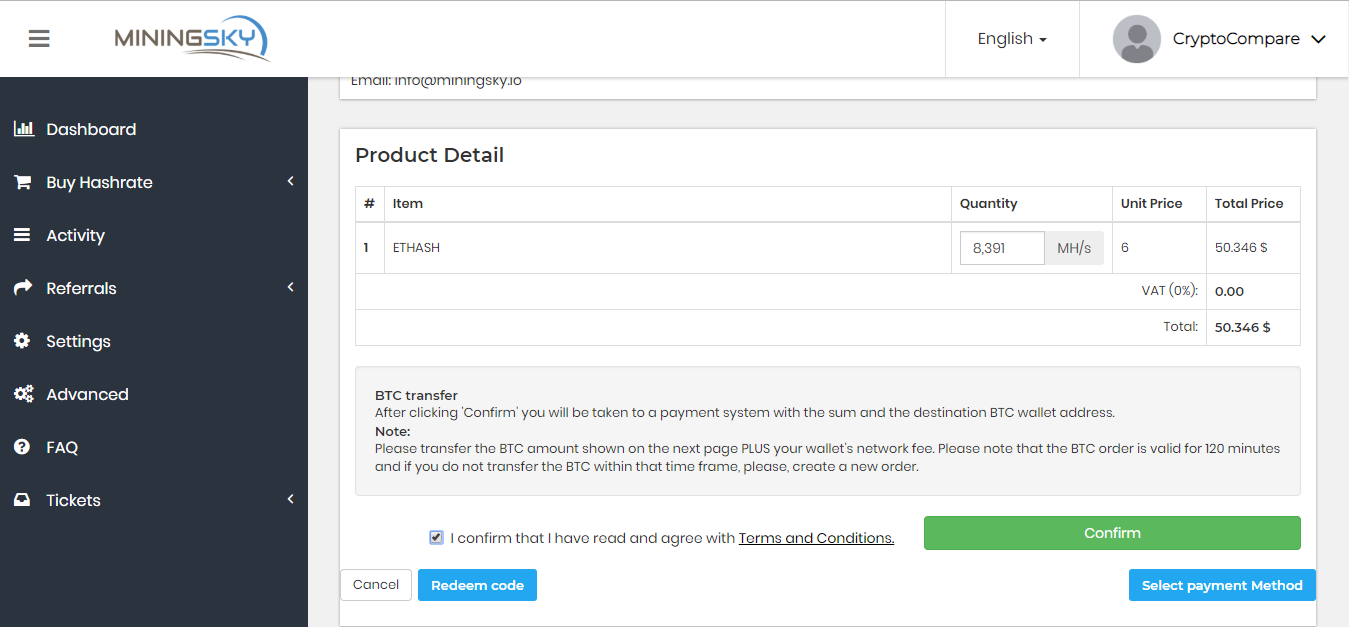 Step 9: You will need to have an account registered on Coinbase. You will need to click on the "Deposit" button which will redirect you to another page.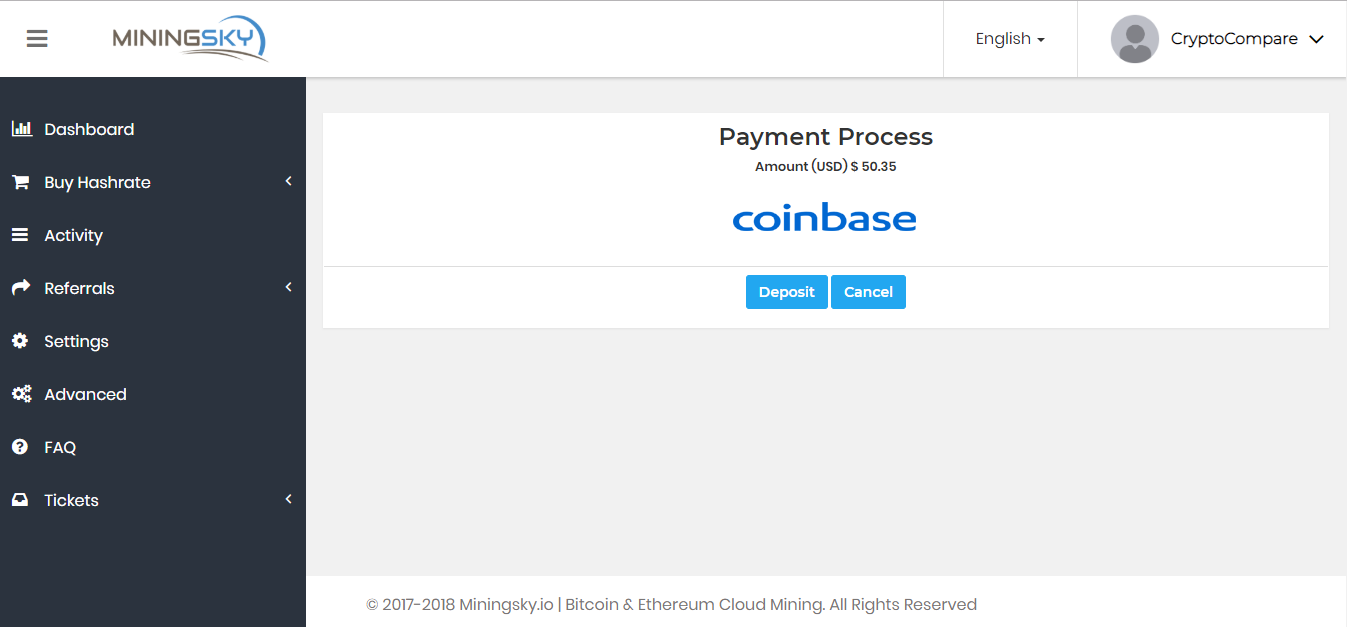 Step 10: Go ahead and select the cryptocurrency you want and complete the transaction.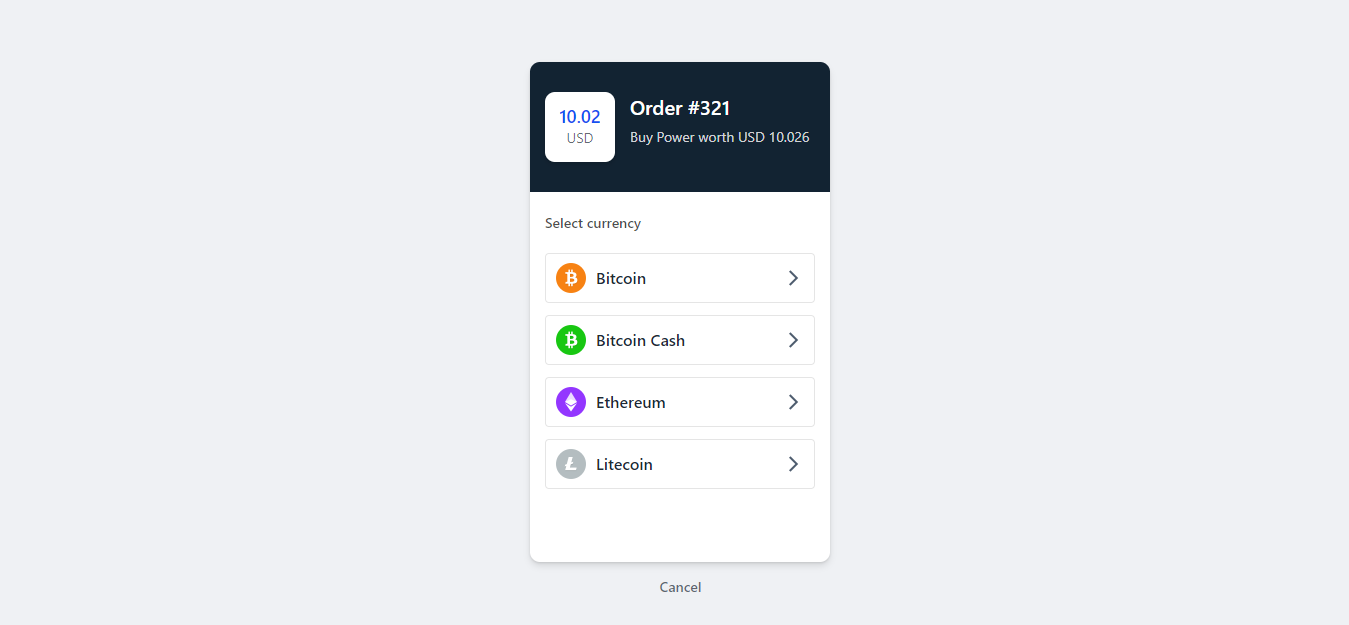 Step 11: That's pretty much it! Once you have the transaction confirmed, you will receive the hash power.
Keep in mind that the withdrawals are instant but there is a $10 minimum amount. You can visit the FAQ section of MiningSky if you have any further questions.