Hi Everyone,
Never thought I'd be writing an obituary for the founder of one of the largest asset management firms in the world, but Jack Bogle was one of the good guys.
He was always looking out for the little guy. Back in the 70s when the financial markets was an even more closed nit racket than they are today, Bogle introduced the first index funds as a tool for individual investors to reduce risk and fees. At that time the idea was laughed off as ludicrous but it soon became the industry standard saving average joes billions, probably trillions of dollars over the last half century.
Though he wasn't too fond of bitcoin, he probably would've appreciated the HODL ethos. Bogle firmly believed that stock picking and day trading was a terrible long-term strategy. So he advocated strongly that people should ignore short-term movements of the markets and simply stay the course of their investments.
Our generation could certainly use someone like him. So long Jack!
@MatiGreenspan – eToro, Senior Market Analyst
Today's Highlights
Shutdown: Day 27 | Days to Brexit: 71
Global Uncertainty at Record Levels
Cryptos are Cool as a Cucumber
Please note: All data, figures & graphs are valid as of January 17th. All trading carries risk. Only risk capital you can afford to lose.
Traditional Markets
Our two headline issues are no closer to being solved today. Washington DC remains in gridlock and the UK is back to square one. Stock indexes are declining today but not by much. Despite all the geopolitical and economic uncertainty, there are still some screaming BTFD!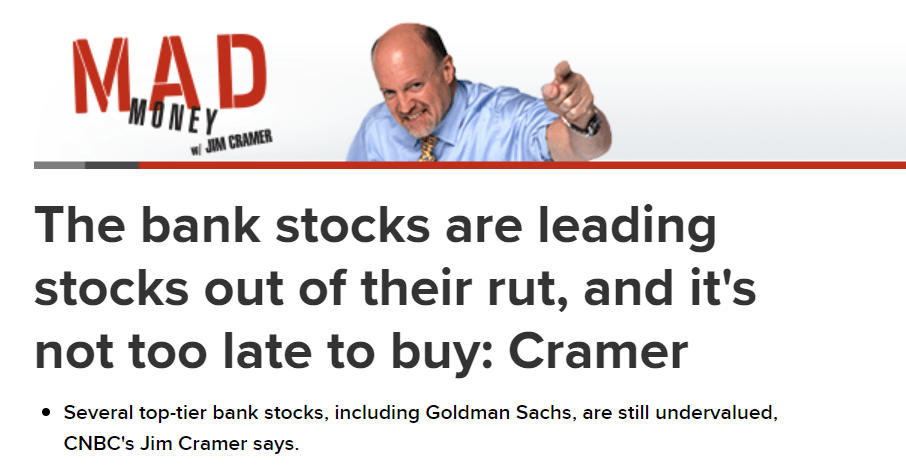 Cramer's call comes after an astonishing 4th quarter earnings report from Goldman Sachs, which turned out to be their best earnings reaction since 2008. Check out that fantastic floating marubozu daily candle yesterday.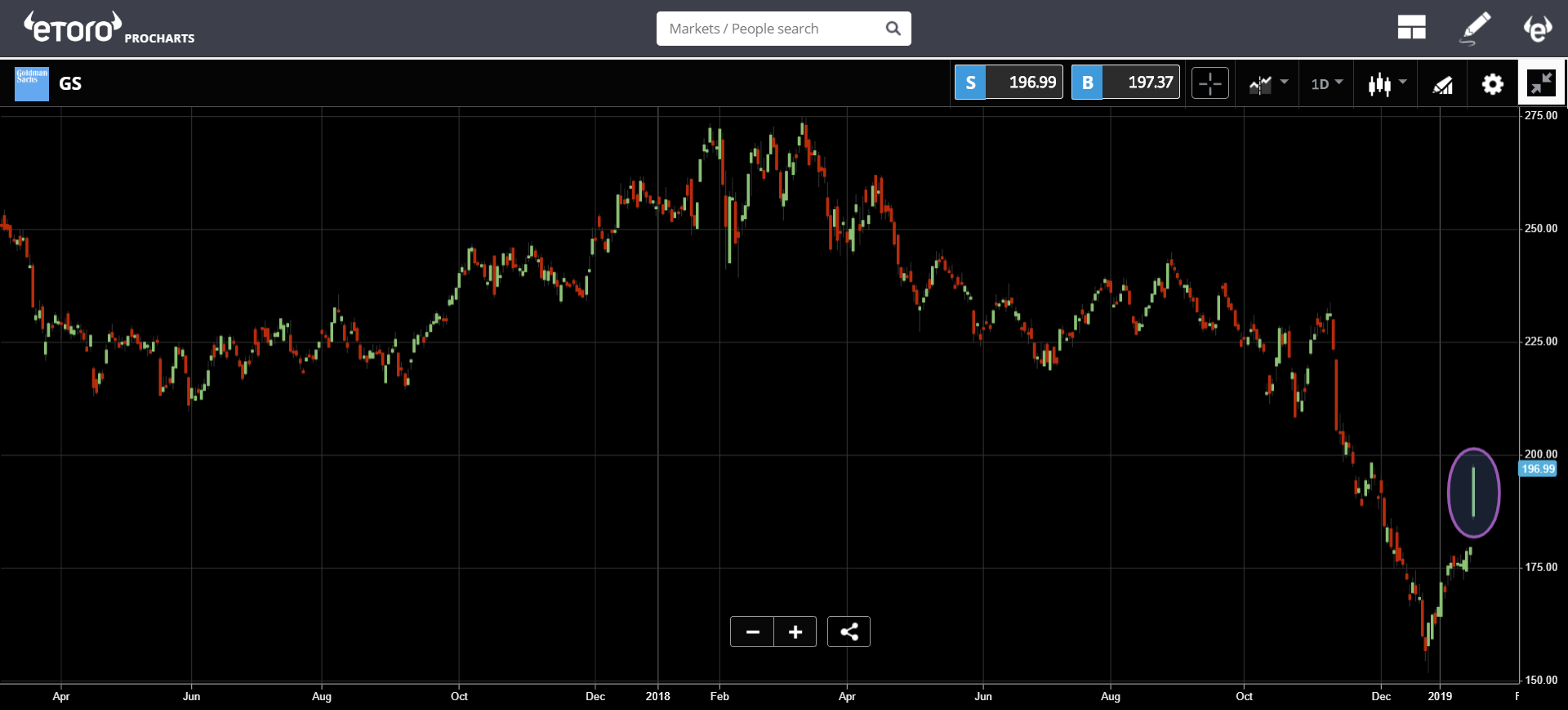 Aside from GS, the banker's earnings were rather pretty solid with some hitting and some missing their marks but overall good vibes. Not all is peaches in cream in the markets though, as is evidenced by the Global Economic Policy Uncertainty Index, which is now at its highest level since inception.
Netflix Earnings
The first of the FAANGs will be reporting tonight after the closing bell. I must say, out of all the top tech stocks on Wall Street, NFLX was probably hit the hardest by the recent stock market declines, but it was also the quickest to recover.
This graph shows all the FAANG stocks, with Netflix in white.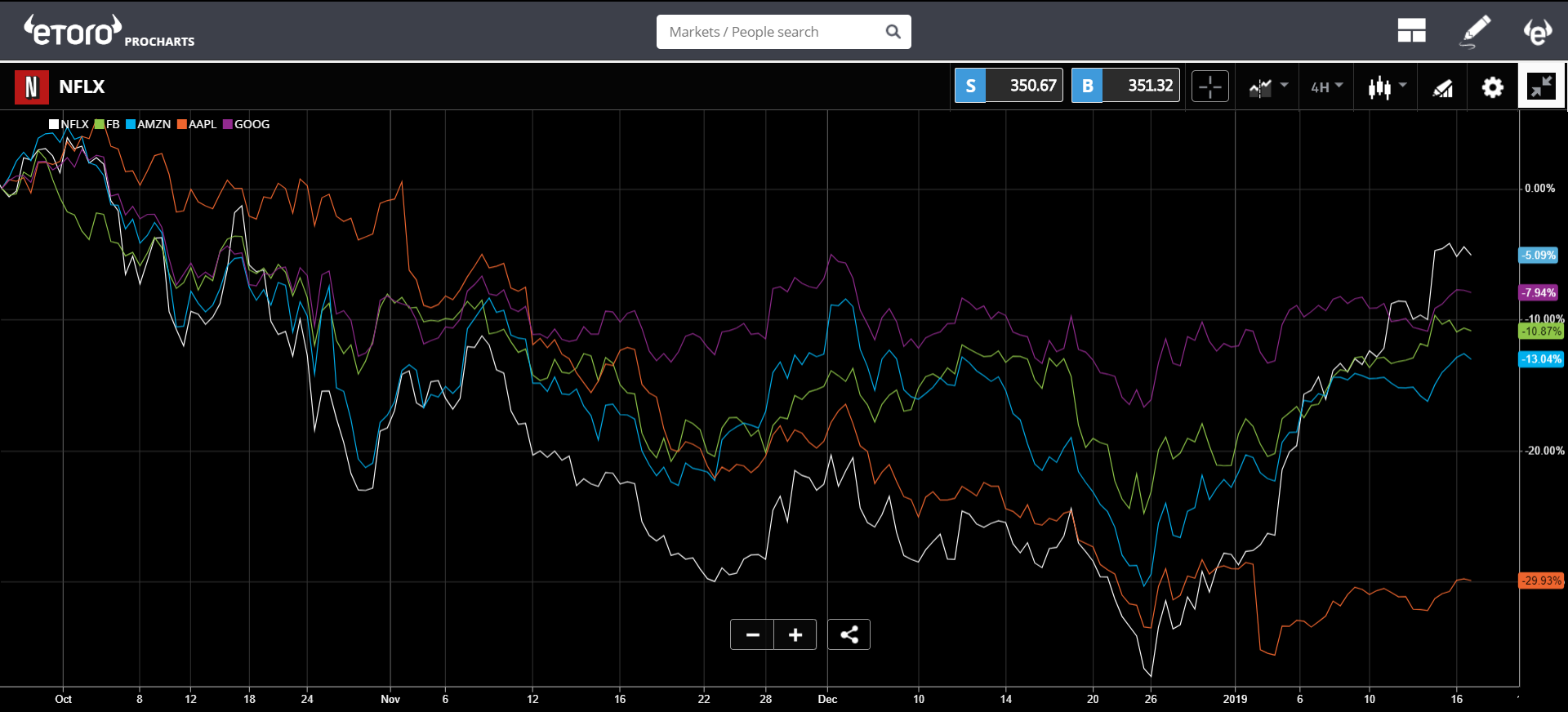 Famous eToro stock trader Wes Nolte says that he's closed out some of his positions in preparation of this announcement as it could be the bellwether that affects the wider market for the next few days.
Crypto's Keep Cool
Despite the apparent volatility in the stock markets and general air of uncertainty depicted above, the crypto markets remain steady as a rock.
It's already Thursday and many cryptoassets have moved less than 3% since the start of the week.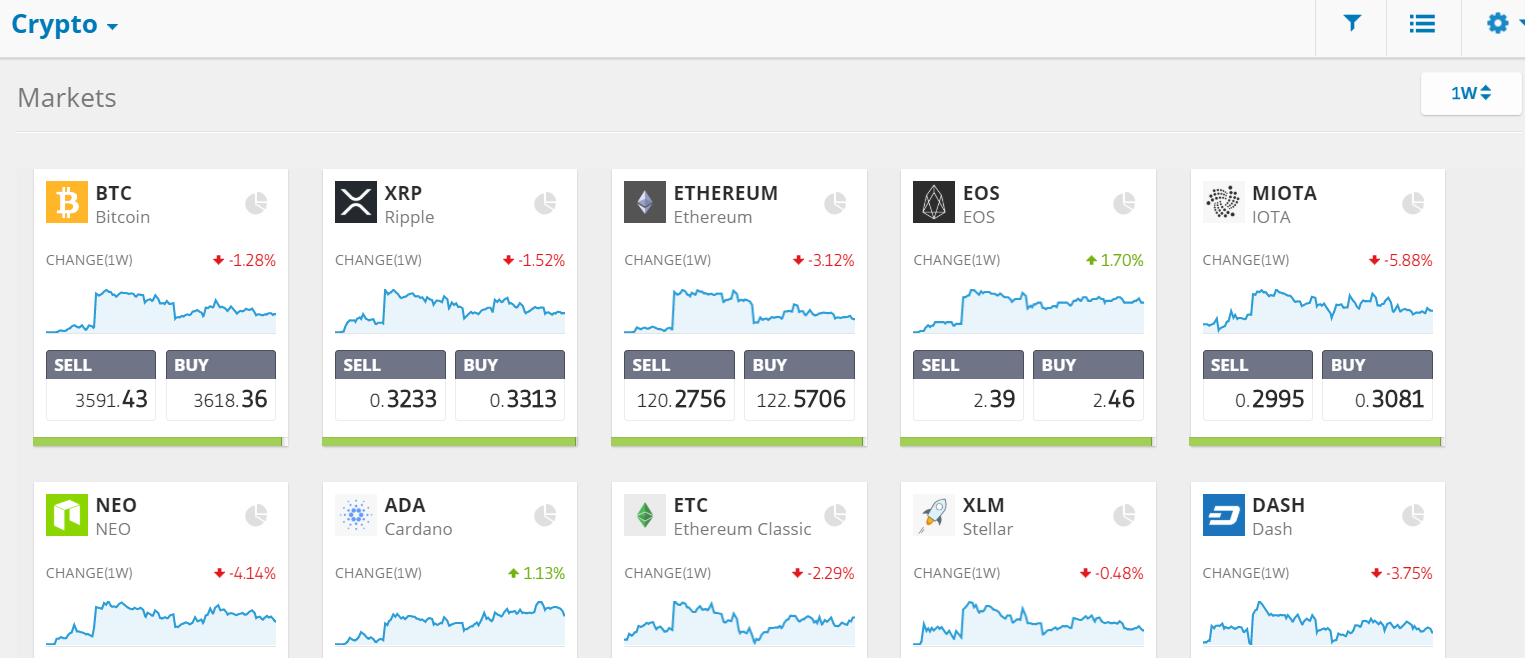 In fact, the crypto markets so far this year have become increasingly apathetic to what's happening in the rest of the financial markets. This graph shows that the short-term correlations between bitcoin and gold, the US Dollar, and the stock markets have all moved to near zero. They just DGAF.
Many thanks to everyone for reading and for increasingly sharing your thoughts, insights, opinions, and well thought out questions with me on social media. Let's have an awesome day!!
This content is provided for information and educational purposes only and should not be considered to be investment advice or recommendation.
Past performance is not an indication of future results. All trading involves risk; only risk capital you are prepared to lose.
The outlook presented is a personal opinion of the analyst and does not represent an official position of eToro.
eToro is a multi-asset platform which offers both investing in stocks and cryptocurrencies, as well as trading CFD assets. 
Please note that CFDs are complex instruments and come with a high risk of losing money rapidly due to leverage. 65% of retail investor accounts lose money when trading CFDs with this provider. You should consider whether you understand how CFDs work, and whether you can afford to take the high risk of losing your money.
Cryptocurrencies can widely fluctuate in prices and are not appropriate for all investors. Trading cryptocurrencies is not supervised by any EU regulatory framework. 
About the Author: Mati Greenspan is a Senior Market Analyst at eToro

Connect with Mati on….

eToro: http://etoro.tw/Mati
Twitter: https://twitter.com/matigreenspan
LinkedIn: https://www.linkedin.com/in/matisyahu/
Telegram: https://t.me/MatiGreenspan
Office Phone: +44-203-1500308 (ext:311)


Disclaimer: The opinions expressed in this article do not represent the views of NewsBTC 
or any of its team members. NewsBTC is neither responsible nor liable for the accuracy of 
any of the information supplied in Sponsored Stories/Press Releases such as this one.