Hi Everyone,
It wasn't much of a surprise when a client sent me a tweet showing screenshots of bitcoin being traded on the Nasdaq. This is how I get a lot of my news these days and we already know that the Nasdaq is working on such a product.
What quickly became clear though was that this tweet wasn't a product launch but rather a leak. It seems that the TD Ameritrade platform was simply testing out the product in demo mode.
Even though this bit of news did turn out to be a false start, the race between mainstream exchanges to list cryptoassets will begin shortly.
@MatiGreenspan – eToro, Senior Market Analyst
Due to local holidays, there will be no daily market update tomorrow or Friday. We will resume on Monday the 29th.
Today's Highlights
S&P500 new ATH
Volatility flat through earnings
Tom & Tuur are Bullish
Please note: All data, figures & graphs are valid as of April 24th. All trading carries risk. Only risk capital you can afford to lose.
Traditional Markets
The US stock market marked a new all-time high yesterday as the S&P 500 index flitted past September's peak. Other indices are still a ways off, but as this is considered to be an index that encompasses the market, many investors are taking note.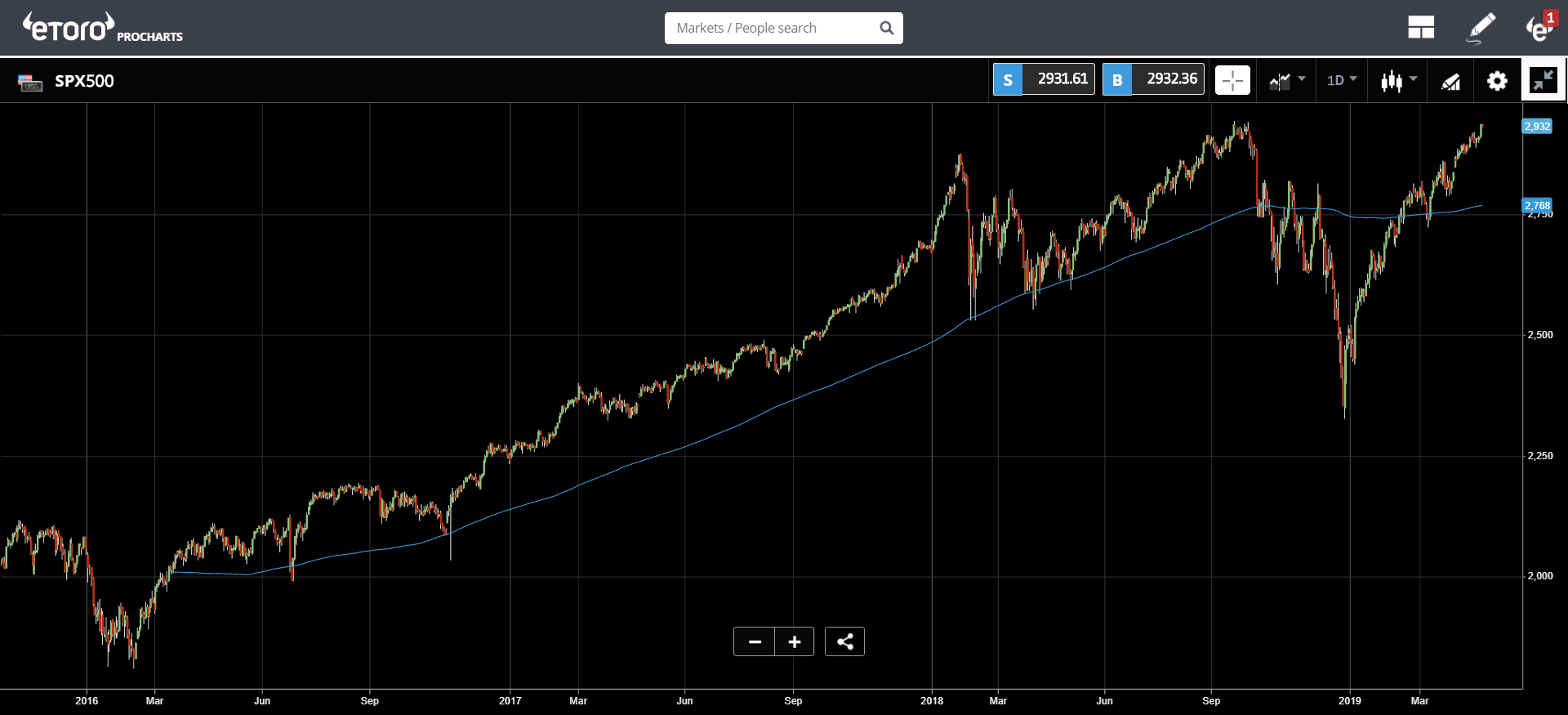 Market Drivers
Overall, it seems that volatility has left the markets and investors are no longer very concerned about things like trade wars and Brexit. The VIX volatility index seems to confirm this, showing the lowest reading since October.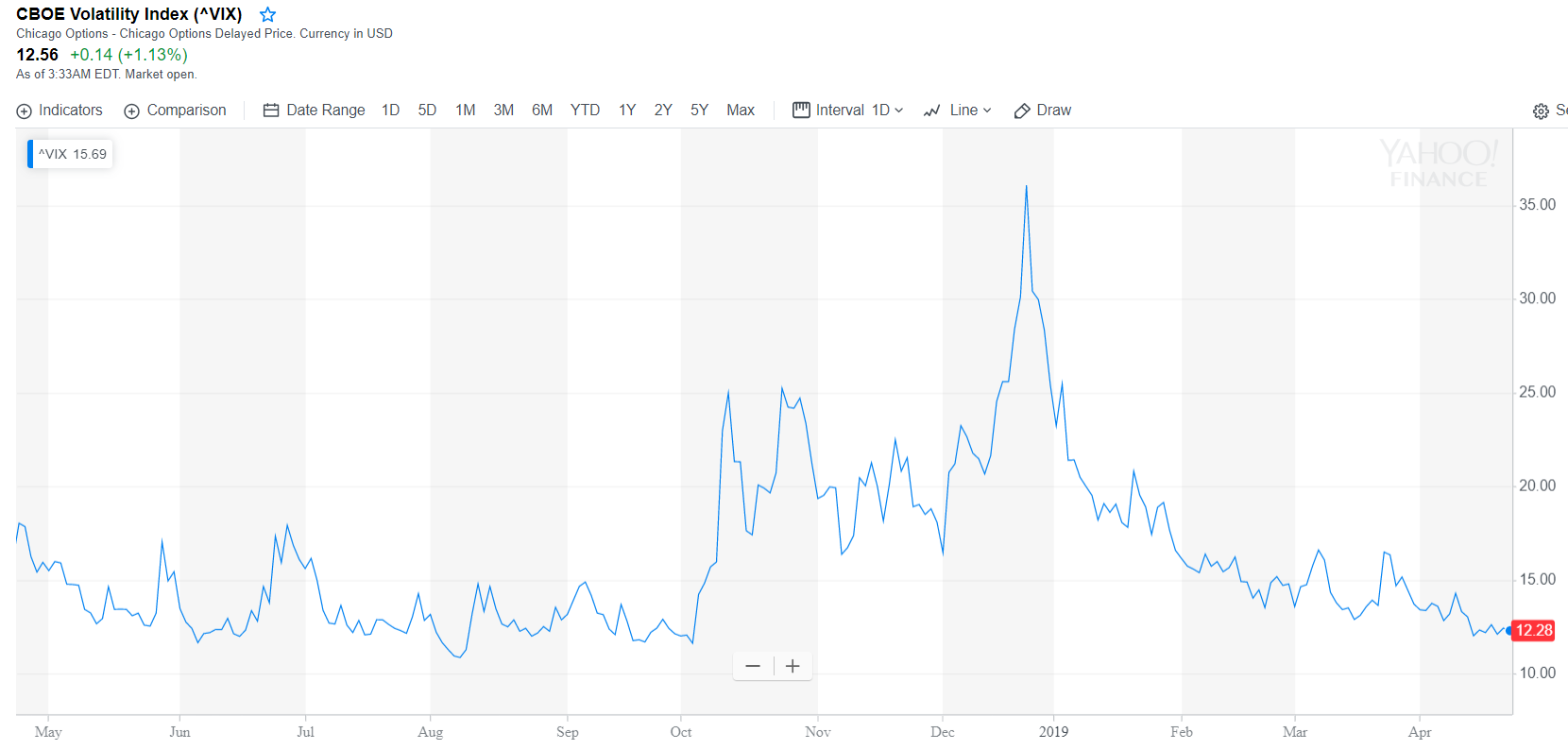 As earning's season continues we should get a clearer picture of how the economy really looks. More than 100 companies will report today and tomorrow, including Facebook and Amazon. Check out the full list here.
Crypto Analysts
Crypto is seeing a bit of a dip this morning, but I suppose that can be expected after yesterday's gains. Bitcoin seems to be a bit more stable than the altcoins as it seems the market is consolidating into the leader.
We can now say definitively that altseason has come to an end and bitcoin is the market driver once again. For those of you keeping score, altseason lasted precisely 51 days from February 10th until April 2nd. It wasn't a very long altseason but as nobody was sure how long it would last, I suppose that makes sense.
Here's a graph of the overall market cap and reported (allegedly fake) volumes across global crypto exchanges during that time.
As we stated yesterday, it seems everyone is getting bullish on bitcoin again but many still believe that we're officially in a bear market. One analyst who seems to always be bullish is Fundstraat's Tom Lee, my new friend on Twitter.
In a recent interview with Cointelegraph, he laid out some of the indicators he's looking at and why the might spell out the start of a new bull market.
In short, Fundstraat has its own index called the Bitcoin Misery Index, which tracks how euphoric investors are from 1 to 100. The latest reading of the index was 89, which is the highest reading since the start of the last bull run.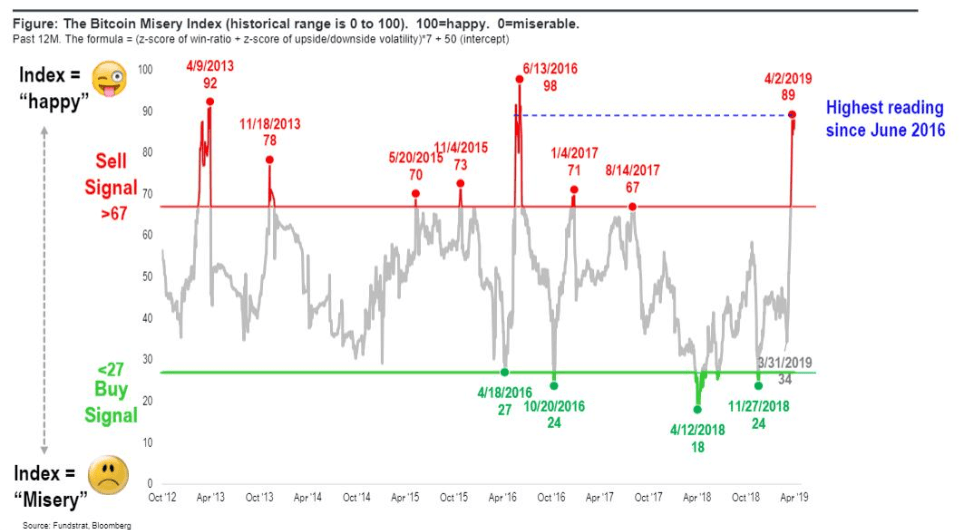 Of course, I'm not going to leave you over a long weekend without some great reading material.
This report is from one of the most well-respected analysts in the cryptosphere and it's called Bitcoin in Heavy Accumulation.
Enjoy!!
About the Author: Mati Greenspan is a Senior Market Analyst at eToro

Connect with Mati on….

eToro: http://etoro.tw/Mati
Twitter: https://twitter.com/matigreenspan
LinkedIn: https://www.linkedin.com/in/matisyahu/
Telegram: https://t.me/MatiGreenspan
Office Phone: +44-203-1500308 (ext:311)


Disclaimer: The opinions expressed in this article do not represent the views of NewsBTC 
or any of its team members. NewsBTC is neither responsible nor liable for the accuracy of 
any of the information supplied in Sponsored Stories/Press Releases such as this one.