Hi Everyone,
What might very well be the crypto market's worst fear has come true last week. Yet somehow it doesn't seem all that bad.
The Attorney General of New York has publicly accused Bitfinex and Tether of a scandalous cover-up involving $850 million that allegedly went missing. Bitfinex has accused the attorney general of acting in bad faith and of making false assertions. Fund transfers from Tether's reserves to Bitfinex bank accounts have now been effectively frozen by the US government.
In the coming days and weeks, we'll likely witness a massive investigation as the US government cracks down on one of the largest crypto exchanges. Perhaps it's just a coincidence but the news comes just two weeks after the Bittrex exchange was denied a Bitlicense and ordered to cease operations in the state of New York.
Bitcoin and the entire crypto market did dip on the news on Thursday but what's more interesting is that a price gap has opened between exchanges that use Tether and exchanges that don't, they're calling it the 'bitfinex premium'. Basically, platforms using Tether are showing the price of bitcoin about $200 to $350 higher than the rest of the market.
Astonishingly, Tether's peg to the US Dollar is holding up incredibly well dropping a total of two cents on the entire drama from $1.01 to $0.99.
@MatiGreenspan – eToro, Senior Market Analyst
Today's Highlights
China, Spain & FAANG
No More Patience
Crypto Winter is Over
Please note: All data, figures & graphs are valid as of April 29th. All trading carries risk. Only risk capital you can afford to lose.
Today's Highlights
Asian markets rose this morning, presumably on trade optimism as US-China talks resume in Beijing this week.
The European session is not going quite as swimmingly today. Very possibly due to the results of Spain's elections, which saw a surprise victory for the socialist party.
All things considered though, markets are still pretty calm and volatility remains low as we await earnings reports from Alphabet this evening and Apple tomorrow. Facebook, Amazon, and Netflix all smashed their respective first-quarter earnings, so things are looking pretty good for the FAANG group so far.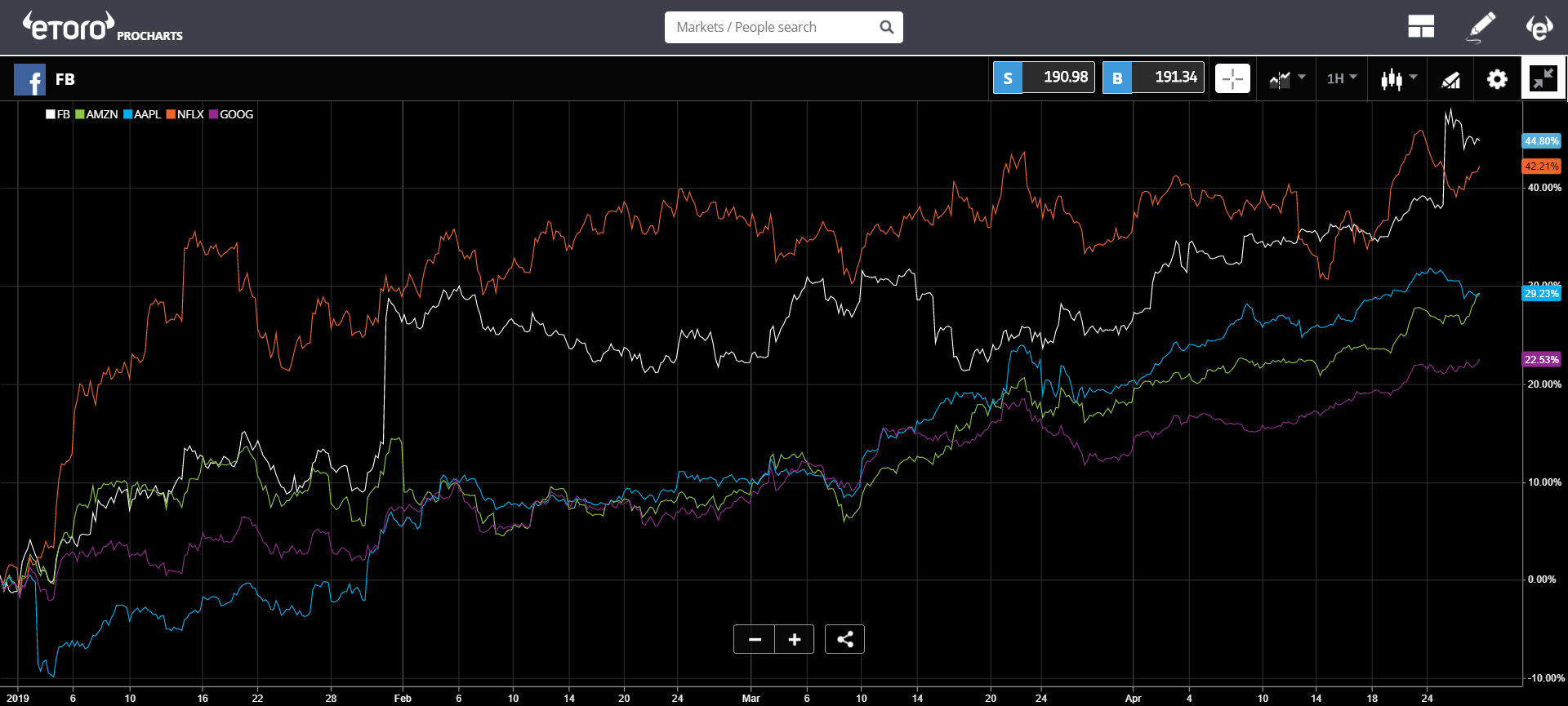 Smashed Growth
On Friday, the United States reported its biggest growth beat since 2010. Analysts were expecting to see GDP growth figures chug in at 2.2% but instead, the numbers surprised to by a full percentage point higher at 3.2%.
This graph shows the Advance GDP in blue and the analyst forecast in gold.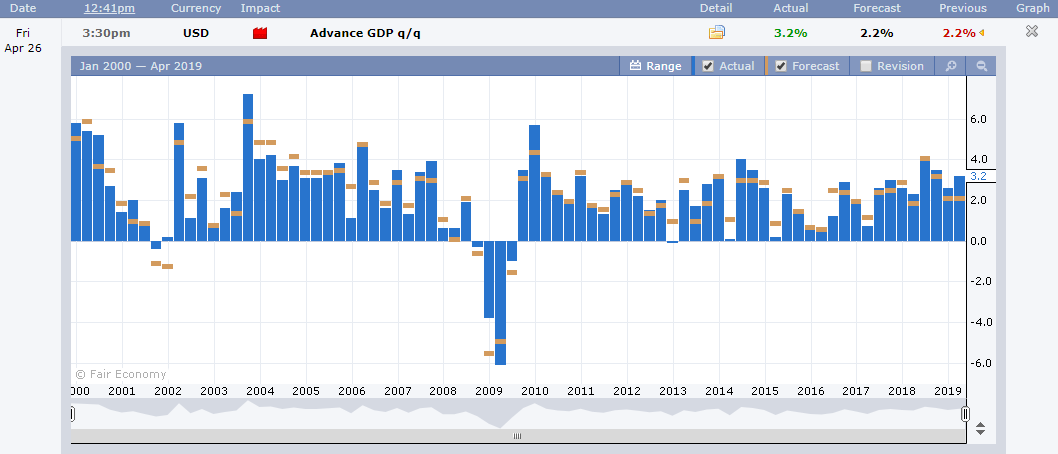 This is the latest sign that the US economy is doing really great at the moment, at least from a macro perspective. Pressure is now back on the Fed as it will be difficult for them to justify a policy of patience with figures looking this good. They may soon be forced into further monetary tightening, especially since stock markets are once again breaking new record highs.
Crypto Winter is Over
Investor interest has been picking up again in the crypto market in a big way.
There have been some phenomenal gains in many crypto assets since the market lows of mid-December, but that's not specifically what I'm talking about right now.
During an interview, I once heard Jeff Bezos responding to Amazon's price crash when the tech bubble popped. Amazon shares went from triple digits to single digits in a matter of months but Jeff was unfazed. He says, and I'm paraphrasing, the stock price crashing only affects companies that are trying to raise capital but we already had all the money we needed. In the meantime, all of our metrics including userbase and sales were growing at a rapid rate.
Sometimes we need to look beyond the price. In this case, we can already see signs that investor confidence in the crypto industry is rising rapidly.
Bitcoin.com came out with an article this morning that highlights a few projects that are seeing a rush of investor interest but what really caught my attention is this…
The VC firm Andreessen Horowitz has been responsible for funding some of the biggest tech startups in the world and the fact that they're going big on crypto inspires me with great confidence.
Outperforming today has been IOTA, who just announced an interesting partnership with Jaguar Land Rover.
Now, we have heard a few of these type of announcements before that turned out to be fake news but this one appears to be genuine. Here is a blog post on Jaguarlandrover.com that explains the pilot they're doing and how they want to use machine to machine microtransactions on IOTA's tangle to improve the motorist experience.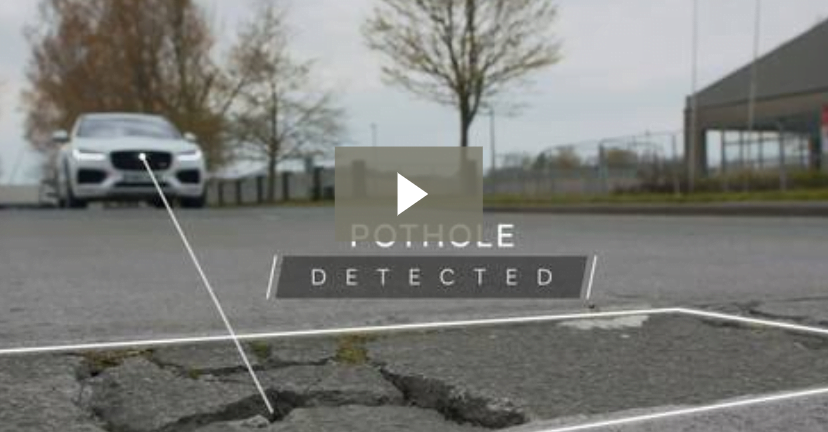 Needless to say, IOTA is up more than 20% today, which comes at an ideal time as the token was showing signs of trouble in the price action over the last few weeks. Declining despite optimism in the rest of the crypto market. Now we can see it giving a serious test to the 200-day moving average (blue).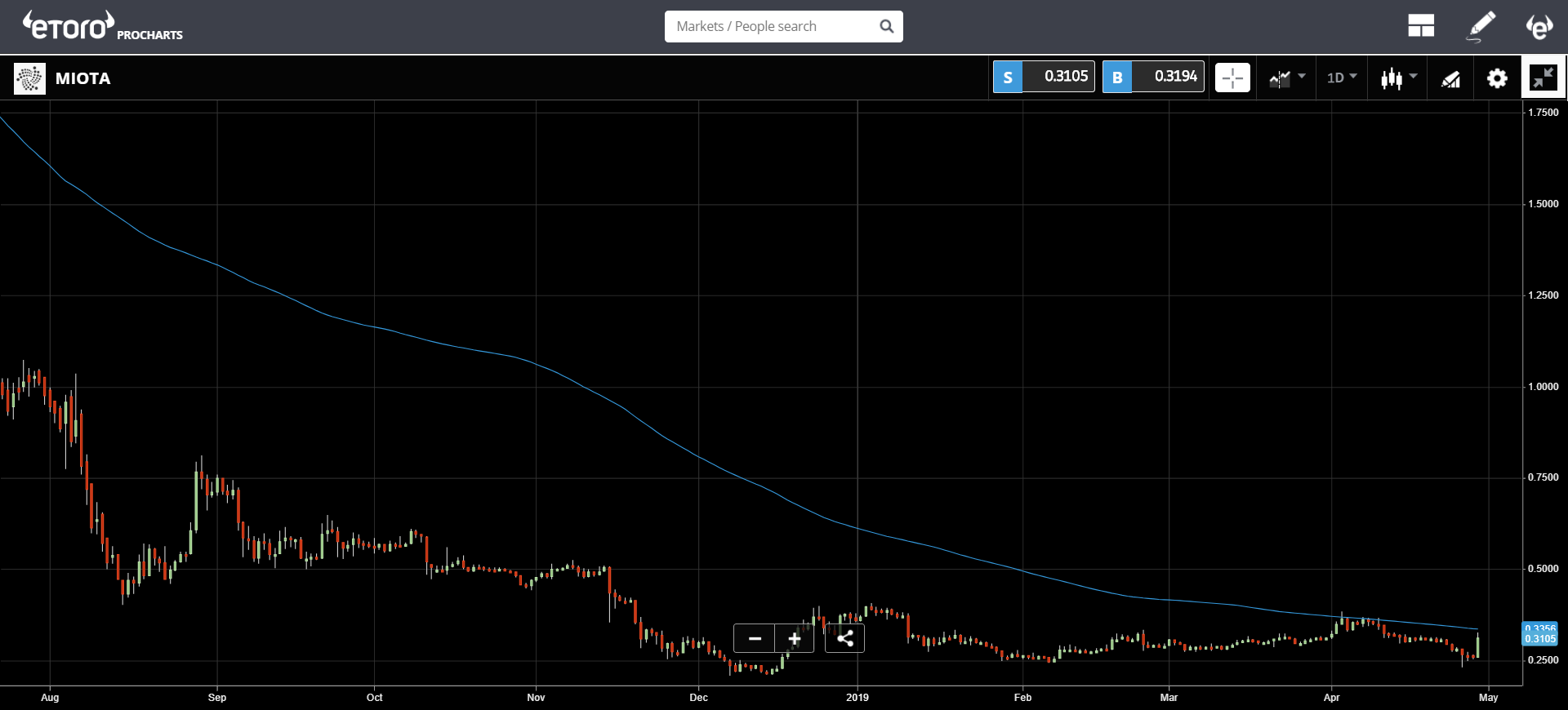 Let's have a fantastic day!
About the Author: Mati Greenspan is a Senior Market Analyst at eToro

Connect with Mati on….

eToro: http://etoro.tw/Mati
Twitter: https://twitter.com/matigreenspan
LinkedIn: https://www.linkedin.com/in/matisyahu/
Telegram: https://t.me/MatiGreenspan
Office Phone: +44-203-1500308 (ext:311)


Disclaimer: The opinions expressed in this article do not represent the views of NewsBTC 
or any of its team members. NewsBTC is neither responsible nor liable for the accuracy of 
any of the information supplied in Sponsored Stories/Press Releases such as this one.

Image: Pixabay