Hi Everyone,
As we've been anticipating, bitcoin and the rest of the cryptos are now seeing a bit of a pullback.
The level of the pullback, as of this writing, is actually picture perfect. So far, the top cryptoassets have come down about 10 from their recent highs.
If it does stop soon, turn around, and break significantly above the recent highs, there is virtually no major resistance on the chart until $20,000.
@MatiGreenspan – eToro, Senior Market Analyst
Today's Highlights
Trade war continues
Consensus is In
Bitcoin Chart
Please note: All data, figures & graphs are valid as of May 17th. All trading carries risk. Only risk capital you can afford to lose.
Traditional Markets
Stocks are seeing a bit of a pullback this morning. Many analysts are attributing this to the news about Huawei, which we covered yesterday. Doesn't make much sense to me that this type of escalation would have such a delayed effect, but I digress.
Overall, investors don't seem all too concerned about the latest escalation in presidential rhetoric. Volatility actually ticked down yesterday.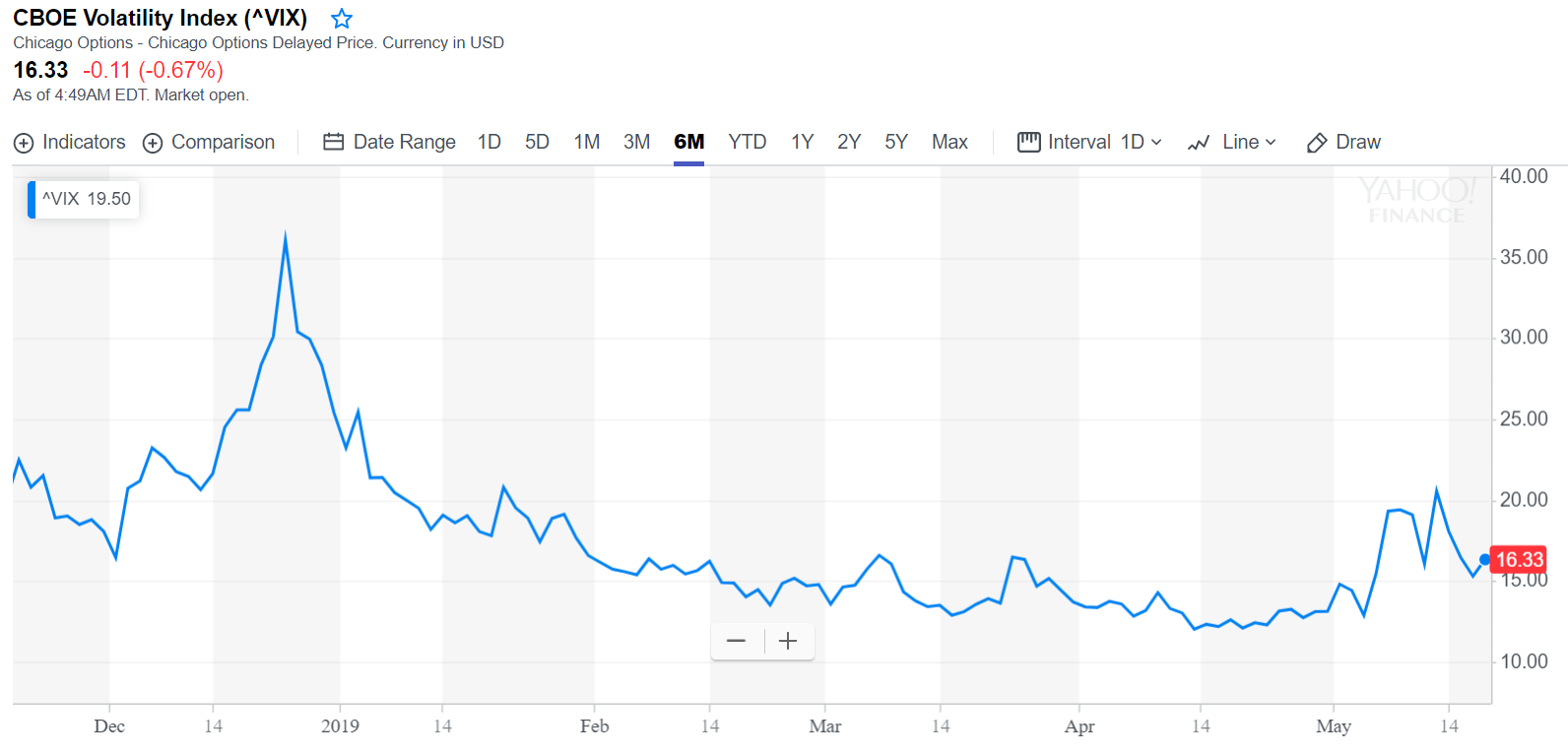 We have only to look at the long term chart of the Dow Jones to understand how well investors are currently keeping their cool.
Consensus is Over
The great gathering of crypto in New York is now over and it's time to see what we've learned.
Word is, attendance was less than half of what it was last year and the air was a bit more formal. Less like a festival and more like an industry convention.
If like me you weren't able to make it this year, we actually have the next best thing. Our friends from BlockTV were on the ground and were able to catch up with some of the biggest influencers who attended. I managed to binge watch most of them last night in preparation for my appearance on Bloomberg TV today.
For your convenience, here are the links to all of them. Feel free to watch, or not, at your leisure. But definitely, follow BlockTV on social media because they've more than earned it.
SEC Commissioner Hester Peirce (AKA Crypto-Mom)
Doron Rosenblum, eToro X managing director
Adam Back, co-Founder and CEO of Blockstream
Charles Hoskinson, Cardano co-founder, co-founder and ex-CEO of Ethereum
Peter Brandt
Tuur Demeester
Ron Paul
Tone Vays
Bruce Fenton
Alex Mashinsky, Celsius founder
Pascal Gauthier, Ledger CEO
Justin Sun:
Sergej Kotlier, CEO of Bitrefil
Elsa Ramon
Polymath Founder and CEO Trevor Koverko
Amy Kim, Chief Policy Officer of the Chamber of Digital Commerce
As far as the consensus effect… remember that as far as the theory goes, the pump comes about two weeks after the convention.
Bitcoin Chart
As indicated in our opening letter today. The pullback is happening as we speak. This is a great thing because it will allow us to better understand the nature and scope of the recent rally. When things are just going straight up, it becomes really difficult to tell how far they'll go and how far they'll fall after.
It should also help us to eventually make the distinction and say if this is a bull market or just a bull run. Not to mention, providing a cheaper price for those looking to buy in without having to buy the top.
So far, we haven't even come back as far as the short term trendline (yellow).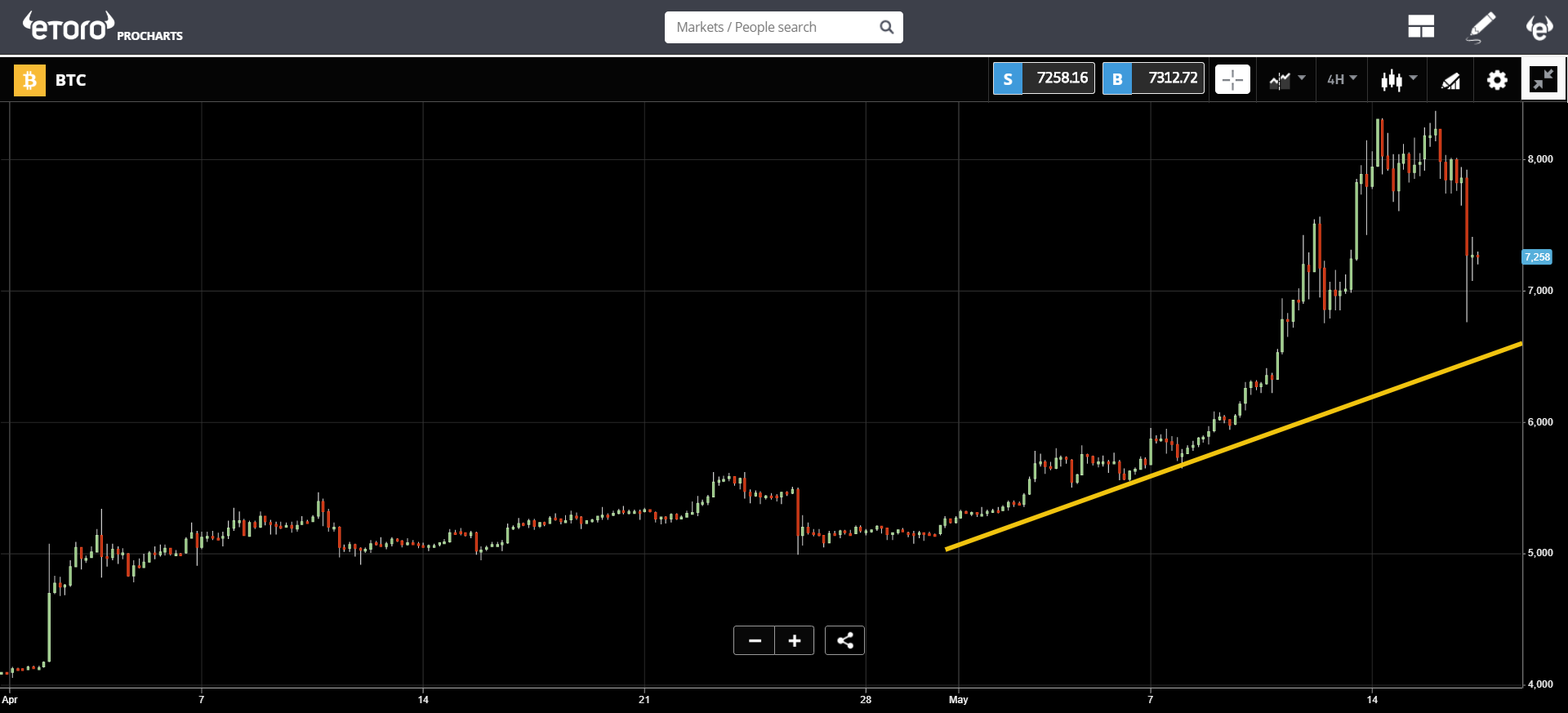 I've also posted a chart now on Twitter showing the relevant resistance levels as mentioned above. Let me know what you think.
It's gonna be a really fun weekend. Enjoy!!
About the Author: Mati Greenspan is a Senior Market Analyst at eToro

Connect with Mati on….

eToro: http://etoro.tw/Mati
Twitter: https://twitter.com/matigreenspan
LinkedIn: https://www.linkedin.com/in/matisyahu/
Telegram: https://t.me/MatiGreenspan
Office Phone: +44-203-1500308 (ext:311)


Disclaimer: The opinions expressed in this article do not represent the views of NewsBTC 
or any of its team members. NewsBTC is neither responsible nor liable for the accuracy of 
any of the information supplied in Sponsored Stories/Press Releases such as this one.