Hi Everyone,
Sometime between the time that I'm writing to you and the time that you received this message,  the European Central Bank (ECB) will deliver its monetary policy outlook.
Now, I could try and guess what they're going to say at this meeting but frankly, I don't have a clue, which is a shame because the actions they take today will affect millions of people.
@MatiGreenspan – eToro, Senior Market Analyst
Today's Highlights
Mexico's Loss
Russia's Gain
Crypto Junction
Please note: All data, figures & graphs are valid as of June 6th. All trading carries risk. Only risk capital you can afford to lose.
Today's Highlights
Despite Mexico's best efforts, a deal has yet to be reached to stave off tariffs on their US-bound exports. Talks continue, and Trump is aware that Mexico wants to make a deal, but at the moment he's overseas.
Meanwhile, President Xi Jinping is over in Russia visiting his "best friend" Vladimir Putin. If there's a clear winner in the US-China trade war, it's definitely Russia. Talks between the two reportedly include efforts to promote trade settlements in Yuan and Ruble rather than US Dollars.
We've been discussing the de-dollarization trend in our emails a lot over the last few months and this is the biggest official step towards this agenda by far.
Normally, this would be a very Ruble positive update. Selling the US Dollar against the Ruble is an interesting play because it carries a positive rollover.
But, looking at the USDRUB chart it's clear that we're well off the highs.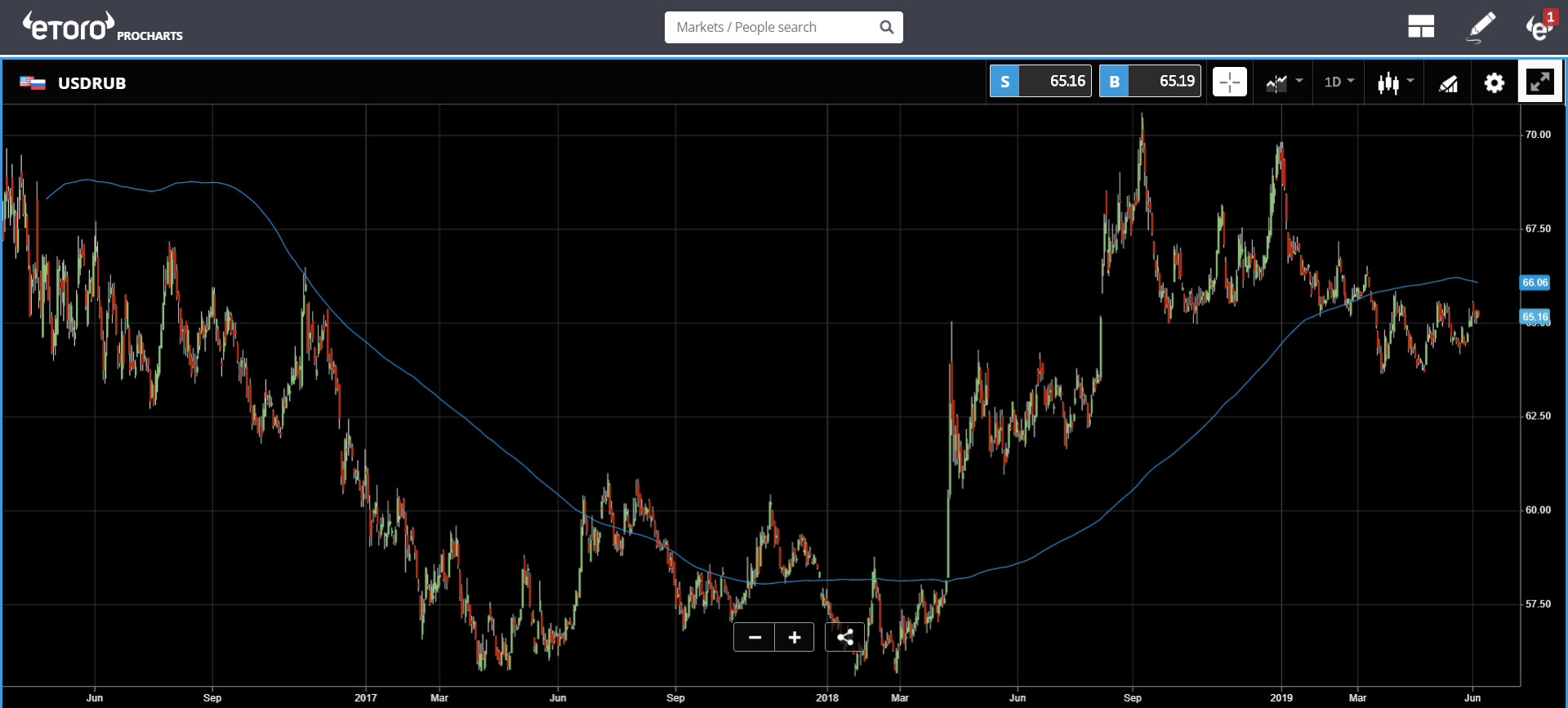 The other part of this trade though is crude oil. Whenever oil tanks, the Ruble tends to follow. Yet, Oil has been having a terrible time in the second quarter and the Russian currency barely seems to have noticed.
Here's the same graph of the USDRUB with crude oil overlayed in green.
Meanwhile, global stock markets are enjoying a bit of a breather before the ECB event. With Jerome Powell's recent shift in policy, traders are no doubt banking that Draghi will feel a bit more free to ease on on the reins, especially considering that the end of his term is coming up quickly. From his point of view, it will be very nice if he can go out on a high note.
European and US indices are performing great. Asian markets, on the other hand, are feeling the heat.
Crypto Juncture
The crypto market seems to be at a critical juncture this morning. At this point, volumes are less than half of what they were during the mid-May surge but still more than double what they were before the April 2nd spike.
The bitcoin blockchain has cooled down as well and is now back below 4 transactions per second.
In this market price tends to drive volumes. So if we do see a breakout in either direction, the volumes could come flooding back in. However, I think it could be really nice to see a new range formed and some sort of stabilization between $7,000 and $9,000 per coin. What do you think?
Have a great day ahead!
About the Author: Mati Greenspan is a Senior Market Analyst at eToro

Connect with Mati on….

eToro: http://etoro.tw/Mati
Twitter: https://twitter.com/matigreenspan
LinkedIn: https://www.linkedin.com/in/matisyahu/
Telegram: https://t.me/MatiGreenspan
Office Phone: +44-203-1500308 (ext:311)


Disclaimer: The opinions expressed in this article do not represent the views of NewsBTC 
or any of its team members. NewsBTC is neither responsible nor liable for the accuracy of 
any of the information supplied in Sponsored Stories/Press Releases such as this one.