Hi Everyone,
One major factor of uncertainty may now be removed from financial markets, possibly paving the way for a prolonged period of exceptional stability for investors.
President Donal Trump has officially kicked off his 2020 presidential campaign.
From now until November 2020, Donald J Trump is likely to be on his best behavior, at least as far as the markets are concerned.
@MatiGreenspan— eToro, Senior Market Analyst
Today's Highlights
Perfection Fed
Libra's Wake
Sell the News
Please note: All data, figures & graphs are valid as of June 19th. All trading carries risk. Only risk capital you can afford to lose.
Traditional Markets
The long-awaited and much-anticipated Federal Reserve interest rate decision will be delivered at 2:00 PM New York Time followed by a special press conference with Chairman Jerome Powell at 2:30.
The markets have been salivating lately over the extremely dovish turn the Fed has taken lately and the stock market is within range of its all-time high once again.
Will the markets get everything they want from the Fed today? From the way I see it, it doesn't seem likely. Don't get me wrong. Markets rarely drop when Powell is talking, but somehow it seems that the Fed can't get any more dovish without raising some serious alarm bells.
It's important to note that even though stocks are on a tear, fund managers are still quite pessimistic. Analysts from Bank of America have recently concluded that the markets are the most bearish they've been since the financial crisis.
Which of course, is being taken as a positive sign by many pundits who say that they can't get much more bearish so the next move must be bullish.
This chart from Bloomberg shows pretty clearly how portfolios are currently much less into risky assets and much more into safe havens than they usually are.
In any case, it will be an interesting event today.
Libra's Wake
To be perfectly honest, I was really wrong about yesterday's Facebook announcement. My feeling was that we would get a small press release or blog post confirming which of the widespread rumors were true and which were not.
Instead, we received a massive data dump with plenty of documentation and even an early look at the opensource code of the new 'blockchain'.
As far as it seems, the tech is very similar to that of XRP or XLM. At this point, I wouldn't say that the former has much to worry about but the latter might be in a spot of trouble. Stellar Lumens' main market is remittances, the exact market that Libra aims to disrupt.
To be clear, this new product is no competitor to bitcoin. Bitcoin is open, borderless, censorship-resistant, and immutable, and fully decentralized in all aspects of the network. Libra is not.
With all the seemingly good intentions from Facebook, there's even a fair chance this project never gets off the ground. Within hours of the data release, French Finance Minister Bruno Le Maire presented some serious opposition. Not only that, it seems that even US lawmakers may not be 100% onboard and some called for a complete halt of the project pending further details.
Even though this is a stable coin, many people are quite bullish. So it'll be interesting to see this play out.
Sell the News?
Over the last few weeks, many clients and journalists have asked me just how much of the current rally in bitcoin is due to Facebook's new crypto?
Well, I couldn't exactly say but we should get a clearer picture in the next few days. As the old market saying goes, "buy the rumor, sell the news."
Well, here we can see the massive run up on bitcoin. The blue circle is where Techcrunch announced the release date of the white paper two weeks ago, the yellow line is when the time the white paper was released.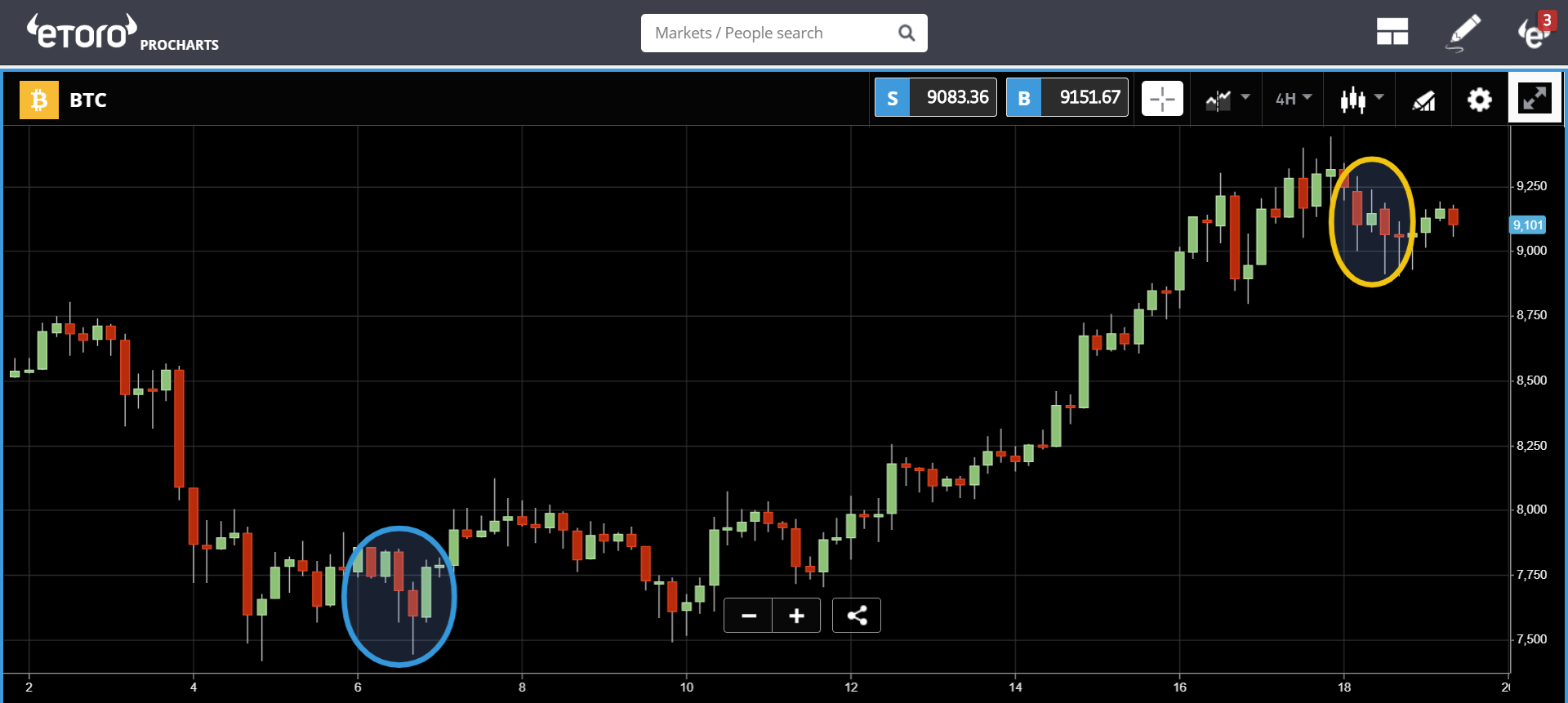 So, depending on the size of any potential pullback we might be able to get a good idea of how much of this is fluff.
Let's have an awesome day.
About the Author: Mati Greenspan is a Senior Market Analyst at eToro

Connect with Mati on….

eToro: http://etoro.tw/Mati
Twitter: https://twitter.com/matigreenspan
LinkedIn: https://www.linkedin.com/in/matisyahu/
Telegram: https://t.me/MatiGreenspan
Office Phone: +44-203-1500308 (ext:311)


Disclaimer: The opinions expressed in this article do not represent the views of NewsBTC 
or any of its team members. NewsBTC is neither responsible nor liable for the accuracy of 
any of the information supplied in Sponsored Stories/Press Releases such as this one.

Image by Wokandapix from Pixabay