Hi Everyone,
Welcome to Summer!! Watch out, it's hot.
After the prolonged crypto winter that was 2018, this year has seen the crypto market as the best performing asset class of 2019 by far, and that was just spring.
Last nights gain of about 14% is a clear indication of the extreme heat and the change of season. Careful before rejoicing though. If we've learned anything from the movie Frozen, euphoria can be dangerous. Remember Olav's solo song?
Though we haven't seen any of the dramatic hazards that sometimes arise from over-enthusiasm just yet (too much web traffic, congestion in the blockchain, etc.), a massive bull market retracement of 20% or more is always a possibility. So, please trade with caution and always diversify your portfolio.
Now, let's take a look at who's driving this thing.
@MatiGreenspan – eToro, Senior Market Analyst
Today's Highlights
Ghost Town
Bitcoin is in charge
It's the insiders
Please note: All data, figures & graphs are valid as of June 26th. All trading carries risk. Only risk capital you can afford to lose.
Traditional Markets
We'll make this section short and sweet today. Not only is it completely not what you're interested in, but also nothing much has changed lately. Central banks are extremely dovish and everyone is looking forward to the Trump Xi Meeting in Osaka at the end of the week.
The VIX is dead. This place is a ghost town.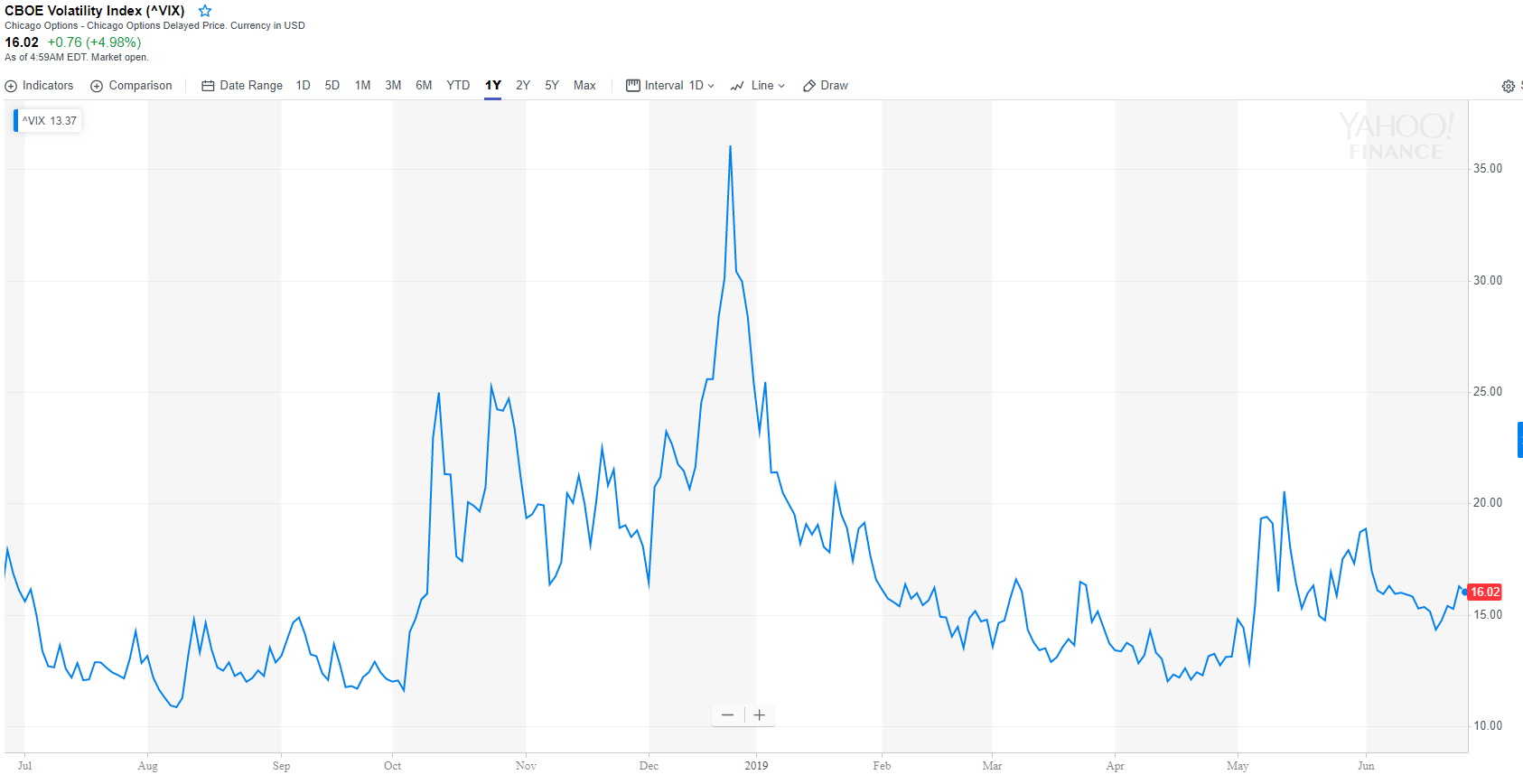 The dovish fed trends we spoke of yesterday are still very much at play.
It's not Alt-season
Yes, there has been some movement in the altcoins but please don't call this altseason. Bitcoin is very much in the driver's seat of the crypto market right now.
The bitcoin dominance index is at its highest level since 2017 and rising fast.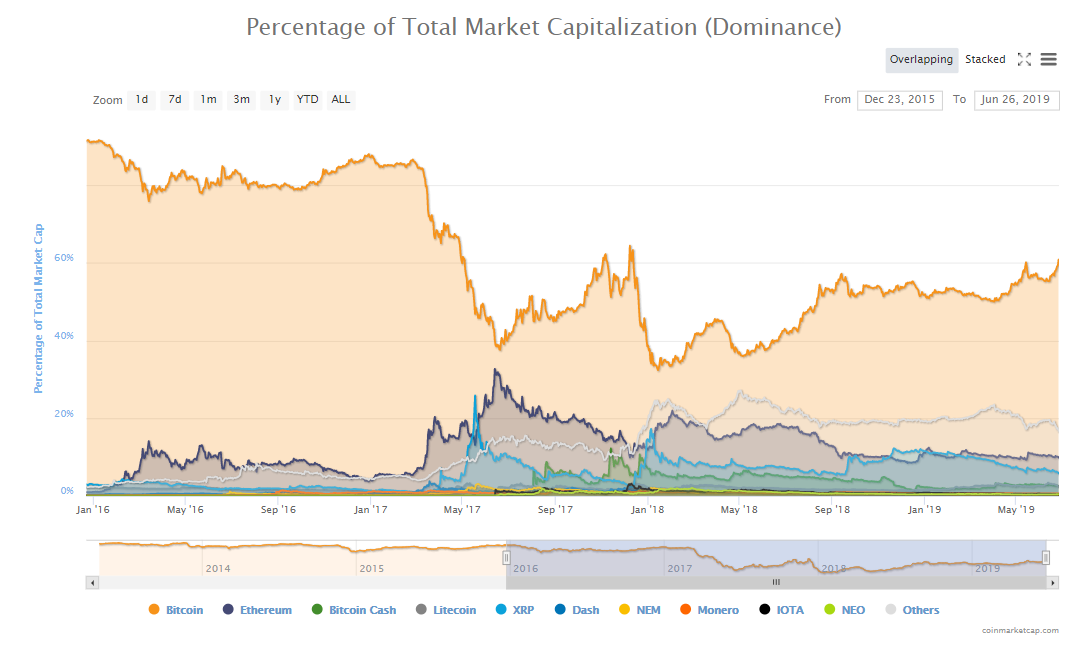 Messari data shows that Bitcoin volumes are actually higher than most of the rest of the crypto market combined.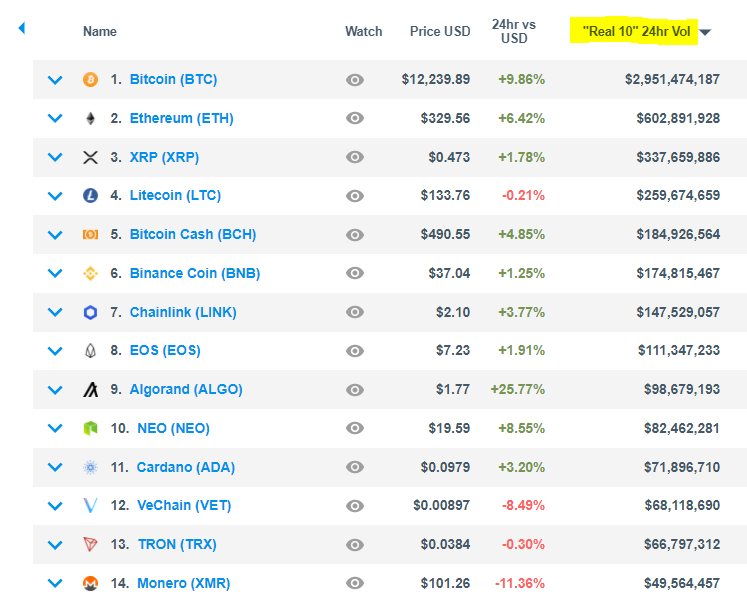 Not to mention performance. The only alt currently outperforming is NEO, and it would be difficult to say that 'Chinese Ethereum' is driving anything.
Overall, the breakout last night happened on very strong volumes across the board. That includes exchanges, futures, and on chain transactions. Still, bitcoin is handling the load with ease and the mempool's waters are fine. Meaning, there's absolutely no congestion in the bitcoin blockchain and there are very few transactions waiting to be confirmed.
Last crypto summer we certainly tested the capacity of the network. But the capacity has been increased since then. Let's see if we start to test the new capacity in the coming weeks/months.
So what is driving Bitcoin higher?
Industry insiders know very well what's driving the market and indeed have been expecting this bull run for quite a while now. That's because they are the main driver.
That's right…
All the data that we have indicates that the current rally is coming from CryptoTraders, like you my readers, who are already familiar with this unique market.
Let's start off with this graph from google trends data for the search term 'bitcoin' over the last three years.
There has been a steady rise since the start of this year but the level of queries is nowhere near what it was at the peak of the last cycle. This tells us that those buying at the moment don't necessarily need to go through google.
This assessment is consistent with data from coinlib, which shows the following map of money flows in the crypto market. As we can see, the bulk of inflows to bitcoin and ethereum are coming from USDT.
There is fresh fiat coming in, but it seems that most of the action is coming from money that's been sitting on the sidelines in stablecoins.
Even further confirmation of this trend comes from data compiled by Cryptocompare, which shows a growing trend where volumes of crypto to crypto exchanges are growing at a faster rate than that of fiat to crypto exchanges.
The why is known as well. We covered the many reasons Monday's market update, so feel free to review it here, or review our weekly interview with CoinTelegraph where we discussed the four main drivers.
As always, let me know if you have any questions or if you need anything further from my end.
Have a pleasant summer!!
About the Author: Mati Greenspan is a Senior Market Analyst at eToro

Connect with Mati on….

eToro: http://etoro.tw/Mati
Twitter: https://twitter.com/matigreenspan
LinkedIn: https://www.linkedin.com/in/matisyahu/
Telegram: https://t.me/MatiGreenspan
Office Phone: +44-203-1500308 (ext:311)


Disclaimer: The opinions expressed in this article do not represent the views of NewsBTC 
or any of its team members. NewsBTC is neither responsible nor liable for the accuracy of 
any of the information supplied in Sponsored Stories/Press Releases such as this one.