Hi Everyone,
Financial markets are in a good mood today after the leaders of China and the United States met over the weekend.
There was a bit of give-n-take it seems as President Xi agreed that China will buy more American goods and President Trump said he would not impose further tariffs. This is far from over though.
Perhaps the biggest sign of progress was the US President's U-turn on Huawei.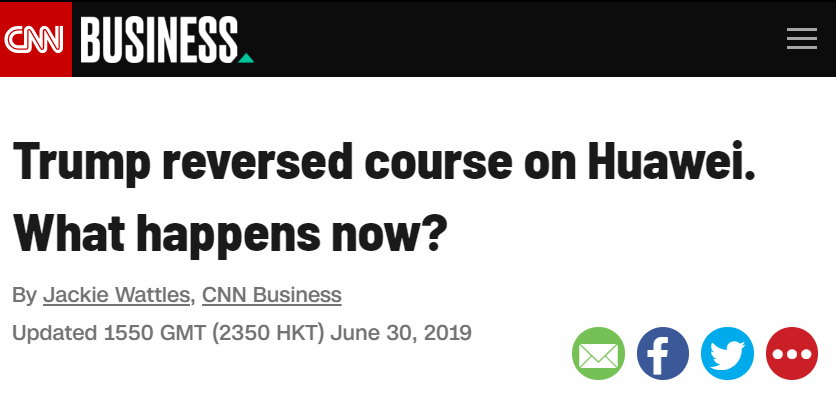 The Huawei ban was largely considered to be one event that could permanently alter the progression of technology in the United States.
If you don't know why definitely check out this short video from the popular comedian Trevor Noah. It's actually a decent explanation.
In any case, now that the two biggest economies are working together again, markets are happy and some are even surpassing their all-time highs once again.
@MatiGreenspan – eToro, Senior Market Analyst
Today's Highlights
Give and take the Fed
OPEC No More?
Crypto Cool Down
Please note: All data, figures & graphs are valid as of July 1st. All trading carries risk. Only risk capital you can afford to lose.
Traditional Markets
Welcome to the second half of 2019! We made it.
As much as the crypto community and others like to give the Fed a hard time, the truth is that they're actually doing a great job.
Ben Bernanke, Janet Yellen, and Jerome Powell have now managed to lead the United States through the longest economic expansion it has ever seen.
This chart, which was produced last month, shows that the period from June 2009 until today is the longest ever without a recession.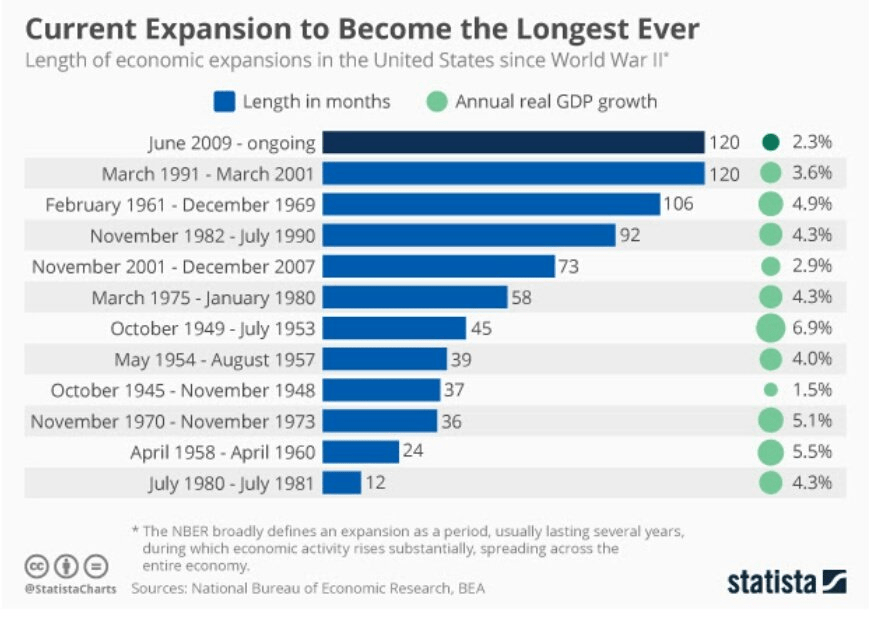 Granted, the strength of the expansion at 2.3% growth per year isn't nearly as strong as some of the previous expansionary periods but, all things considered, we should probably give some credit where credit is due.
Of course, they have had to give a lot in order to sustain the economy for this long. Let's hope that they can keep it going for a long time to come.
Here we can see the S&P500 over the last three expansion cycles, using a log-scale graph to better visualize the percentage movements.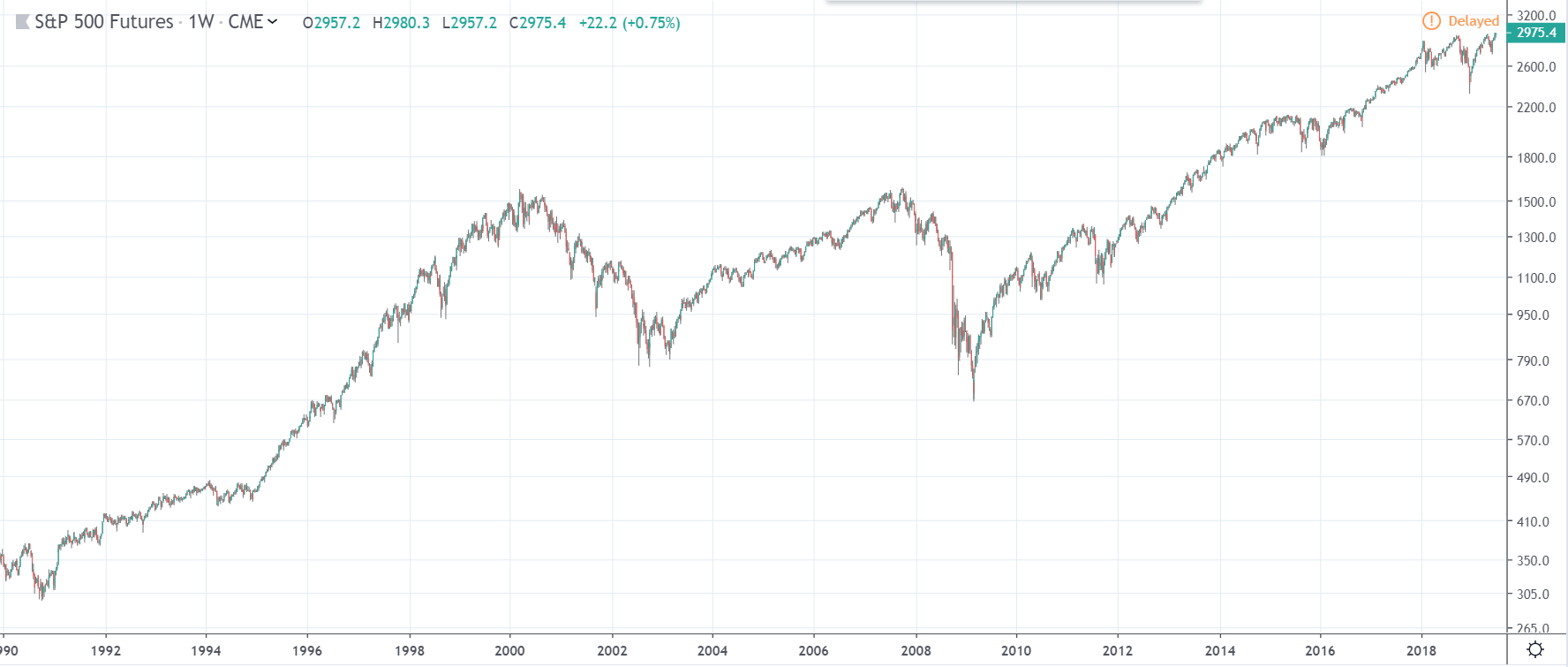 OPEC No More?
The air in Vienna is tense today as one of OPEC's key member states is clearly not happy.

As they prepare to try and make a deal today, the Iranian oil minister has warned that the price-fixing cartel that has been holding up oil's prices for several decades "is on the verge of collapse."
Still, with sanctions hanging over Iran they're more than likely to go along with whatever the rest of the council decides, which at this point seems more than likely to be further production cuts.
The USA continues to increase its production of oil and put downward pressure on prices. If OPEC wants to try and stay relevant, they'll need to cut a deal today and then try and get Russia's support tomorrow.
Crypto Cooling Down
The deep pullback last Wednesday night was like a bucket of ice water that was dumped on the anxious crypto market, which was indeed getting a bit too hot.
The prospect of prices rising too far too fast had some traders feeling fearful, so it's good to see things relaxing somewhat. At the moment, bitcoin is consolidating near the lows of $11,000 per coin.
Many have named the psychological support level of $10,000 (blue line) as the key level of support but personally, I'd be quite surprised if it holds that level.
If it does break through, it's not really something for bitcoin bulls to be fearful of. We can see even stronger levels of support just below. But even if those levels give, critical support is as far down as $5.000 (red line).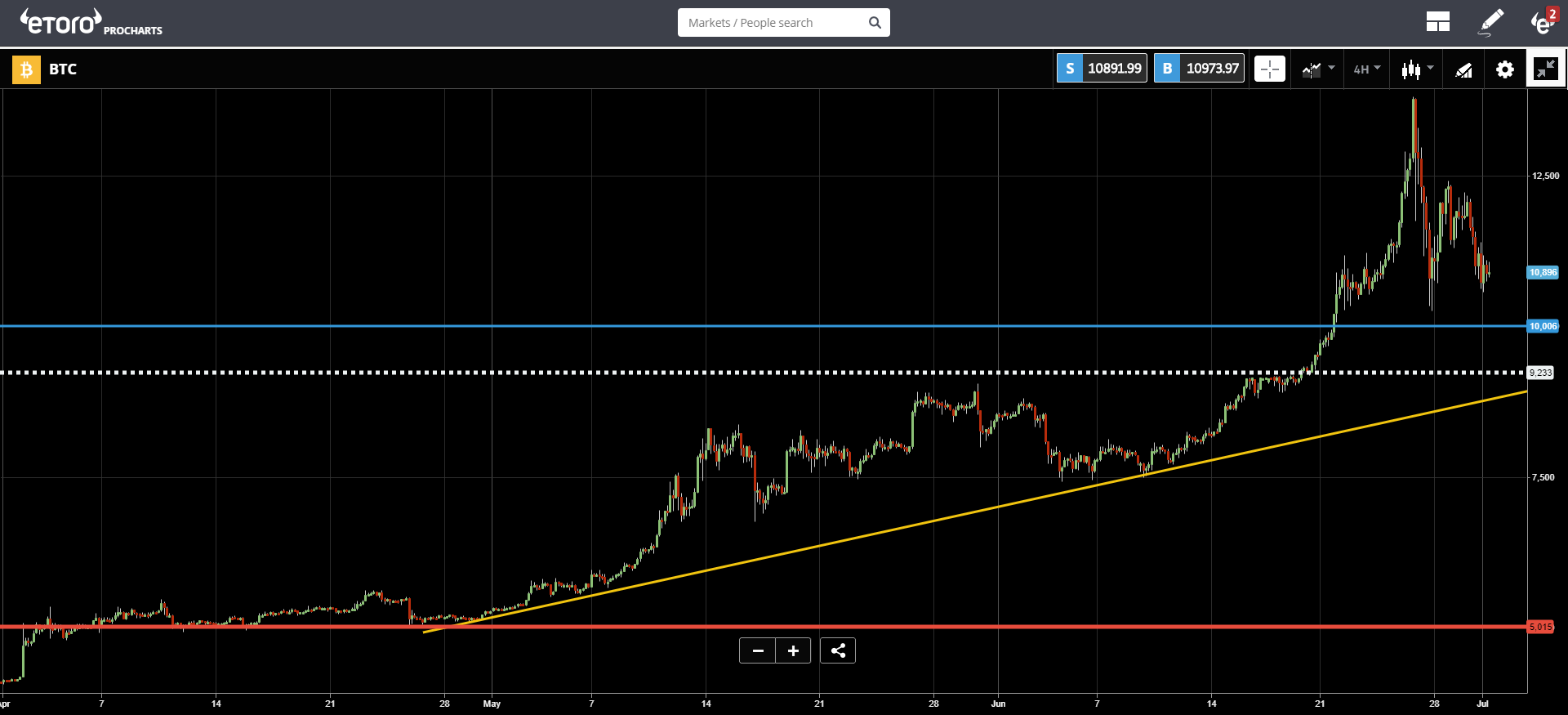 Of course, it could always just turn around here – a move that would no doubt bring a lot of confidence back into the market. A break to fresh highs usually comes with a burst of FOMO buying.
As we've stated many times before, the best thing for bitcoin is to see steady growth and less volatility. So overall, I'm glad to see it cooled down over the weekend.
Today's Daily Market Update is dedicated to Santana because life's a game of give and take.
Let's have an amazing week ahead!
About the Author: Mati Greenspan is a Senior Market Analyst at eToro

Connect with Mati on….

eToro: http://etoro.tw/Mati
Twitter: https://twitter.com/matigreenspan
LinkedIn: https://www.linkedin.com/in/matisyahu/
Telegram: https://t.me/MatiGreenspan
Office Phone: +44-203-1500308 (ext:311)


Disclaimer: The opinions expressed in this article do not represent the views of NewsBTC 
or any of its team members. NewsBTC is neither responsible nor liable for the accuracy of 
any of the information supplied in Sponsored Stories/Press Releases such as this one.