Hi Everyone,
In case you haven't seen yet, President Trump just gave a huge boost to bitcoin and cryptoassets by dedicating three entire tweets to them.
Even though Donald says he's not a fan of bitcoin, the fact that he's mentioning it at all is hugely bullish for the entire crypto market and within half an hour of the tweet, Bitcoin had risen by 2%.
The focus of the outburst did seem to be specifically targeting Facebook's Libra project as the President feels that if the social media giant wants to enter the payments market, they'll need to comply with all the usual banking licenses and procedures.
Of course, this is a huge blow to Libra, but not to bitcoin. In fact, the President has just inadvertently given the global digital currency the biggest advertisement it's ever seen as he's highlighted the exact reasons why the community feels that Libra is so great for bitcoin.
Libra can be controlled by governments and corporations. Bitcoin cannot. Now, with Libra looking as if it's dead in the water, bitcoin's true value emerges before the entire world.
@MatiGreenspan – eToro, Senior Market Analyst
Today's Highlights
Critical Inflation Print
Feel the Burn
BTC Short Shorts
Please note: All data, figures & graphs are valid as of July 12th. All trading carries risk. Only risk capital you can afford to lose.
Traditional Markets
The US economy got another unexpected boost yesterday from some data that is making the Fed's position even more difficult. The CPI inflation data came out much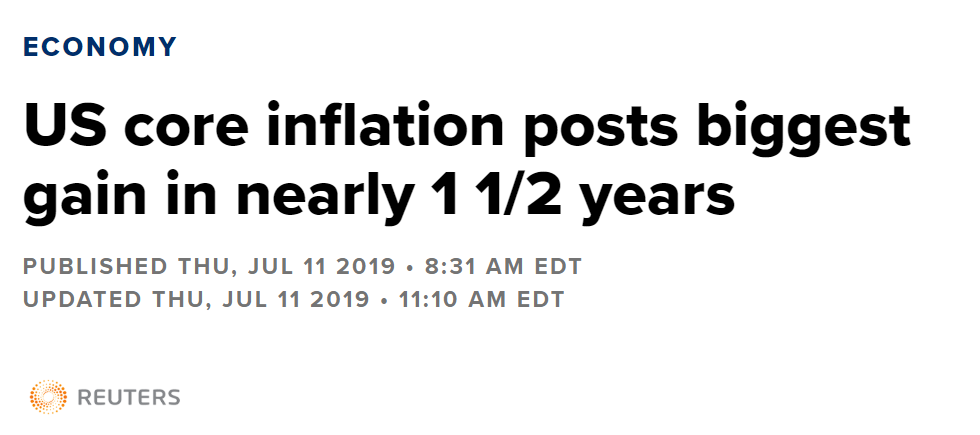 As we know, the Fed's job is to keep employment high and inflation steady. One of the main reasons they've used to argue in favor of a rate cut at the end of this month was that inflation is too weak.

Not that this latest uptick is necessarily going to put them off the cut. The market barely even flinched on the news. It's just that over the last year or so many analysts have stated that the number one risk to the market was a mistake from the Central Bank.
Let's just hope that the market and the President know what's best for the economy because it doesn't seem like the Fed is ready to disappoint them anytime soon.
Feel the Burn
One thing that makes binance coin unique is the systematic token burn they perform each quarter in order to reduce the overall supply of coins in the market. Well, today's burn ceremony was particularly interesting as there was a surprise thrown into the mix…

The BNB white paper states that 40% of the overall supply of BNB is reserved for the Binance team. It also states that BNB will be burned ever quarter until they reach a total circulating supply of 100 million coins. So basically, what Binance is doing here is burning their own tokens instead of earmarking them from the trading fees.
How this will affect the overall token economics is still unclear. My feeling is that it is a healthy progression as there are less pools of capital and a larger portion of the overall supply will be in circulation.
Either way, it did cause a nice bounce off the bottom. The purple circle here shows the approximate time of the announcement.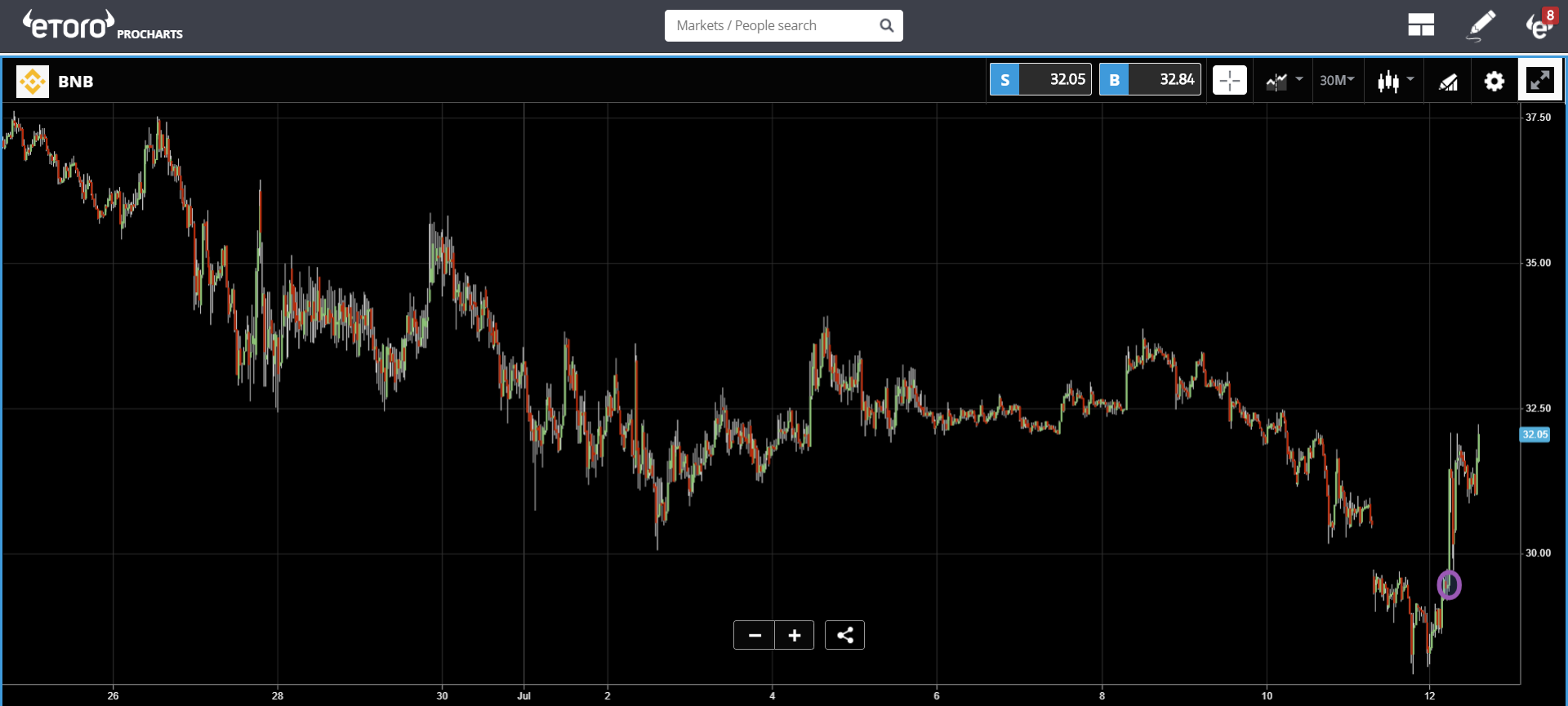 CZ and the team say they're doing this to show how much they're NOT in this for the money and $2.4 billion is a lot to give up. If you are looking for ulterior motives though, The Block's Larry Cermak seems to think he's found one.
BTC Short Shorts
This morning we saw another major hack on a Japanese crypto exchange. Approximately 3.5 billion Yen ($32 million) worth of crypto was stolen from a company called BitPoint. Perhaps a bit uncanny that Japan's FSA had just taken action against BitPoint just three weeks ago for not being secure enough.

Of course, the FSA could not have possibly known in advance that a hack was about to occur, nor could they have necessarily prevented it. The question here is whether their red flag actually created a green flag for the hackers?
In other news, and one more chart that I wanted to show you before the weekend to go out on a high note. Take a look at the level of short positions on Bitfinex, which is the lowest level seen since these figures have been collected.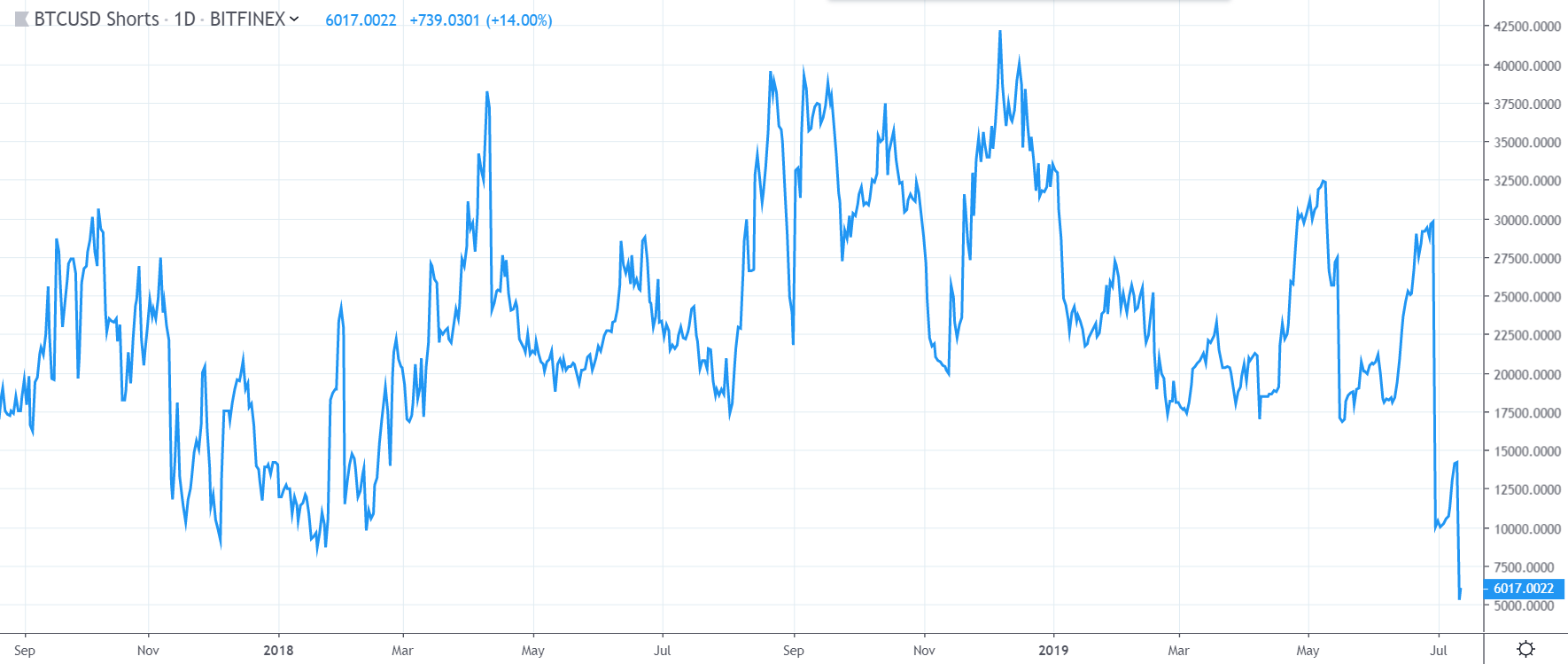 Wishing you a wonderful weekend.
About the Author: Mati Greenspan is a Senior Market Analyst at eToro

Connect with Mati on….

eToro: http://etoro.tw/Mati
Twitter: https://twitter.com/matigreenspan
LinkedIn: https://www.linkedin.com/in/matisyahu/
Telegram: https://t.me/MatiGreenspan
Office Phone: +44-203-1500308 (ext:311)


Disclaimer: The opinions expressed in this article do not represent the views of NewsBTC 
or any of its team members. NewsBTC is neither responsible nor liable for the accuracy of 
any of the information supplied in Sponsored Stories/Press Releases such as this one.