Hi Everyone,
There aren't many companies around these days that are big enough to initiate their own holiday but for some online shoppers, Prime Day is bigger than Christmas.
Amazon's internet answer to Black Friday begins today and in the next 36 hours, with their stock just a whisk away from all-time highs, Amazon could very well break a new high for Prime Members, which has already exceeded 50% of US households.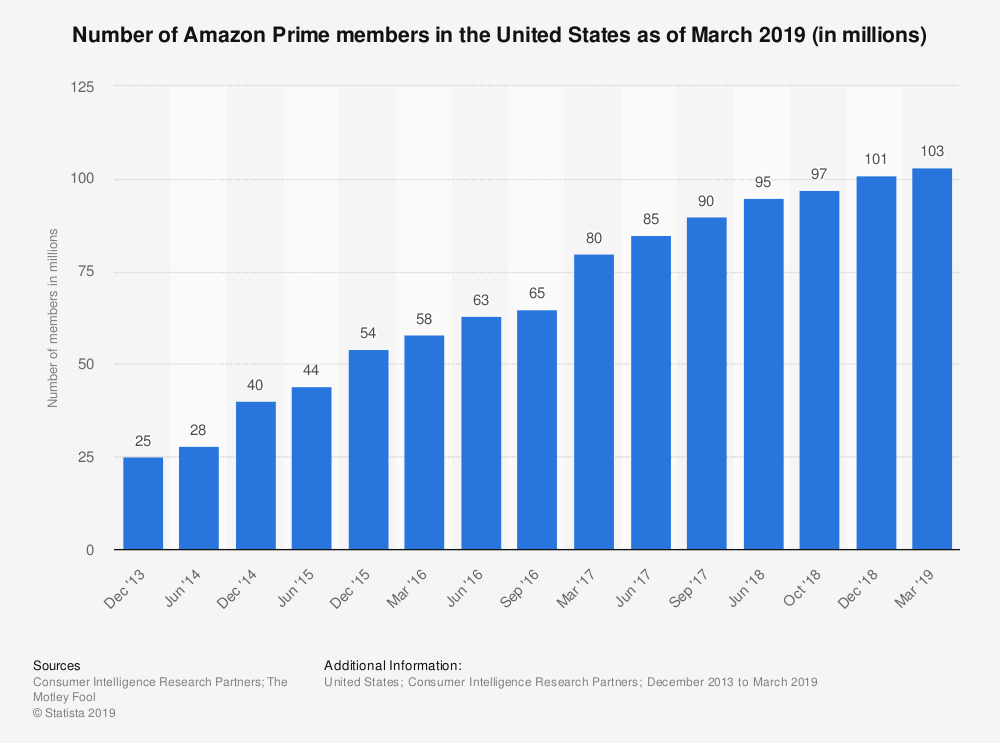 Last year's festivities went off without a hitch but it seems this year that several warehouses are planning to halt production in protest of poor working conditions.
However, even though these protests may affect delivery times in some places, it doesn't seem like sales will be affected as the gripe is about making things better for workers who feel that they'll manage to get management's attention by walking out while the pressure is peaking. At this point, nobody is actually advocating to boycott the holiday.
Long live capitalism. Happy Prime Day!
Today's Highlights
China's Landing
Earnings Season
Peak Hash?
Please note: All data, figures & graphs are valid as of July 15th. All trading carries risk. Only risk capital you can afford to lose.
Traditional Markets
Not the best way to start the week, but here it is…
Even though the numbers were dismal, it's not as if it wasn't expected. The Chinese economy has been in steady decline throughout this decade as some say they are experiencing a hard landing.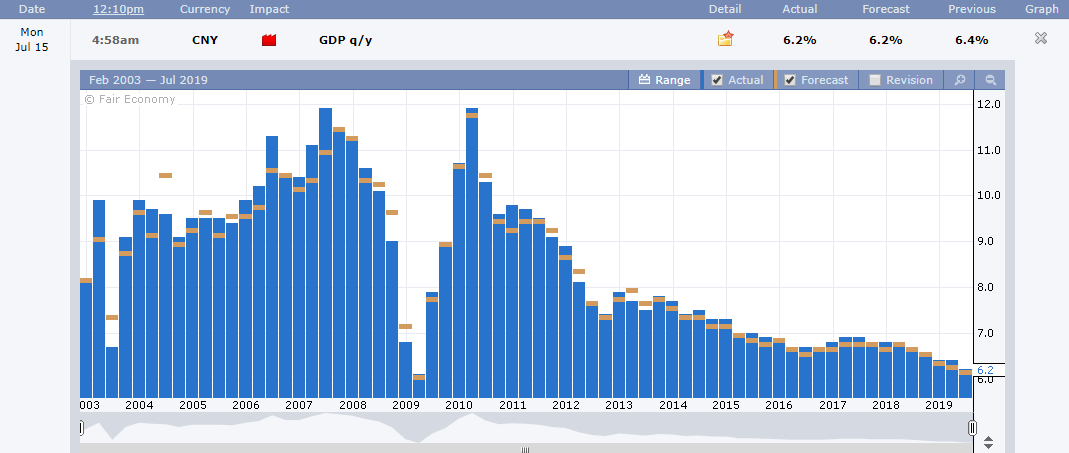 Of course, the markets are taking this bad news as good news. Worse economic figures raises the likelihood of further stimulus from the PBoC.
This brings us right into our next market theme…
Earnings Season
As far as earnings season goes, this one is expected to be quite a downer. Many companies have already preempted their quarterly reports with a warning that profits were quite weak in the last few months.
First up are financial companies who have been hammered by central bank easing. When the largest player in the market is willing to buy debt with a negative yield, it's particularly difficult for regular investment banks to turn a profit.
Here we can see eToro's @TheBigBanks copy portfolio in blue against the S&P 500 index in green. Notice how the central bank driven recovery that has floated the markets since the beginning of 2019 has not been quite as jubilant for bank stocks.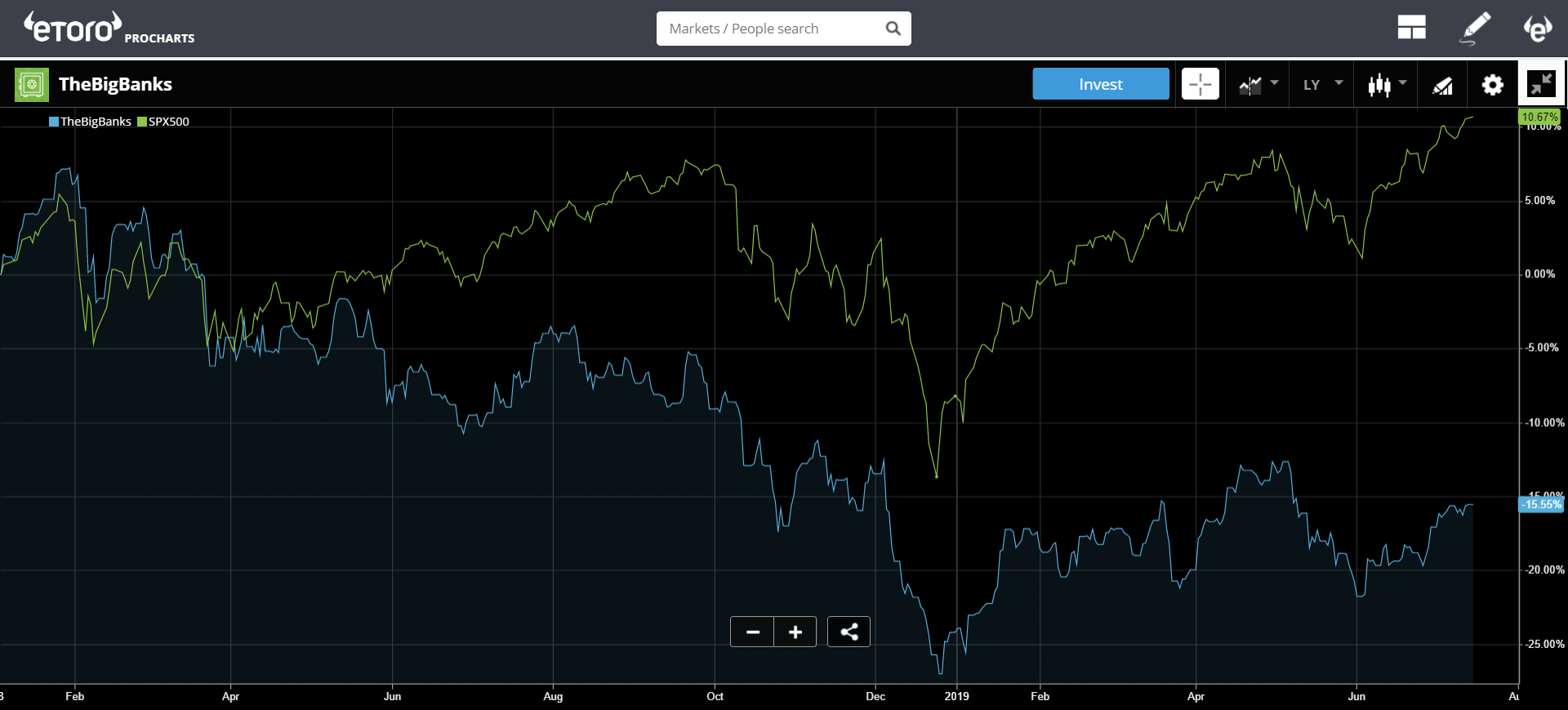 Citigroup will be the first lamb to the slaughter today, followed by JP Morgan, Wells Fargo, and Goldman Sachs tomorrow. Of course, with analyst forecasts so gosh darn low, the chances that earnings will surpass expectations are quite high.
Peak Hash?
Those of you who've been watching closely may have noticed that Bitcoin is now more difficult to mine than ever before.
Without getting into too much technical detail, it's worthwhile to know that bitcoin is designed to turn out a new block approximately every 10 minutes. At times when there is more hashrate (computing power) contributing to the network, bitcoin's algorithm adjusts itself to be more difficult to mine a block.
This adjustment takes place automatically every two weeks and the adjustment that happened last Wednesday has made it extremely difficult to mine a block.

This increase in difficulty may have caused some miners to run their machines hot and seems to have attracted the wrong kind of attention.
Approximately 4000 machines have reportedly been confiscated due to the use of allegedly stolen hydro-electricity. Looking at the graph of Bitcoin's overall hashrate, it's quite difficult to tell if there has been any impact though.

Overall, with hashrates and difficulty being so high, it would not be a bad thing at all to see that coming down a bit.
Let's have an amazing week ahead!
About the Author: Mati Greenspan is a Senior Market Analyst at eToro

Connect with Mati on….

eToro: http://etoro.tw/Mati
Twitter: https://twitter.com/matigreenspan
LinkedIn: https://www.linkedin.com/in/matisyahu/
Telegram: https://t.me/MatiGreenspan
Office Phone: +44-203-1500308 (ext:311)


Disclaimer: The opinions expressed in this article do not represent the views of NewsBTC 
or any of its team members. NewsBTC is neither responsible nor liable for the accuracy of 
any of the information supplied in Sponsored Stories/Press Releases such as this one.

Image by Free-Photos from Pixabay