Hi Everyone,
While I'm glad that bitcoin and cryptoassets are finally getting the attention they deserve from the US government, it seems that there may be more important issues getting swept under the rug.
When Steven Mnuchin gave his emergency hearing on virtual currencies earlier this week, several reporters asked him about the debt ceiling but it seemed the Treasury Secretary was less comfortable speaking on that topic than he was on Bitcoin.
For those of us who are like Mnuchin and get queasy when hearing this term, feel free to watch this quick video from CGP Grey that explains the cat & mouse game currently being played by the US government with potentially catastrophic consequences amplifying with each round played.
In short, if Congress fails to raise its level of debt by September, the US government will officially be in default. Quite frankly, this would do a lot more damage to the US Dollar's position as the global reserve currency than any crypto.
@MatiGreenspan – eToro, Senior Market Analyst
Today's Highlights
Trade Wars are Back
Google Under Fire
Fall Below 10k
Please note: All data, figures & graphs are valid as of July 17th. All trading carries risk. Only risk capital you can afford to lose.
Traditional Markets
Well, it was a nice truce while it lasted, but just 2.5 weeks after Trump & Xi agreed to a ceasefire, it seems the trade war is back on.
TL;DR – Trump threatened new tariffs on China after they replaced their key negotiator with a trade hardliner.
Markets didn't seem particularly bothered by this though. US indices remain near their all-time highs and Chinese stocks are quite stable as well.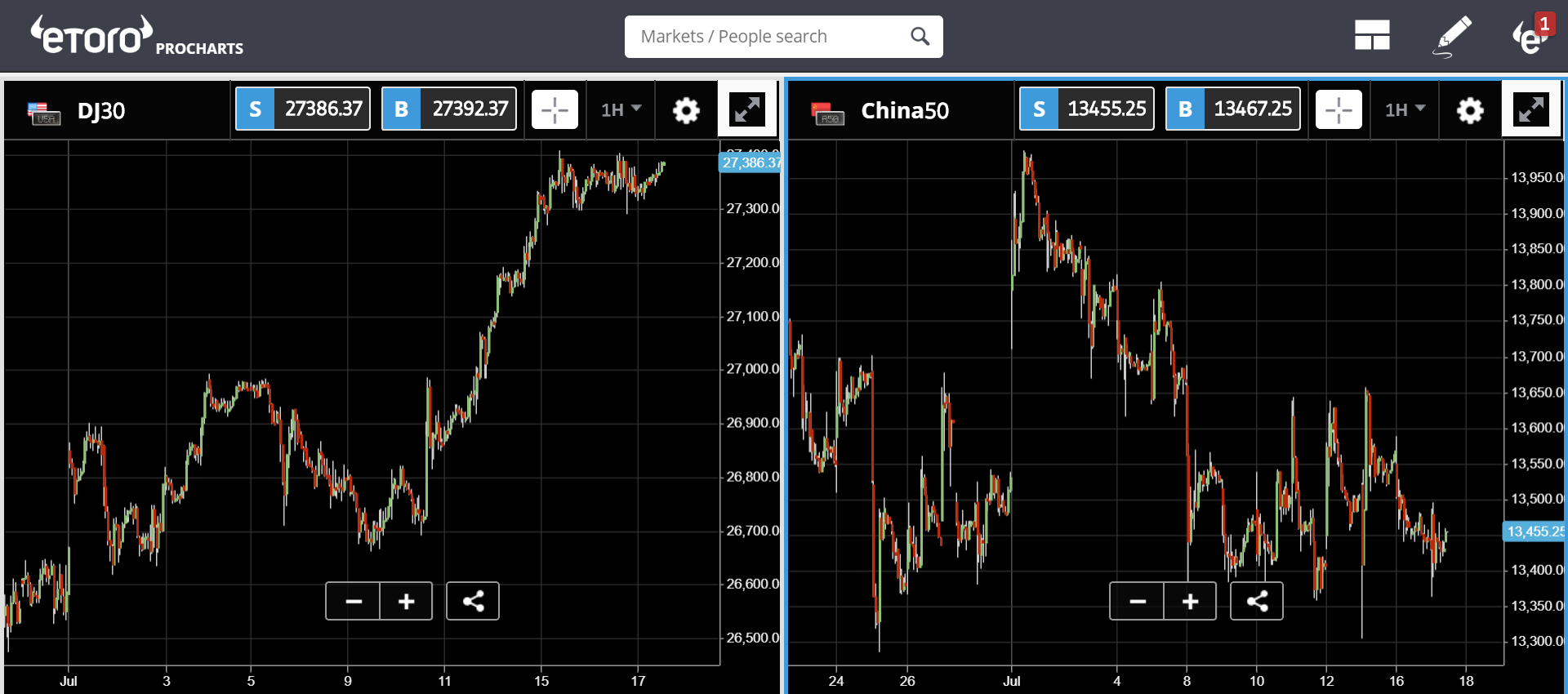 Google Under Fire
In addition to the above-mentioned update, it seems the US-China trade war has taken yet another turn for the worse, this time involving the tech giant Google and an alleged alliance with the Chinese military.
The accusations are coming from the well-known tech entrepreneur Peter Thiel who claims that the search engine company should be investigated for treason. It seems the President agrees.
Despite an apparent lack of evidence, the strong suspicion has been more than enough to attract mainstream media attention but doesn't seem to have affected Alphabet shares as of yet.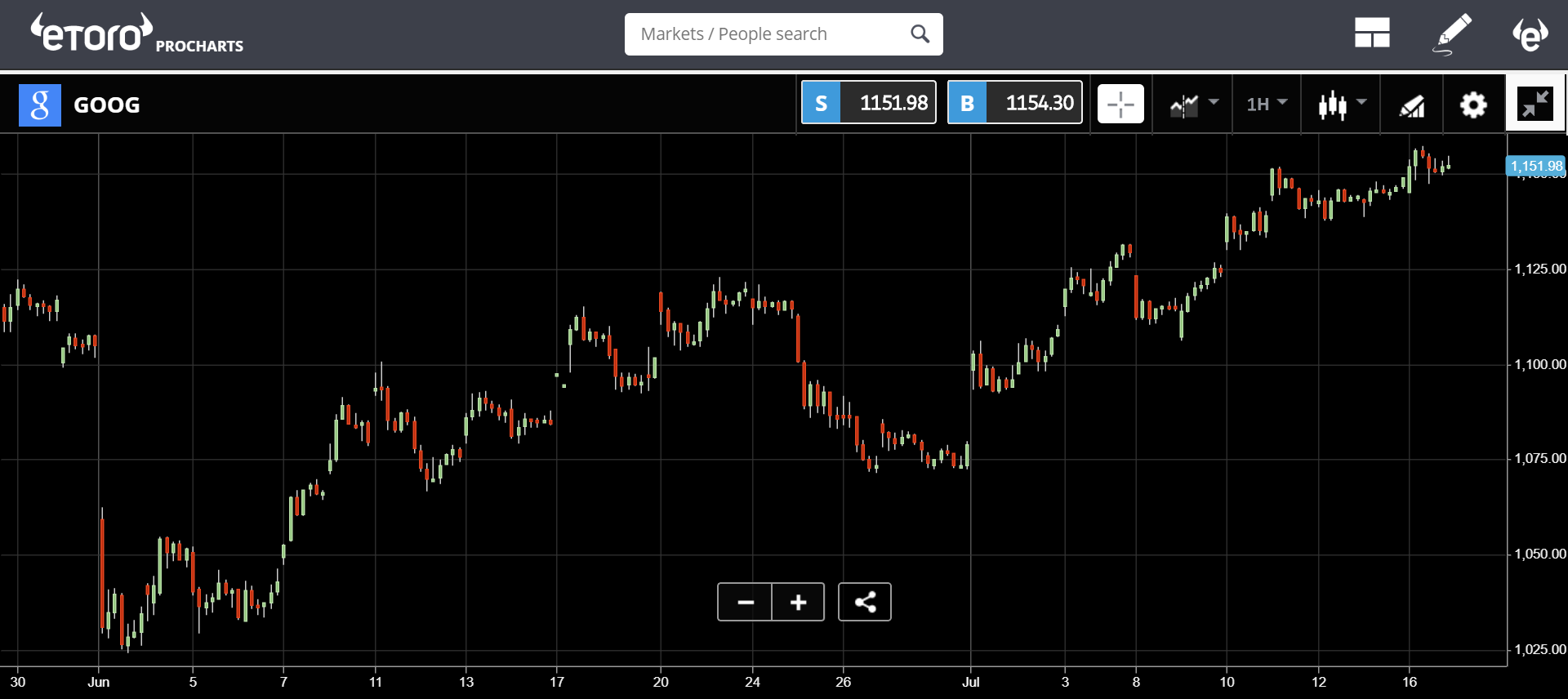 In Libra's Wake
The Libra hearings yesterday were quite intense and today's hearing before the Financial Services Committee will likely be even more intense. Immediately following yesterday's event, the price of bitcoin tanked and within a short time fell below the psychological level of $10,000 per coin.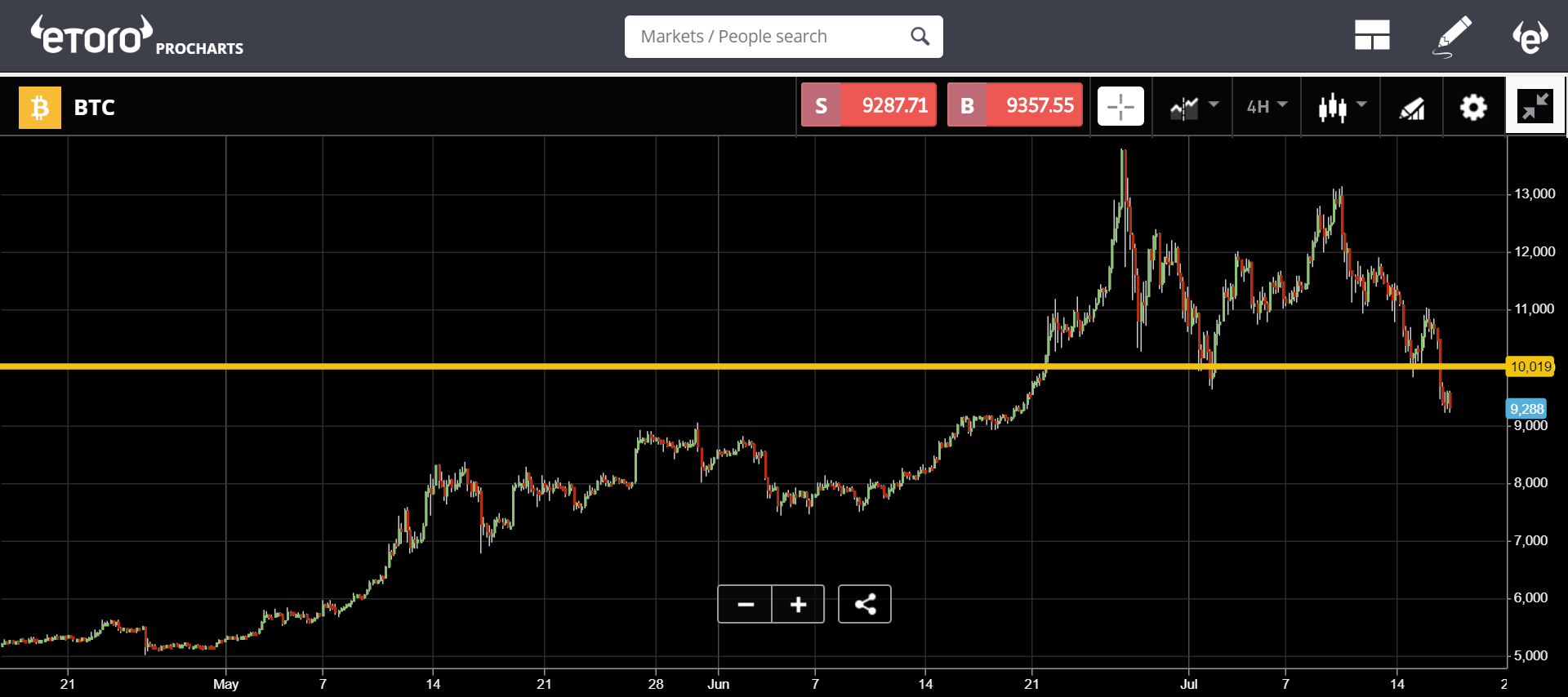 Bitcoin bulls don't seem particularly worried about this move though. After all, the asset is still up more than 200% since it's lows in mid-December and as we mentioned previously there are still plenty of levels of support.
In this interview yesterday with Block TV, we discussed exactly how all this newfound attention from the US government is affecting the price of bitcoin.
As always, let me know if you have any questions, comments, or further insights. Have an excellent day!
About the Author: Mati Greenspan is a Senior Market Analyst at eToro

Connect with Mati on….

eToro: http://etoro.tw/Mati
Twitter: https://twitter.com/matigreenspan
LinkedIn: https://www.linkedin.com/in/matisyahu/
Telegram: https://t.me/MatiGreenspan
Office Phone: +44-203-1500308 (ext:311)


Disclaimer: The opinions expressed in this article do not represent the views of NewsBTC 
or any of its team members. NewsBTC is neither responsible nor liable for the accuracy of 
any of the information supplied in Sponsored Stories/Press Releases such as this one.

Image by Alexas_Fotos from Pixabay