Hi Everyone,
Even though Toys 'R' Us didn't turn out to be such a great investment idea, as it turns out, one of the products from their shelf is actually one of the best investments of all time.
In a study titled The Toy for Smart Investors, two acclaimed researchers do a deep dive into the economics of Lego sets.
During the period of the study, these unique collectors play things averaged an annual return of 11%. As well, they proved to be uncorrelated with other markets so even when times are tough they tend to continuously increase in value.
In this graph, we can see two lego indices outperforming some of your more traditional investments like stocks and bonds.
I guess it just goes to show that a good investment isn't always an obvious one. Even a simple hobby can turn out some solid profits. In fact, most people who've made large returns in things like wine, art, automobiles, or even bitcoin will probably tell you the same.
@MatiGreenspan — eToro, Senior Market Analyst
Today's Highlights
Yield Spikes
NFP+Powell Day
ERB+BTC
Please note: All data, figures & graphs are valid as of September 6th. All trading carries risk. Only risk capital you can afford to lose.
Traditional Markets
Investors woke up today to a rather noticeable change in pace. Whether due to winds of change or just a bit of wind leaving the sails is still unclear. The only thing that is clear at this point is that the bond market is trying to tell us something.
Yields have been falling rather steadily over the past year, so to see them jumping across the board is a rather rare sight these days.
Could this be the work of Trump?
Could the headlines highlighted yesterday about continued trade talks next month really be causing investors enough comfort to reverse the long-standing flight to safety trend?
Pretty sure the Fed doesn't think so. In fact, they've recently published an entire report showing how the ongoing trade wars are damaging the economy. Later today Chairman Powell will deliver a speech in Zurich titled "Economic Outlook and Monetary Policy" and will very likely cite the recent research.
Politics aside, this does seem like a fair way to fight allegations from the White House that the Fed is doing a lousy job.
In any case, whatever we're seeing in the bond markets does seem to be spreading. Gold and Silver also peaked yesterday causing some rather sharp pullbacks.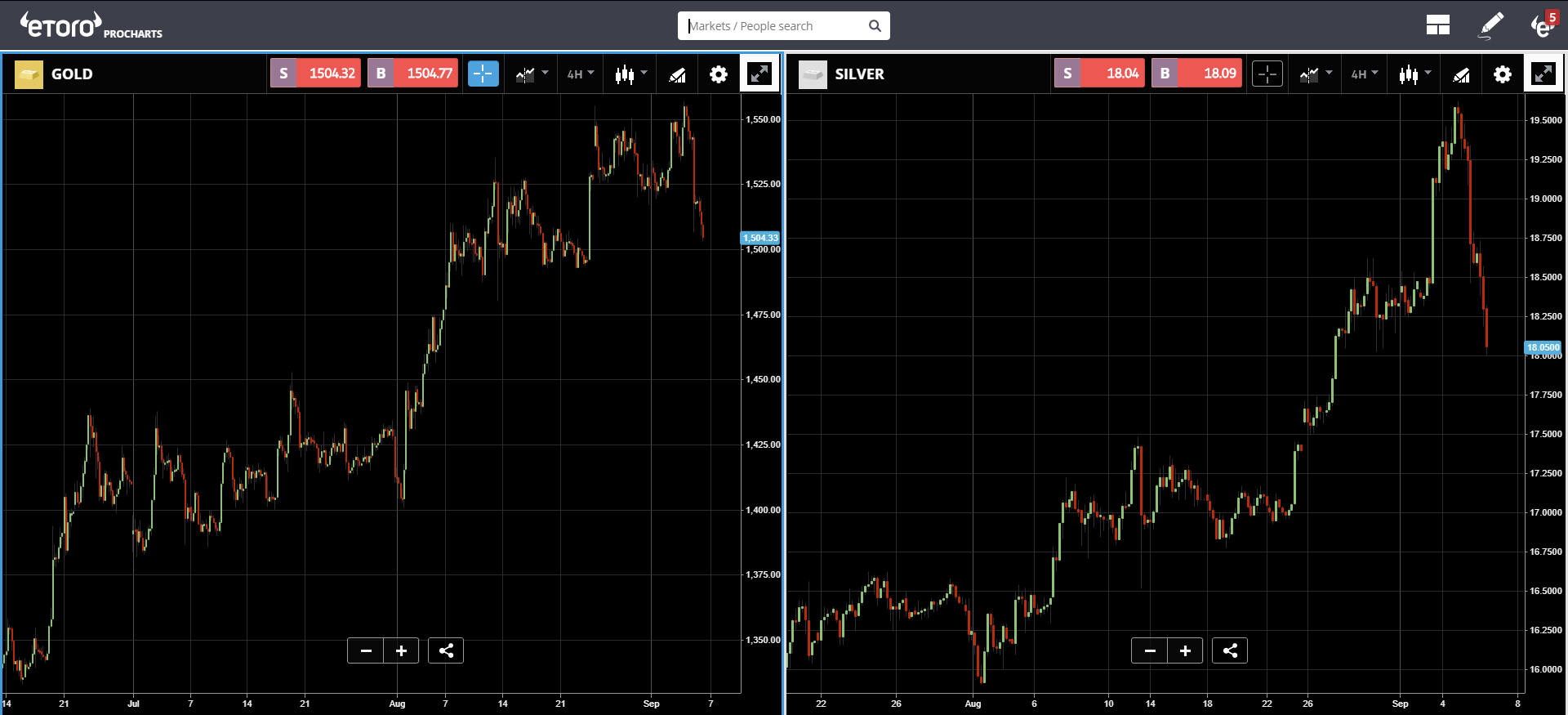 So it is pretty clear that there is some appetite for risk out there but for some reason, the stocks aren't really rallying like you might expect them to.
Perhaps they're waiting for the NFP today to find some direction. Guess we'll find out soon.
Bitcoin Gold and Epic
The stable coin company Paxos created some buzz around their new product, which points to a growing trend of digitized assets.
Each ERC-20 token represents one bar of gold in the bank and can be traded easily and freely 24/7 by any person with an Ethereum wallet. Some of you may recall that once again eToro is ahead of the game.
In fact, I've personally been holding my own digital representation of the shiny metal on the Ethereum Blockchain for more than 100 days already. It's not a fight though.
This is a fight…
For your weekend entertainment pleasure, please enjoy this awesome epic rap battle between Satoshi Nakamoto and the father of the modern banking system Alexander Hamilton.
Let me know who you think won:  https://www.youtube.com/watch?v=JaMJi1_1tkA
About the Author: Mati Greenspan is a Senior Market Analyst at eToro

Connect with Mati on….

eToro: http://etoro.tw/Mati
Twitter: https://twitter.com/matigreenspan
LinkedIn: https://www.linkedin.com/in/matisyahu/
Telegram: https://t.me/MatiGreenspan
Office Phone: +44-203-1500308 (ext:311)


Disclaimer: The opinions expressed in this article do not represent the views of NewsBTC 
or any of its team members. NewsBTC is neither responsible nor liable for the accuracy of 
any of the information supplied in Sponsored Stories/Press Releases such as this one.