Hi Everyone,
An apparent breakthrough has been achieved in the Brexit negotiations as Prime Minister Johnson and Irish Prime Minister Leo Varadkar were pictured smiling together.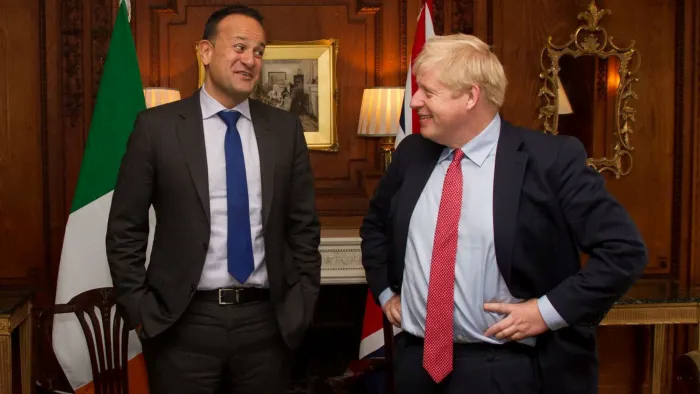 The issue of the Irish border has by far been the main sticking point of Brexit over the last few years but now suddenly it seems that after a closed-door meeting, the two men feel that there is a clear path forward.
Of course, all the rest of us can only speculate what kind of miracle solution was suddenly concocted.
What's important to note is that this particular issue has not been satisfactorily resolved in any Brexit proposals to date, but equally would not be resolved by a hard Brexit. So now the two men say they have a solution. Great!
Unsurprisingly, the Pound is a happy currency this morning and British Gilt Bonds have seen their largest single-day yield spike ever.
@MatiGreenspan – eToro, Senior Market Analyst
Due to local holidays, there will be no market update on Monday. Will squeeze one out for you on Tuesday before my flight. Excited to see so many readers will be joining me in Amsterdam. Can't wait. 🙂
Today's Highlights
Excited about Trade
Iran Tanker Hit
Directionless Volatility
Please note: All data, figures & graphs are valid as of October 11th. All trading carries risk. Only risk capital you can afford to lose.
Traditional Markets
It seems that us Israeli's aren't the only ones who will be out on Monday. Japan will be offline in observance of Health and Sports Day, Canadian Thanksgiving and Columbus Day in the US will have markets down in several key areas so liquidity and trading are likely to be quite thin.
Overall, volatility has leveled off lately, though it hasn't really calmed down. Here we can see the VIX volatility index is still pretty elevated.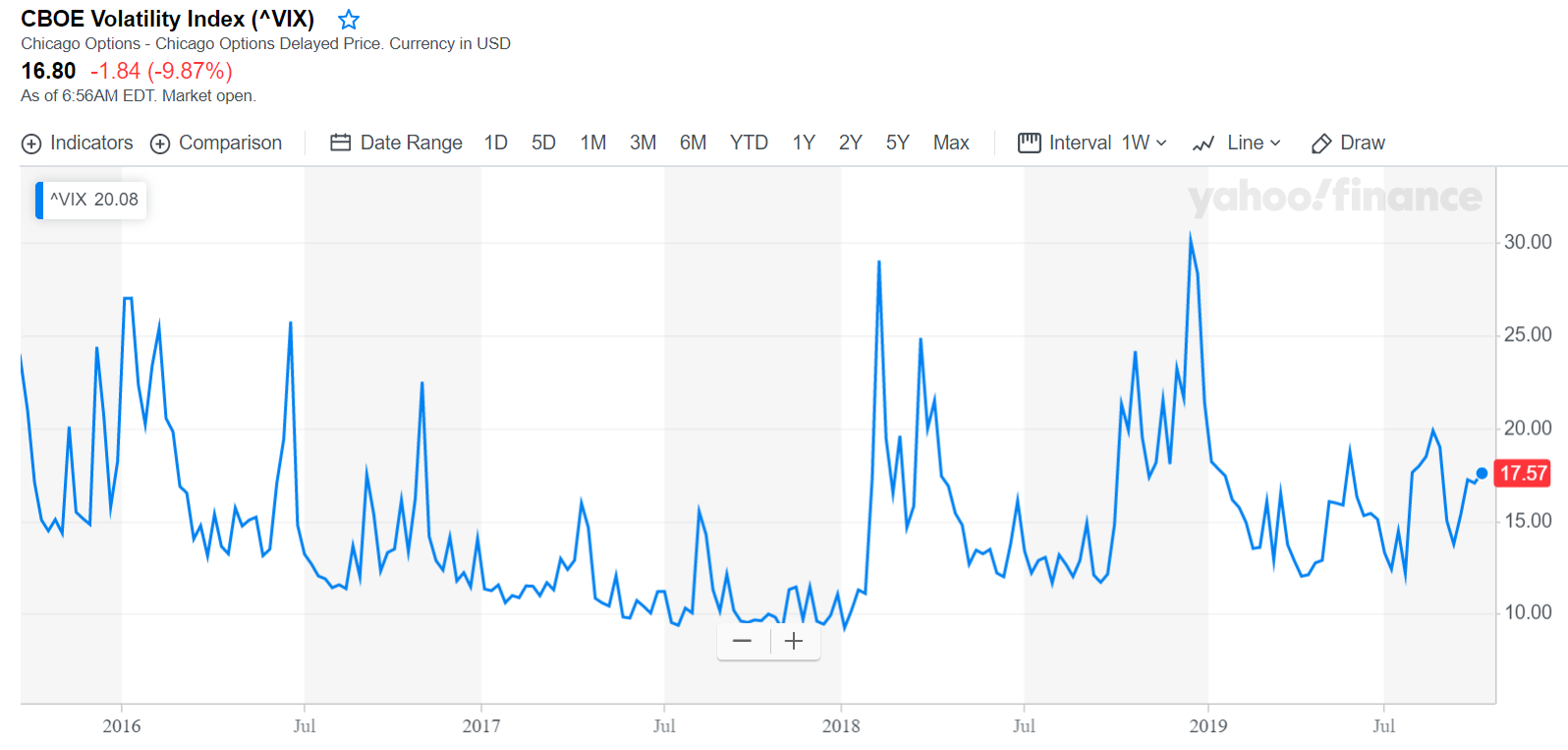 The stock market gains today are brought to you by renewed hopes of both the Brexit negotiations, as mentioned above, but also the US-China trade deal.
Of course, similar to Brexit, we don't know what's being discussed and even if there is some sort of deal struck what it might look like. We've already seen several times where Trump and Xi delivered short term deals that served to buoy markets but whose real effects didn't last long at all.
Iran Missile Attack
This time Iran was on the receiving end of the missile.
We still don't know definitively who was behind the drone attack on Saudi Arabia and we may never know who was behind countless attacks in the Persian Gulf over the last few months. The only thing we do know is that just about all the targets are involved in the production and transportation of crude oil.
Prices were affected this morning but not by very much. The purple circle on this chart is the approximate time that the news broke.
Crypto Volatility
Volatility has returned to the crypto market with a vengeance. Unfortunately, direction has not.
As far as volumes are concerned, we can see that there is some action happening on exchanges over the last few days however, the amount of money being sent on the bitcoin blockchain itself has dropped quite noticeably lately and for the first time since May is now firmly below $1 billion per day.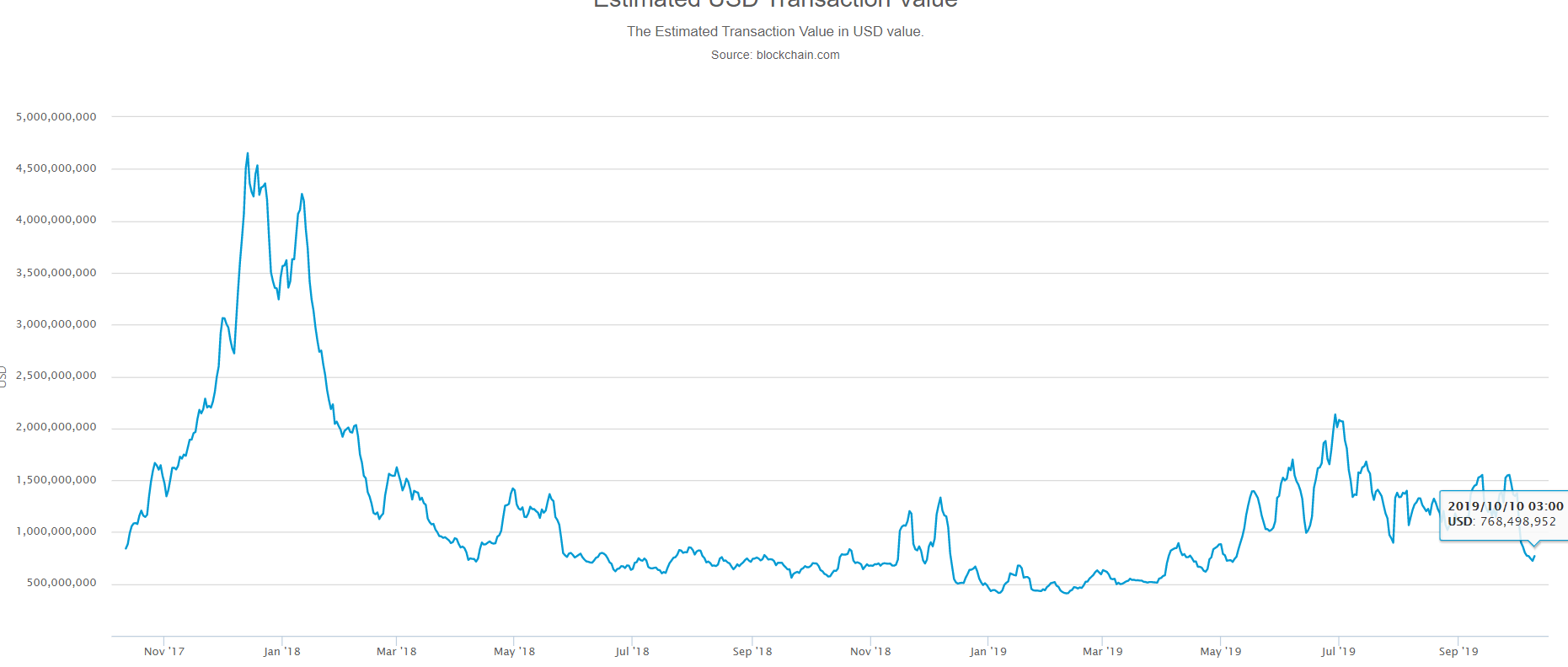 What's funny is that the number of transactions hasn't gone down at all and actually remains extremely stable around 3.75 transactions per second.
Many traders were pretty confused by this movement on the short term charts last night.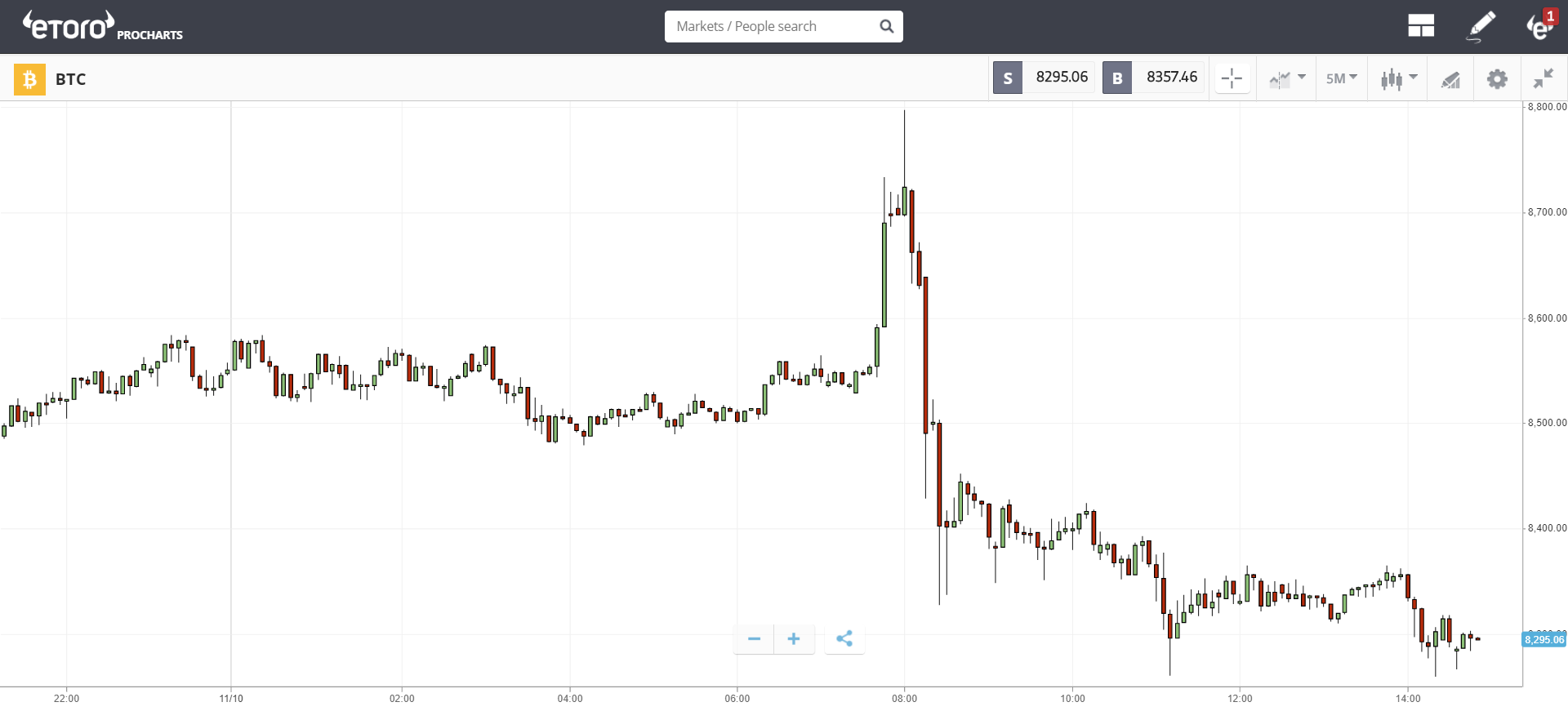 Of course, when you're zoomed in that much it's pretty easy to fall on this kind of bull trap. If we zoom out though, this is really just a minor blip, barely even noticeable on the long term graph.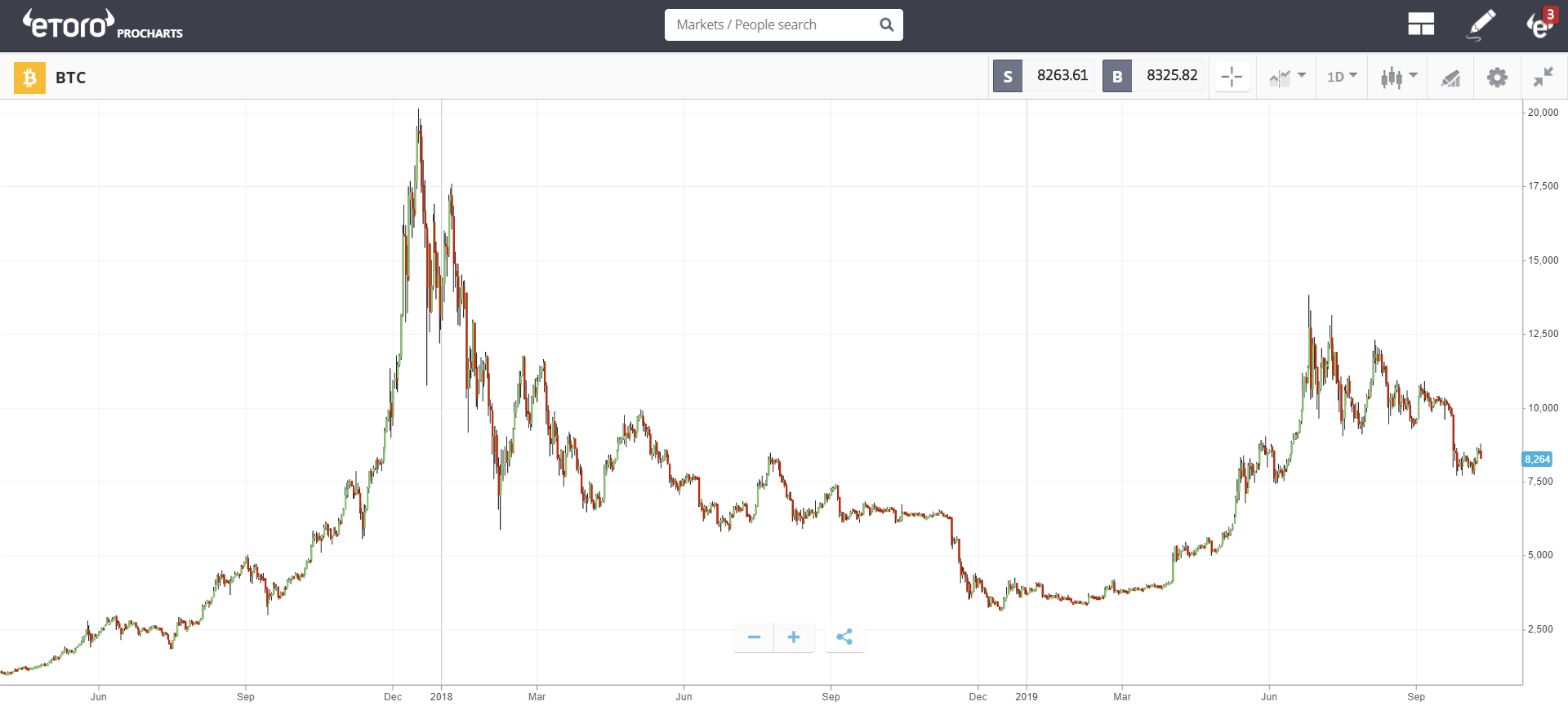 For your entertainment pleasure this weekend. I dug out one of my favorite episodes of What Bitcoin Did, where Peter McCormick interviews crypto pioneer Eric Voorhees. The two discuss how much life would be better with less government. This is what it means to be a libertarian. Have a listen at this link.
Wishing you a fantastic weekend!
About the Author: Mati Greenspan is a Senior Market Analyst at eToro

Connect with Mati on….

eToro: http://etoro.tw/Mati
Twitter: https://twitter.com/matigreenspan
LinkedIn: https://www.linkedin.com/in/matisyahu/
Telegram: https://t.me/MatiGreenspan
Office Phone: +44-203-1500308 (ext:311)


Disclaimer: The opinions expressed in this article do not represent the views of NewsBTC 
or any of its team members. NewsBTC is neither responsible nor liable for the accuracy of 
any of the information supplied in Sponsored Stories/Press Releases such as this one.

Image by SpaceX-Imagery from Pixabay