Hi Everyone,
They're at it again. What began as an innocent one-time cash injection to keep markets from drying up now has the US financial system falling right back into old habits. Markets have a nasty addiction to free money and it seems the Fed is only too happy to supply it.
The first sign of trouble came about a month ago when the short term (repo) markets ran out of cash. At the time, the Fed moved quickly to prevent a liquidity crunch. Here we can see the exact point where the repo rates got out of hand and the subsequent period where the Fed beat them into submission with abundant liquidity.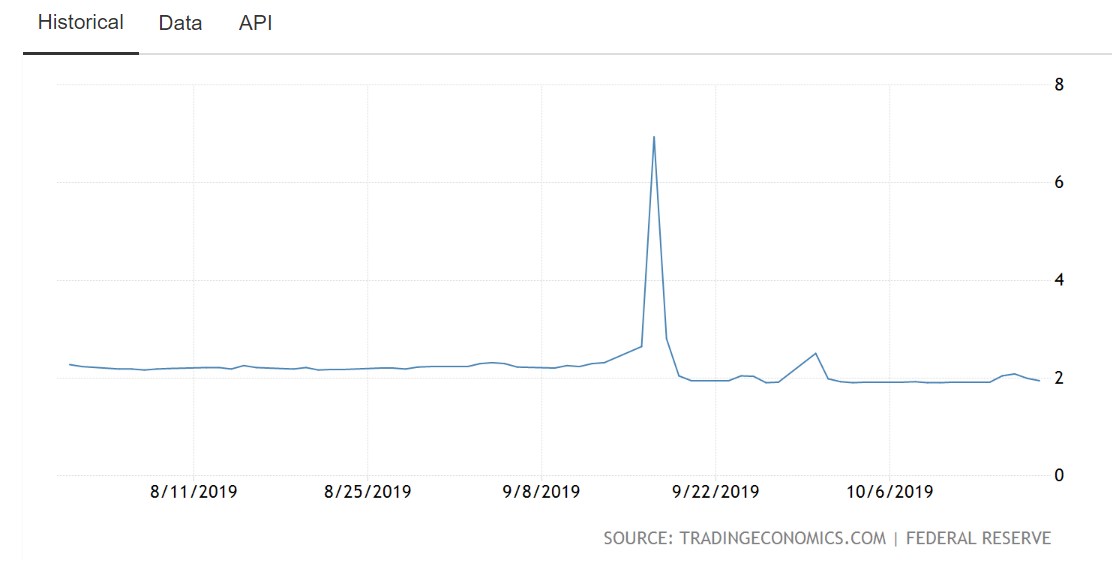 However, even though repo rates are now even lower than they were before this thing started, the Fed has committed to buying $60 billion worth US bonds every month until the second half of 2020. This is in addition to the $75 billion they're injecting each night into the repo markets until November 4th.
According to a recent study from Oxford, at the current pace, the Fed will own 12% of the entire bond market by early next year. Today they own less than 1%.
The excuses given are unoriginal and along the lines of what you might expect from a junkie who slipped up.

In other words, I'm working hard right now so I need to take the edge off somehow, nothing's changed.
@MatiGreenspan – eToro, Senior Market Analyst
Today's Highlights
Another Brexit Delay?
Earnings Continue
New ATH Hashrate
Please note: All data, figures & graphs are valid as of October 23rd. All trading carries risk. Only risk capital you can afford to lose.
Traditional Markets
Even though he'd probably rather be dead in a ditch, Prime Minister Johnson has now been forced to ask the EU for another three-month extension to Brexit. It seems the path is now clear for yet another general election in the UK.
For better or worse, the odds of a hard Brexit on October 31st have now gone to near zero. The EU council is now debating how much of an extension to grant but some sort of extension is almost guaranteed because nobody wants a hard Brexit.
British Parliament seems to have little else to do but wait for the EU's answer and prepare for an increasingly likely election.
Earnings Continue
So far about 15% of companies have reported their Q3 earnings, and in 84% of the cases so far, analysts have managed to set their expectations low enough to provide a positive result for traders.
Except in the cases of three key companies last night.
Don't get me wrong, they're all profitable companies but with many analysts looking for soft spots in the economy every number will be scrutinized. We still have a long way to go before the full picture emerges though.
Today we'll hear from Microsoft, Ford, Tesla, Boeing, Paypal, and Caterpiller.
Crypto Confidence
Bitcoin volumes might be low, but it's certainly worth noting that the hashrate has once again reached a new all-time high.
It's also worth noting that Ripple Labs has a new office in Washington DC that is specifically designed to build closer ties with US lawmakers. With it, they've hired three very experienced people who already have very close ties on Capitol Hill.
Craig Phillips was previously the adviser to Treasury Secretary Steve Mnuchin, Susan Friedman who was a senior adviser to the CFTC, and Ron Hammond a legislative assistant who notably worked on the Token Taxonomy Act.
As you probably know, today will be a big day for crypto on the hill as Mark Zuckerburg takes center stage in the craziest ICO pitch you've ever seen. We wish him the best of luck.
Zuck's statement has already been released, so feel free to view the annotated version here. The show will begin shortly after this email is sent so feel free to open the Livestream page on your browser already. I highly recommend plenty of coffee and popcorn.
Zuckerberg Pitches Libra to Congress – Live Stream Link
Have a wonderful day ahead.
About the Author: Mati Greenspan is a Senior Market Analyst at eToro

Connect with Mati on….

eToro: http://etoro.tw/Mati
Twitter: https://twitter.com/matigreenspan
LinkedIn: https://www.linkedin.com/in/matisyahu/
Telegram: https://t.me/MatiGreenspan
Office Phone: +44-203-1500308 (ext:311)


Disclaimer: The opinions expressed in this article do not represent the views of NewsBTC 
or any of its team members. NewsBTC is neither responsible nor liable for the accuracy of 
any of the information supplied in Sponsored Stories/Press Releases such as this one.