Binance coin up 17.1 percent in the last week
Testnet launch live, users free to test the DEX and Binance chain explorer
Transactional volumes double from Dec 2018
BNB is back to the top 10, and with increasing volumes and DEX and explorer test net, coin holders are likely to reap big profits. So far, Binance coin is up 17.1 percent and back to the top 10.
Binance Coin (BNB) Price Analysis
Fundamentals
Like Ethereum's ETH, Binance Coin is a utility token in the Binance chain network. It is a tool for incentivizing use and so far, the coin is rallying. Perhaps induced by the overly successful BitTorrent's BTT ICO, the currency is retesting key resistance levels of 2018.
Adding to the bullish impetus is news that both the Binance Coin and the Bitcoin DEX testnet is now open to the public. The new release will allow testing of the Binance Coin chain explorer as well as the Web Wallet. Binance said this about the new testnet:
"Binance Chain is a new blockchain developed and released by Binance. Binance DEX is a high performance and user-friendly platform built on top of Binance Chain, where users can create, issue and trade digital assets."
To get started in what Binance describes as a standard for DEXs, all a user needs to do is set up a new wallet, unlock the wallet, transfer assets and place orders right away.
The eventual launch of the mainnet will be very bullish for Binance coin as users of the Binance DEX will have to pay for gas to power transactions. Gas and fees are quoted in BNB only and assuming there is an immediate shift from centralized exchanges to unhackable Binance DEX–with better liquidity and UIs, then BNB holders stand to benefit.
Candlestick Arrangements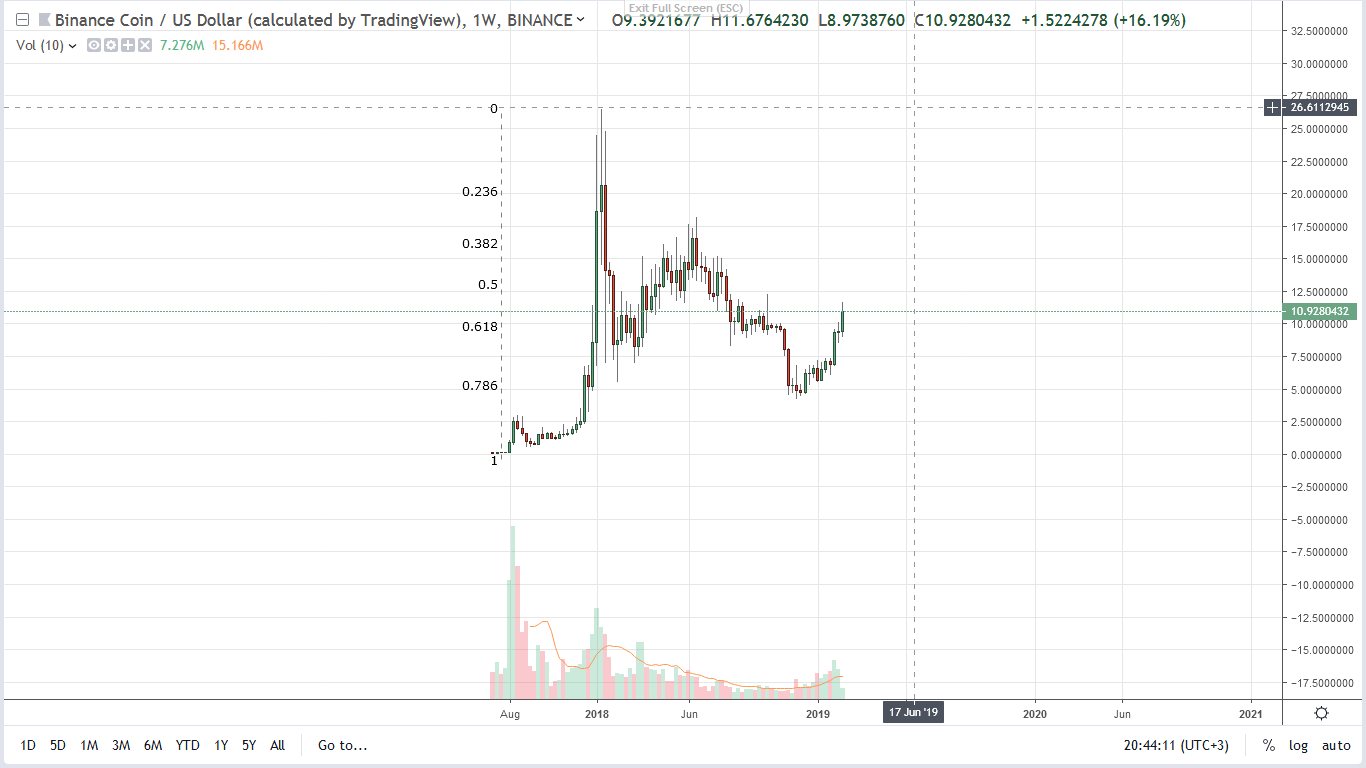 Thus far, the coin is up 17.1 percent in the last week. Aside from favorable candlestick arrangement, the sole reason behind this week's expansion may be because of DEX testnet. As we said, Binance is yet to announce the mainnet launch, but from the chart, the path of least resistance is upwards.
A simple Fibonacci retracement tool between the BNB's high low show that prices are finding support off the 78.6 percent level and with increasing volumes, bulls are back. Technically and when we draw guidance from Fibonacci retracement rules, the reaction at 78.6 percent level often leads to a retest of recent highs and in that case ideal targets may be 2017 highs of $26. All the same, before BNB explode, modest targets will be at Q2 2018 highs of $18.
Technical Indicators
Week ending Feb 10 bull bar reversed losses of the week ending Nov 25. Accompanying these upswings are increasing average volumes–7 million to 15 million and wide trade ranges which is bullish. Although we expect prices to cool off, ideal reversal zones will be at around last week's lows of $8.5. However, such deep corrections are unlikely. Sellers may drive prices back to the $10 level before bull trend resume.