An across the board recovery for altcoins prices and this is of course positive. Monero's response in the midst of strong sell pressure remains today's highlight.
Even though we cannot really say this is a certified 100% buy, we ought to wait for further price appreciation until buy triggers are hit.
Furthermore, there is a tad bit of undervaluation in EOS and NEO while LTC is recovering after testing $155 yesterday. Like everything else, today could cement this recovery of even feed bears.
Let's have a look at these charts:
XLM/USD (Lumens)
I took a top down approach on this pair and notice that while this week has been bearish Lumens prices are still trending above the middle BB in the weekly chart. That level, are we have emphasized on many occasions is key for our analysis.
In the daily chart, we can see a bull pin bar with closes above $0.30. it is no doubt that if today bull pressure continues, then tomorrow buyers can begin looking for buying opportunities in lower time frames as a 3-bar reversal pattern call the evening star pattern would be complete.
Besides, note that the stochastics are turning from oversold territory and should pressure increase, then prices need to strongly close above the middle BB and from there we can take longs on every pull back.
XMR/USD (Monero)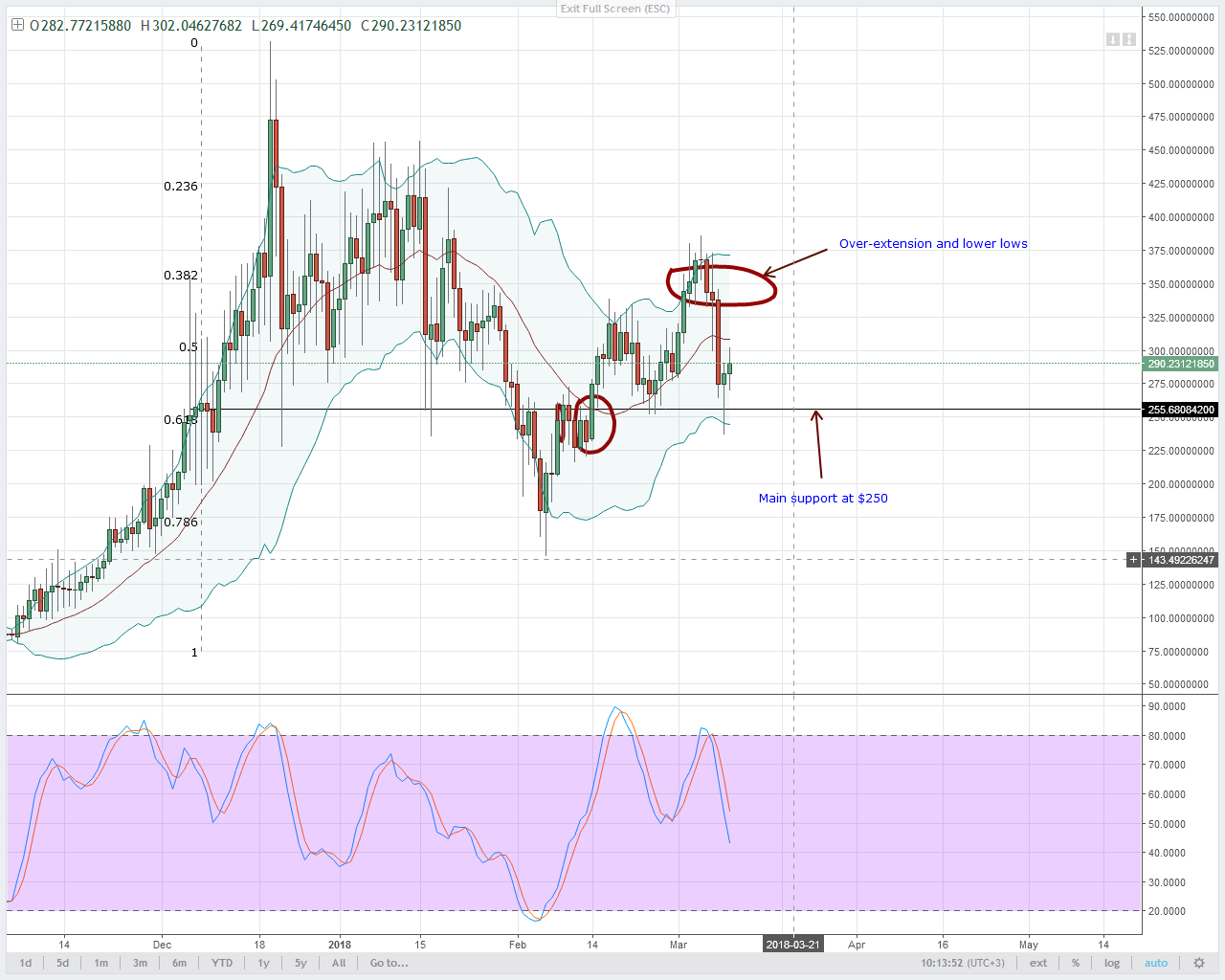 After yesterday's price action, Monero price action seems to be reversing as per our projection. More often than not, strong and extra-ordinarily long candlesticks as March 3 bear candlestick are followed by tepid, range type markets and even reversals as we are seeing.
That is what is happening now and even if Monero prices continue to appreciate today as they conclude the 2nd phase of a bullish break out pattern, trend resumption would be complete is there is a strong push and close above $350 which double up as March 3 highs and our short term resistance pattern.
Today though, it would be perfect if there is a follow through of yesterday's bullish pressure as they angle for higher prices. It is for this reason that Monero traders can look for buying opportunities with stops below $350 or March 9 lows.
EOS/USD
Because of yesterday's price action formation, EOS sellers can exit their positions. Why? Well, yesterday's candlestick is outside the lower BB and when we consider BB mathematics, this equates to under valuation and a possible price recovery.
Furthermore, already today's candlestick is bullish and if it remains this way then we can be positive of some higher highs in consequent sessions.
As always, since picking out bottoms is a loss making game, its better if we wait for confirmation but aggressive traders can take long positions and place their stops below yesterday's lows at around $5.2
LTC/USD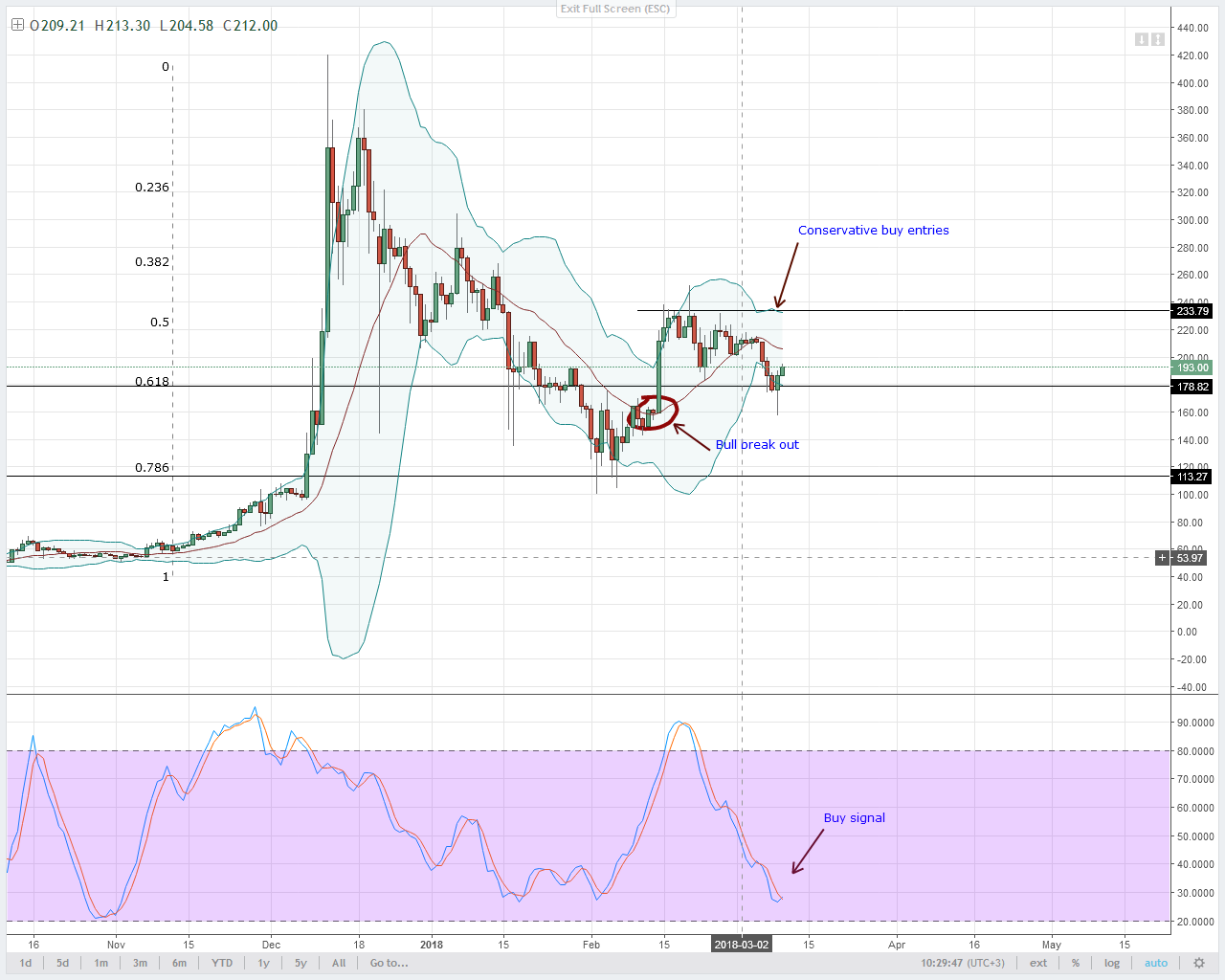 From the daily chart, we can see that yesterday's lows did reverse from around $155 which also happens to be our break out level.
Now, since we can see bulls are already pumping prices higher as they try to break above $200, it would only be ideal-for buyers-and perfect for long entries if prices fail to test $180 or low in the consequent sessions.
Anyhow, notice that there is a stochastics buy signal and this bullish momentum could actually drive prices higher.
My conservative buys-valid before the retest-will still hold and in this case, I will only recommend buys when LTC prices appreciate and close above $230 and the middle BB.
NEO/USD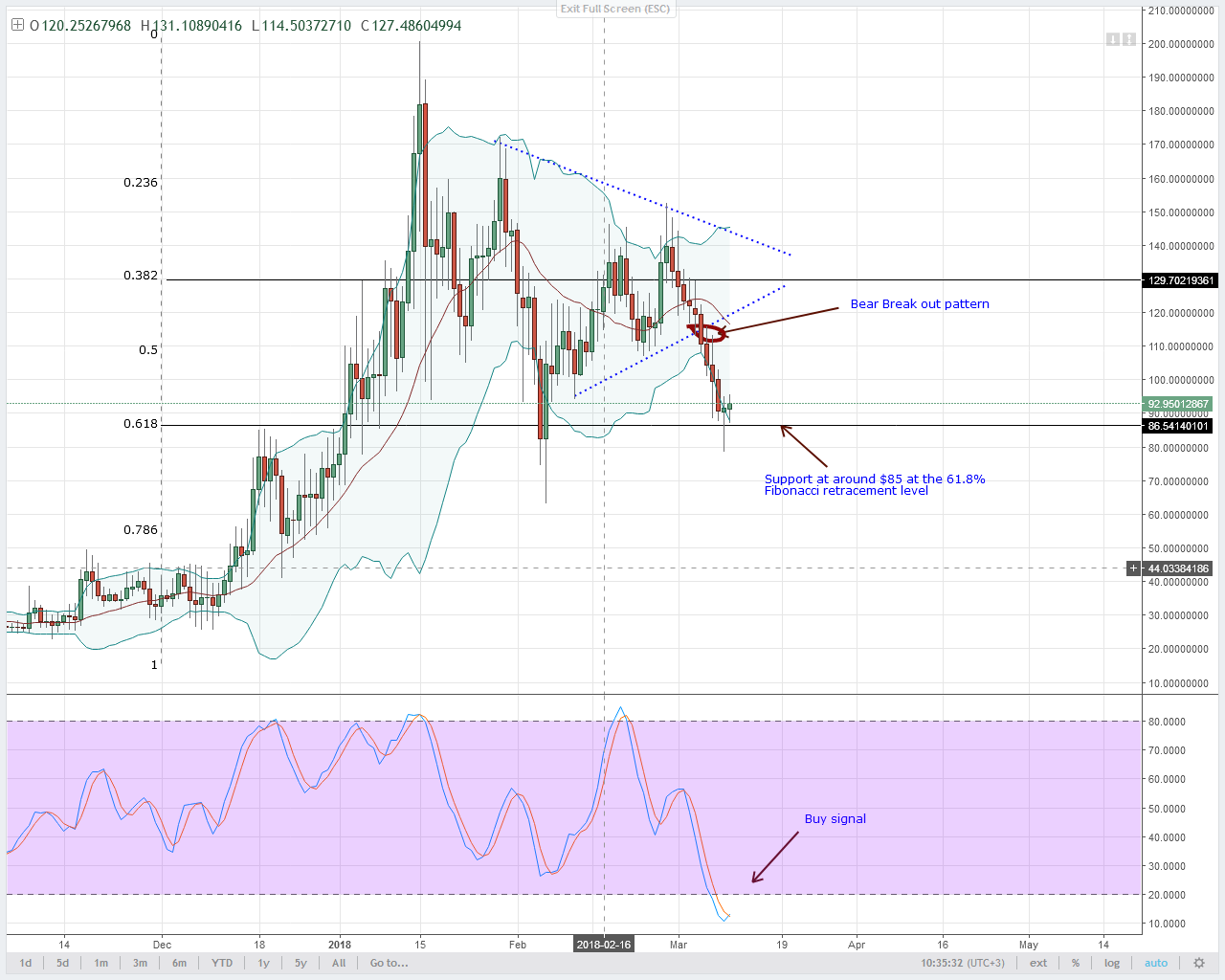 While NEO bears are stalling at $85, the 61.8% Fibonacci retracement level, what is drawing my attention is yesterday's close.
As visible from the chart, that is a whole bullish pin bar that is below the lower BB and like EOS price action, buyers are finding reasons to buy.
There is some undervaluation and coincidentally, a stochastic buy signal is in place. In my opinion, if today ends up bullish then I recommend buys tomorrow with immediate targets at $110 and $130 respectively.
All BitFinex, Bittrex and CoinBase charts courtesy of Trading View