After 11 months of lower lows, Litecoin, Monero, Stellar Lumens and Cardano prices are ripe for recovery mostly thanks to last week's price stability and the general expectation in the market. Regardless, we shall maintain a bearish stance despite incoming streams of supportive fundamentals changing this position once there are gains above key resistance levels.
Let's have a look at these charts:
EOS Price Analysis
Days after Dan Larimer, the CTO at Block One—the publishers of EOSIO blockchain, announced his plans to explore, EOS has been under pressure. So far, EOS/USD is down 10 percent in the last week, sliding to sixth thanks in the market cap ranking.
Read: November Has Been Bitcoin's Worst Month for Seven Years
From candlestick arrangements, we expect further losses this week more so if there are no hints of recovery towards $4 or Nov 28 highs of $3.5. Everything else constant and assuming bears step up, the best bulls can muster is a retest of $3.5.
But if there are sharp gains with volume spikes building on Dec 1 rejection of lower lows propelling prices above $3.5 and confirming Nov 28 gains, then short-term bulls can load up with first target at $4, $5 and later $7 with stops at Nov 27 lows at $3.
Litecoin Price Analysis
The Lightning Network, the off-chain scalability solution that allows for micro-payment, now has a new update—the Lightning Network Daemon (LND) 0.5.1 Beta. Aside from improving robustness, speed and reliability, updates were made on the Neutrino back-end.
This release was well received and LTC/USD is actually trading above $30 and up 15 percent in the last week. Though we retain a bearish outlook on this pair, increasing network use could draw demand which in turn may support and even propel prices above $35 triggering risk-off buyers aiming at $40 and later $50.
That may happen today thanks to Dec 1 additions and yesterday's tight trade ranges. Fitting stops would be around $33 and targets constant just like in our last LTC/USD trade plan.
Stellar Lumens Price Analysis
Partly because of blockchain.com $125 million airdrop, the number of active XLM account is up 1000 percent after expanding from 162k to 2 million as data shows. Still, usage is still pretty low.
Nonetheless, there is reprieve for investors. XLM/USD is back to the top four replacing BCH and although XLM is moving within a tight trade range, it is encouragingly trading within Nov 28 high low and above 15 cents.
Also Read: Galaxy Digital Loses $76 Million in Q3, Novogratz Remains Bullish
If today end up higher, closing above 17 cents or Nov 28 highs, then the first wave of buyers can begin loading on pullbacks with first targets as 25 cents and later 30 cents. Conversely, drops below Nov 27 doji at 13 cents could confirm the bear breakout of Nov 26 and in that case XLM/USD might print 8 cents of lower by end year.
Cardano Price Analysis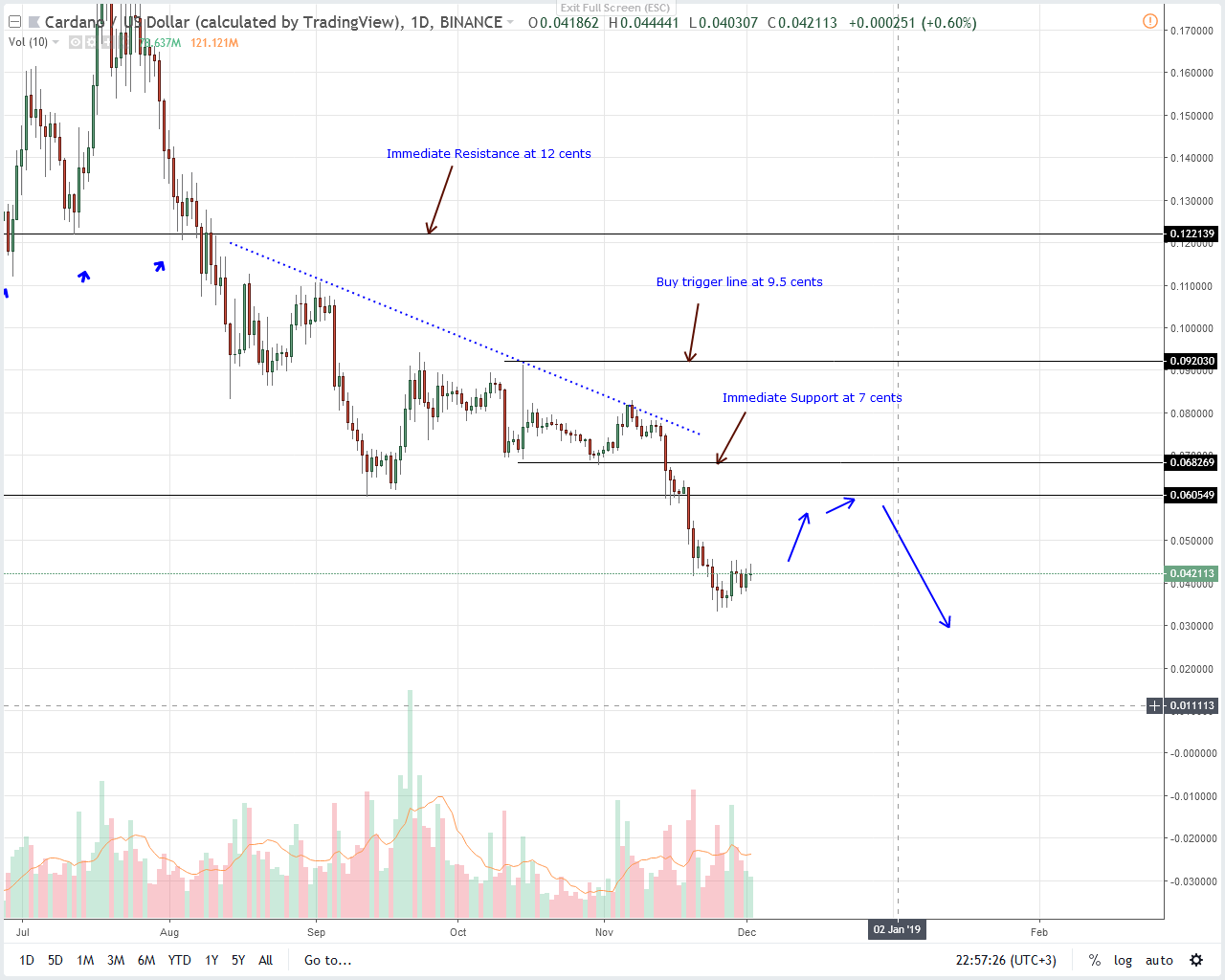 ADA/USD is up seven percent in the last week and as bear momentum slow down, it could open up allowing prices to expand towards the break up level of 6 cents. It's because of this likelihood and the clear rejection of lower lows–even after Nov 24 high volume bleed-out–that we expect ADA/USD to gain throughout this week.
Although losses below last week's lows of 3.3 cents could trigger panic sells, gains above 5 cents shall instill confidence allowing Cardano prices to retest 6 cents and even 9.5 cents in the course of the month.
Holding on to this preview, our bearish outlook is valid as long as ADA/USD is trading below 5 cents. We shall only recommend small size buys once there are visible gains above 5 cents with first targets at 6 cents, 7 cents and later 9.5 cents depending on the strength of underlying buyers.
Monero Price Analysis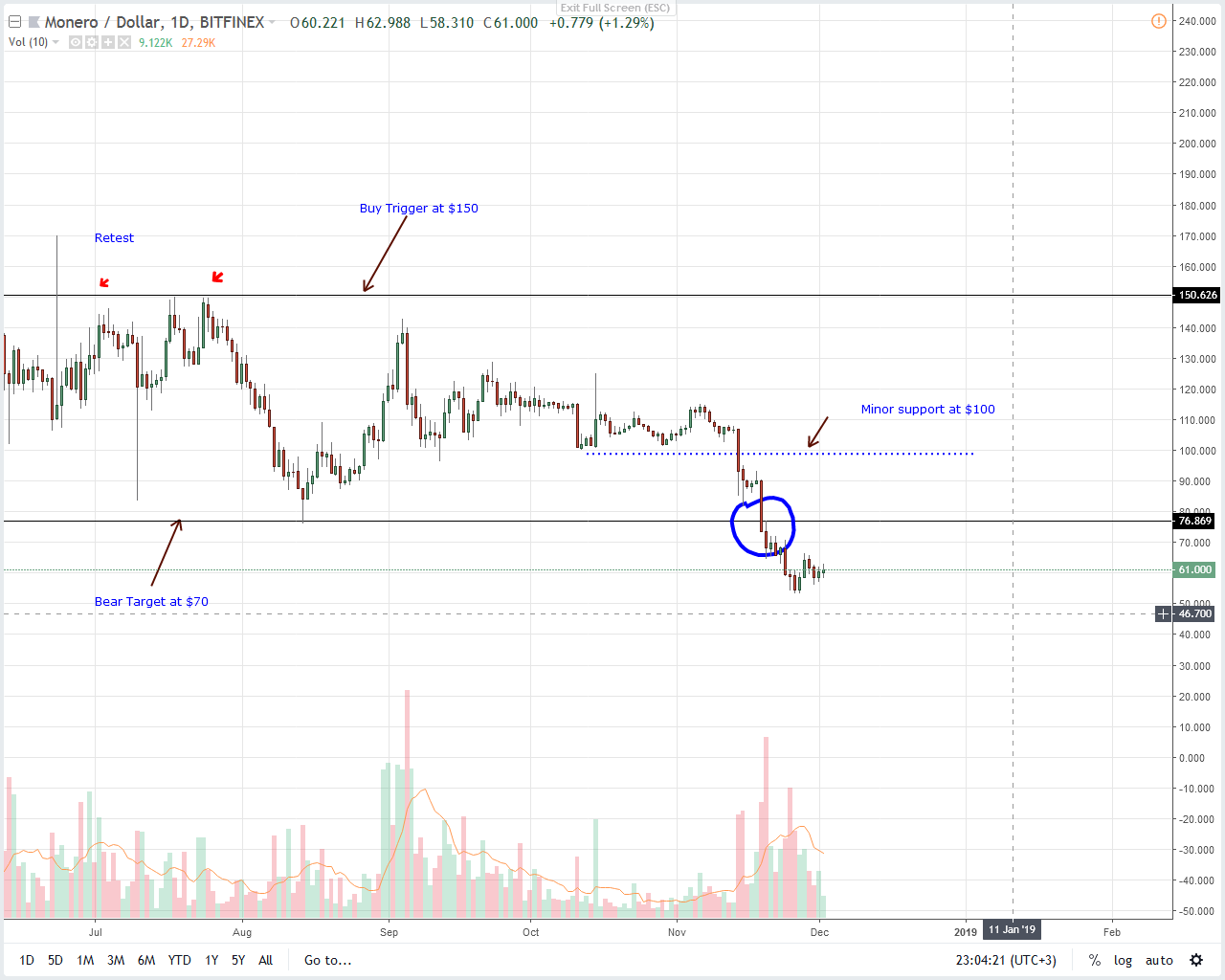 Like the rest of the altcoin market, Monero is benefiting from this newfound optimism. After 11 months of losses, it is likely that we shall see emergence of Monero bulls. It is already showing thanks to last week's rejection of lower lows and the general stability of XMR prices.
Nevertheless, before traders begin buying, there must be solid gains above $70 initiating the first step of reversal set in motion by Nov 14 drops below $100. If not and prices drop below the double bar bull reversal pattern of Nov 26-27 at $50, then prices might test $30 by end year.
All Charts Courtesy of Trading View
Disclaimer: Views and opinions expressed are those of the author and aren't investment advice. Trading of any form involves risk and so do your due diligence before making a trading decision.