After solid gains, altcoins are slowing down but not bearish. From the chart we can see that ADA/USD and XLM/USD pairs are trending higher within a bullish break out pattern. At the same time, LTC/USD is down while EOS/USD is flat despite release of EOSIO 1.4.0.
Lets' have a look at these charts:
EOS Price Analysis
EOSIO 1.4.3 Releasehttps://t.co/BfKJssq0W4

— block.one (@block_one_) November 8, 2018
In a bid to make EOSIO more usable, the developer team are launching EOSIO 1.4.3 and EOSIO.CDT Version 1.4.0. The aim here is to improve user experience coming at a time when temporarily fixes like CPU_INCREASE isn't helping the network grow their user base. CPU is increasingly expensive for developers to build application wearing off appeal for EOSIO.
You may also like: EOS Ecosystem Ever Expanding as dApps Rise, but Price Still Sliding
The EOSIO.CDT version introduce features as Ricardian contracts for ABI generation for automatic extraction of information needed for creation of Ricardian contracts and generation of clauses needed for smart contract execution.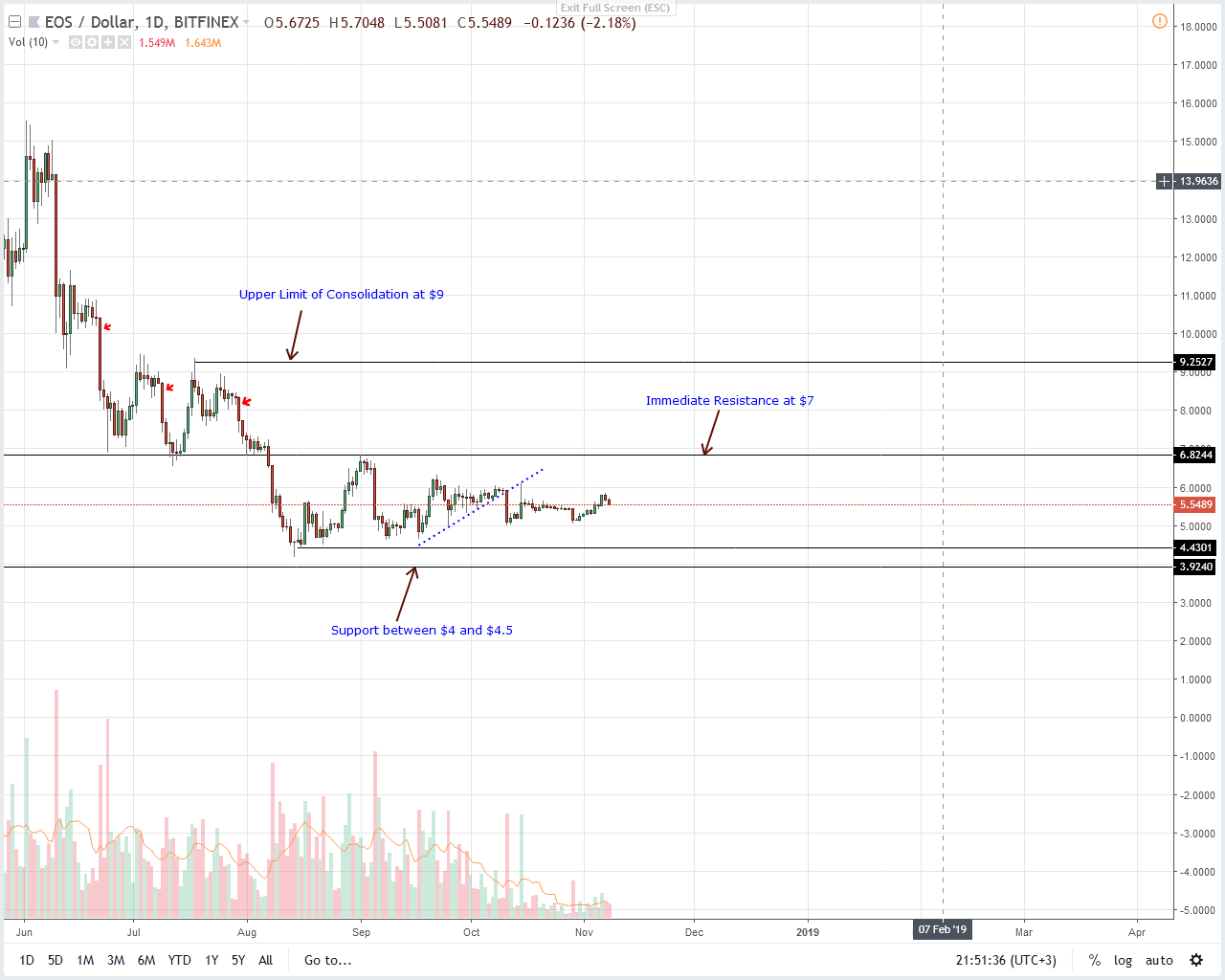 Back to price action and EOS/USD is down two percent in the last day but still up seven percent in the last week. We expect prices to build up momentum because though EOS/USD is down, prices are still trending inside Nov 7 high low. This is bullish but like in our last trade plans we shall maintain a neutral stand until prices break and close above $7 completely reversing loses of Oct 11 and Sep 5. Once this print, a bullish break out pattern would be complete cancelling bears in the process. First targets would be at $9.
LTC/USD Price analysis
Even with the reversal from the main support trend line and the failure of buyers to drive prices above $55, we still retain a bullish outlook as long as LTC/USD is trading above $50. In our last LTC/USD trade plans we reiterate that $50 is an important, multi-level support line and bulls might found bounce off this zone as they eye $70 and later $110.
Also read: Gemini Adds Litecoin with Approval from New York Regulators
That is why it is important for prices to edge higher and close above Oct highs at $60 before any set of traders can load up LTC at spot in a breakout trade.
XLM/USD Price Analysis
Thing is, Stellar Lumens odds of higher highs are elevated thanks to stellar fundamentals supporting prices. Add this to the development in the daily chart and our last XLM/USD trade plans are valid. Without wavering, XLM/USD is bullish above 25 cents and every dip is another opportunity for aggressive traders to load up with stops at around 22 cents and first targets at 30 cents.
Meanwhile, conservative type of traders should wait for solid breaks above 30 cents. This move is crucial for XLM because it would signal the beginning of price recovery as traders aim at 50 cents or April highs.
TRX/USD Price Analysis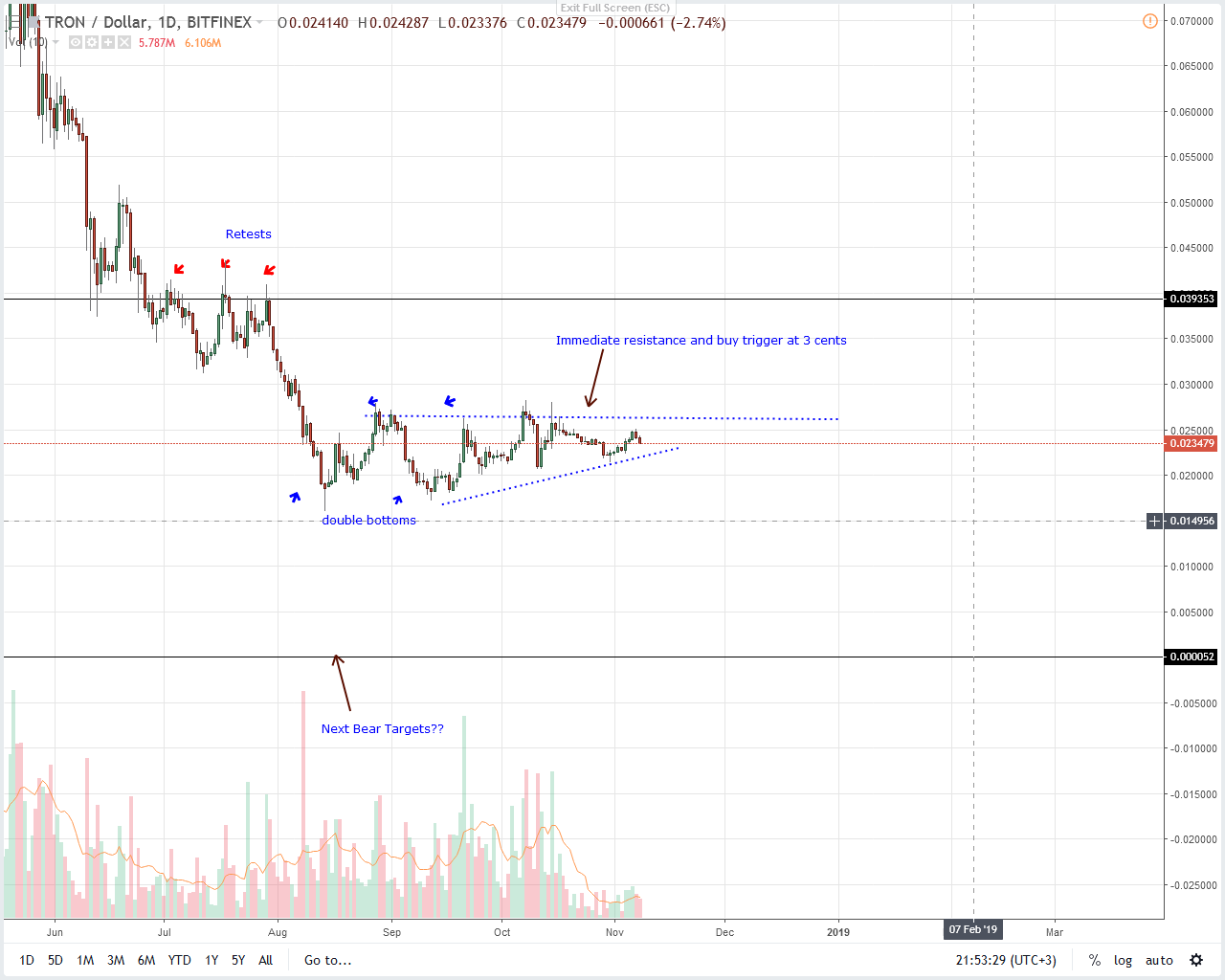 Aside from milestone smashing transactions, Tron is dry of fundamentals. Since there is no event to prime price action, our last TRX/USD trade plan is valid as prices are still trading below 3 cents or Sep highs.
Needless to say, we retain an upbeat overview of prices expecting the minor support trend line to buoy prices and drive them above 3 cents triggering bulls aiming at 4 cents. On the flip side, drops below the minor support trend line could see TRX/USD back at bearish territory. In that case, first bear targets would be 1.5 cents or August double bottom.
ADA/USD Price Analysis
With market boosting development and expectations of higher highs, ADA/USD is within a bullish breakout pattern. Though prices are yet to rally past 9.5 cents or Sep highs ushering in buyers, it is highly likely that that will print out today.
There is more interesting information here: ADA/USD Price Analysis: Cardano Neutral to Bullish above 7 Cents
This is so because of yesterday's rejection of lower lows. Moving on, we suggest aggressive type of traders to buy at spot with stops at around 7.5 cents and first targets at 9.5 cents and later 12 cents in line with our last ADA/USD trade plan.
All Charts Courtesy of Trading View
Disclaimer: Views and opinions expressed are those of the author and aren't investment advice. Trading of any form involves risk and so do your due diligence before making a trading decision.