Bitcoin Cash (BCH) up 6.8 percent
Schnorr Signatures implementation ahead of the more decentralized OG
Six months after a contentious hard fork, Bitcoin Cash developers plan to upgrade the network to include Schnorr signatures that require less space while simultaneously promoting scalability, security, and privacy. Meanwhile, Bitcoin Cash (BCH) prices are stable, up 6.8 percent in the last week.
Bitcoin Cash Price Analysis
Fundamentals
Roger Ver maintains that Bitcoin Cash (BCH) is the real "Bitcoin" and knows little about Craig Wright's Bitcoin SV. Although Bitcoin Cash is a fork of Bitcoin, supporters claim that their big blocks make the network more scalable and therefore, there is no need for implementing layer-2, off-chain solutions like Lightning network.
Despite Roger Ver and Bitcoin Cash proposal, adoption levels are low and compared to Bitcoin or even the second most valuable network in Ethereum (ETH), Bitcoin Cash is lagging. Even so, it is popular in Japan where "Bitcoin Jesus" resides, and the Kraken acquisition of Crypto Facilities did boost trading volumes around BCH derivatives which is positive.
However, a stand out is their ability to integrate solutions that make the network more resilient and private. Planning for a hard fork on May 15, Bitcoin Cash developers will upgrade the system, replacing the Elliptic Curve Digital Signature Algorithm (ECDSA) with a new signature protocol, the Schnorr Signatures that introduce privacy while making the network faster, secure and scalable.
Unlike the ECDSA, Schnorr signatures require less space, cutting down bandwidth requirement by a massive 25 percent.
Candlestick Arrangement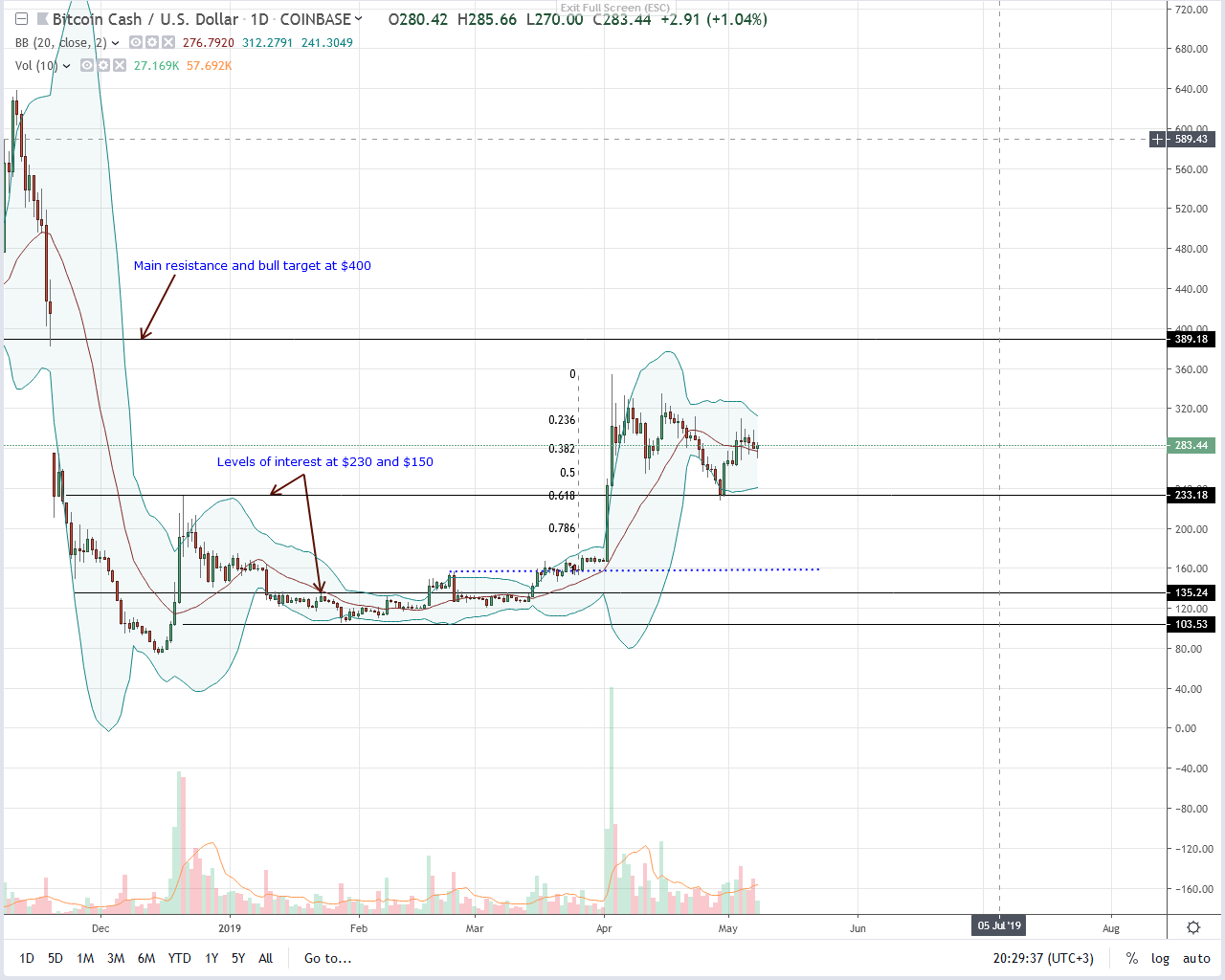 At the time of press, Bitcoin Cash (BCH) is stable and up 6.8 percent in the last week. Despite the dragging effect of Bitcoin and their direct correlation, we expect BCH prices to be resilient.
Notice that BCH is within a bullish breakout pattern against the USD as the asset trade above a critical resistance level—now support, at $230. Because prices are reacting at the 61.8 percent Fibonacci retracement of the week ending Apr-7 high low, the underlying moment is intense.
Typical of Fibonacci retracements, the reaction from such level would most likely lead to a retest of previous highs. In that case, risk-off, aggressive traders should be angling for $350. After that, any clearance would see BCH retest Nov-2018 highs of $400 in a classic retest.
Any breach above $400 cancels the bear breakout of Nov-18, spurring the next wave of higher highs toward $650 or Oct 2018 highs.
Technical Indicator
Ideally, any break above $300 should be with high participation level above Apr-3 volumes—462k. That's a tall order unless there is a fundamental spark that increases demand for BCH whose average volumes stand at 57k
Chart courtesy of Trading View