Binance coin up 6.1 percent in the last day
BNB rallying because of fundamental reasons, next target $26
Volumes spike, participation more than double after Mar 24 close
Driving Binance Coin (BNB) prices are fundamental reasons. The coin is up 6.1 percent from last week's end. After the announcement of Binance Margin trading plans and requirement that holders of BNB are eligible, the currency is likely to surge towards $26 as demand rise.
Binance Coin Price Analysis
Fundamentals
Widespread reports reveal that Binance may be after all preparing to onboard crypto margin trading—and the reception is not positive. The exchange is the largest in the world by adjusted trading volumes and required to trend with caution considering what's at stake. If there is a leeway allowing retail traders to use borrowed funds, then analysts say this will be risky for the ecosystem. Regulators all over the world including Japan's FSA have sounded their warning saying margin trading in an already volatile environment is unsafe for the ordinary investor.
Here's what the programmer who discovered Binance margin trading feature on their API had to say:
"This change has not been reflected on the documentation. Further analysis of the response revealed that all 482 trading pairs have spot trading enabled and margin trading disabled; which makes sense. However, this API update implies that Binance is considering the implementation of margin trading features."
In the unconfirmed arrangement, margin trading will be subject to account owners holding some Binance Coin (BNB).
Candlestick Arrangement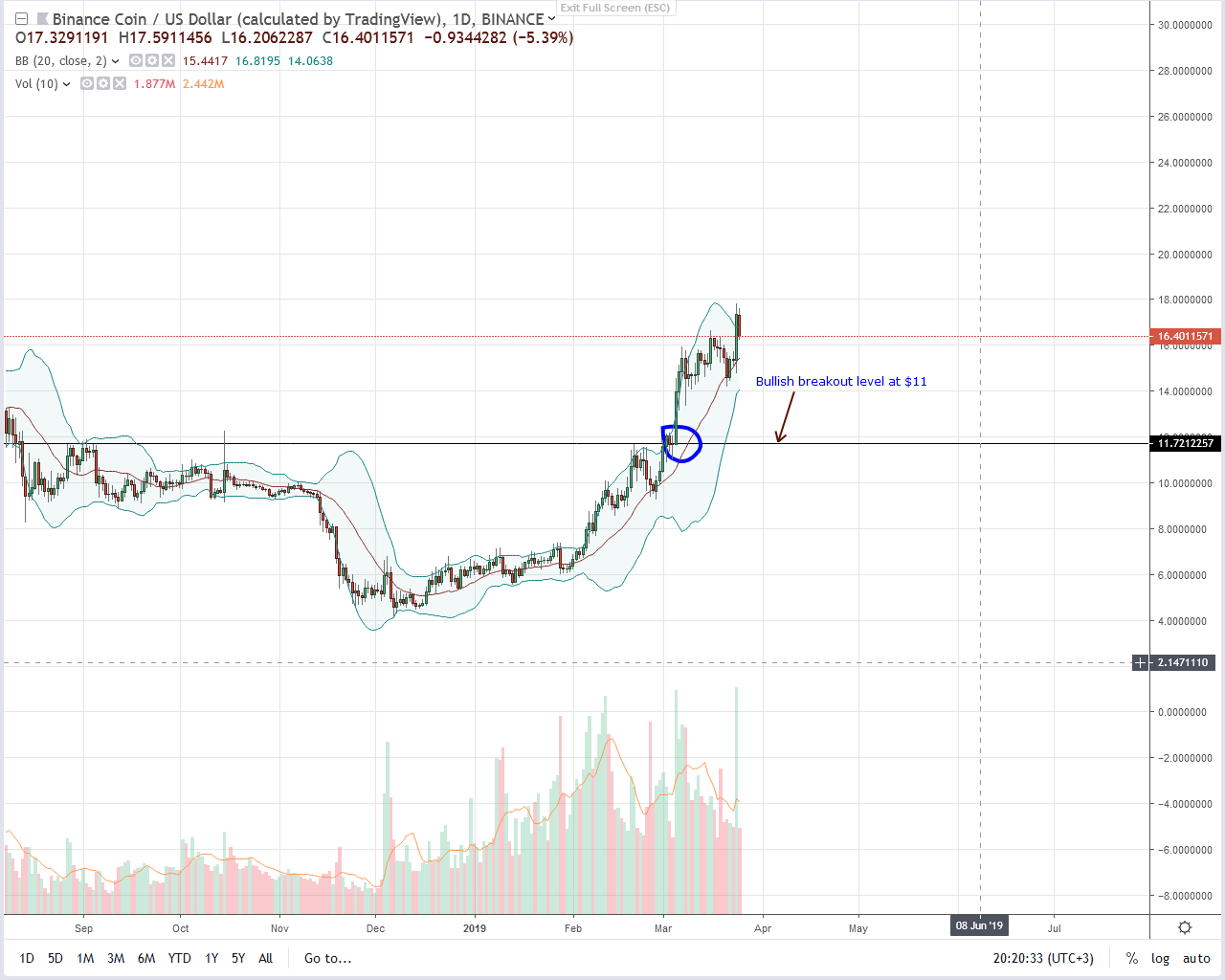 Trailing Cardano (ADA)—which is up 17.6 percent in the last week is Binance Coin, up 6.1 percent in the same time-frame.  From the daily chart, it is clear that Binance coin (BNB) is on an uptrend and trading in a bull breakout pattern with bases at around $11.
Without a doubt, BNB prices are a rally and outperforming others only because of supportive fundamentals. From Binance DEX test-net, the increasing popularity of Binance Launch Pad and now conditions for margin trading, every dip above Mar 24 lows or the 20-MA should be a buying opportunity. Like in our previous BNB/USD trade plan, the first target is $26.
Technical Indicators
As mentioned above Binance coin (BNB) is trading within a bull breakout after that comprehensive close above $11. Since bulls of Mar 5—4.8 million are now valid because of Mar 24 rally—4.9 million and close above Mar 16 highs of $16.5, every low should be a buying opportunity.
Chart courtesy of Trading View