Binance Charity (BC) has donated $70k worth of personal protective equipment (PPE) to eighteen hospitals and government institutions in the Philippines.
The contribution, which includes sanitizer, goggles, masks, gloves, and overalls, is intended to keep healthcare professionals safe as they tend to victims of the virus.
We sent #masks and #PPE to 18 hospitals and government institutions across the #Philippines! Your donation to @BinanceBCF made ALL of this possible.

Enjoy this fun-filled video of smiles, cheer, and love. Mahal ka namin!
?#Binance #BCF #CryptoAgainstCOVID #COVID19 #COVIDー19 pic.twitter.com/otnueEMRpF

— Binance Charity (@BinanceBCF) July 7, 2020
This gift is part of a more extensive campaign to help regions across the world that have been most impacted by the pandemic situation.
Since the campaign's inception in March 2020, BC has managed to raise over $4 million in achieving this purpose. BC made a $1 million upfront donation to the campaign and will match all donations received on a 2:1 basis.

Source: binance.charity
In a blog post, Changpeng Zhao, CEO of Binance, reiterated the charity's drive to utilize blockchain technology to bring about greater social equality.
"The crypto community is a growing force and we have an opportunity to strengthen this through philanthropy. We encourage the community to take part in this initiative as we unite against the virus, and together, we'll drive impact."
Binance Charity Banks on Transparency to Address Trust Issues
However, the charity sector, in general, is plagued by a lack of transparency, which in turn has fostered a growing unwillingness to donate to good causes.
Not only that, but recent high profile charity scandals also have eroded trust in the charity sector as a whole.
Susan Pinkney, Head of Research at The Charities Aid Foundation, spoke about the falling numbers of people giving to charity. She pinpoints a lack of trust as the reason for a squeeze in the charity sector.
"If people lack trust, that means they worry that their hard-earned money is not being well spent when donated to charities. This is a challenge that the entire charity sector needs to tackle head-on and find ways to inspire people to give and demonstrate to them that their money is making a difference."
Helen Hai, Head of Binance Charity, stated that blockchain technology addresses such concerns. By using a transparent donation system, where immutable records document the flow of money across every stage of the donation process, donors can be assured that their contribution is making a difference.
"Blockchain is a powerful antidote to a problem that has long plagued the philanthropy sector: distributed ledgers have the speed, scalability, and immutability to alleviate donor concerns, ultimately maximizing charitable impact."
Hai hopes that this type of innovation will generate a greater willingness to contribute to worthy causes. What's more, none of this would be possible without help from the general public.
Donations to the virus campaign can be made here.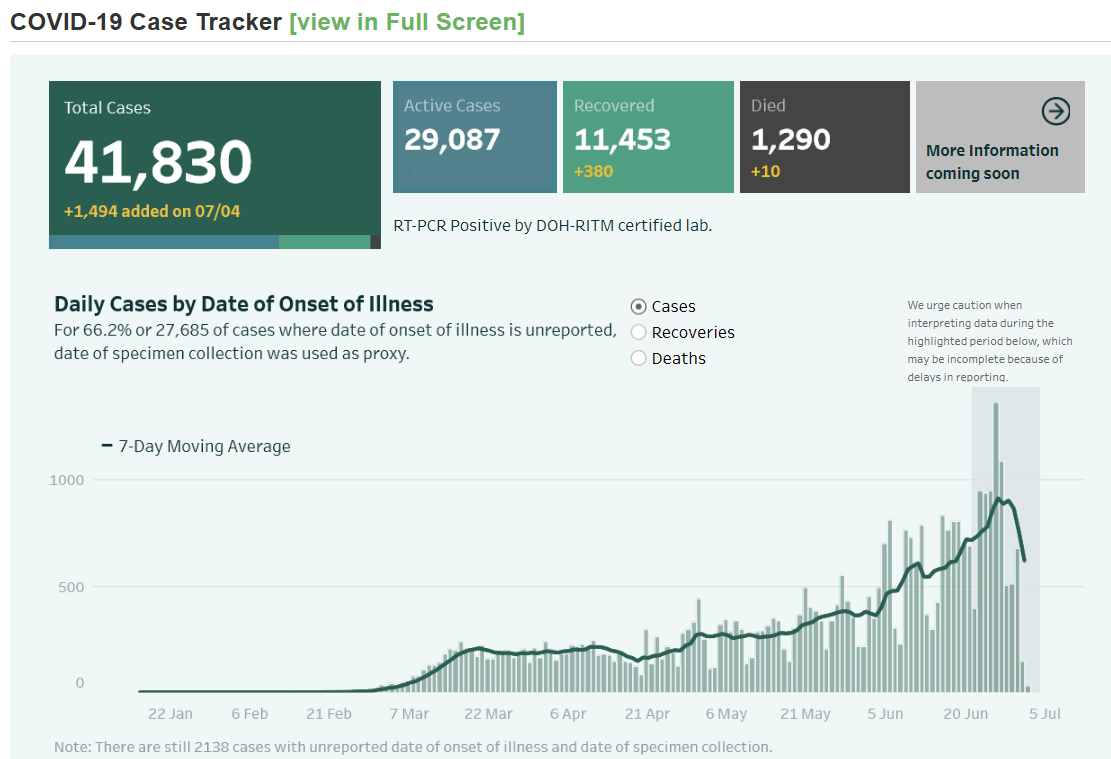 Source: doh.gov.ph
Official Philippines government figures show 42k confirmed cases and 1.3k deaths. Analysis of the 7-day moving average indicates a dropping in the number of cases. However, fears of a resurgence remain in force.
Photo by Tim Marshall on Unsplash