Yesterday we saw BTC prices literally crashing after shedding more than five percent. It might be a reactionary move after CFTC Bitcoin Futures investigations. However, what is important is how prices react at key support lines. Those levels stand at $7,000 and $7,100.
Let's have a look at these charts:
Bitcoin (BTC) Technical Analysis
In a new twist of events, Bitstamp, ItBit, CoinBase and Kraken have been asked by the CFTC to submit all trading information as investigations into possible market manipulation in the Bitcoin Futures begins. Note that since the CME and CBoE trading activities are under the oversight of the CFTC and the SEC, exchanges working together to create their index are also under the CFTC microscope. As such they must cooperate during this investigation. Of course, many consider the very nature of cryptocurrencies unsafe for business investment because it's not under any form of regulation. It is barring entry of big money to the industry. However, there have been increasing calls for regulation in the recent past.
"…These CME products derive the Bitcoin price from four key exchanges. The list includes Coinbase, Kraken, Bitstamp, and itBit. If any of these platforms is subject to manipulation, it will also influence the futures spot price."https://t.co/bRojPTo0Sb

— Sherpa (Visit CoinHQ.tv) (@ShitcoinSherpa) June 10, 2018
Some exchanges see this as beneficial and already Gemini is bending and willing to work with US regulators. Gemini is under SEC regulation and even uses CME tools to detect possible manipulation amongst their clients. These unscrupulous market activities-happening in the Bitcoin Futures and the spot market-involves acts of spoofing where large quantities of BTC are bought at artificial highs giving the impression of increasing buys only for dumping to happen shortly afterwards.
Even as this is happening Jesse Powell is not happy in light of the recent CFTC regulatory oversight. In a statement he says saying is now considering the overall cost of them participating in CME and CBoE index price participation. He argues saying that the whole market manipulation talks have been over-emphasized and those involved have little to gain despite all the risks they are taking.
Steve Wozniak: 'Only #Bitcoin is Pure Digital Gold' https://t.co/Pi2T2BPDc8 pic.twitter.com/sRyRt2O85v

— NEWSBTC (@newsbtc) June 5, 2018
In other news, Steve Wozniak of Apple believes Bitcoin's architecture and overall modus operandi places it at a better position to continue being a digital gold. These endorsement from influencers is good news for BTC.
Bitcoin (BTC) Technical Analysis
Weekly Chart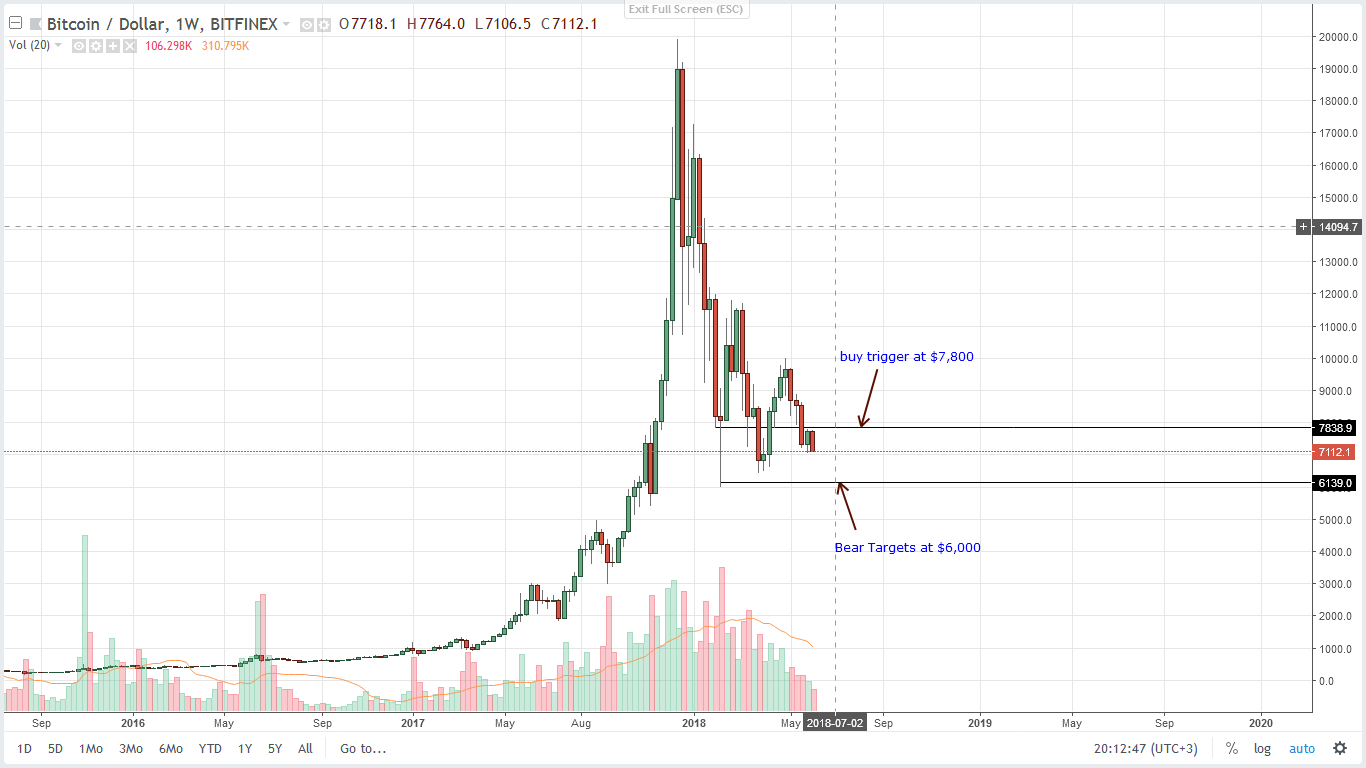 Week over week, Bitcoin prices are down six percent as sellers continue with their drive towards $4,500. As visible from the chart, it seems traders are not only aligning with week ending June 3 bear candlestick but their rejection to trade above $7,800 means sell pressure is also high. As it is, week ending June 3 candlestick seems to be short coverings following week ending June 10 events.
So, should this week end lower surging below $7,000 then our ultimate targets would be at $6,000. After all, technical arrangements point to selling as the path of least resistance whose overall objective is to completely reverse April gains in a long covering event. Relative to April's average weekly volumes of around 250k, May to early June weekly candlestick volumes averages 150k or there about.
Daily Chart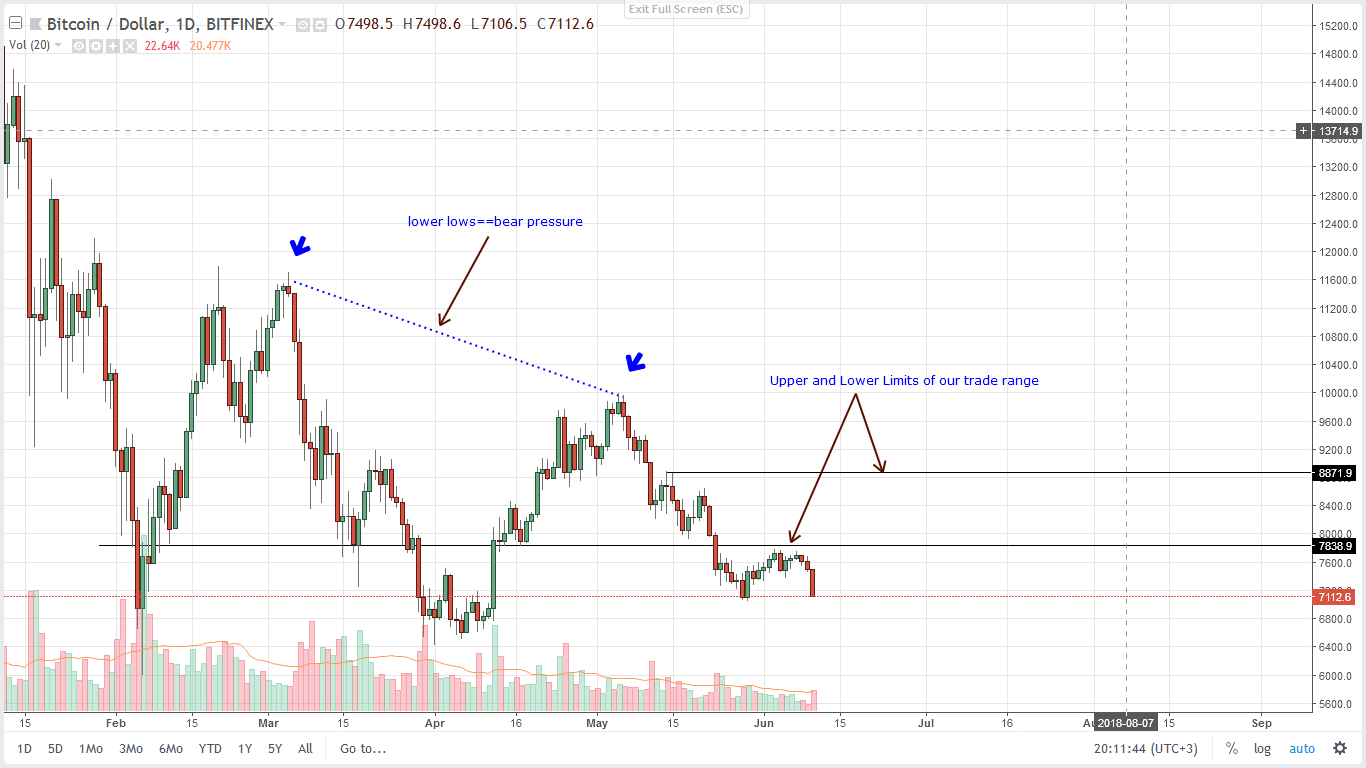 The overall trend is bearish and yes, we had pockets of buys before last week. Our trade strategy was all dependent on how market participants would confirm or negate that bull weekly candlestick. After yesterday, bears did negate our projection.
Currently, what we are seeing are lower lows aiming to break below the main anchor candlestick of May 29. Since recent correction volumes are low, my trade plan is to be neutral and see what happens today. Any break below $7,000 would beckon sellers. On the flip side, rejection of lower lows complete with a bull pin bar might likely take prices back to within $7,100 to $8,000 trade range.