Bitcoin Price Key Highlights
Bitcoin price recently made a move below a long-term floor but this might just be a fakeout.
Remarks from a senior SEC official eased regulatory concerns in the industry somewhat.
Oscillators on the long-term chart are also hinting at a bounce as well.
Bitcoin is still hovering around support at $6,600 to signal that buyers are defending that level after regulatory fears eased.
Technical Indicators Signals
The 100 SMA is still below the longer-term 200 SMA, though, so the path of least resistance is to the downside. This suggests that the selloff is more likely to resume than to reverse.
The gap between the moving averages continues to widen, signaling stronger bearish pressure. These moving averages could also hold as dynamic resistance at $8,000 then at $10,000 even on a strong bitcoin price bounce.
Still, RSI is starting to climb out of the oversold region to signal a return in bullish momentum while sellers take a break. Stochastic is also moving higher so bitcoin price might follow suit. In addition, a bullish divergence can be seen as price made lower lows while the oscillator had higher lows.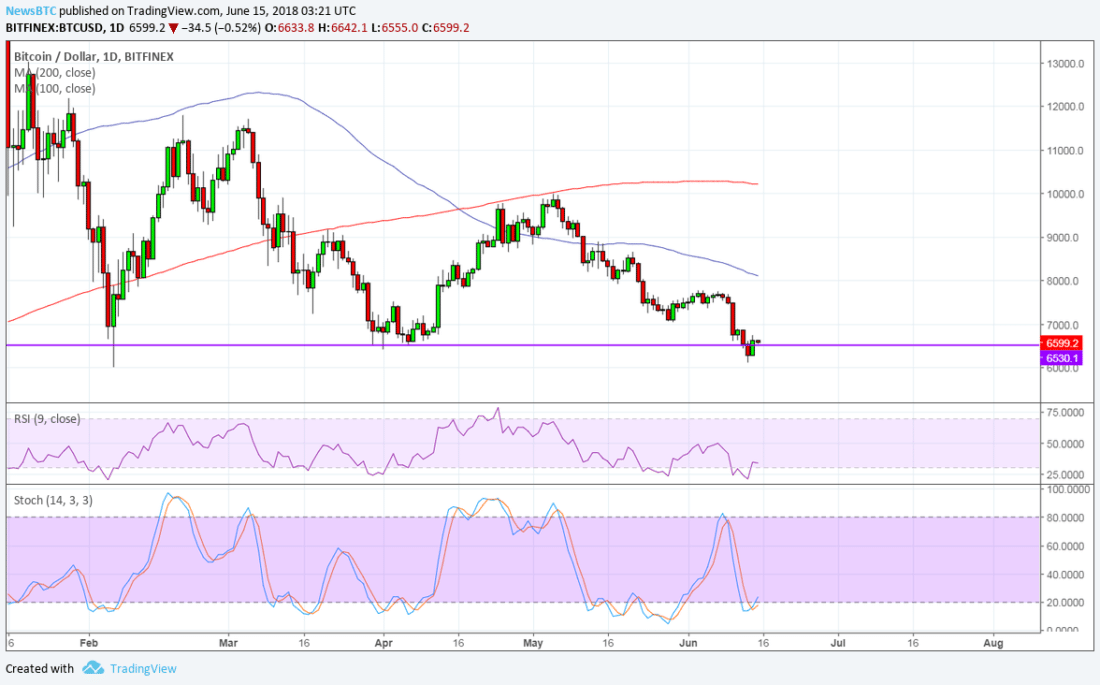 Market Factors
Cryptocurrencies got a strong boost from remarks by a SEC official stating that ethereum or bitcoin aren't securities to be regulated like stocks. In a speech during a conference in San Francisco, SEC Corporation Finance Director William Hinman said:
"Based on my understanding of the present state of ether, the Ethereum network and its decentralized structure, current offers and sales of ether are not securities transactions."
He also hinted that other altcoins or tokens might be exempt from this kind of oversight:
Over time, there may be other sufficiently decentralized networks and systems where regulating the tokens or coins that function on them as securities may not be required.