Bitcoin (BTC) table-topping, up 11 percent in the last week
A bullish profile developing but buyers must clear $6,000 resistance
A crypto analyst at Fundstrat is encouraging traders and investors to focus on the longer-term technical profile after today's upswings. After closing above $5,600 minor resistance, Bitcoin (BTC) is up 5.4 percent in the last day as buyers aim at $6,000.
Bitcoin Price Analysis
Fundamentals
After last week's tepid market movement, Bitcoin (BTC) bulls are back. Visible from all coin trackers, it is a sea of green and Bitcoin, not surprising, is spearheading this resurgence. From last week's close, the coin is us 11 percent meaning buyers are firm above $5,500.
However, with all the drama around Tether and BitFinex– which controls at-least five percent of Bitcoin trading and whose wallets is the fifth largest holder of Bitcoins, should the New York Office of the Attorney General decide to sue the exchange, then it would be consequential if not disastrous for the stable coin. Even so, we can learn from history that any negative news touching on Tether and shedding the stable coin in bad light do boost liquid asset with Bitcoin (BTC) as the primary beneficiary.
That is what is happening, and as long as there is doubt, then prices would find support, accelerating bulls deeper into bulls territory as prices bottom up, affirming analysts' projections. It is the expectations around Bitcoin that Robert Sluymer, an analyst with Fundstrat Advisors suggest buying because, from his analysis, Q1 2019 accumulation is over. As such, bulls are entering the second phase of a long-term trend that will propel prices to new highs.
"While it's premature to conclude Bitcoin will not retest support near $4,300, we would encourage traders and investors to remain focused on the bullish longer-term technical profile developing."
Candlestick Arrangement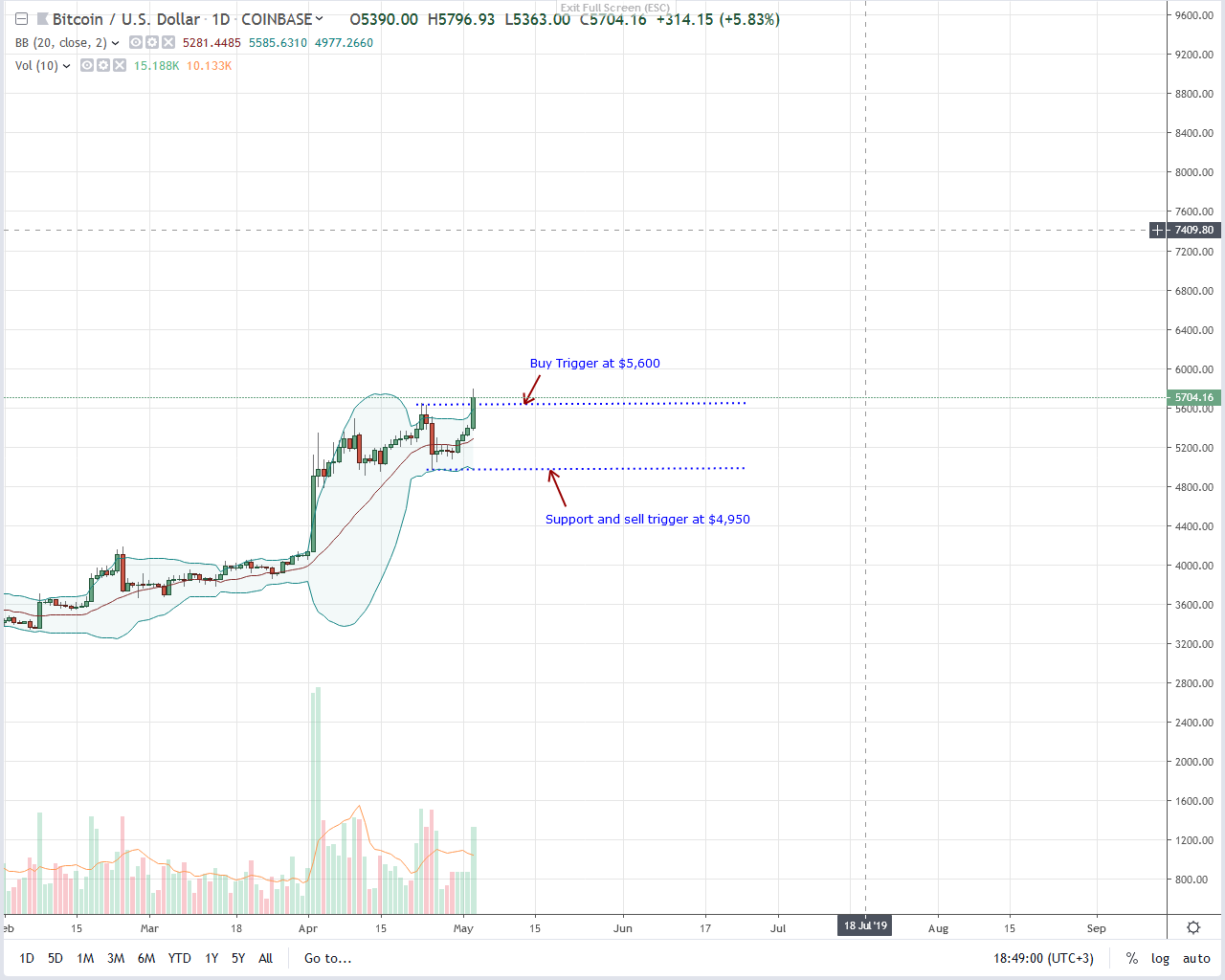 From the chart, Bitcoin (BTC) is up 5.4 percent in the last day and trading above $5,500. If anything, this is bullish and affirmative of buyers of Apr-2. As a result, our previous BTC/USD trade plans are valid. However, at the same, traders should tread cautiously.
Notice that as prices soar, bulls are retesting the main resistance line, previous support marking Q2 2018. It is a significant level marking the main support level from where prices slid in Q4 2018, weeks before BTC registered $3,200. Therefore, while we are bullish, it is imperative that buyers blast past $6,000—our targets, with high transaction volumes.
Technical Indicators
After today's gains, bulls have been successful, reversing losses of Apr-25 and confirming buyers of Apr-2. As a result, traders should load up on dips with targets at $6,000, the main resistance level.
Chart courtesy of Trading View