Finally, there is a pump of demand as far as Bitcoin (BTC) price action goes. Bitcoin is trading above $6,500 and odds are we might see further gains this week after week ending July 8 bullish confirmation and push above $6,000. In any case, technical formations point higher but what would spur demand are fundamental events so we shall watch out for those too.
From the News
There is good news and a nice "problem" for Bitcoin legacy network. That of capacity resulting from too much demand for their blockchain-and that was expected. Of course, being the most valuable network in the globe, Bitcoin draws attention. Besides, the fact that it is super-secure means people have confidence in it that's why it is draws an average of 200k transactions a day. That's on top of those of Lightning Network which despite being on beta still has a capacity of around 40 BTC.
Stephen James is now accepting Bitcoin for the purchase of your new BMW! Contact us today to find out more about how you can use Bitcoin to walk away with a brand new vehicle #bitcoin #bitpay pic.twitter.com/qN1Bq5Juc1

— Stephen James BMW (@SJBMWGroup) July 5, 2018
People know Classic Recreations for their "openness" and how they went that extra length to ensure that everyone desirous of a customized car gets one during the extra-ordinary crypto rally of late 2017. Now, Stephen James BMW group, a BMW car dealership shop in the UK is following suit. In a new announcement, they dealership said Bitcoin owners can visit any of their dealership and wire to the official company address their Bitcoin.
It would be easy as that and because they work with BitPay, there won't be much paper work. Of course, from a neutral's perspective, this is what Bitcoin is meant for. A cheap peer to peer method of electronic payment that can significantly improves convenience.
Will he do this before or after the Bitmain IPO? And how will it effect the $40 billion valuation of the *Bitcoin* mining firm? https://t.co/BmeiHuoTT1

— dark pill (@DanDarkPill) June 19, 2018
As this happens, Bitmain which unofficially can attack the Bitcoin network now plans for an IPO after receiving a $400 million from the second round of investment. Bitmain is now valued at $12 billion and has monopoly of literally all ASIC miners in circulation.
Bitcoin (BTC) Technical Analysis
Weekly Chart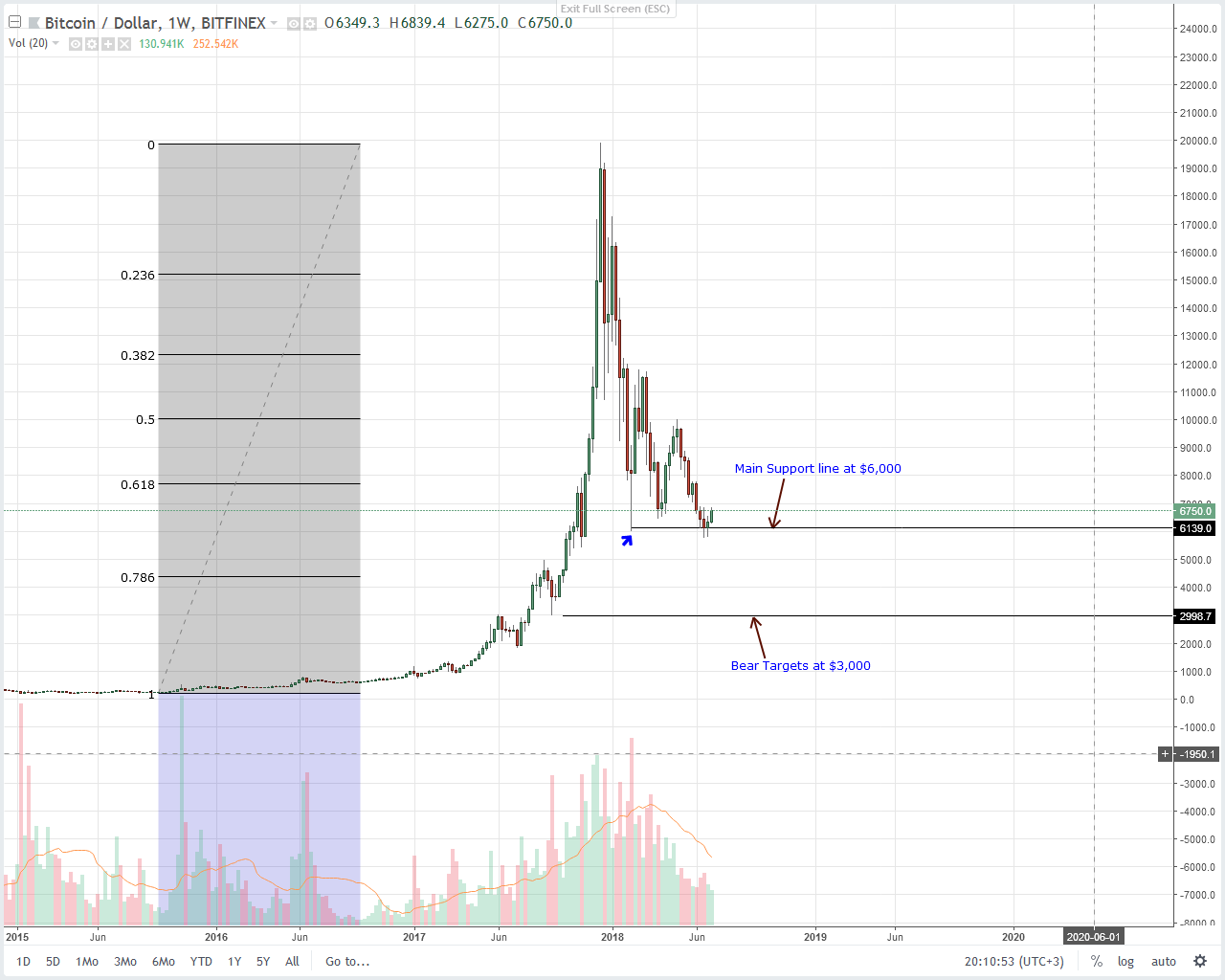 A simple Fibonacci retracement tool between Bitcoin's all time high low shows that prices are down roughly 65 percent from their 2017 peaks. Coincidentally, that's where we are seeing pockets of bull pressure. As we can see after the close of last week, the double bar bull reversal pattern from around the 61.8 percent Fibonacci retracement line is true.
This way, we saw prices pushing above $6,800 triggering our buys in lower time frames as a result. Besides that technical formation, the only undoing to potential higher highs is the low volumes accompanying this move up.
If we compare recent weekly volumes, the average in the last week lags: it registers 140k to last 10 week' average of around 170k. Regardless, it seems like prices are bottoming out with Bitcoin marking a turn for the better.
Daily Chart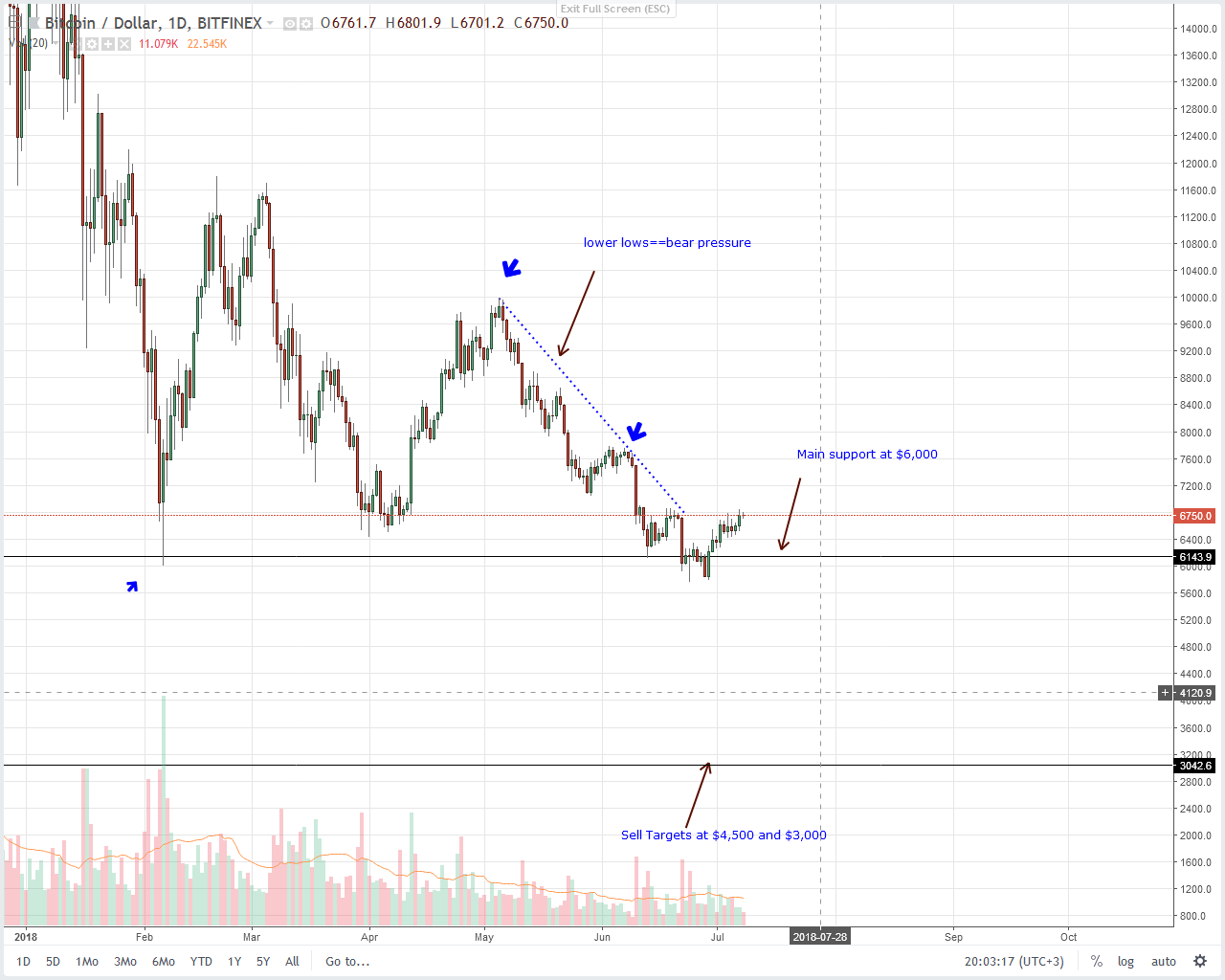 Back to the chart and after periods of being neutral, our Bitcoin buys are now live. Thanks to July 7 gains, prices are now trending above $6,800 and June 22 highs meaning those who can buy on dips can do so from today.
Stops are at July 7 lows at $6,300 with targets at $10,000 or at-least May 2018 highs.
Disclaimer: Views and opinions expressed are those of the author and aren't investment advice. Trading of any form involves risk and so do your due diligence before making a trading decision.