Regardless of the slow price action and dip in prices, Bitcoin is still king of cryptocurrencies and many altcoins anchor their moves on it. While we remain hopeful of future recoveries, it is likely that the past few days' price appreciation is but short coverings. Notice that there is a clear failure to march past $9,000 since volumes are low and half below March 11 bear spike. I recommend shorts in lower time frames with targets at $6,800 in the short term.
From the News
In less than five months, traders all over the world shall gain access to a crypto trading app backed by a traditional exchange, Börse Stuttgart. Bison is the name of the app and it has one main objective: make crypto trading as easy as possible. In fact in the spirit of accessibility, registration and verification time would be done in minutes all thanks to the survey done by the company as they tried to pick pain points in customer crypto experience.
After an internal audit, UpBit is now free of damaging accusations of fraud and money laundering. Within a 12 hour span, close to $50 billion in market cap evaporated following news of a search warrant from the South Korea's Intelligence Unit against UpBit. This was ironical because shortly before this directive, UpBit CEO was on the front line asking investors to report any form of ICO scam in exchange for cash reward. Among some of the accusations UpBit is not clear from include accusations of insider trading, trading using customer funds and money laundering. According to UpBit, the whole thing was a simple misunderstanding and at any time, as per the audit findings, they have never traded any coin(s) they never own.
Ironically, the world second largest Bitcoin mining hardware producer, Canaan is planning on listing at the Hong Kong stock exchange. In a bid to expand their services and revenue, they are looking for a $1 billion investment through an IPO sponsored by Deutsche bank, Goldman Sachs and Morgan Stanley.
Bitcoin mining rig maker Canaan Creative is filing for a $1 billion IPO, sources say https://t.co/15pKVrugRz pic.twitter.com/Kv3XXFJrRX

— Bloomberg (@business) May 15, 2018
The money shall help them venture more into research now that they are looking on developing AI chips. Besides, they are now venturing into cryptocurrency mining as well as creating innovative home appliances that mine coins in the back ground.
Bitcoin (BTC) Technical Analysis
Weekly Chart
If we were to simplify, then we would say Bitcoin is moving within a $6,000 range defined by February 2018 high and low. Now, after periods of consolidation between those two highs, what stands out for me is the week ending February 4 candlestick which asserts the bear trend and week ending April 1 candlestick confirming this assertion.
So, with this in mind and the fact that the general trend is bearish, selling on resistances or retests would be akin to aligning trades with the trend. From this technical development, our first level of support is at $7,800. Any break below that means our $6,000 target is likely to be hit. This would be case especially if there are high volumes accompanying a consolidation bear break out.
Daily Chart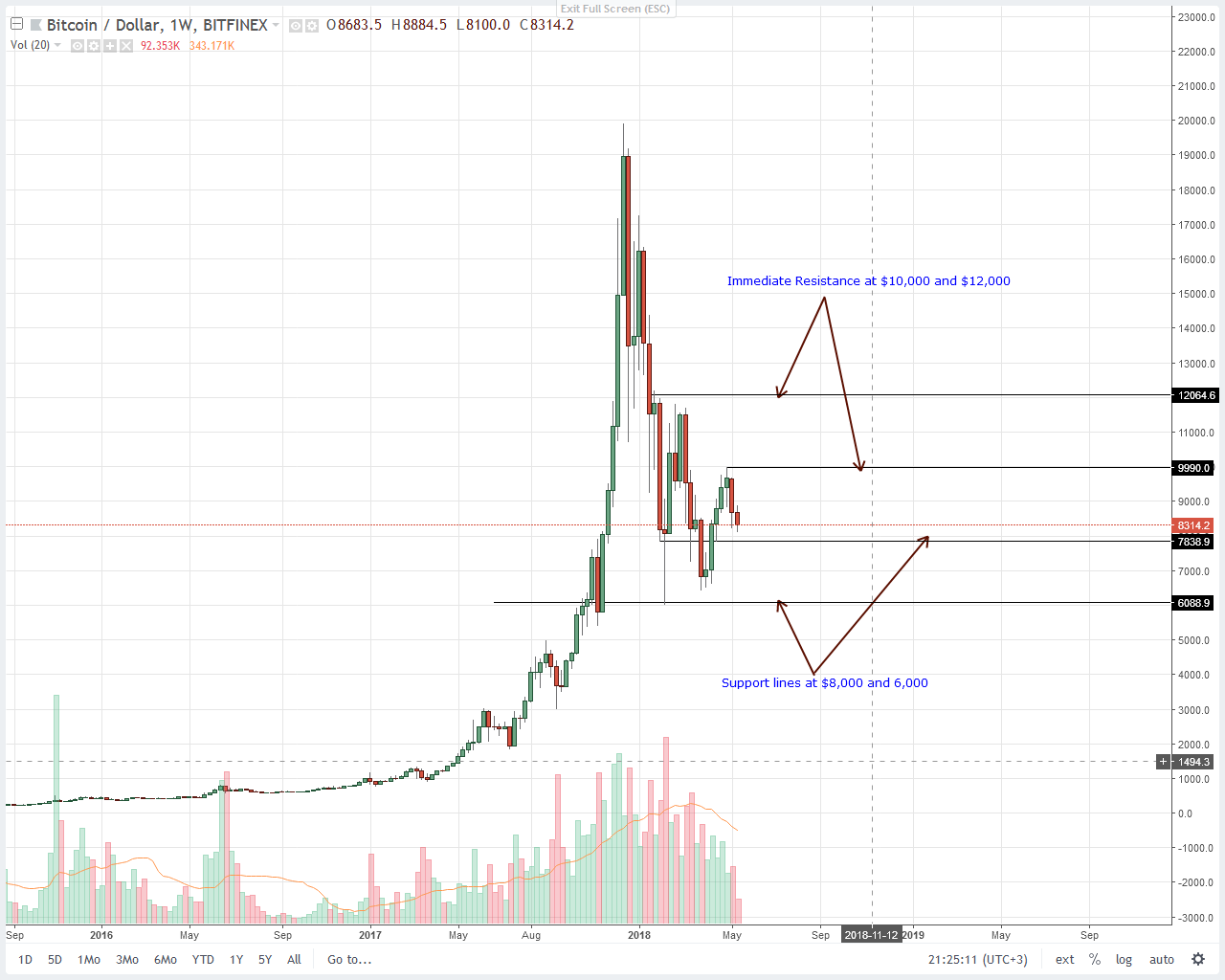 So, like the weekly chart, Bitcoin prices are still trading inside a range but with a bearish skew. See those lower lows and most importantly the reaction from $6,000 in line with the current trend? That is important in our analysis and what is drawing my attention is May 11 candlestick.
Trade volumes are high relative to previous days and there is a mid-range push below $10,000-a region of minor support. Follow through bull candlesticks have been short on volumes.  On May 15 we saw relatively high volumes confirming the bear pin bar at $9,000.
Aggressive traders can short now while aiming for $7,800 and $6,600. On the other hand conservatives can stay out of this trade and watch till prices are out of this consolidation.