Bitcoin Cash up 10.6 percent in last week
Opaque bank operations aid in money laundering
Transaction volumes low averaging 30k according to CoinBase data
For her bank involvement in a $151 billion money laundering scandal, Birgitte Bonnesen is no longer the CEO of Swedbank. With diminishing trust, advantages of cryptocurrencies as Bitcoin Cash (BCH) coupled with its security will permeate aiding in thrusting digital assets to the mainstream.
Bitcoin Cash Price Analysis
Fundamentals
Regulators, more so in the US and Europe are quick to impose heavy penalties on rules-flouting banks. According to a report by BCG, banks have paid a staggering $321 billion in fines since the last value-wiping financial crisis of 2008-09. Of the $321 billion, North American banks shoulder $204 billion in penalties.
What's interesting is that though falsely blamed as tools of money laundering, crypto related cases are ultra-low thanks in part to KYC and AML adhering exchanges and the transparent nature of the ledger.
Now, the ax has been swung, and Birgitte Bonnesen was dismissed as CEO of Swedbank following the bank's involvement in a $155 billion money-laundering scandal that the board says is "heaping enormous pressure" on the bank's operation.
"…the board has decided to dismiss Birgitte Bonnesen from her position. With that said, Birgitte Bonnesen has during her three years as CEO made an important contribution by creating a leading digital bank with a physical presence."
Candlestick Arrangement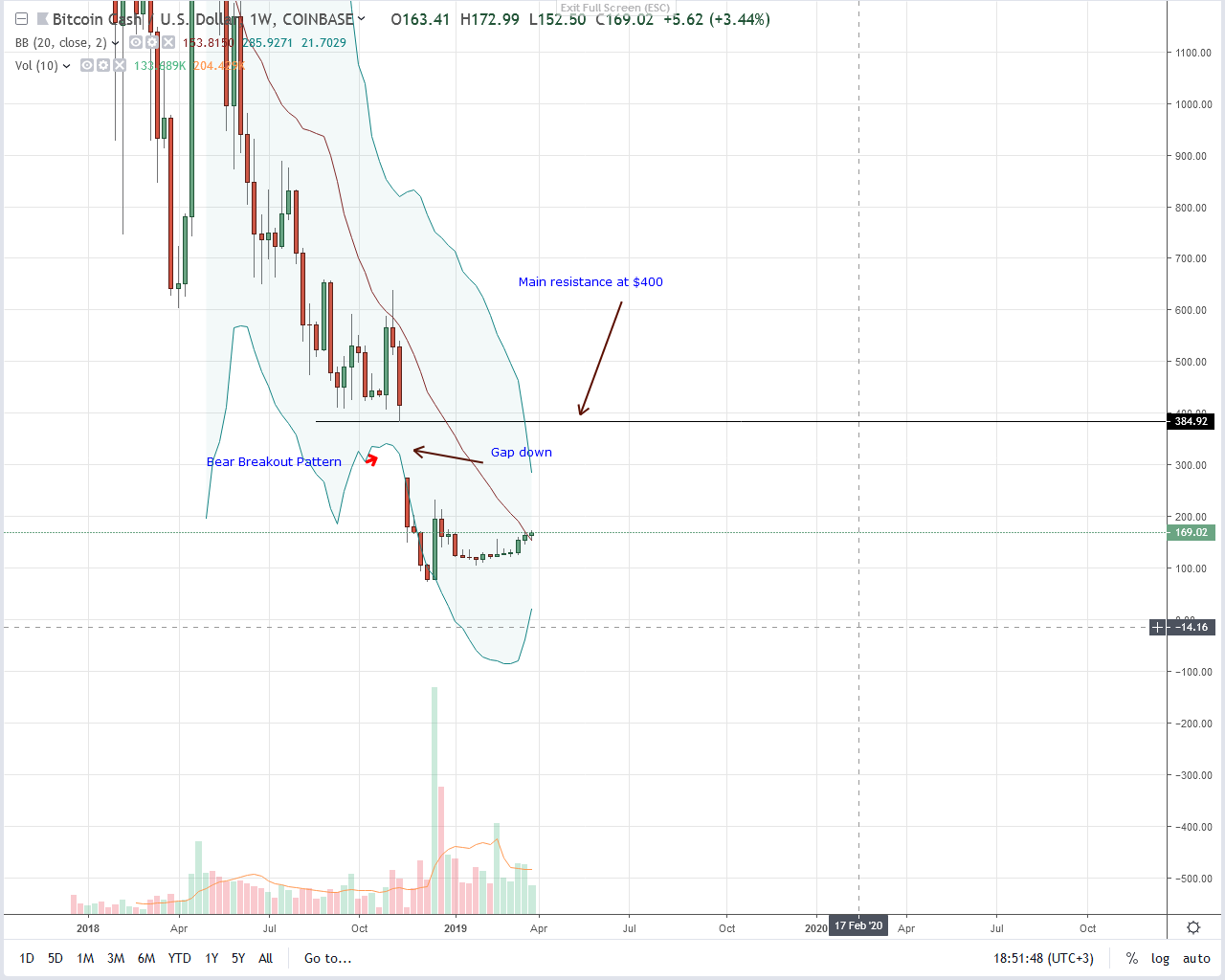 Lodged at sixth, Bitcoin Cash (BCH) is up 10.6 percent against the USD in the last week. As a result, its market cap stands at $2,989 million at the time of press as BCH price action trend within a bullish breakout pattern. Besides, it is clear that bulls are successful, reversing losses of Feb 24.
As prices diverge away from the middle BB thanks to Mar 27 upswings, all indicators point to further expansion. Because of these developments, risk-off traders should look for entry positions in lower time frames with first reasonable targets at $230 or Dec 2018 highs in line with our last BCH/USD trade plan. Conversely, any drop below the middle BB or $160 could see bears drive prices back to $135 in a retest phase.
Technical Indicators
The breakout above $160 confirm bulls of Feb 18—117k against 30k. Therefore, for trend continuation, any bar that breaches $175 must have high volumes above 70k which is above recent averages of 33k exceeding Mar 18—62k.
Chart courtesy of Trading View