Week over week, Bitcoin Cash is down 11 percent and compounding this is the four percent loss from yesterday. Now even though this might be negative, BCH prices might find support. When they do, we shall wait for recovery above $850 in line with our overall Bitcoin Cash (BCH) trade plan.
From the News
After partnering with Bitcoin.Com, the Bitcoin Cash mouth piece, Fuzex has decided to replace Bitcoin with Bitcoin Cash. This comes days after Roger Ver became their main advisor. As a payment platform that will make it possible for every day users to pay for merchandise or service using Bitcoin Cash and a couple of other coins, the team cited inherent qualities found only in Bitcoin Cash as speed, fees and reliability as the main reasons for switching sides.
It's exactly one year since Bitcoin Cash came to existence after forking off from Bitcoin. Even though the turbulence has been big, still the coin is the fourth largest in the world and enjoy a wide support base. Since inception, it has developed their own infrastructure, forked twice and global adoption is on the rise thanks to their transaction settlement speeds and cheap fees. YoY though, the coin is up 145 percent printing an ATHs of $3,000 in late Dec 2017.
Thanks to smart contract proposition on the Bitcoin Cash network that would be effected via the Omni Layer Protocol, Wormhole-token symbol (WHC) will be available for trading at CoinEx from August 1. WHC will be traded against Bitcoin Cash. Smart contract capability was first proposed by Bitmain and would take advantage of the changes made in the last fork—that of increasing data size carriers and the OP_Return transactions.
Wormhole (WHC) World Exclusive Premiere on August 1st; Supporting Deposit & Tradinghttps://t.co/W8uW2wfH9a pic.twitter.com/LOBZsiIO8V

— CoinEx (@coinexcom) July 31, 2018
Bitcoin Cash (BCH) Technical Analysis
Weekly Chart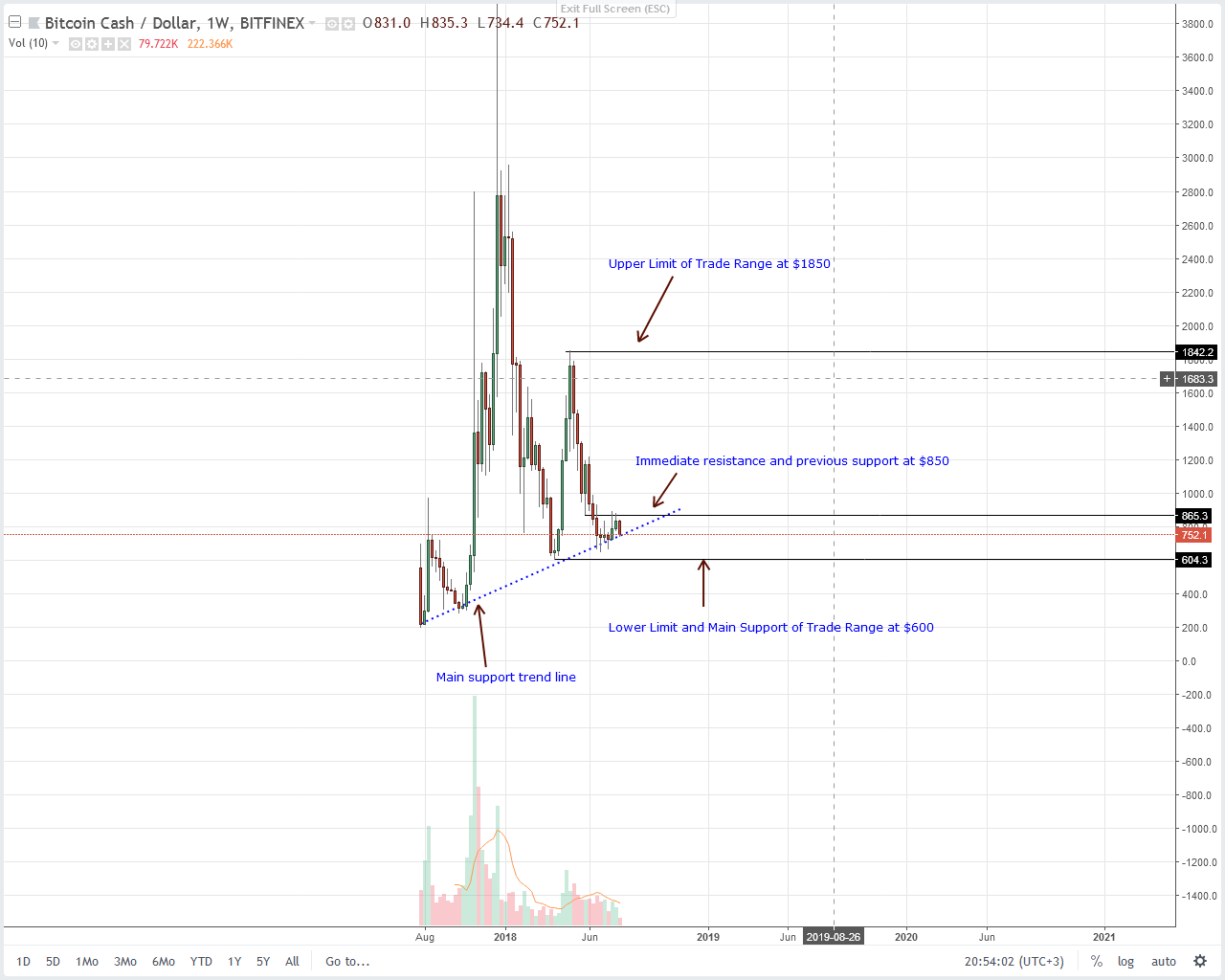 All in all, the BCH slide is slowing down and we can see that in the charts. First, and as highlighted in previous Bitcoin Cash (BCH) technical analysis, traders need to watch how prices react at that 12 month support trend line and later at $600.
Overly, bears seems to have an upper hand even in the midst of previous bullish attempts and rejection of lower lows right at the support trend line.
Now, all things constant, we shall remain neutral until after prices edge above $850 or week ending June 24 highs-a bear candlestick which has been confining prices.
Thereafter, traders can initiate positions in line with the new found buy momentum. Conversely, any sells below $600, would mark the next wave of sell pressure.
Daily Chart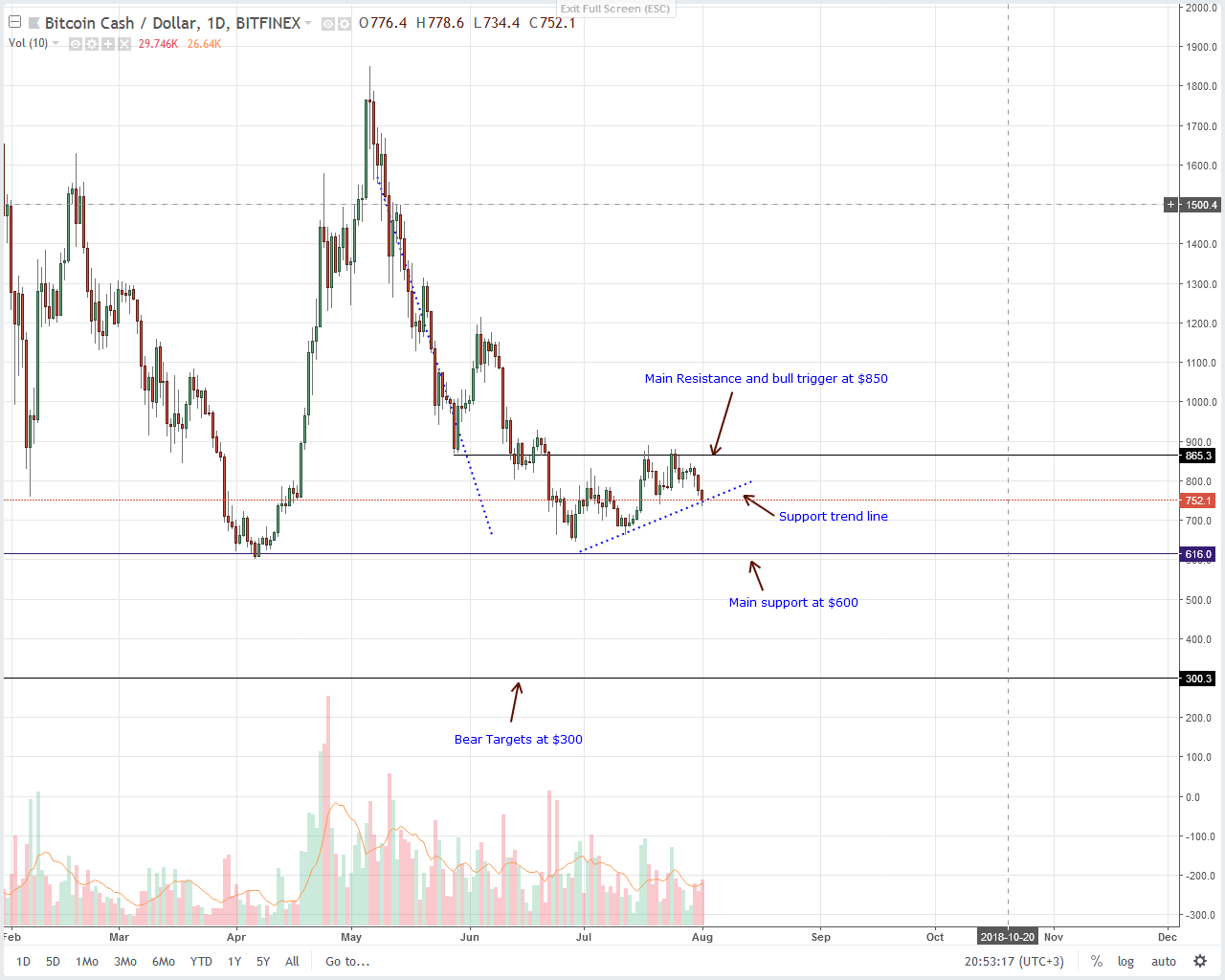 Technically, Bitcoin Cash is trading within a bear break out pattern and recent gains found resistance at $850. $850 doubles up as immediate resistance and former support now resistance marking the retest level.
Besides the depreciation and price being bound within a bear break out trade pattern, we can also see that BCH is inside a wedge, a bear flag.
In any case, any close below that intra-range minor support trend line will mean initiation of sells with stops at $820 with first targets at $600. If not and BCH find reprieve, then we shall wait for conclusive breaks and close above $850.
On the other hand, conservative sellers should wait for close below $600 before selling on pull backs with first targets at $350.
Disclaimer: Views and opinions expressed are those of the author and aren't investment advice. Trading of any form involves risk and so do your due diligence before making a trading decision.