There is a supremacy "war" going on between BTC and Bitcoin Cash but the common thing is that both are bleeding. At current prices, $600 is but some ticks away and that means caution since there have been reaction at this level when we point out Bitcoin Cash daily price chart. Today, I propose staying neutral with the usual bearish skew. That's unless there is a spike breaking above $850, our immediate resistance line which also doubles up as a bull trigger line.
From the News
So, just like big banks-whose failure can cause an economic meltdown-are subject to stress tests, BitPico plans to unleash their attack nodes. Their overall objectives are simple: stress test Roger Ver's Bitcoin Cash network.
BitPico are a group of developers who are clearly-pro Bitcoin (BTC) and with their planned attack, they are ready to show the whole world how "easy it is to take down the Bitcoin Cash network" and make "Roger Ver Cry". This seems to be a retaliation and a show of proof following Bitcoin Cash claims that they indeed did their own stress test. In their response, BitPico says their independent tests will go on to show how Bitcoin Cash is "centralized and controlled". Already this promises to be an interesting event. Like all stress tests, the results following this intentional attack would reveal the depth and robustness of the Bitcoin Cash network.
https://twitter.com/bitPico/status/1010785081567346688
The members behind this group are strong supporters of Segwit 2x and Bitcoin's LN development. However, despite disappointing events following issues around Segwit 2X implementation-that eventually birthed BCH, the fact that Segwit is live is overly positive. After adoption by full nodes, settlement time and network fees have seen significant improvements. In fact statistics shows that Bitcoin fees were once lower than Bitcoin Cash's at some point.
https://twitter.com/bitPico/status/1010309235459096577
In a series of tweets, the core members of BitPico whose identities are not yet available to the public said they are ready to carry out a 51 percent attack. Unfortunately for Bitcoin Cash, these guys know their thing. They have successfully stress-tested Bitcoin's Lightning Network after launching a coordinated attack receiving applause from Andreas Antonopoulos in the process.
Bitcoin Cash (BCH) Technical Analysis
Weekly Chart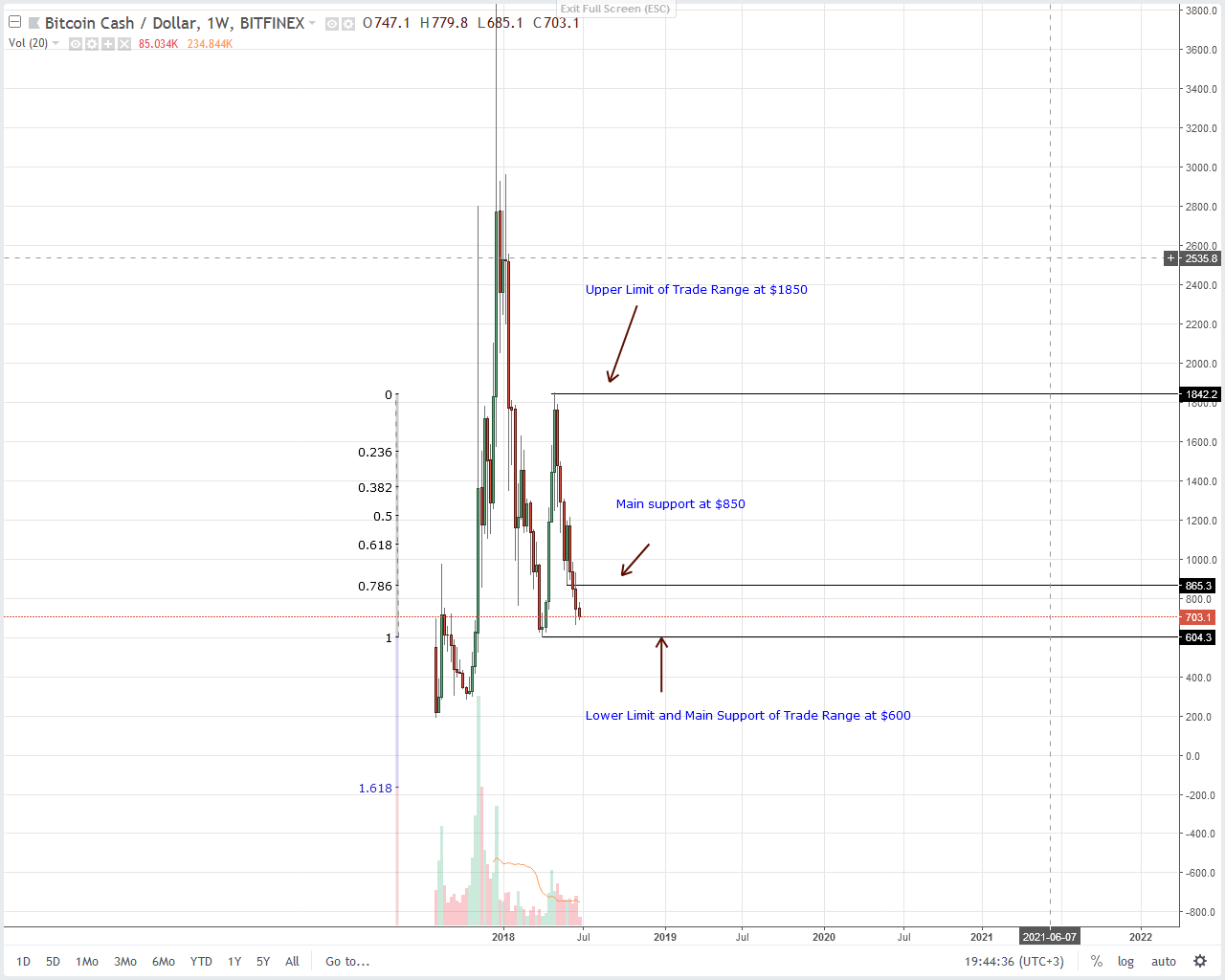 Regardless of the drama and shills, the fact that BCH is on free fall is a cause of concern. Week over week, statistics from different coin trackers shows that it is down 20 percent and complementing last week's bear pressure. While we remain bearish until we see hints of higher highs, the simple fact that we are so close to the main support line at $600 as the weekly chart shows means either we lock in some profits or pause taking shorts for the time being.
Daily Chart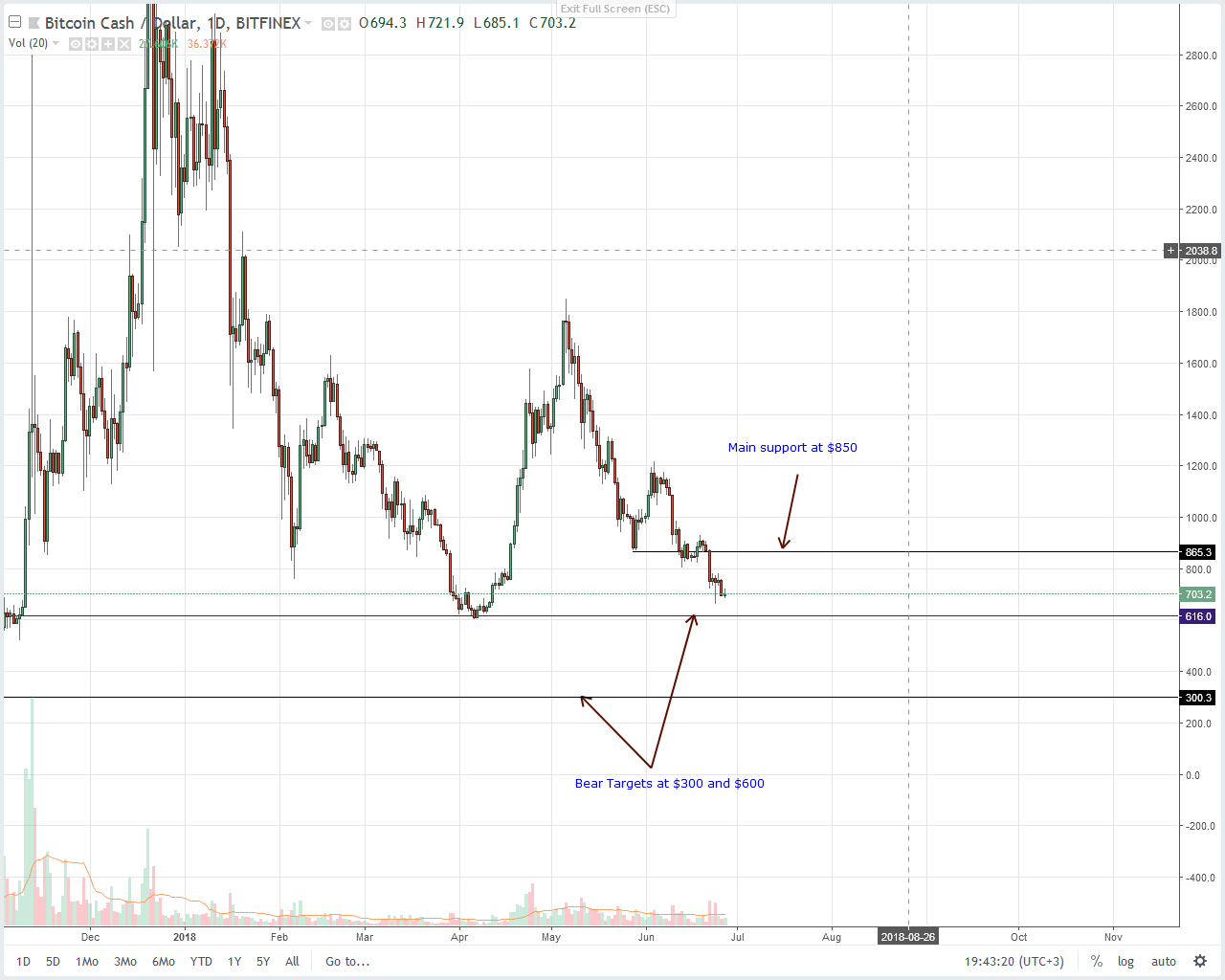 Like it has been the case in the past two months after prices peaked in late April, sellers are in charge. As aforementioned, either we take a wait and see approach as bears test $600 or sell and aim for $300 with sell profits locked. The reasoning is simple, $600 like $6,000 in BTC are influential price tags and regions of strong technical support. Now, should there be a depreciation below them, aim for $300 which is also Bitcoin Cash all-time lows.